Miami Family Hotels
For anyone considering a break at a Holiday Inn® Miami hotel, the first question is "Which Miami?" for Miami and Miami Beach are actually two separate cities. Miami is the commercial centre on the mainland, while Miami Beach, with its Art Deco waterfront, lies across the causeway in Biscayne Bay. You can take your pick of Holiday Inn Miami hotels in either location.

Holidaymakers, understandably, usually opt for the postcard-perfect Miami Beach. The regeneration of the South Beach in the 1990s has brought back the splendour to one of the most iconic seaside stretches in the States. At times, it feels like a film set – the neon-lit hotels, the palm-tree lined shores, the beach-front bars. All oddly familiar from countless movies. Perfect for people-watching and picture-taking.

Don't, though, ignore the Latin charms of the mainland at a Downtown Miami hotel. Around half of Miami's population is Latin American. The Cuban enclave of Little Havana lies just south of the downtown area in Miami city. A strong Cuban coffee is a great way to start the day. Or head to the Museum of Hispanic & Latin American Art for a cultural insight.

Other attractions include the largest botanical garden in the U.S., the Fairchild Tropical Garden, and the Everglades National Park. Our Holiday Inn Miami hotels are handily located for wherever you choose to visit. Book your stay today.


More IHG Hotels in Miami, Florida, United States
Candlewood Suites Ft. Lauderdale Airport/Cruise
We offer a complimentary shuttle to and from the Fort Lauderdale Hollywood International Airport. And, if you are going on a cruise, our staff will help arrange your transportation from the hotel to your ship.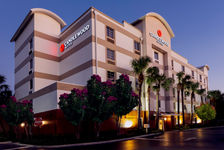 1120 W. State Road 84, Fort Lauderdale, FL 33315, United States
Hotel Reservations : 1 888 465 4329 | Hotel Front Desk : 1-954-5228822