Miami Affordable Hotels
With such huge numbers of visitors to sporting events and conventions, our Holiday Inn Express® Miami hotels are used to dealing with busy people. From a variety of business services to high-speed internet connections, our Miami hotels pride themselves on going that little bit extra to ensure a comfortable stay. With handy locations – on the mainland near the airport – and complimentary breakfasts, you can be ensured of a warm welcome.

For nightlife, head either to the Art Deco beachfront of South Beach or to Coconut Grove, the closest Florida comes to Greenwich Village. Water taxis are a fun way to get from the mainland to the beaches. Or ask the staff at your Miami Hotel to organise a car or cab. 

Many of Miami's insider destinations are on the mainland, away from the tourist hoards. Matheson Hammock Park, with its mangrove swamps, has beautiful waterside views. Head out to Fairchild Tropical Garden, the largest botanical garden in the U.S.,  or through the Coral Gables neighbourhood for a glimpse of some great old Florida mansions.

Whatever you do, though, make sure you step outside your Miami hotel for some Cuban cuisine. With a Cuban population of more than 650,000, Latin food lovers are in for a treat. Head to the Cuban neighbourhood of Little Havana just south of downtown for the authentic article. Or just sit on a street corner sipping a Cuban coffee for a real kick-start to the day.


Holiday Inn Port Of Miami-Downtown
There's so much to do near the Port of Miami, and our hotel's guests are just moments from cruise ships, Bayside Marketplace, Children's Museum, Jungle Island and Arsht Performing Art Center.
340 Biscayne Boulevard, Miami, FL 33132, USA
Hotel Reservations : 1 888 465 4329 | Hotel Front Desk : 1-305-3714400
Holiday Inn Express & Suites Miami Arpt and Intermodal Area
Welcoming high ceiling atrium featuring opened greeting desk area with inviting comfortable seating, relaxing music & scent harmonizing a memorable stay and experience. Our eco friendly design rooms with high tech amenities offering a spacious open area with wood flooring enticing you to work or just relax & kick back. Rooms equipped with master control switch to activate electrical outlets HVAC.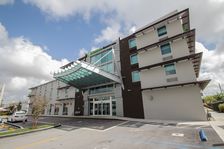 Book for May 09 Arrivals
2601 NW 42nd Avenue, Miami, FL 33142, United States
Hotel Reservations : 1 888 465 4329 | Hotel Front Desk : 1-305-5267728
Holiday Inn Miami-International Airport
As the best among Miami Airport hotels with free shuttle service to Miami International Airport, and we make it easy to travel to the Port of Miami with shuttle service available from the hotel to the Port for $10 per person, Miami International Airport, local destinations and simulator training facilities.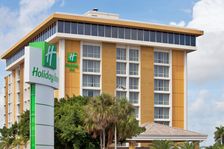 1111 South Royal Poinciana Boulevard, Miami Springs, FL 33166, United States
Hotel Reservations : 1 888 465 4329 | Hotel Front Desk : 1-305-8851941
Holiday Inn Miami Beach-Oceanfront
After a day of sightseeing or playing on our sandy beaches, guests can return to our beachfront hotel in Miami Beach and enjoy a relaxing dip in the outdoor swimming pool and whirlpool spa.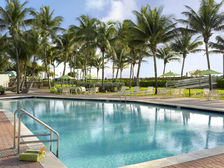 4333 Collins Avenue, Miami Beach, FL 33140, USA
Hotel Reservations : 1 888 465 4329 | Hotel Front Desk : 1-305-5323311
Holiday Inn Express Miami-Arpt Ctrl-Miami Springs
Looking for Miami hotels with shuttle service? Our free, 24-hour Miami airport shuttle service caters to all schedules. A small fee for a taxi or local shuttle can get you to the nearby Port of Miami.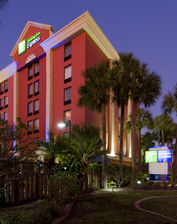 5125 N.W. 36th Street, Miami Springs, FL 33166, Verenigde Staten
Hotel Reservations : 1 888 465 4329 | Hotel Front Desk : 1-305-8872153
Holiday Inn Coral Gables - University
The Holiday Inn Coral Gables is a smoke free hotel offering free wireless internet and free local calls. While staying with us you can enjoy our outdoor pool, fitness center, Toucan's Restaurant and Sports bar and business center. We also offer shuttle services to several attractions and shopping venues nearby.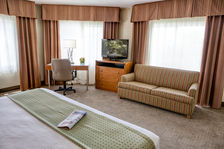 1350 South Dixie Highway, Coral Gables, FL 33146, United States
Hotel Reservations : 1 888 465 4329 | Hotel Front Desk : 1-305-6675611
8436 Nw 36th Street, Miami, FL 33166, Estados Unidos de América
Hotel Reservations : 1 888 465 4329 | Hotel Front Desk : 1-305-5924799
Holiday Inn Miami-Doral Area
If you're looking for a great location in Miami, we are just minutes from the Miami International Airport (MIA). Our airport shuttle departs the hotel every hour on the hour daily from 6 am to 11 pm. Guests are available for pick up at the airport only at designated times after the shuttle departs the hotel. Shuttle is not available upon demand. Please call the hotel for further details.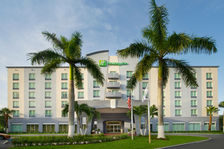 3255 Nw 87th Ave, Miami, FL 33172, Estados Unidos de América
Hotel Reservations : 1 888 465 4329 | Hotel Front Desk : 1-305-5009000
6650 West 20th Avenue, Hialeah, FL 33016, Estados Unidos de América
Hotel Reservations : 1 888 465 4329 | Hotel Front Desk : 1-305-3627777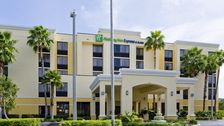 11520 SW 88th Street, Miami, FL 33176, United States
Hotel Reservations : 1 888 465 4329 | Hotel Front Desk : 1-305-2798688