Miami Affordable Hotels
With such huge numbers of visitors to sporting events and conventions, our Holiday Inn Express® Miami hotels are used to dealing with busy people. From a variety of business services to high-speed internet connections, our Miami hotels pride themselves on going that little bit extra to ensure a comfortable stay. With handy locations – on the mainland near the airport – and complimentary breakfasts, you can be ensured of a warm welcome.

For nightlife, head either to the Art Deco beachfront of South Beach or to Coconut Grove, the closest Florida comes to Greenwich Village. Water taxis are a fun way to get from the mainland to the beaches. Or ask the staff at your Miami Hotel to organise a car or cab. 

Many of Miami's insider destinations are on the mainland, away from the tourist hoards. Matheson Hammock Park, with its mangrove swamps, has beautiful waterside views. Head out to Fairchild Tropical Garden, the largest botanical garden in the U.S.,  or through the Coral Gables neighbourhood for a glimpse of some great old Florida mansions.

Whatever you do, though, make sure you step outside your Miami hotel for some Cuban cuisine. With a Cuban population of more than 650,000, Latin food lovers are in for a treat. Head to the Cuban neighbourhood of Little Havana just south of downtown for the authentic article. Or just sit on a street corner sipping a Cuban coffee for a real kick-start to the day.


More IHG Hotels in Miami, Florida, United States
Candlewood Suites Ft. Lauderdale Airport/Cruise
We offer a complimentary shuttle to and from the Fort Lauderdale Hollywood International Airport. And, if you are going on a cruise, our staff will help arrange your transportation from the hotel to your ship.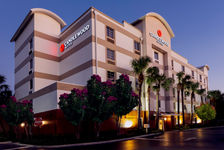 1120 W. State Road 84, Fort Lauderdale, FL 33315, United States
Hotel Reservations : 1 888 465 4329 | Hotel Front Desk : 1-954-5228822