New York City Boutique Hotels
Experience life as native New Yorkers live it when you stay at our Hotel Indigo® hotels in New York City. From browsing local artworks in the galleries of upmarket Chelsea to grabbing a bite at a gourmet food truck, you'll enjoy an authentic taste of the Big Apple.

Savvy travelers explore the city on foot and discover that walking New York is the best way to go. There's so much to see in the Big Apple's five boroughs that it's best to strike a balance between the must-see attractions and quirky day-to-day New York. Grab a souvenir picture in Times Square, pause for a picnic in Central Park and take in the Statue of Liberty and Ellis Island. Just don't forget to venture off the beaten track, and discover your favorite deli for a taste of the legendary New York sandwich, crammed with pastrami or corned beef.

Take time out to sample the sights, scents and sounds of the city's best-loved neighborhoods – gallery-rich Chelsea, quirky Greenwich Village and hip TriBeCa. There's an amazing choice of vibrant bars, restaurants and nightlife within minutes of your New York hotel. Raise a glass or two with the locals to get the lowdown on each neighborhood's finest experiences.

From laidback neighborhood restaurants to world-class exhibitions by local artists, scratch the surface and you're sure to find there's more to New York than meets the eye.

Book at stay at one of our New York hotels and feel like a local during your stay in the Big Apple.


Hotel Indigo New York City - Chelsea
Center yourself in the heart of the Chelsea Flower District at one of the most relaxing hotels in New York City. Our knowledgeable staff is available at all times to assist with any questions or requests and are true ambassadors of the neighborhood.
127 West 28th Street, New York, NY 10001, الولايات المتحدة الأمريكية
Hotel Reservations : 1 877 846 3446 | Hotel Front Desk : 11-212-9739000
Hotel Indigo Lower East Side New York
In the heart of downtown Manhattan, we are the premier destination among LES hotels. Just steps away from legendary Katz's Delicatessen you can order the famous pastrami sandwich just like Meg Ryan did in When Harry Met Sally. Go ahead, sit in her seat, have what she had. The vibrant neighborhood that surrounds us evokes the youthful spirit of New York City.
Book for Aug 05 Arrivals
171 Ludlow Street, New York, NY 10002, Stati Uniti
Hotel Reservations : 1 877 846 3446 | Hotel Front Desk : 11-212-2371776
Hotel Indigo Brooklyn
The location of our hotel is central to the new Barclay Sports and Entertainment Center just 9 blocks from the hotel. Brooklyn Metrotech Complex is less then a block from the hotel while the major downtown shopping district is right outside our front door.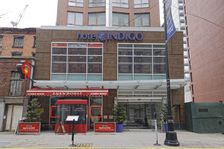 229 Duffield Street, Brooklyn, NY 11201, الولايات المتحدة الأمريكية
Hotel Reservations : 1 877 846 3446 | Hotel Front Desk : 1-718-2547800
Hotel Indigo Newark Downtown
The Hotel Indigo Newark Downtown is the closest hotel to the Prudential Center's main entrance. Enjoy a pre-event dinner in our restaurant and return to our roof top lounge for a night cap among the city lights!
Book for Dec 08 Arrivals
810 Broad Street, Newark, NJ 07102, الولايات المتحدة الأمريكية
Hotel Reservations : 1 877 846 3446 | Hotel Front Desk : 1-973-2420065
More IHG Hotels in New York City, New York, United States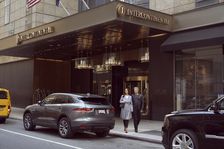 300 West 44th Street, New York, NY 10036, Estados Unidos de América
Hotel Reservations : 1 877 846 3446 | Hotel Front Desk : 1-212-8034500
Crowne Plaza Times Square Manhattan
The Crowne Plaza Times Square is a luxurious upscale hotel located in the heart of midtown Manhattan. Just steps from major corporations and the Theater District, the hotel is the ideal location for business and pleasure. All 795 of our guest rooms boast views of either Times Square, the Hudson River or the Manhattan skyline. This skyscraper hotel is a sleek oasis in the city that never sleeps.
1605 Broadway, New York, NY 10019, United States
Hotel Reservations : 1 877 846 3446 | Hotel Front Desk : 1-212-9774000
Crowne Plaza Englewood
We are proud to announce our 2014 Renovation! We have renovated all of our guestrooms, public areas and meeting rooms. The newly renovated space features bright and beautiful décor with a modern design, along with our upgraded high speed complimentary Wi-Fi. As always, all guest rooms feature the Crowne Plaza Sleep Advantage amenities assuring a wonderful experience.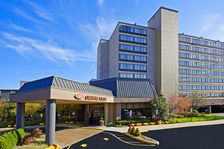 401 S. Van Brunt Street, Englewood, NJ 07631, الولايات المتحدة الأمريكية
Hotel Reservations : 1 877 846 3446 | Hotel Front Desk : 1-201-8712020
Crowne Plaza JFK AIRPORT NEW YORK CITY
Business travelers will enjoy the 24-hour complimentary business center and onsite Crowne Meetings Director, making productive workdays both simple and hassle free. Plan efficient meetings and conferences with our team of experts and choose from 10 flexible function space options, which feature unsurpassed top floor views of JFK International Airport.
138-10 135th Avenue, Jamaica, NY 11436, الولايات المتحدة الأمريكية
Hotel Reservations : 1 877 846 3446 | Hotel Front Desk : 1-718-5301160
Crowne Plaza Newark Airport
With 3,700 sq. ft. of event space available, our Newark Airport hotel's conference facilities are the area's best. The Grand Ballroom and three meeting rooms will meet the needs of any event.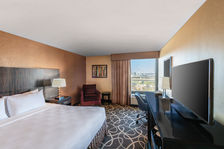 901 Spring Street, Elizabeth, NJ 07201, الولايات المتحدة الأمريكية
Hotel Reservations : 1 877 846 3446 | Hotel Front Desk : 1-908-5271600
Crowne Plaza Paramus
When you stay at this Crowne Plaza® hotel, you're sure to get a blissful night's sleep. We provide a cozy bed, plush duvet and sleep amenities, benefits you won't find at other Paramus, NJ hotels.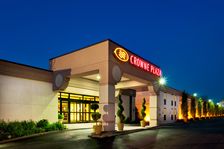 601 From Road, Paramus, NJ 07652, United States
Hotel Reservations : 1 877 846 3446 | Hotel Front Desk : 1-201-2626900