Paris Hotels
Famous for its romantic ambiance, unparalleled architecture and chic sensibilities, the City of Lights draws millions of international visitors each year. Paris is also heralded the world over for its exquisite cuisine, vibrant nightlife, and world-renowned institutions of art, such as The Louvre. From the Eiffel Tower to stately museums to its centuries-old Neoclassic architecture, Paris offers something for everyone. By carefully planning your trip to Paris, you can help ensure you'll get to experience all that makes Paris such a popular destination. From modern chic to historically elegant, Paris hotels also offer accommodations to suit a range of budgets and tastes.


Things to See
Whether you're a history buff or a cultural connoisseur, Paris is rich in historical sites and world-famous museums and galleries. Located on the Right Bank of the Seine River, the Louvre Museum is one of the world's largest museums and one of Paris's most treasured landmarks. Home to roughly 35,000 exhibits, from prehistory to the 21st century, the Louvre receives nearly 10 million visitors annually. Be sure to dine at one of the world-renowned restaurants or cafes within a few blocks of the Louvre. For foodies, this area is the epicenter of French cuisine and one of the most visited food destinations in the world.

A must-see attraction on its own, the Arc de Triomphe is the gateway to Paris's most vibrant area, Champs Élysées. A pedestrian mall, Champs Élysées is Paris's hub of chic, upscale shopping and dining. No one can — or should — resist visiting
Paris's most iconic landmark, the Eiffel Tower. Built in 1889, the wrought-iron structure is a marvel of human engineering and offers sweeping views of Paris. The landmark is sure to be crowded with tourists, so it's advisable to visit early in the day or late in the afternoon.

To truly experience Parisian charm, take a walk through Paris's Montmartre neighborhood. At first glance, it appears you've walked back in time. With cobblestone streets, centuries-old buildings, and sidewalk buskers selling their wares, you'll experience the Paris of old. Be sure to walk or take a cable car up the summit of the neighborhood and tour the white-domed Basilica of the Sacré Cœur. Iconic artist such as Pablo Picasso, Salvador Dali and Vincent Van Gough have all called Montmartre home.


Hotels in Paris
Paris hotels range from the most ultra-chic hotels in France to historic, repurposed budget hotels. No matter what your vacation budget allows, you'll be able to find a Paris hotel that fits your specific needs. The best time to visit Paris is during the summer months, June to August, when the weather is parfait (perfect). During this time, the temperature hovers around 70 degrees Fahrenheit and the the sky is almost always sunny, making touring Paris during these months beyond comparison. However, hotel rates reflect the influx of visitors and increase.

Paris is one of the most visited cities on the planet, and these months also experience hordes of tourists. To save some money and forgo the crowds, pack your most stylish jacket (it is Paris) and tour Paris during the winter. Visiting Paris during the holiday season has quickly become a popular plan for smart travelers, and you can stay at an exquisite Paris hotel at a significant discount.


Where to Stay
Covering more than 1,000 square miles, Paris is a sprawling metropolis. Finding the right hotel in Paris in the right location can significantly increase the quality of your trip. Paris is basically split in half over the Seine River — the Right Bank and the Left Bank. Beyond that, Paris is divided into 20 distinct neighborhoods. The location of your Paris hotel will depend largely on your budget and reason for visiting. However, without question, the best area to stay in Paris is along the Seine River, specifically on the Right Bank near the Les Halles, the Louvre and Palais Royal.

Staying in this area is perfect for visitors who would prefer to walk Paris's streets to visit the city's most famous attractions. However, this convenience is often reflected in the price tag, and it's arguably the most touristy area, albeit for good reason. To blend value with quality in a vibrant area, visitors may want to consider the Pigalle and Montmartre area. As mentioned, Montmartre is an authentic Parisian experience, and night owls will enjoy the area's vibrant nightlife.

To save some money, vacationers may wish to consider the Left Bank. Although a drawback is the hike to the Eiffel Tower, Paris hotels on the Left Bank are budget-friendly. For those seeking the most luxurious hotels in France, the Right Bank near Champs-Élysées is the most coveted area. With a bounty of world-class eateries, boutique shopping, a sizzling nightlife and steps away from historic attractions, this area is ideal for those with very discerning taste.


How to Get to Paris
Paris is served by two airports. The main hub, the Charles de Gaulle Airport, is roughly 15 miles northeast of the city center, and the Paris Orly Airport is 10 miles south of the city. Although Paris does offer a good public transportation system, the best way to see the city is by foot. If your hotel in Paris is located outside of the city center, the metro system, known as the RATP, offers 14 extensive routes throughout the metropolitan area. Once you've arrived, enjoy Paris by foot, as it's an incredibly pedestrian-friendly city once you're in the right place.

Driving in Paris should be avoided unless you're familiar with the city. Although it's highly navigable by foot, Paris experiences bad traffic and confusing roadways for vacationers. Areas not served by the RATP can be visited via the city's bus line.

Paris is one of the world's most romantic and beautiful cities in the world. From its world-class dining to its awe-inspiring museums to its authentic historical architecture, Paris is a one-of-a-kind destination. To fully enjoy all the city has to offer, finding the right accommodations is paramount. Suited for every budget and taste, the InterContinental Hotel Groups' options of Paris hotels can ensure your Parisian experience is très bon.


+ View More
- View Less
More IHG Hotels in Paris, France
Holiday Inn Paris - Notre Dame
Stay in the centre of Paris at Holiday Inn Paris-Notre Dame, a 5-minute walk from Notre Dame cathedral and one of the city's best-connected Metro stations.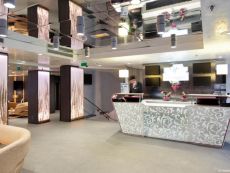 4 Rue Danton, Paris, 75006, France
Hotel Reservations : 1 877 424 2449 | Hotel Front Desk : 33-1-81690060
2 Rue Scribe, Paris, 75009, France
Hotel Reservations : 1 877 424 2449 | Hotel Front Desk : 33-1-40073232
Hotel Indigo Paris - Opera
Composed of 57 fully renovated large rooms including 12 suites and duplex apartments, the hotel also offers a wine bar with terrace, a 42-seat restaurant and a gym. Its decoration is based on mural pictures which make you visit the neighbourhood and discover Paris.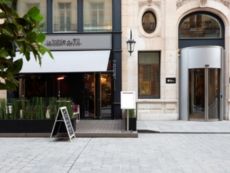 2 Rue Edouard VII, Paris, 75009, France
Hotel Reservations : 1 877 424 2449 | Hotel Front Desk : 33-1-44800032
Holiday Inn Paris - Gare de l'Est
Holiday Inn Paris Gare de l'Est is conveniently located for sightseeing, with 5 metro lines within 5 minutes' walk. Whether you want to stop by Notre Dame or explore the Bastille, our Front Desk staff can help plan your day.
5 Rue Du 8 Mai 45, Paris, 75010, France
Hotel Reservations : 1 877 424 2449 | Hotel Front Desk : 33-1-55260505
Holiday Inn Paris Opera - Grands Blvds
Metro station, bus stop and taxi stop in front of the hotel. Carpark 5 minutes walking from the hotel. Hotel close to Nouveautés Theatre, Grands Rex Cinema and Variétés Theatre. Less than 10 minutes walking to Opéra Garnier Theatre,Gymnase Theatre, Lafayette Galleries, Printemps, Grevin Museum, Bourse District. Less than 15 minutes by metro to Champs Elysées, Cathedral Notre Dame et Louvre.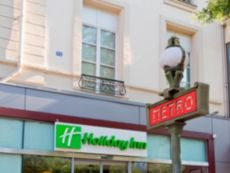 30-32 Boulevard Poissonnière, Paris, 75009, France
Hotel Reservations : 1 877 424 2449 | Hotel Front Desk : 33-1-47702555
Crowne Plaza Paris-Republique
Crowne Plaza Paris-Republique's location in the city's historic heart means you are just a 5-minute walk from the tree-lined Canal St Martin with its picturesque bridges and cafes. You can follow this canal until La Bastille and reach the marina of the Port de l'Arsenal. Then, browse fashions, antiques, museums and book shops in the atmospheric narrow streets of Le Marais via the Place des Vosges.
10 Place De La Republique, Paris, 75011, France
Hotel Reservations : 1 877 424 2449 | Hotel Front Desk : 33-1-43144350
Holiday Inn Paris - St. Germain des Près
Stylish 4 star hotel, ideally located in the heart of Paris, few steps away from the bustling and chic area of Saint Germain des Près and from the Montparnasse connected business district and Train station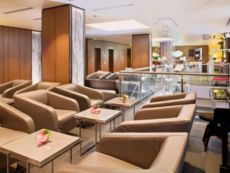 92 Rue De Vaugirard, Paris, 75006, France
Hotel Reservations : 1 877 424 2449 | Hotel Front Desk : 33-1-49548700
Holiday Inn Paris - Gare de Lyon Bastille
For Belle-Epoque charm right in the heart of Paris, choose the Holiday Inn Paris Gare de Lyon Bastille hotel, a short stroll from the River Seine and Notre-Dame Cathedral. We're a 5-minute walk from Gare de Lyon, connecting you to the rest of Paris, France and Europe by Metro, RER and TGV.
11 Rue De Lyon, Paris, 75012, France
Hotel Reservations : 1 877 424 2449 | Hotel Front Desk : 33-1-53022000
Holiday Inn Paris - Elysées
Everyday, enjoy our candy bar and our tea time, from 11.00am to 03.00pm. A good way to start your Parisian stay in a warm and peaceful atmosphere!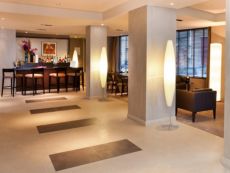 24 Rue de Miromesnil, Paris, 75008, France
Hotel Reservations : 1 877 424 2449 | Hotel Front Desk : 33-1-43128787
Holiday Inn Paris - Montmartre
Feel at home with our family suite, they are really comfortable for 2 adults and up to 3 children. It gives you privacy while having your children the next door, away from the corridor. Enjoy also our new rooms, with brand new bathroom.
23 Rue Damremont, Paris, 75018, France
Hotel Reservations : 1 877 424 2449 | Hotel Front Desk : 33-1-44923340