Skip Navigation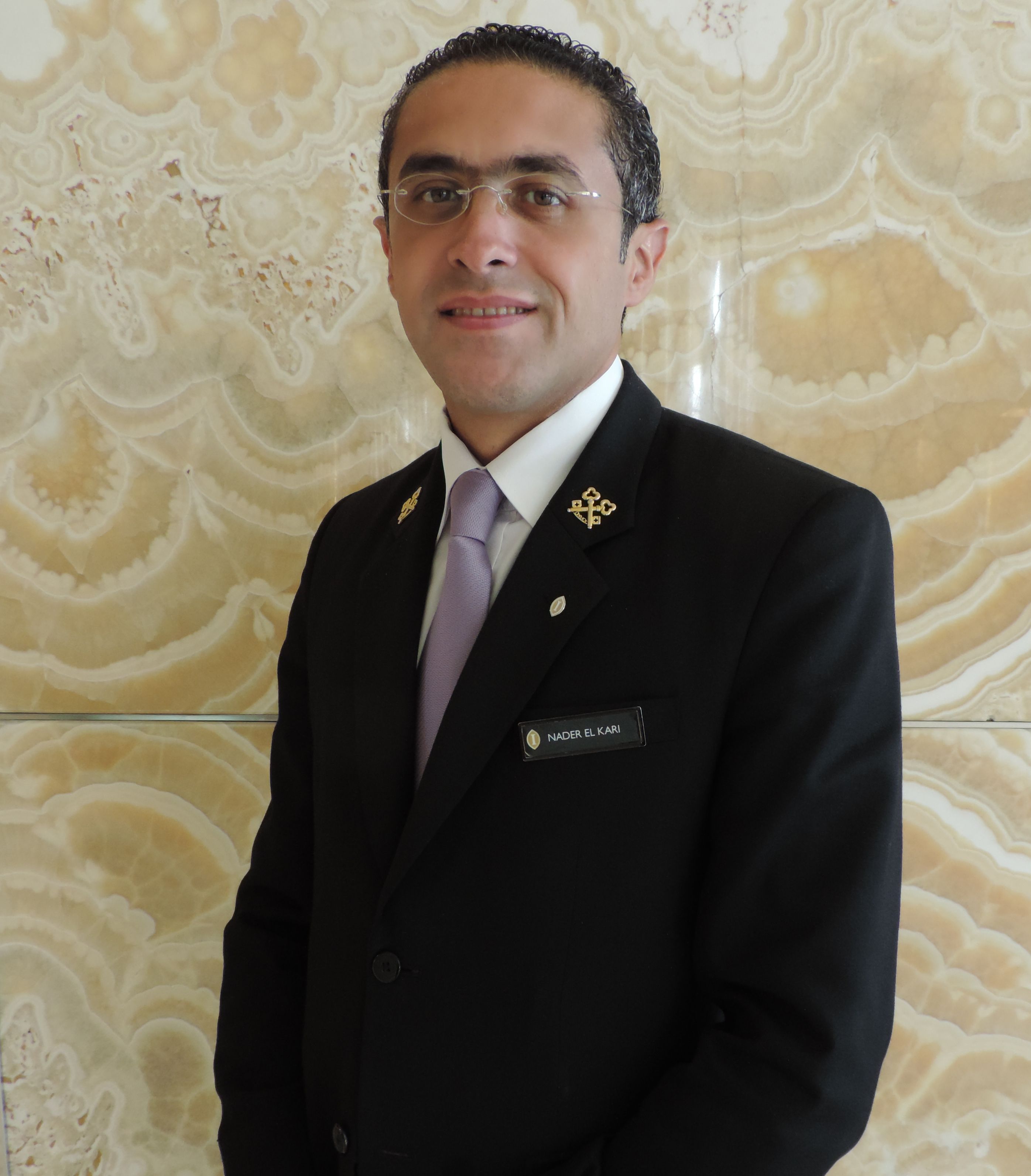 Nader El Kari
Chief Concierge, Member of Les Clefs D'Or-UAE 971266668885162
Welcome To Abu Dhabi
Ahlan Wa Sahlan, welcome to Abu Dhabi where luxury & style are infused with traditional values and hospitality. Sunny weather, relaxing beaches, vibrant city life & mixture of culture and tradition come together to create a holiday experience like no other.
Our hotel has a perfect location surrounded by water, beaches and a slice of traditional life. It sits on the only hill in Abu Dhabi overlooking the crystal clear water of the gulf. Conveniently located close to shopping malls, business districts and the famous Abu Dhabi Corniche. To learn more about our city please visit www.visitabudhabi.com
MORNING

There is no better way to start your day than with breakfast overlooking the placid jade-coloured waters of the Arabian Gulf. I suggest the nearby Havana Cafe.There you can choose from a variety of oriental or international breakfast dishes while taking in the magnificent view of the Corniche (Abu Dhabi's waterfront promenade). After breakfast, enjoy a leisurely walk along the Breakwater. If it's too hot to explore outdoors, head instead to the cool comfort of Marina Mall, located opposite the Corniche, for some light shopping.

AFTERNOON

A short walk or taxi ride from the Marina Mall on the Breakwater is the Heritage Village. Here you can see how life was in Abu Dhabi before oil was discovered and transformed the region. It offers a fascinating insight into early Bedouin life and sells handmade souvenirs that make ideal gifts. For a quick lunch, try popping into Lebanese Flowers and enjoy delicious Arabic Mezza, Shish Tawook and Mixed Grills.

EVENING

Your perfect evening will start with a splendid dinner cruise aboard a traditional Arab sailing vessel from the Al Dhafra Dhow restaurant. A trip across the Arabian Gulf while dining on local and international cuisine is a real treat. On your return, round off the evening with a shisha (water pipe) and fresh tropical juices or Arabic coffee at any of the cafes dotted along the waterfront.
LOCAL CULTURE

ALCOHOL

Alcohol is allowed in certain licensed outlets but drinking in public areas is prohibited.




CULTURE

The United Arab Emirates is more conservative than Western countries. Public displays of affection, for example, are frowned upon.




CLOTHING

As a symbol of pride in the culture and national identity, most locals wear a traditional national dress. For men this is khandura, a full length shirt dress that is worn with a white or red checked head dress (gutra) which is held in place with a black cord (agal). Women wear a black abaya, a long, loose black robe and a sheyla (a headscarf). Visitors to Abu Dhabi are expected to abide by local standards of modesty.




LOCAL PEOPLE

No matter how beguiling or unusually attired, try to avoid staring at or making eye contact with local women. It is considered very disrespectful.




DID YOU KNOW ?

Abu Dhabi

Abu Dhabi is situated in an archipelago of over 200 other islands.




Alhosn Palace

The oldest building in Abu Dhabi is Alhosn Palace, built in 1793, which was the home of Abu Dhabi's rulers until 1960.




Sheikh Zayed Grand Mosque

Sheikh Zayed Grand Mosque is the third largest mosque in the world . It contain the largest handmade carpet in the world and holds up to 40,000 worshippers.




The Corniche

The Corniche is the life line of the city and located 5 minutes by car from the hotel. It's a great place to jog or walk, taking in the amazing view of the city skyline as well as the crystal blue of the waters.




The desert

The desert is the most beautiful place to view a spectacular sunset or any number of exhilarating desert safari activities: dune bashing, camel riding, sand skiing are all only one hour drive from Abu Dhabi. For bookings, contact the Concierge Team.




WHAT TO PACK

Light clothing

The weather in Abu Dhabi is at its coolest between November and April but can reach over 40C in the summer. Light clothing is advised, but do bring at least one heavier garment for the cooler months and air-conditioned interiors.




Local currency

It is recommended to exchange some money - just enough to cover airport incidentals and transportation to the hotel - before you leave home, so you can avoid unpleasant queues at the airport ATMs.




Sun protection

It is nearly always sunny in Abu Dhabi, so sun protection is advised whatever time of year you visit. Pack a hat, sunglasses and some sun cream.



InterContinental Abu Dhabi
King Abdullah Bin Abdul Aziz

Abu Dhabi

United Arab Emirates

Front Desk

+971-2-6666888
Languages spoken by staff
Arabic, German, Greek, English, Spanish, French, Hindi, Russian, Tagalog, Chinese
Pet Policy
Pets are not allowed on the premises of the hotel.