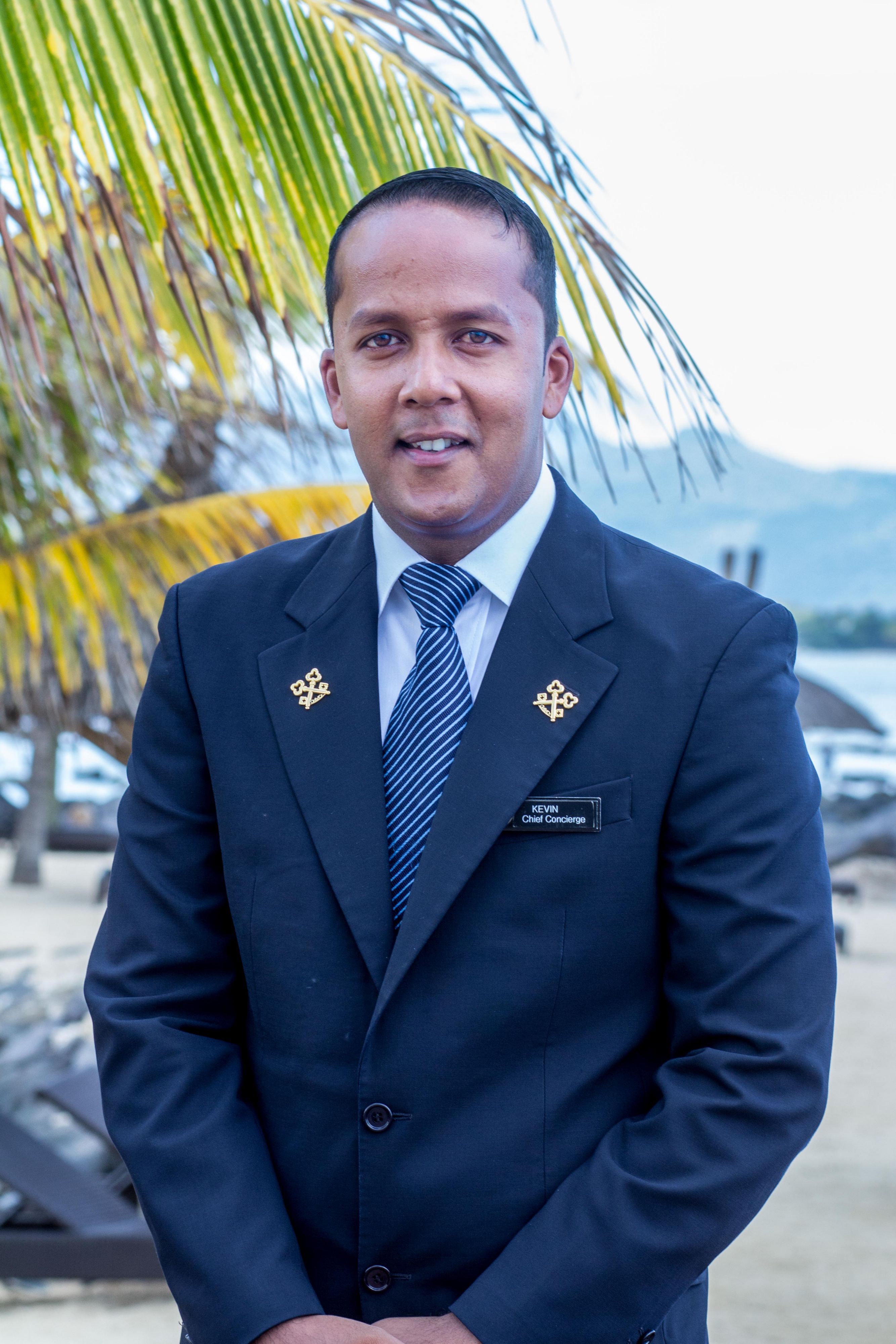 Mr. Kevin Ritoo
Chief Concierge (Member of les Clef D'or France) 2302611157
Welcome To Balaclava
Welcome to Mauritius! It is a pleasure to welcome you to InterContinental Mauritius Resort. My Concierge team and I are honored to have you with us. We are here to ensure that all your needs are met and that you return to our esteem resort, this is our reward.
*600m of white sandy beach and swimming areas overlooking the Bay of Balaclava & Indian Ocean. *210 well-appointed all sea facing rooms *Unique private Island with stunning views *A wonderful variety of 5 restaurants & 5 bars dotted about the resort including a full bar service on the beach. *4 meeting rooms and 1 ballroom. *Tennis court, Planet Trekkers Kids Club, 2 Pools, Gym, Yuj Spa, Ice Cream corner, Fresh juice bar
MORNING

After having your buffet breakfast at Senso restaurant or A la Carte breakfast at Segala beach restaurant, discover Mauritian local secrets and tropical luxury. You may enjoy a walking trip along the white sandy beach of Mont Choisy tuned by the chirping of colourful birds. A unique idea to know the history of sugarcane in Mauritius is visiting the famous Sugar Museum Aventure Du Sucre in the district of Pamplemousses. Not far from there you will find the legendary Pamplemousses Botanical garden.

AFTERNOON

Our hotel limousine is at your disposal ( at charge ) to take you to the traditional market called the "Bazar" in Port Louis, capital city of Mauritius. It is the perfect spot to find original souvenirs, fresh fruits and vegetables in a crowded type atmosphere. The Caudan Waterfront Shopping mall opposite the market is the leisure and shopping area with a wide variety of restaurants, cinemas, casino and a marina too. One can feel its pulse so close to the main square where the top of business and public life is situated.

EVENING

The fabulous sunset cruise in the luxury catamaran shall make your stay with us even more memorable. Experience the traditional Sega dance accompagnied by local cocktails on board. After having the authentic delicacies upon dinner, Grand Bay the famous tourist village welcomes you with its nightlife activities and the one and only Banana beach night club, to end up till the next day in the most frequented night clubs Buddha Bar and Les Enfants Terribles.
LOCAL CULTURE

General weather information

The island has a tropical climate. Summer is from November to May with a temperature varies between 22 and 35 degrees, Winter is from May to November with a temperature variance between 17 and 26 degrees. The coastal areas are usually warmer, with the sea temperature varying between 22 and 26 degrees. The central plateau regions are cooler during these peroids. Cyclones may affect the country between November and April.




DID YOU KNOW ?

Local Culture

Mauritius is a blend of diverse cultures and religions which our immigrant population brought from their ancestral countries. Mauritius Island is one of the countries of the world where you will find culture from almost everywhere. In the multiethnic culture of mauritius Hinduism, Christianism, Islam and Buddhism live peacefully together.




WHAT TO PACK

Light cotton or linen clothes (Long Trousers for gentleman in the evening).Sun body lotion are recommended for those who want to protect from sunburnt and mosquito spray

Light cotton or linen clothes (Long Trousers for gentleman in the evening). Sun body lotion are recommended for those who want to protect from sunburnt and mosquito spray



InterContinental Resort Mauritius
Balaclava Fort

Balaclava

Mauritius

Front Desk

+230-261-1200