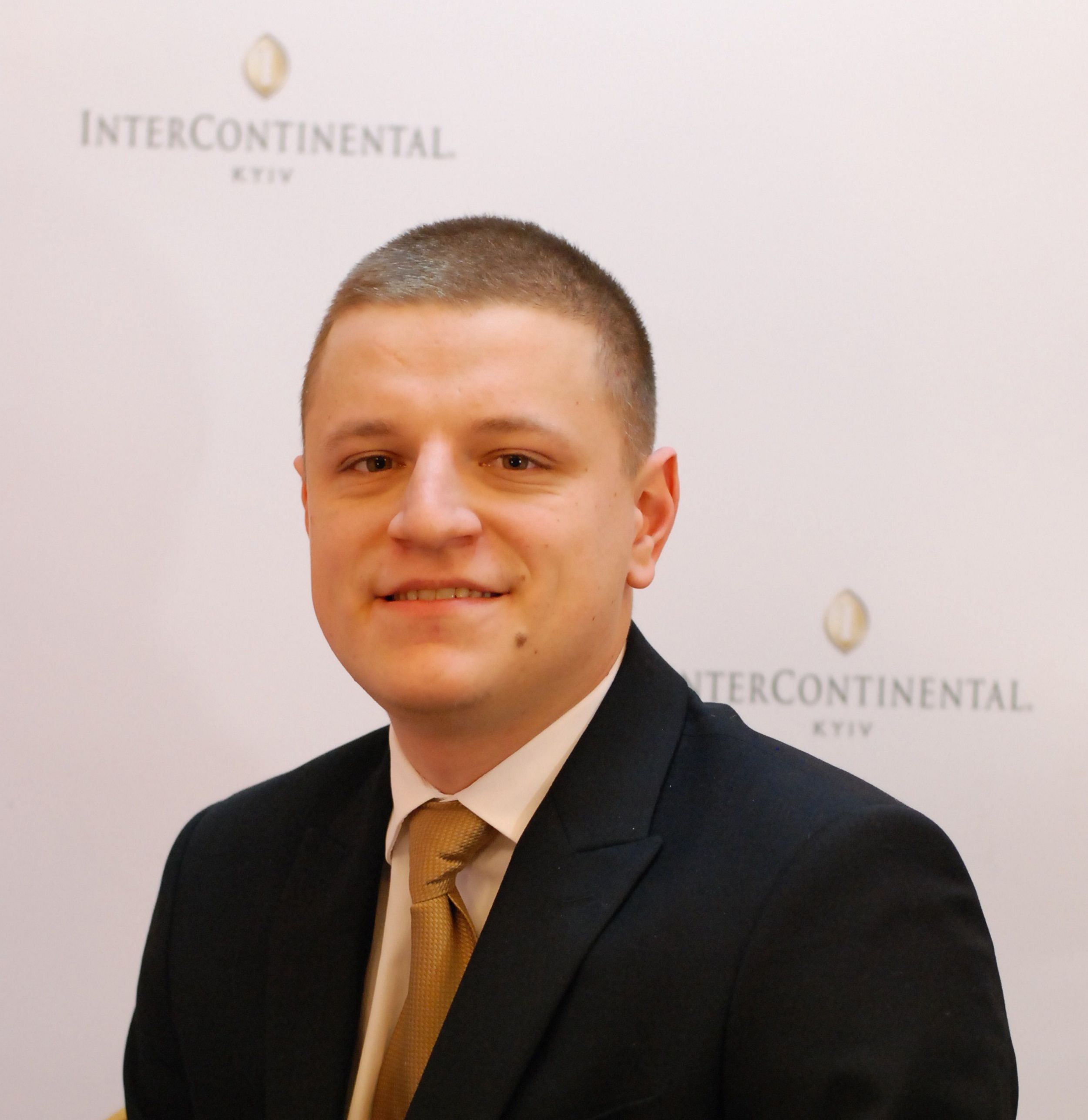 Chief Concierge 380442191919
Welcome To Kiev
A very warm welcome to InterContinental Kiev.
Please do not hesitate to ask us for help and advice. We want to ensure your stay with us is not only comfortable and enjoyable, but memorable and special.
Situated in the very heart of ancient Kiev and next to three main Ukrainian orthodox churches—St. Sophia, St. Michael and St. Andrew—the location of the InterContinental Kiev is truly unique. Built to match its historical surroundings, the hotel's traditional style is grand and elegant. Business travellers will appreciate our proximity to corporate entities, government agencies and embassies. When it's time for leisure, historical and cultural sights are just a step nearby...
MORNING

Wake up to the amazing glow of the golden domes of the city's numerous Cathedrals reflecting the sunlight against an azure sky. Start your perfect morning in a quiet city cafe. The fresh baked goods, coffee aroma and friendly relaxing atmosphere will awake your desire to explore the city. Take a walk to one of the oldest parts of Kiev, Lypki, and admire the outstanding architecture of the House with Chimeras, the most interesting tenement in Kiev. The facade is decorated with the statues of exotic animals and plants, dolphins and sea nymphs.

AFTERNOON

As you continue your exploration of the city, you will pass one of the greenest spots in Kiev – Mariinskiy Park, the grounds of the Mariinskiy Palace. Walk through shady alleys, take a picture of the ancient fountain in the middle of the park and visit the Palace – originally built for the Royal family and now used for special government receptions.

EVENING

A wonderful way to finish your Kiev day is to have the Concierge team arrange tickets to the National Opera. It is not only one of the oldest but also the most beautiful in Europe, having won a World Architecture Award. There is no doubt that you will enjoy an outstanding performance. On your way back to the hotel, listen to the beautiful music coming from the bell tower of the Mikhailovsky cathedral.
LOCAL CULTURE

TIP 1

Currency. There is no problem in exchanging money in Kiev for most common currencies such as U.S. dollars, Euros, Russian roubles, etc. They can be exchanged into the local currency, hryvnia, at any bank or one of the many currency exchange booths scattered throughout the city. Working hours are 9 a.m.-9 p.m.




TIP 2

Tipping. Usually a service charge is not included in the restaurant bill or other services like taxis, hairdressers, etc. 10% of the total bill is the customary amount for a tip. Tips are always given in cash, not charged to a credit / debit card.




TIP 3

Religion. Mostly Orthodox, there are two synagogues, one mosque, one Lutheran church and two Catholic churches in Kiev. While entering an Orthodox church female guests are kindly asked to cover their heads and wear skirts rather than shorts or trousers.




TIP 4

Photography. Photography of government institutions, military installations, embassies and church interiors is prohibited.




TIP 5

Shopping. Most shops operate 7 days a week without lunch breaks and some food stores are open 24 hours. However, not all accept credit / debit cards. A 20% VAT is charged on all consumer goods and is included into the price.




DID YOU KNOW ?

Tip 1

Geography. Ukraine has the largest territory in Europe.




Tip 2

History. Kiev city is more than 1500 years old and was founded by vikings.




Tip 3

Geography. Dnipro river is the third longest river in Europe after the Volga and Danube with a length of 2285 kilometers.




Tip 4

Architecture. There are about 4000 Orthodox churches and monasteries in Ukraine, many of them dating back to 1000 years old.




Tip 5

Inventions. The first helicopter was invented by the Ukrainian Igor Sikorsky.




WHAT TO PACK

Tip 1

Foot wear. Comfortable shoes or trainers – prepare for the cobble stone city streets of Kiev, the climbs to beautiful historic sights and walks through lovely parks and botanical gardens.




Tip 2

Camera. When going for a walk or excursion, bring a camera with you. Kiev city is proud of its historic heritage: amazing churches and beautiful views. But please take care to look after your belongings in public areas.




Tip 3

Money. It is advisable to have at least some cash, in local currency with you at all times; local taxis and some shops accept payment in cash only (Euros or Dollars – can easily be exchanged in the city's many banks).




Tip 4

Winter clothing. It can get very cold during the winter months, often down to minus 20 degrees Celsius, so pack some warm layers.



InterContinental Kiev
Velyka Zhytomyrska Street 2a

Kiev

,

01001

Ukraine

Front Desk

+38-044-2191919
Languages spoken by staff
Arabic, German, English, Spanish, French, Italian, Romanian, Russian
Pet Policy
No pets allowed, with the exception of guide dogs.