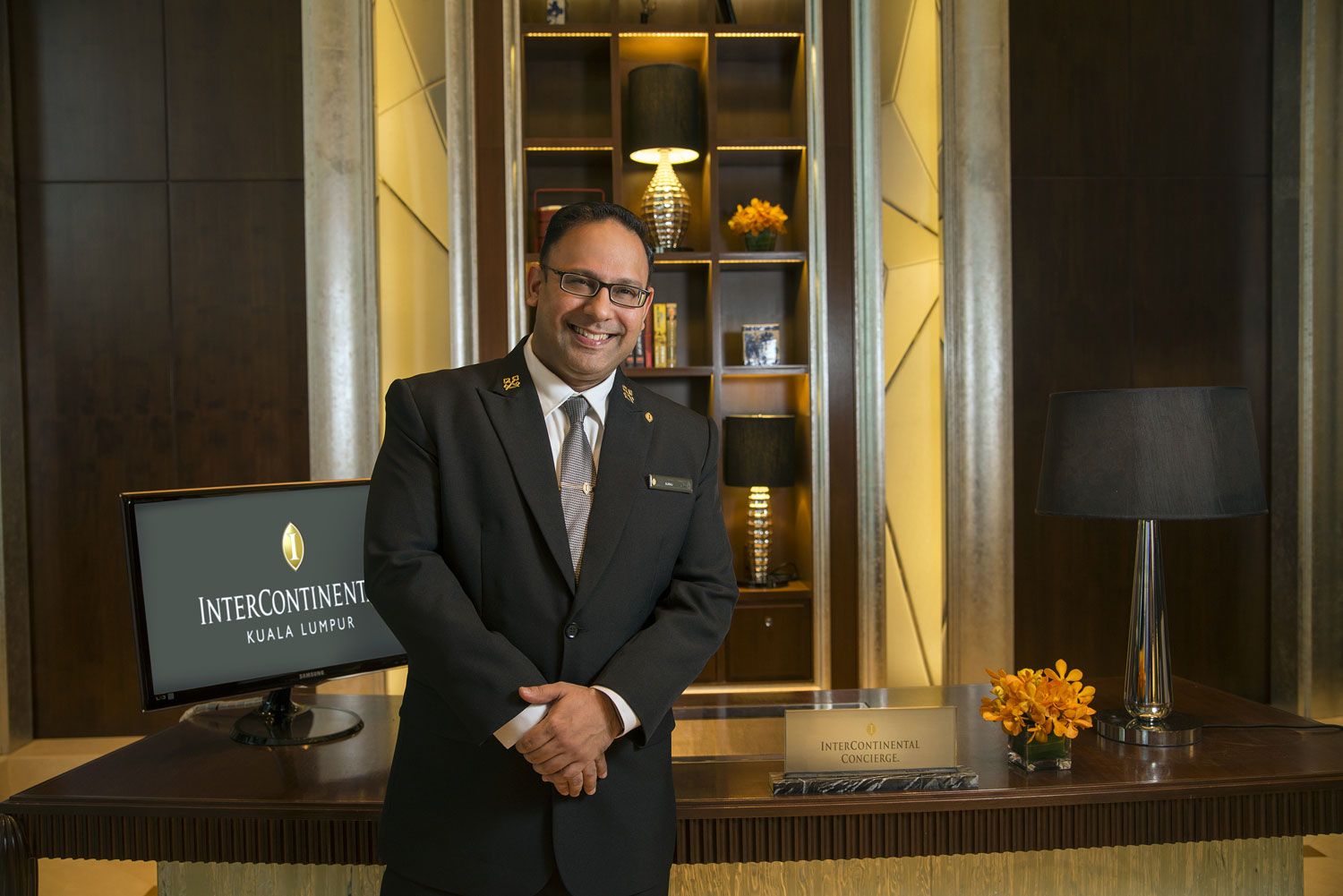 Suraj Sud
Chef Concierge 60327826000
Welcome To Kuala Lumpur
Welcome to InterContinental Kuala Lumpur! Rich in its cultural heritage, we invite you to explore Kuala Lumpur as the city unfolds its historic influences and diversified traditions and customs. For quick tips, browse through our handy guides for useful information.
Located along Jalan Ampang, the hotel is nestled in the business and commercial district. Just 55-minute by car from Kuala Lumpur International Airport and 10-minute walk to the iconic Petronas Twin Towers, InterContinental Kuala Lumpur is the perfect choice for business or leisure. The hotel has direct access to public transportations. The Ampang Park Light Railway Transit Station is located next to the hotel and buses stop at the station in front of the building.
MORNING

Start off the day with a morning jog in the recreational park at Kuala Lumpur City Centre. Walk around the lake, pass the Petronas Twin Towers to Jalan Ampang, you will see a 24-hour Muslim restaurant called Pelita that serves delicious curry and briyani. Order a steaming hot teh-tarik with roti canai and fish curry. If you don't like it spicy, then ask for roti canai with egg. It's the best Malaysian breakfast you can ever have. After this, it's time for breathtaking view of the city and its skyline. Get your tickets early and take a trip to the Sky Bridge at the twin towers. With a height of 452 meters, the Petronas Twin Towers is one of the world's tallest buildings. Built in 1998, it has 88 floors and inspired by Islamic Architecture and designed by Cesar Pelli. The towers feature the world's highest 2-storey sky bridge at the 41st and 42nd level. After this mesmerizing visit, take a stroll back to the hotel. Opposite the InterContinental Kuala Lumpur is Ampang Park, the oldest shopping complex in the city. Here, you will enjoy shopping for traditional Malay dresses and batik shirts.

AFTERNOON

Take a taxi to the Central Market. Established in 1888, the Central Market offers a world of Malaysian heritage and culture. It boasts distinguished features of 1930's art deco style building. It houses 228 unique shops and it is the largest Malaysian arts and crafts centre. It was formerly built as Kuala Lumpur's wet market and belonged to a rich businessman, Yap Ah Loy. This is the place to get everything you need from souvenirs to local dried food items. By the way, the Central Market has a famous kopitiam shop and the toasted bread topped with butter and kaya (jam made of coconut milk, eggs, sugar and vanilla) is so scrumptious.

EVENING

To end your evening, take a slow walk to the Saloma Theatre Restaurant. Located within the vicinity of the Malaysia Tourism Centre, it is the ideal restaurant to savour the rich variety of local fare, discover traditional customs and must-see entertainment of Malaysia. The grandeur of yesteryears never fades away as nostalgic moments of the 60's aer brought to you while you dine on authentic Malay cuisine. The restaurant celebrates the life of the famous Malaysian singer and actress Saloma, who captured the hearts of millions of Malaysians some four decades ago. One can also find Saloma's very own Spice Garden featuring an interesting walk through various types of Malaysian aromatic herbs and plants that promise to spice up your dishes.
LOCAL CULTURE

Weather

As an equatorial country, Malaysia boasts two distinct weather patterns - warm and humid while offering uniform temperatures. The weather can vary greatly, you can be sleeveless in the morning but need an unbrella in the evening.




Dress

Light cool and casual clothing is recommended all year round. Do dress neatly when entering places of worship. It is advisable for ladies to wear long sleeves and loose pants or long skirts when entering places of worship.




Tipping

It is not a common practise in Malaysia. However, you may tip the staffs if you find the services are excellent or if you would like to do so.




Common Manners

You must not use your left hand when dealing with Muslims this is because left hand is reserved for bodily hygiene and considered as unclean.




DID YOU KNOW ?

About Jalan Ampang

There are many pre-war buildings along Jalan Ampang. The Malaysia Tourist Information Centre (Ma TIC) housed the war office of British Army in 1941. It was known then as Kuala Lumpur Millionaire Row.




Double-storey SkyBridge at Petronas Twin Tower

Petronas Twin Towers feature a skybridge between the two towers on 41st and 42nd floors,which is the highest 2-story bridge in the world. access to the skybridge is quite exclusive and is limited to just 30 people per day. To get a ticket to go up to the skybridge, you need to queue up as early as 6.30am due to the large number of people who want to visit the towers.




World's largest pewter tankard at Royal Selangor

The world's largest pewter tankard, recognised by the Guinness Book of Records, was made by Royal Selangor in 1985 to commemorate its centenary. The pewter tankard is measured 1.987 metres tall, weighs 1,557 kg and has a capacity of 2,796 litre.




Kuala Lumpur Bird Park

The KL Bird park is well known as the "World's Largest Free-flight Walk-in Aviary". The park offers a 20.9 acres of verdant valley terrain to be explored.




WHAT TO PACK

Electrical Voltage Converter

Electrical sockets (outlets) in Malaysia are the "Type G " British BS-1363 type, voltage are between 220-240 Volts (U.S./Canada are 110-120 Volts).




Sun Block and Umbrella

To explore Kuala Lumpur comfortably, it is good to bring along a sunblock and a foldable umbrella as Malaysia's weather can vary greatly. Malaysia's tropical climate receive average of 2500mm of rainfall.



InterContinental Kuala Lumpur
165 Jalan Ampang

Kuala Lumpur

,

50450

Malaysia

Front Desk

+60-3-27826000
Languages spoken by staff
English, Hindi, Chinese
Pet Policy
Pets are not allowed except for high VIP security delegation group inspection for State or Royal Family visits and guide dogs for people with disabilities.