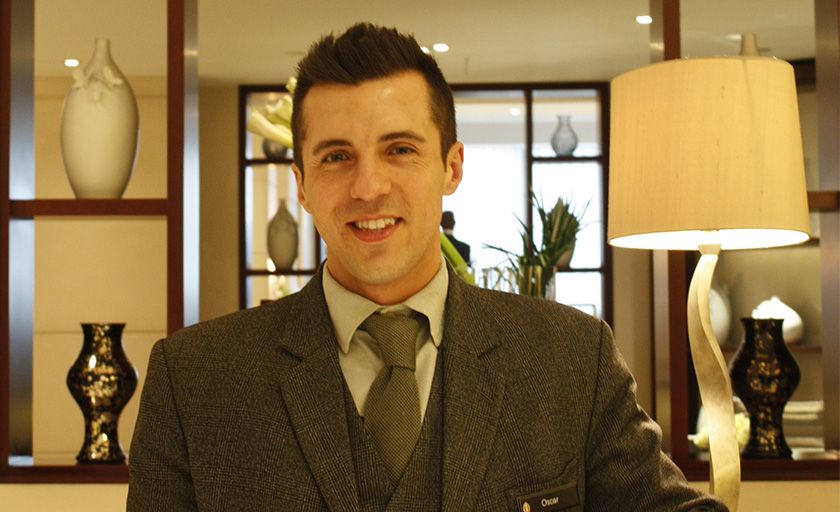 Oscar Fernandez
Senior Concierge 442074093131
Welcome To London
Welcome to InterContinental London Park Lane. Our unique city offers something special to everyone. The Concierge Team and I will be delighted to help you experience and capture its essence.
Once the site of a royal residence, InterContinental London Park Lane is now the epitome of modern elegance. Located between Mayfair and Knightsbridge in view of Buckingham Palace, the hotel is not far from the Tower of London, Big Ben and Trafalgar Square. Also worth seeing are the Victoria and Albert Museum, Madame Tussauds and the National Portrait Gallery.
MORNING

Adjacent to the hotel is Apsley House, a museum most visitors miss. Once the grand home of the Duke of Wellington, his descendents live there still. Packed with the Duke's extensive art collection, its address was for many years 1 London. From there, walk past Wellington Arch and on through lush Green Park to Mayfair, the heart of London. Filled with the UK's most exclusive stores along Savile Row and Bond Street. Nearby Piccadilly has the renowned Royal Academy of Arts - worth walking round for its splendid interiors alone. With lunch approaching, drop into Nicole Farhi's restaurant 'Nicole's' on Bond Street for something light. Alternatively, try something more substantial at any of the restaurants in the quintessentially English Fortnum & Mason department store, also on Piccadilly.

AFTERNOON

After lunch, head to Whitehall where you'll find The Churchill Museum & The Cabinet War Rooms for an evocative look into recent history. From there, take a cab to the Millennium Bridge. It has the best view of St Paul's in London and it's a short step over the Thames to Tate Modern. The UK's leading modern art collection is housed in a former power station. The old turbine hall is a massive space used solely for immense art installations. If you have time, walk down to Borough Market, one of London's oldest 'fruit and veg' markets, or maybe take a cocktail at the distinctive Oxo Tower with its perfect river views. Otherwise, hop on the Tate Boat service back to the London Eye. This is a must - even for Londoners - and your early-evening 30-minute ride will give you spectacular views of the city. Advance booking is essential via the Concierge: we can also arrange private pods and champagne rides.

EVENING

London's West End has the best collection of theatres in the world - many of them gems of Edwardian and Victorian architecture - attracting the biggest stars. We're happy at the Concierge Desk to recommend a show or arrange tickets for any performance of your choice. Enjoy a cocktail in the bar and then let our experienced chauffeurs drive you for the evening. For dinner, The Wolseley is great for food and star-spotting, with a buzzing atmosphere. The Wolseley is equally good for breakfast and lunch. For other restaurant suggestions, please ask at the Concierge Desk. After the theatre, we can arrange to guest list you in one of many exclusive private night clubs to keep you dancing till the early hours.
LOCAL CULTURE

COSMOPOLITAN

London has always attracted all nationalities due to the richness of its culture, the diversity of its society and its vibrant economy. The tolerance of the people living here has helped the city become a melting pot of ethnic groups: currently over 300 different languages are spoken in London. Be aware of the cultures around you and respect their ways.




CURRENCY

Euros and US dollars are not accepted in the UK. Most outlets accept all major credit and charge cards.




GRATUITY

It is customary to tip in London. On average, consider adding between 10 per cent and 15 per cent to your bill. Many London restaurants automatically add a discretionary service charge.




QUEUING

Queuing is still a strong British habit. Therefore, when paying at shops or purchasing tickets at a venue, always look out for the queue and join it if you don't want to cause offence. Ask the Concierge for advance tickets for tourist attractions and you'll avoid the queues altogether.




WEATHER

The UK weather changes from day to day. Wear layers so that you can remove or add according to temperature. Autumn and Winter are generally mild but wet, averaging a temperature of 8-10 degrees Celsius. Spring and Summer average 20-25 degrees Celsius but can still be very wet.




DID YOU KNOW ?

Black taxis

Taxi drivers in London are required to pass a training test called 'The Knowledge', involving memorising the location of over 25,000 streets. Preparation for the test takes two to four years, making London's taxi drivers the most knowledgeable and safest in the world. You can hail a passing black cab if it has its taxi light switched on.




Houses of Parliament

While repairs on the roof at Westminster Hall in 1914 were being carried out, tennis balls were found in the rafters believed to date back to Henry VIII. In 1761, 3,000 candles were lit during the dinner celebrating the investiture of George III and Queen Charlotte.




London Underground

The first underground system in the world now boasts 12 lines divided into 'Zones', Zone 1 being the most central and Zone 6 being the outermost ring (including Heathrow Airport). For use of both Underground and bus networks, purchase a daily Travelcard, sold at all Underground stations. When using the underground escalators, always stand on the right to allow people to pass.




London's Theatreland

There are 147 theatres in London, on average showcasing 76 plays, musicals and 19 operas daily. Many theatres offer tours which are extremely fascinating as most of them were built during the Victorian period. The concierge team will be delighted to assist you with recommendations and reservations.




Wellington Arch

Wellington Arch is the large arch located in the middle of Hyde Park Corner which can be seen from many of the hotel rooms. It was built in 1828 as a memorial to Sir Arthur Wellsey, the 1st Duke of Wellington. The immense bronze statue crowning the arch is the largest in the UK. Until 1992 the arch housed the second smallest police station, now a small museum.




WHAT TO PACK

Camera

There is so much to see - so don't forget your camera.




Loose, comfortable clothing

The weather can be changeable. Wear layers so that you can remove or add when necessary.




Pounds Sterling

We recommend you exchange some money - enough to cover airport incidentals and transportation to the hotel - before you leave home, so you can avoid queues at the airport ATMs.




Umbrella

Whatever the weather take an umbrella with you. With the English climate you never know when it could rain.




Walking/comfortable shoes

In London you really can walk everywhere - it's the best way to get around and learn about the city.



InterContinental London Park Lane
One Hamilton Place

London

,

W1J 7QY

United Kingdom

Front Desk

+44-207-4093131
Languages spoken by staff
Arabic, Czech, German, Greek, English, Spanish, French, Italian, Japanese, Dutch , Polish, Portuguese, Romanian, Russian, Turkish, Chinese
Pet Policy
Assistance dogs welcome.