Skip Navigation
English
|
|
|
|

Sign In

Book online or call: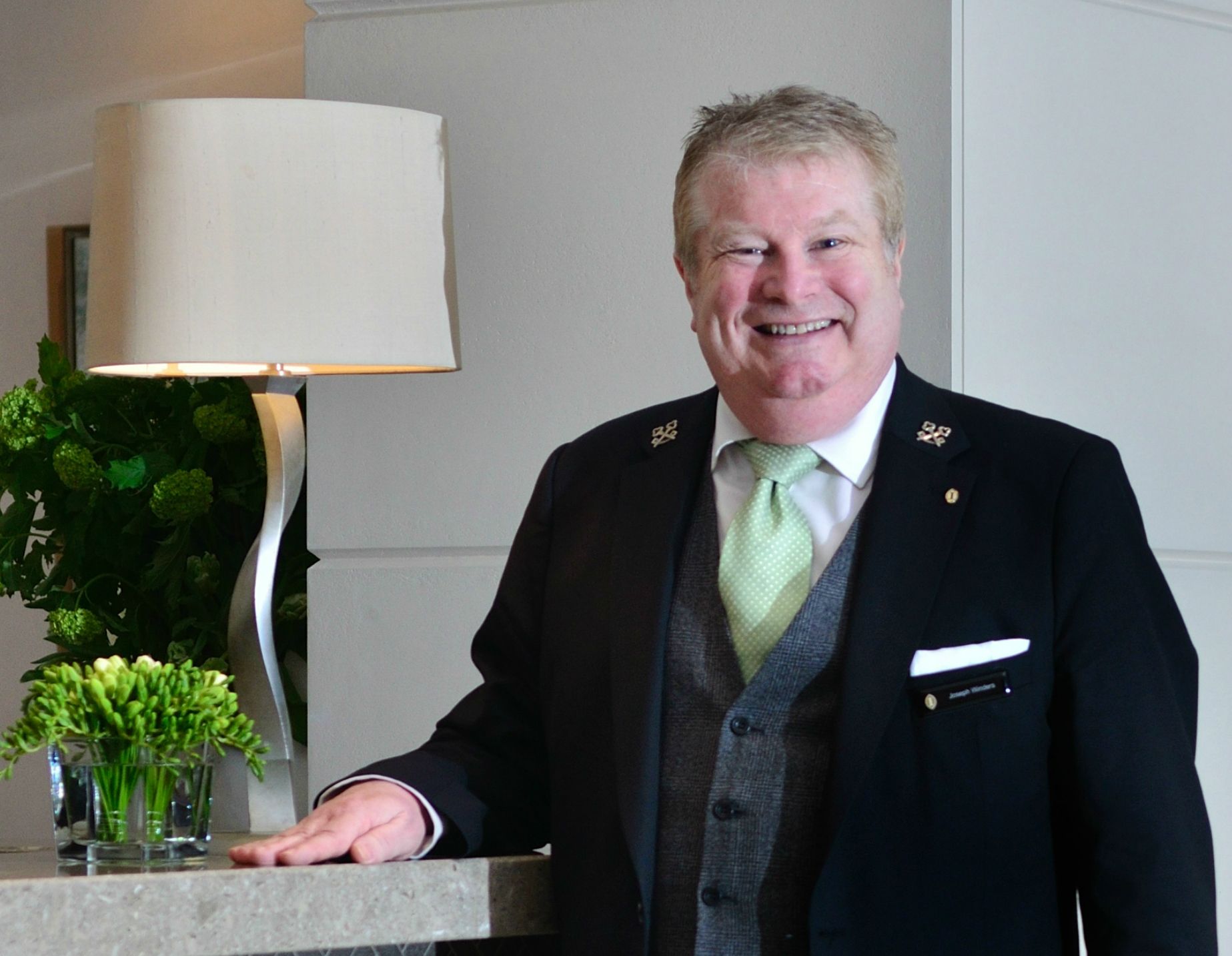 Insider Tips
LOCAL CULTURE
COSMOPOLITAN
London has always attracted all nationalities due to the richness of its culture, the diversity of its society and its vibrant economy. The tolerance of the people living here has helped the city become a melting pot of ethnic groups: currently over 300 different languages are spoken in London. Be aware of the cultures around you and respect their ways.
LONDON HOTEL ON HISTORIC PARK LANE
Steeped in history, this London hotel was once the site of a royal residence. Now the epitome of contemporary elegance, the hotel is located just steps from Hyde Park and in view of Buckingham Palace. Enjoy people watching in our chic lounge or escape to our full-service spa. Savour the menu at Theo Randall's, voted the 'finest Italian in London' or try Cookbook Café offering a fresh, seasonal menu. Bike the Serpentine or stroll the South Bank, from County Hall to Borough Market.
HOTEL HIGHLIGHTS
Restaurant & Lounges

Dining at InterContinental London Park Lane is a real highlight of any stay. From the award-winning Italian cuisine offered up by Theo Randall at h...

Amenities & Services

Spa InterContinental, located on the 1st floor, features state-of-the-art facilities and an expert team of therapists, the luxurious spa offers inn...

SPECIAL PACKAGES

There's always something special happening at an InterContinental hotel. Whether you are looking for a fun-filled getaway or a place to host your n...
InterContinental London Park Lane
One Hamilton Place

London

,

W1J 7QY

United Kingdom

Front Desk

+44-207-4093131
Languages spoken by staff
Arabic, Czech, German, Greek, English, Spanish, French, Italian, Japanese, Dutch , Polish, Portuguese, Romanian, Russian, Turkish, Chinese
Pet Policy
Assistance dogs welcome.
CHECK-IN

3:00 PM

CHECK-OUT

12:00 PM

Late Check out Available
Accessibility
Service animals allowed
8 Room(s) with Accessibility Standards
Parking
Guest Reviews
Rated

4.2

out of

5

 by

535

reviewers.
Rated

1.0

out of

5.0
Poor quality hotel need refurbishing right through if it was not for being
We have stayed at this hotel almost every year for 12 years because of the service and location .This year will be our last the service is poor and the hotel is what we call in America very tired
November 13, 2014
Rated

3.0

out of

5.0
 by
peter2243
Beschwerde
Ein Freund hat mir ein Couvert beim Portier hinterlassen und auch der Rezeption mitgeteilt, dass dieses bei meiner Ankunft mir ausgehändigt werden soll. Erst nach mehreren Nachfragen wurde das Couvert aufgefunden und mir übergeben.
November 13, 2014
Rated

5.0

out of

5.0
 by
Lea21
Grat location and helpful staff
The location is great, next to the Green Park station. Hop on-hop off bus station across the street. you can reach the Piccadilly circus, Bond Street, Regent Street in a stroll. Buckingham palace is only 7 min away by foot. Rooms are clean, staff friendly and helpful. Internet is a bit slow, but free if you join igh reward programme. I didn't use any other facilities. Would visit the hotel again in the future.
November 12, 2014
Rated

5.0

out of

5.0
 by
Fluffer59
Ideally located
Ideally located for Buckingham Palace, Piccadilly, Green Park underground. Comfortable, clean and modern.
November 11, 2014
Rated

5.0

out of

5.0
 by
CWSL
Excellent location and service
This hotel is perfectly convenient for walking to the sights of London or if you prefer the Green Park tube station is close by. Despite the central location the room was quiet and the peace of Green Park is just down the road and gives quick access on foot to Buckingham Palace, The Mall and Westminster etc. An excellent base from which to explore London. Being reward members we were also gave us a generous late check-out,, giving us an extra care-free morning in London.
November 10, 2014
Rated

5.0

out of

5.0
 by
Rog22
Very pleasant
The room was a good size for central London and the beds were very comfy. The concierge staff were very helpful in term of leaving luggage and hailing taxis
November 10, 2014
Rated

3.0

out of

5.0
 by
GNIE
Unfortunately bad experience at a normally great hotel
I've been to the hotel before, but this time we had a really bad experience. Obviously alot of new staff or trainees in the hotel, very big difference in quality to experienced staff. Room was promised to be ready at certain time, which did not happen. After 20 mins of waiting in the lobby we got a key, but still found the cleaning staff in the room. After heated discussion between reception and housekeeping supervisor (why the roomkey as handed over for a room not ready#, we finally got another room which was ready. Especailly bath room was very old although the room should have been renovated recently. Toilet flush did not work #was repaired quickly), shower mounting was more than dirty, had gone rotten. Breakfast and dinner was excellent. Only 2 wifi connections are complimentary for Gold/Platinum members, could be more if traveling with the whole family. The location of the hotel is nearly unbeatable and I enjoyed stays there in the past, but this time I was very disappointed by the service level. Will probably move to another one for future trips.
November 10, 2014
Rated

5.0

out of

5.0
 by
Outright
Great location and comfortable bed.
Great Location for shopping, dining and casinos. Very comfortable bed. Very good wifi, but only two devices per login allowed.
November 8, 2014
Rated

5.0

out of

5.0
 by
Mrs bobo
Lovely hotel
We stayed at the holiday inn for one night, the hotel is in a perfect location in Mayfair with easy access to everything you could want for a London City break, close to shops, restaurants, the tube and green park and Hyde park. Check in was very welcoming as,was the room which was very clean and the bed was comfy too. We didn't eat at the hotel so I can't comment on that. All in all a great stay and I would reccomend to others to use this hotel.
November 6, 2014
Rated

2.0

out of

5.0
 by
Alegherrize
suggestions
I stayed at the hotel for 5 nights and my fridge wasn't refilled once. I think we should have free wi-fi for all hospides, as already exists in other hotels. Breakfast is very expensive.
November 5, 2014
Rated

5.0

out of

5.0
 by
mudandsnow
Great location
Used hotel many times, good choice for service and access to Underground Network. Parking expensive we park at end of tube line and use underground to Green Park Station. This limits the luggage that can be carried but keeps you out of the congestion charge area. Oxford street shops only 15 minutes walk
November 4, 2014
Rated

5.0

out of

5.0
 by
Harrywho
Great location and comfortable room
We have stayed at the hotel several times now and each time the comfort levels and service have been consistently good. This is our favoured London Hotel due to both its location and value for money. No London hotel is cheap so we look at value relative to our price range. My wife frequently has trouble sleeping but always completes a good nights sleep here. If you don't wish to eat in the hotel there is a great selection of restaurants and bars nearby. This is London after all.
November 4, 2014
Rated

4.0

out of

5.0
 by
Andy4444
Breakfast manager
the Breakfast manager was excellent and managed with the large volume of customers very well, despite the lack of seating
November 4, 2014
Rated

5.0

out of

5.0
 by
Hoganas
Great location
God hotel with nice staff in the center of London.
October 31, 2014
Rated

3.0

out of

5.0
 by
RobertS5
Good location, shame about the rest!
Would of been nice to have been told roadworks would keep me awake all night!
October 29, 2014
Rated

2.0

out of

5.0
 by
LNG48
Just ok
I stayed here for work. The staff could not be nicer, but apart from that, this hotel is lacking in many ways. I am not one to get angry and make demands, but I was very disappointed with my trip. My company paid for me so I cannot complain about the price, but if it had been my own money I would have never stayed here. If all you care about is a great location, this is the place for you. If you are looking for modern ammenties and nice, clean, new rooms, do not stay here. Unless you take an Executive room, the rooms are very old and dilapidated, unfortunately. This hotel is banking on the fact that it is across from the Ritz so they charge high prices, but it has little else going for it. I had to move rooms 3 times because of the electricity kept going out in my first room, then I was moved to a double room (I was alone) with smaller beds located directly across from the elevator, then finally to the top floor to a room that was just ok (all the rooms are just "ok"). It had 2 adjoining doors, a ceiling "door" where there is obviously access to a roof. And one morning there were workmen outside my window on the top of the building at 730am. Good thing I did not have my blinds open. I asked to be upgraded after all my troubles but was told I would have to pay the additonal fee for an upgraded room and there was no way to waive it. I suppose if I had screamed and shouted I could have gotten my way but I'm not that kind of client. I was very tired after many days of travelling and a lot of hard work, and I just found the rooms to be totally lackluster. This hotel needs a MAJOR rennovation. Again, staff is super friendly and nice, the room service is actually qutie ok, as is the bar and restaurant. But the rooms are the opposite of comfortable and accomodating. I do not want to go back.
October 28, 2014
Rated

4.0

out of

5.0
 by
timw
Holiday Inn Mayfair London
This hotel is in an excellent location if you are looking to stay in central London. From the hotel you can walk to most places relatively easily for example Regent Street is only 5 minutes walk. We had a room on the 7th floor overlooking Piccadilly. The room was quite large although the bathroom was small but fully functional. I can't comment on the hotel food as we ate out.
October 28, 2014
Rated

2.0

out of

5.0
 by
twonightonly
Poor value
For a hotel situated a stone's throw from the Ritz this was truly a disappointing experience. On checking in 1 hour early I was informed there were no rooms available but that I could upgrade to an executive room. The usp of which seems to be high speed internet and a desk. The internet was extremely slow and I complained about this to the front desk staff. The only redeeming factor was that the majority of staff were very helpful and polite. However the final straw was that when ordering dinner my steak (requested medium rare) was completely rare. I expected a better service all around. For ca £50 more a night there are an abundance of far superior hotels in the Mayfair area. I for one shall be frequenting them in future and shall never return to the Holiday Inn.
October 28, 2014
Rated

4.0

out of

5.0
 by
Doug T
Business travel
I have stayed here several times in the past. It is very conveniently located. The room fee has increased quite a bit since the last time I stayed here. Unfortunately that hasn't meant the hotel has improved in appearance and comfort. It is a bit dated.
October 25, 2014
Rated

4.0

out of

5.0
 by
Terry1955
Excellent Service
The staff at this hotel, from the check-in staff, the concierge to the staff that cleaned the room were all friendly and helpful. One problem was the standard of choice within the restaurant, we felt that it was too limited. However having said that the restaurant is up against some excellent restaurants in the area
October 25, 2014
Rated

5.0

out of

5.0
 by
Phipps
Idealer Standort
Standort des Hotels war perfekt. Viele Sehenswürdigkeiten konnten zu Fuss erreicht werden. Ebenfalls befand sich die U-Bahn-Station Green Park gleich um die Ecke. Sehr freundliches Personal und feines, umfangreiches Frühstück.
October 24, 2014
Rated

5.0

out of

5.0
 by
Springdaddy99
Wonderful experience at the Holiday Inn Mayfair
I was very impressed with the complete staff of this hotel. We had a wonderful experience and will stay at this hotel again the next time we are in London.
October 23, 2014
Rated

4.0

out of

5.0
 by
RichardCQBM
Location location location
Nice greeting, great image old and tired bathrooms, a bit off putting breakfast food looked like it had been there for an hour not good value for money at all
October 20, 2014
Rated

3.0

out of

5.0
 by
Malc23
Excellent Location
Location of the hotel was excellent and the staff were friendly and efficient. The room we occupied was very large unfortunately it overlooked Berkeley Street and was rather noisy from late night traffic and revellers even though on the top floor, the windows did not open and the only view was the side of an office block and a concrete parapet, the air con was capable of controlling the required temperature if a little noisy so needed to be switched off whilst sleeping. Furniture and fittings were drab and required refurbishing and the bathroom was small and poorly maintained, the sink had cracks and the extractor did not work at all. It rained during our stay and many buckets and bowels were placed in the corridor to catch water coming through the ceiling! Staff were friendly and efficient at reception but we did not use the restaurant and bar due to poor value, as an example breakfast was £19.95 per person (or £5 less for reward members) and having lived in London for many years I fortunately knew where to find comparable meals and drinks at less than half the price. Overall even accepting the location and being on a "Points Break" the value was poor.
October 19, 2014
Rated

5.0

out of

5.0
 by
Sanguels
Ubicación extraordinaria
Ideal para fin de semana. Al lado del Underground está muy bien comunicado. Todo el centro está cerca para ir dando un paseo.
October 16, 2014
Rated

4.0

out of

5.0
 by
TiRohn
Gutes Hotel, sehr zentral
Wir haben das Hotel als Familie für eine Woche genutzt und waren im Allgemeinen sehr zufrieden. Einzig das Zimmer war relativ klein, um als "Family Suite" bezeichnet zu werden, doch da wir hauptsächlich für London und nicht für das Zimmer dort waren, war es einigermassen ok. das Frühstücksbuffet dagegen war der Hit, reichliche Auswahl an frischen Zutaten und freundliches Personal.
October 15, 2014
Rated

3.0

out of

5.0
 by
Joerg1944
Enttäuschend
Die Lage des Hotels ist für Touristen und Geschäftsleute sehr gut, Nähe zu U-Bahn und Einkaufszentrum. Deshalb habe ich es auch ausgesucht. Dieser Vorteil wird aber durch die enttäuschende Qualität der Zimmer, insbesondere des Badezimmer, eliminiert. Das Doppelzimmer (twin beds) war so eng, dass zwei Personen kaum aneinander vorbei kamen, die sanitären Einrichtungen schon seit Jahrzehnten nicht mehr erneuert. Dafür war der Preis zu hoch.
October 15, 2014
Rated

5.0

out of

5.0
 by
greener20751
Excellent Location
Excellent location close to everything yet far enough away to feel quiet. Great spot for a family of 4 to visit central London. Breakfast buffet was great with a wide selection of hot/cold items. Would definitely recommend this hotel for families who need space for 4.
October 14, 2014
Rated

2.0

out of

5.0
 by
LondonBiz
Don't use as Business Hotel
Have Executive Room, large but dated, not enough power outlets, limited to 2 devices for wifi, limited room service. Wake up call came 1 hour LATE one day, then the next day when I didn't schedule a wake up call, they woke me up the day I planned to catch up on much needed sleep! Unable to print documents needed,
October 14, 2014
Rated

5.0

out of

5.0
 by
Paul-GC Qld
Fantastic Location and Great Staff
A wonderful hotel in a fantastic location in central London. Large spacious and comfortable rooms. Staff and facilities are excellent, will definitely return again.
October 13, 2014