Skip Navigation
English
|
|
|
|

Sign In

Book online or call: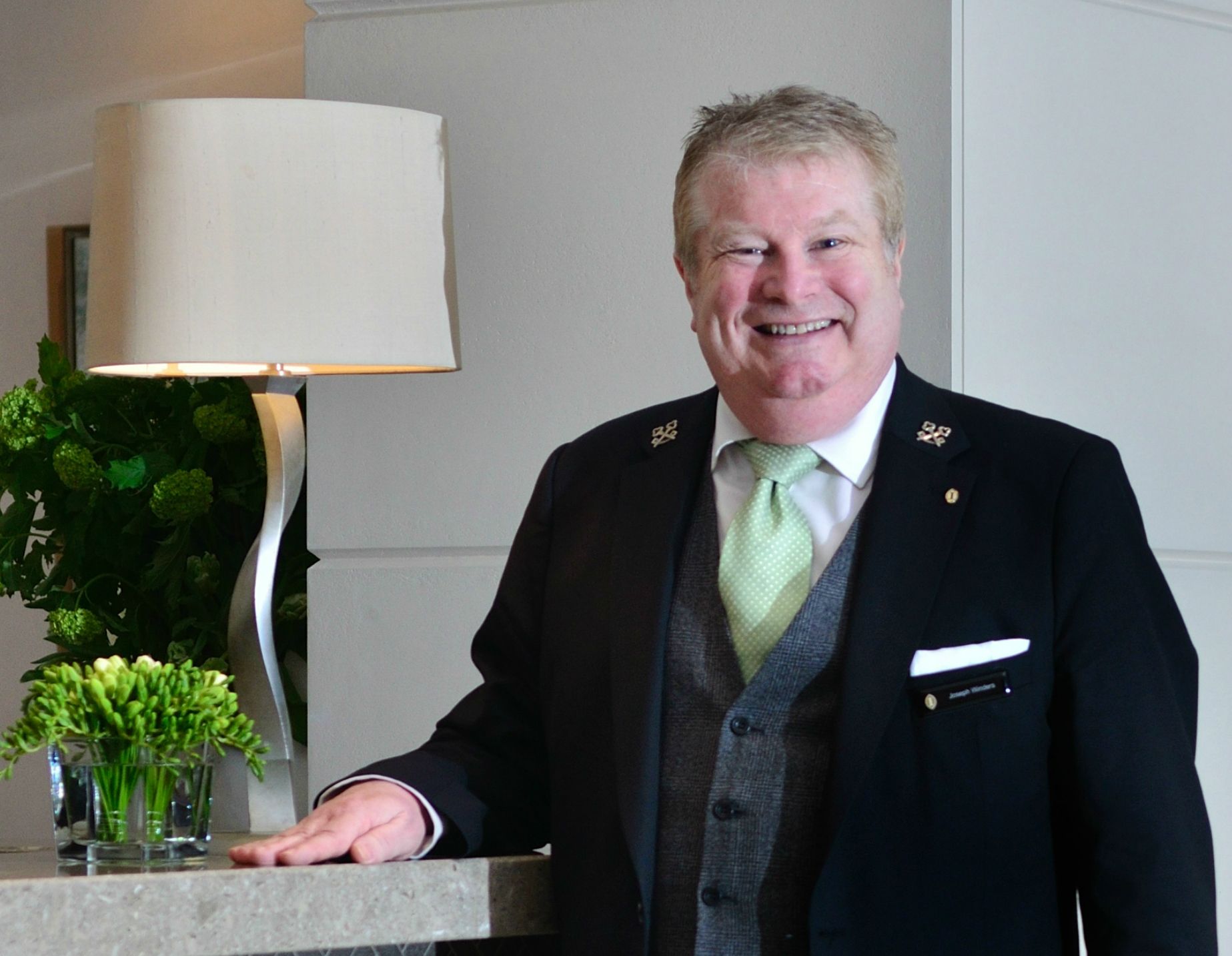 Insider Tips
LOCAL CULTURE
COSMOPOLITAN
London has always attracted all nationalities due to the richness of its culture, the diversity of its society and its vibrant economy. The tolerance of the people living here has helped the city become a melting pot of ethnic groups: currently over 300 different languages are spoken in London. Be aware of the cultures around you and respect their ways.
LONDON HOTEL ON HISTORIC PARK LANE
Steeped in history, this London hotel was once the site of a royal residence. Now the epitome of contemporary elegance, the hotel is located just steps from Hyde Park and in view of Buckingham Palace. Enjoy people watching in our chic lounge or escape to our full-service spa. Savour the menu at Theo Randall's, voted the 'finest Italian in London' or try Cookbook Café offering a fresh, seasonal menu. Bike the Serpentine or stroll the South Bank, from County Hall to Borough Market.
HOTEL HIGHLIGHTS
Restaurant & Lounges

Dining at InterContinental London Park Lane is a real highlight of any stay. From the award-winning Italian cuisine offered up by Theo Randall at h...

Amenities & Services

Spa InterContinental, located on the 1st floor, features state-of-the-art facilities and an expert team of therapists, the luxurious spa offers inn...

SPECIAL PACKAGES

There's always something special happening at an InterContinental hotel. Whether you are looking for a fun-filled getaway or a place to host your n...
InterContinental London Park Lane
One Hamilton Place

London

,

W1J 7QY

United Kingdom

Front Desk

+44-207-4093131
Languages spoken by staff
Arabic, Czech, German, Greek, English, Spanish, French, Italian, Japanese, Dutch , Polish, Portuguese, Romanian, Russian, Turkish, Chinese
Pet Policy
Assistance dogs welcome.
CHECK-IN

3:00 PM

CHECK-OUT

12:00 PM

Late Check out Available
Accessibility
Service animals allowed
8 Room(s) with Accessibility Standards
Parking
Guest Reviews
Rated

4.4

out of

5

 by

405

reviewers.
Rated

5.0

out of

5.0
 by
HampshireRose
Overnight stay
We stayed at the Hotel last week and thoroughly enjoyed our short stay to visit Buckingham Palace and other places of interest. It is very central to most things and did not cost much to get a taxi to and from the Hotel. The décor in the Hotel is very modern and pleasing to the eye. The staff were very pleasant and always acknowledged you in passing. The breakfast was excellent with a good choice for everyone. The bedroom was large and clean and had everything that we needed. I would thoroughly recommend Crowne Plaza St James when visiting London.
September 2, 2013
Rated

5.0

out of

5.0
 by
patster
great location
This was a return visit to this hotel, we enjoyed our recent stay just much as our first visit last year. Great location, breakfast and staff, a most enjoyable stay. Only negative was a chargeable amount on my bill which staff were not able to explain so it was cancelled when i queried it.
September 1, 2013
Rated

5.0

out of

5.0
 by
MrMPK
Great Spot, Room & Service
My wife and I just spent 8 nights and had a wonderful time at the hotel. Hotel - Courteous, Friendly & Accommodating Staff. Concierge very helpful. Food - GREAT food at the restaurant Bistro 51. The Courtyard is very relaxing as well, nice spot for afternoon tea or late night-cap. Room - Spacious and clean, not your typical cramped European hotel room. Bathroom was large and modern. Location - Can't beat the location. Out the door turn left, 5 minutes is Buckingham Palace. Go straight out the door and you pass the St. Jame's Tube stop not to mention Pret-A-Manger, Starbucks and 2-3 other breakfast spots on your 10 minute walk to Westminster Abbey, Parliament, Whitehall Street. GREAT location. Overall, when my wife and I return to London in the next year or two, we've already determined our Hotel for our next trip is the London St. Jame's Crowne Plaza.
August 31, 2013
Rated

5.0

out of

5.0
 by
LongTimeTravelers
Concierge staff was first rate! Fine choice of a hotel.
Conveniently located, the Crowne Plaza St. James provides a top-notch guest experience. Our room, in the renovated section of the hotel, was spacious, clean and comfortable.The concierge staff takes personal interest in meeting guests' scheduling needs. Concierge Fred Suaiso demonstrated tact and perseverance in confirming tours we had booked prior to our London arrival. We were reassured by Fred that the Gray Line tours would pick us up at the hotel, although we had been told at the time of booking that our hotel was not on their route. Both tours did pick us up, at precisely the time confirmed. It was much more convenient, and less expensive, than for us to have to go and meet the tours. Registration staff and manager were accommodating to the needs of our early-morning arrival and later relocated us to a room away from construction noise. The hotel location, a short walk from Buckingham Palace, was convenient. We would certainly stay at this property again, and recommend it without reservation.
August 28, 2013
Rated

5.0

out of

5.0
 by
HenrikandAnja
Great hotel
Excellent hotel, excellent staff, excellent everything. The only thing that bothered us was that you could go straight through the lobby and take the elevator up to where ever you wanted to go - it gave you a feeling that the hotel was very "open". Easily solved by installing a room card identifier in the elevator.
August 28, 2013
Rated

5.0

out of

5.0
 by
Peracto
Great location and room
We stayed for one night 20th August 2013 for our 37th wedding anniversary trip to London. When we arrived we were told we had been upgraded to suite because it was our anniversary. The room was fantastic and the bed very comfortable. We had lunch in the lovely courtyard and evening drinks. The staff were all very good and helpful. Great central location just a few minutes walk from all the main sites too. Would stay again and recommend to anyone visiting London - great value for money too.
August 28, 2013
Rated

4.0

out of

5.0
 by
cle2791
Very enjoyable stay!
We really enjoyed our stay at your hotel recently. The bed was so comfortable and wished I could've taken it to our next destination. The location of the hotel was perfect! The staff was so nice and willing to assist at any moment. It was nice having pubs and restaurants in the area too!
August 26, 2013
Rated

5.0

out of

5.0
 by
Macko
First class hotel
I had a thoroughly enjoyable stay. All the staff were agreeable and helpful, the room was everything one could ask for and I would wholeheartedly recommend the hotel. Ideal location for sightseeing but quiet at the same time. Thank you.
August 25, 2013
Rated

5.0

out of

5.0
 by
Connell2013
Excellent location and service
We thoroughly enjoyed our stay - staff were attentive especially Fred the concierge - nothing was too much trouble - thank you
August 25, 2013
Rated

5.0

out of

5.0
 by
ArjunSFO
Location
Excellent hotel, that's how a Crown Plaza should be. Thanks For having Us.
August 23, 2013
Rated

1.0

out of

5.0
 by
fabrice
ONCE BUT NOT TWICE
The room was not ready at the hour of the check-in. They changed us several times of room and gave us the keys of a room which was not our. Once in the good room, our luggages which we had had to leave at the reception, were not there. For the given price, our room was tiny. No places for more than a small suitcase. We had a room in the floors of bottom giving on an internal court without possibility of perceiving the color of the sky. Noise of blower. Noisy air conditioning even when switched off. Too small bed. My feet exceeded of the bed while I am not tall. No chaine in French while 2 were resumed on the list as available. One day we left the room from 9 am till 4 pm and the room was not made while the panel "do not disturbed" was removed. Hardly brought in they called up to us for asked if it was necessary to make the room or not. Member of Priority Club, I was not credited with my points (+/- 10000) !!! A shame.
August 22, 2013
Rated

4.0

out of

5.0
 by
Betsyhw
Great amenities, comfortable ambience
The rooms was very well suited with all the comforts. Reception area and comfortable chairs to have cocktails or await for rides. Food service was good and so was breakfast, although this area was a little crowded at certain times in the morning. Staff was very willing and ready to help. Including concierge.
August 21, 2013
Rated

5.0

out of

5.0
 by
Skimbleshanks
Mission accomplished
We were looking for a convenient location for a couple of days visit for a special event, as we are now tourists in our home town! The location proved ideal, being in strolling distance of 'Buck House' and St James Park, with handy local amenities. The service was excellent and discreet, the comfort excellent and the support advice for our special occasion surpassed expectations. Relaxation areas were comfortable and functiional, especially the courtyard in the summer weather. We shall return!
August 21, 2013
Rated

5.0

out of

5.0
 by
Car237
Good Location
Location of the hotel was convenient to all the sights we wanted to walk to. The room was comfortable and all of the staff were very professional and made our stay enjoyable. If I were to come back to London in the future , this is the hotel I will stay at.
August 19, 2013
Rated

3.0

out of

5.0
 by
CC128
Not Great Value for the Money, Staff not friendly.
Hotel is old. We were supposedly in a renovated room. However, plumbing issues include sink and bath stoppers were not working, hand held shower handle did not lock in, water drained slow (fixed the next 2 days). Safe does not work (never fixed). Free Internet did not work (fixed next day) but connection was poor. Hotel suggested to pay to get better connection. Maintenance guy who came to fix internet somehow took our international electrical converter without our knowledge. After a lot of calls to housekeeping, it was found in another guest room on a lower floor.. Wondered how can that happen?! Worst part is that the hotel even demand shipping charges be paid by me to return my own property that THEY TOOK. Still pursuing the matter at the moment by complaining to customer relations. Concierge was very arrogant and cold and gave one word answers. He made you feel low and not welcomed.. For towels, bathroom supplies etc. you would have to ask because they will not offer proper sets voluntarily. Only nice personnel was the front girl who checked us in. She also explained that being Premier members, they would not offer anything extra.
August 19, 2013
Rated

5.0

out of

5.0
 by
Bluecondores
Great location in a classy hotel
Great location for visiting Buckingham Palace. A classy hotel. Breakfast is expensive.
August 17, 2013
Rated

5.0

out of

5.0
 by
JessK
Lovely Room and Fabulous Location
My family and I stayed 3 nights at your lovely hotel. The room was spacious, clean and nicely decorated. The bed was extremely comfortable. We were within walking distance of Westminster Abbey, Big Ben, Buckingham Palace and the London Eye. It was fabulous!. We would not only reccomend this hotel to our friends, but we will definitley stay here again on our next trip to London. Thanks for making this a great start to a 2 week trip to the British Isles.
August 17, 2013
Rated

4.0

out of

5.0
 by
canam79
Good accomodations in a great location
Pricey but then so is everything in London. The rooms were well designed although, as usual, lacking a bedside clock. The location is excellent and the desk & concierge staff get top marks. We had some minor difficulties with housekeeping but nothing that would stop us from staying there again. The food in the various dining areas attached to the hotel was excellent. Be sure to book your room to include the breakfast - one of the best we experienced in our 3 week tour. The free 24 hour business centre was a bonus and the beer in the lounge was wonderfully cold - I highly recommend the Bishops Finger. The Crowne Plaza made for a delightful end to a wonderful trip through the U.K.
August 16, 2013
Rated

4.0

out of

5.0
 by
Jennie40
Comfortable bed and professional service
Great stay in this hotel, minutes walk from all London landmarks, staff very helpful, a bit disappointed that breakfast was not included in the price. So an extra expense was unexpectedly added on to our budget. Overall stay though was superb.
August 15, 2013
Rated

5.0

out of

5.0
 by
CGTAN
Hospitality
Really a good hotel and I have an enjoyable stay in crowne plaza st James. Thank you to all the staffs there. Well done! If it comes with complimentary breakfast then it will be great. Lastly, it will be perfect if it is easier to get gold status as currently you need to stay more than 20 days per year to get the gold status
August 14, 2013
Rated

4.0

out of

5.0
 by
PYRLANDRED
Great friendly service
Very good friendly service, in what was a busy London hotel. There was a slight mistake with our room giving us twin beds, but within ten minutes of telling the front desk house keeping had been in and sorted it out. The hotel is comfortable and a very smart design, especially the court yard eating area(one of the attractions of the hotel when we looked it up).
August 11, 2013
Rated

4.0

out of

5.0
 by
conversioncamel
Great classy hotel
I decided to book this hotel as my favorite Crowne Plaza in Kensington seemed to have had a significant price increase due to either Wimbledon, the Ashes or F1, and the St James still seemed to have a reasonable rate. I was pleasantly surprised on arriving to find plenty of staff in attendance from doorman to porters etc. and a very classy modern Crowne Plaza somewhat very different to the others I had stayed at so much so that I felt I was in a superior hotel to other Crowne Plazas and significantly cheaper - BONUS! The rooms were great, the adjoining gym was also well equiped (important to me) and overal a great experience and wonderful hotel. My only issue was once again the Wifi connectivity which was problematic and also what I found strange was that now apparently all Crowne Plazas give free wifi (slower speed) and that as an Platinum Ambassador member we weren't even given the faster connectivity free which would be a nice bonus as part of the loyalty programme although the duty manager did assist me on another matter to my satisfaction, well done.
August 10, 2013
Rated

5.0

out of

5.0
 by
KitCat78
Really love this hotel
We've stayed at this hotel a couple of times now and love the combination of the lovely bar, courtyard and reception area and the modern, clean rooms. Can't recommend it enough. My only problem is that we're trying to book to come back with our son and the online booking system won't let us add him on - please help, we've tried calling and no one knows what we should be doing. We managed to bring him along last year so something's changed! Thanks
August 9, 2013
Rated

4.0

out of

5.0
 by
jkun
Nice location, courteous staff
Nice check-in agent. We received a pleasant welcome from the reception. The room is newly renvoated so there's a little smell of fresh paint in the room. No amenity for platinum members except newspapers but overall the experience was good.
August 9, 2013
Rated

5.0

out of

5.0
 by
SimonM27
Great Hotel
Had a lovely stay at the hotel, very clean, great location, excellent food.
August 5, 2013
Rated

3.0

out of

5.0
 by
Londoninsiders
review
good location of the hotel, but only average comfort. Not modern, bad condition of the windows
August 4, 2013
Rated

5.0

out of

5.0
 by
AstroB0I
Fantastic service and quality
Suite was large and well fitted. Good to have HDMI and USB inputs for the television. Bistro 51 restaurant was enjoyable and staffed by friendly servers. All front desk and concierge staff made me feel very welcome. They were knowledgeable and very helpful with all of my enquiries and requests. At first glance, I believed the food slightly overpriced - until I saw the size of the portions. Good value for money
August 4, 2013
Rated

5.0

out of

5.0
 by
Paula667
Luxury weekend
We had a girls trip and wanted to stay somewhere nice. This place was perfect. Our room was a suite and we had plenty of room. Very comfortable bed and nice toiletries. Very friendly and accommodating staff. We had one complaint about breakfast, which was handled very well. Overall the choice of breakfast is a little small, is my only other complaint. Otherwise a lovely stay in a wonderful hotel in a fantastic location.
August 3, 2013
Rated

5.0

out of

5.0
 by
Debbie3
Excellent location
Stayed here for one night in July. The location is perfect. The rooms are really lovely and the outside dining/drinks area is a real gem. The check in staff at reception were pleasant enough - but not up to the standard of the rest of the hotel. Would definately return, thank you!
August 3, 2013
Rated

5.0

out of

5.0
 by
Rose197
Immaculate hotel, excellent location
The hotel is very well located near to many of London's famous attactions and a short walk from Victoria station. The reception area is beautifully furnished and the courtyard at the back is wonderful. We had a recently refurbished room on the 6th floor which was tastefully decorated and very comfortable. The staff were very helpful and pleasant. We ate in the Bistro 51 which was fabulous; a bit pricey but worth it for the quality. A really nice touch was a free glass of champagne each as we were on our honeymoon.
July 29, 2013