Skip Navigation
English
|
|
|
|

Sign In

Book online or call: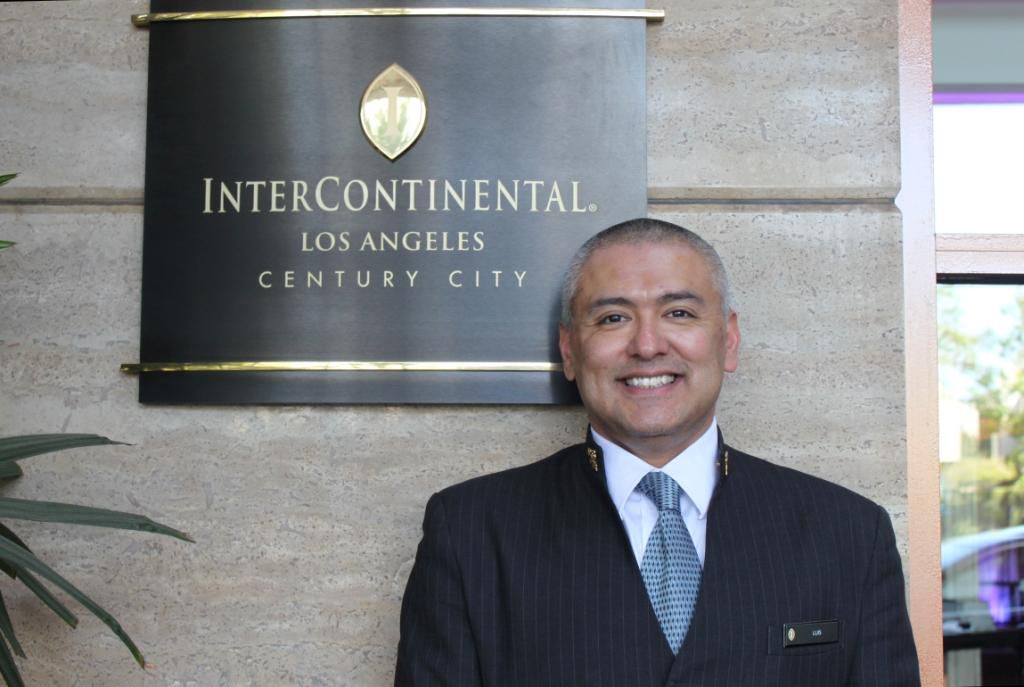 Insider Tips
LOCAL CULTURE
The 'Center' of the City
Many visitors to Los Angeles think that downtown is the 'center' of the city. As Los Angeles is made up of many different areas that grew westward toward the ocean, the center of all that's known about LA would be near the intersection of Santa Monica and La Cienega Boulevards.
AN ICONIC HIDEAWAY IN THE HEART OF LOS ANGELES
From the grand entrance to deluxe suites, stay in true Hollywood style steps from Beverly Hills. Los Angeles hotels don't come better placed on the glamorous Westside, within walking distance of 20th Century Fox Studios and upscale shopping at Westfield Century City. Discover an L.A. city sanctuary at Park Grill, or relax and revive with three Zen-inspired spa villas. A short drive will take you to the heart of the city centre, UCLA, Getty Center, Rodeo Drive or the beach.
HOTEL HIGHLIGHTS
Restaurant & Lounges

Park Grill offers a relaxed approach to eating with shared plates and tapas style dishes from all over the world offering guests a truly internatio...

Amenities & Services

Spa InterContinental is an urban oasis of Zen-inspired villas and treatments for women and men. Our Road Rage Massage comes with a Rush Hour Martin...

SPECIAL PACKAGES

There's always something special happening at an InterContinental hotel. Whether you are looking for a fun-filled getaway or a place to host your n...
InterContinental Los Angeles Century City
2151 Avenue Of The Stars

Los Angeles

,

CA

,

90067

United States

Front Desk

+1-310-2846500
Languages spoken by staff
Arabic, German, English, Spanish, Croatian, Italian, Japanese, Korean, Russian, Serbian
Pet Policy
A non refundable 200.00 deposit is required
Pet Deposit $200.00 per stay
CHECK-IN

3:00 PM

CHECK-OUT

12:00 PM

Late Check out Available
Accessibility
Service animals allowed
14 Room(s) with Accessibility Standards
Parking
Guest Reviews
Rated

4.0

out of

5

 by

148

reviewers.
Rated

5.0

out of

5.0
 by
Fabi1028
Very Relaxing, and clean
This location was very relaxing, i was able to sleep well and not worry about the noise. After a 6 ½ hour drive in the pouring rain, the man at the front ask was able to get us a room very fast. which was great considering we got there at around 1 am. I do wish they would charge half nights since we got there so late. But whatever. The experience was great and i had nothing really to complain about. I enjoyed staying at this location.
November 6, 2014
Rated

2.0

out of

5.0
 by
beanage
Great staff but could hear every step from room above
The hotel is priced competitively, compared to other downtown LA hotels. The staff is most pleasant and well-trained. The rooms are clean, the A/C works and the beds are comfortable. But the floors are thin. I could hear every step made by the person in the room above me. I know that person wasn't literally stomping, but that's what it sounded like. I couldn't sleep until that person stopped moving about, and that person's movements woke me up early in the morning. So I was unable to get a good night's rest, which is my main goal on a business trip. The free-breakfast area is too small, too crowded, too hectic. And when I took a big swig of milk to wash down the medications I must take with breakfast, the milk was sour. No place to spit it out, and the pills are expensive, so I swallowed it anyway. If this hotel had solid, quiet floors and a comfortable breakfast area, I would consider it to be the most incredible bargain in the entire downtown LA area. But as it is, I merely tolerate these conditions because I need to keep my expenses down for business travel.
November 4, 2014
Rated

5.0

out of

5.0
 by
roshan
CLEAN AND RELAXING ROOM
I COME ON BUSINESS ONCE PER MONTH I ENJOY STAYING AT THIS HOTEL QUITE ALOT.
October 31, 2014
Rated

5.0

out of

5.0
 by
mtfrazier89
Great Hotel
Was in town for half marathon, front desk pointed me to grocery store and start line without having to be asked. Awesome staff and modern hotel.
October 30, 2014
Rated

5.0

out of

5.0
 by
clive5400
great staff
Very helpful staff for stay and advice for various locations
October 30, 2014
Rated

3.0

out of

5.0
 by
djinmori
We have been ranking it as average
There is not a laundry! One of the running treadmill was without the security key so nobody could use it!
October 28, 2014
Rated

5.0

out of

5.0
 by
f-xavier
nice property
overall stay was very nice-staff was great-van for transportation was great,drivers were great-little problem with military discount,partially solved.would consider staying there again when i come to granddaughter grad from usc.
October 27, 2014
Rated

4.0

out of

5.0
clean / comfortable / value / great staff
Ms. Aida / Alberto / Joanne and other front desk guys are simply grt and helpful. one of the best and comfortable stays in downtown. 5 stars.
October 25, 2014
Rated

4.0

out of

5.0
 by
RooJam47
Hotel was great, location a bit sketchy
Hotel accommodations are great, but its the location. Good thing it has a secure underground parking. The neighborhood of this hotel is downtown L.A., - Example: The Jack-in-the-Box was just around the corner - it was dirty and the counter had security plexi-glass with a food box! Felt like a prison. Order take-out! That's my only negative about this hotel. Otherwise, our stay was great. Great location for local attractions like The Griffith Observatory, Natural History Museum, La Brea Tarpits, and so much more. There is a shuttle service, but we drove to our destinations with ease - very close to the freeway. Hotel staff was extremely friendly and helpful. Room was comfy. Bath
October 23, 2014
Rated

3.0

out of

5.0
 by
Traveler auditor
Not recommended
Poor internet connection, staff cannot fix it. Constant problem during 3 days
October 20, 2014
Rated

4.0

out of

5.0
 by
franky81
Viaje de negocios
Muy buena y amable atencion, habitacion, y limpieza. El lugar esta cerca de todo el centro,Hollywood, y de buenos restaurantes. Falta un acensor mas ya que solo hay uno y se daña en ocaciones. Falta variar el menu que siempre es el mismo.
October 20, 2014
Rated

5.0

out of

5.0
 by
ollie3637
a great place to stay...convient to everything
We were on the 3rd floor and away from all the street noise...We could see our Tv programs after touring all day and then wake to a wonderful full breakfast. Our room was clean daily and plenty of toiletries left for the the next day...plus coffee in our room....just excellent stay and very comfortable. Plenty of parking space..didn't have to worry at what time we came in.If we ark in the basement..we went directly to the elevator and up to our floor...no problem with parking and no parking fees to pay....just excellent ideal place to stay.
October 17, 2014
Rated

5.0

out of

5.0
 by
Happy Guest 123
Great friendly service
Front desk staff, Aida, was very helpful and friendly at check in. She would greet us by name when coming back to the hotel, making us feel welcomed. They promptly brought up a crib we requested. Overall a great stay.
October 17, 2014
Rated

5.0

out of

5.0
 by
erlinda
buena atencion
me parece que es un hotel para turismo y de trabajo comodo y esta una buena ubicacion ya que para las personas que trabajamos en el centro es de facil acceso a todo aprovado lo recomiendo
October 16, 2014
Rated

5.0

out of

5.0
 by
lindalovesbooks
Great location, helpful staff
The area around the hotel is a bit dicey but once you are in the lobby you are in the clean, friendly Holiday Inn Express that you expect. Our room was spotless, shower worked well, bed was super comfortable and towels were fluffy. We didn't get up in time to have the complimentary breakfast but the smells coming from the breakfast room were very enticing. The hotel clerk, Aida, was most helpful in guiding us on how best to get to the places we wanted to see. The complimentary shuttle service worked perfectly, dropping us off and picking us up so we didn't have to deal with parking in a crowded area. I will definitely stay here again.
October 12, 2014
Rated

4.0

out of

5.0
 by
Service88
when service makes a difference
I stayed, at this hotel, as a quick option without reserching much, because of the need to find a hotel since it was late. As I drove by, at the begining I was thinking to my self how a bad mistake because of the rough area it is around. So I planned to stay one night and leave. But The Great Service, cleanliness, made me decide to stay seven days, overcoming the dedication of the personnel at the hotel to de client. Specially Mrs. Aida, who performed a great help at all times, and is one of the reason I decided to sta.
October 10, 2014
Rated

3.0

out of

5.0
 by
Doe33
Great Staff
Staff was very accomidating and friendly. Clean hotel
October 9, 2014
Rated

4.0

out of

5.0
 by
asray
Excellent staff
Everyone at the front desk had a positive and caring attitude.
October 4, 2014
Rated

4.0

out of

5.0
 by
ern1229
Great Service Poor Bed
Great hotel to stay at. A little high in price for the area it is located in. Cool balcony but didn't have a view. Internet was poor, would keep dropping me due to poor signal. Was not the usual bed that you find at an Holiday Inn Express, but it was not horrible.
September 29, 2014
Rated

5.0

out of

5.0
 by
Ro67
Comfortable Bed
The entire staff was helpful, courteous and efficient. Requests, i.e., extra pillows, were expediated. The transportation services provided to restaurants and medical facilities were done within good time frames and wait times were minimal. The drivers were courteous and patient. The breakfasts provided a variety of offerings. The attendants kept everything replenished. Beverages were available all hours. The business center computers were fast and facilitated printing well. The premises were well kept and secure. I have stayed in many Holiday Inn Express hotels and the staff at this one was definitely a cut above the rest. They were exceptional.
September 22, 2014
Rated

4.0

out of

5.0
 by
sin apodo porque
estadia en el hotel holiday inn
buena atencion de sus trabajadores tambien el servicio de transporte muy bueno
September 22, 2014
Rated

5.0

out of

5.0
 by
Sjoon
Great Customer Service!!!!
I had the best stay at this hotel thanks to Aida, she was magnificent very attentive and great sense of humor. We look forward to comeback next time we visit L.A. Hotel is centrally located near Metro Station very easy to commute.
September 20, 2014
Rated

4.0

out of

5.0
 by
One Direction
En general bien
En general el hotel es bueno solo que sus alrededores son un poco seguro pero si el viaje es de negocio este hotel es excelente.
September 18, 2014
Rated

2.0

out of

5.0
 by
Grimes74
My experience
Driving up to the hotel my first thought was is this a Holiday Inn Express? The parking area in the garage was very creepy to the point my wife clinched my arms until we got in the lobby. After checking in and getting in my room I started to feel somewhat better. After going out to dinner and returning I was met with a sign that said that the elevator was out. We walked 3 flights of stairs to our room and bedded down for the night. When we awoke we were met with the same sign stating that the elevator was still out. As I checked out of the hotel I decided that due to the appearance of the area surrounding the hotel and the fact that I had to walk 3 flights of stairs numerous times, we would not be returning to this location again.
September 17, 2014
Rated

3.0

out of

5.0
 by
rajoo
Do not expect early or late check out at this hotel, no matter who you are
Property was recently renovated but does not look that appealing. Guest service is poor because of the owners or the management company is very strict. Owner or Manager arguing and yelling at staff in the lobby with raising her voice at the top of her lungs and even after looking at me she would not stop, that was shocking.
September 9, 2014
Rated

4.0

out of

5.0
no security
there was no security to walk me to my car at 3am told by staff this was safe this is totally unacceptable
September 5, 2014
Rated

3.0

out of

5.0
 by
dmoore123456789
Bad hood
This is a terrible neighborhood. I will advise my company and our company travel agent to find other accomodations
September 3, 2014
Rated

1.0

out of

5.0
 by
2Qtips
Excellent stay.
Extremely knowledgeable and friendly staff. We shall return!
August 29, 2014
Rated

5.0

out of

5.0
 by
DreDre
Comfortable retreat in downtown LA
I felt extremely safe and comfortable during my stay at the Holiday Inn Express in downtown LA. The staff was very friendly and helpful and all of the amenities were well cared for and clean.
August 25, 2014
Rated

4.0

out of

5.0
 by
edwards43
Its an Express....value was so so
Its not a family hotel however you will feel safe once you are inside the hotel. Its in a predominately Mexican cultural area. .Safety is not the issue its that you feel as if you are in little Tijuana. And that's not a bad thing its just what it is. I walked around within two blocks and I felt safe and as if I were just on the other side of the border. There were street vendors and plenty of people walking around. If you are here for business only and are driving get there early because parking is limited. My wife and two kids were here for Lets Make A Deal taping and were pleased with the hotel basics but sadden to find only a Gigantic hot tub "no swimming pool". If this place had two elevators and a pool I would stay here again.
August 22, 2014