Skip Navigation
English
|
|
|
|

Sign In

Book online or call: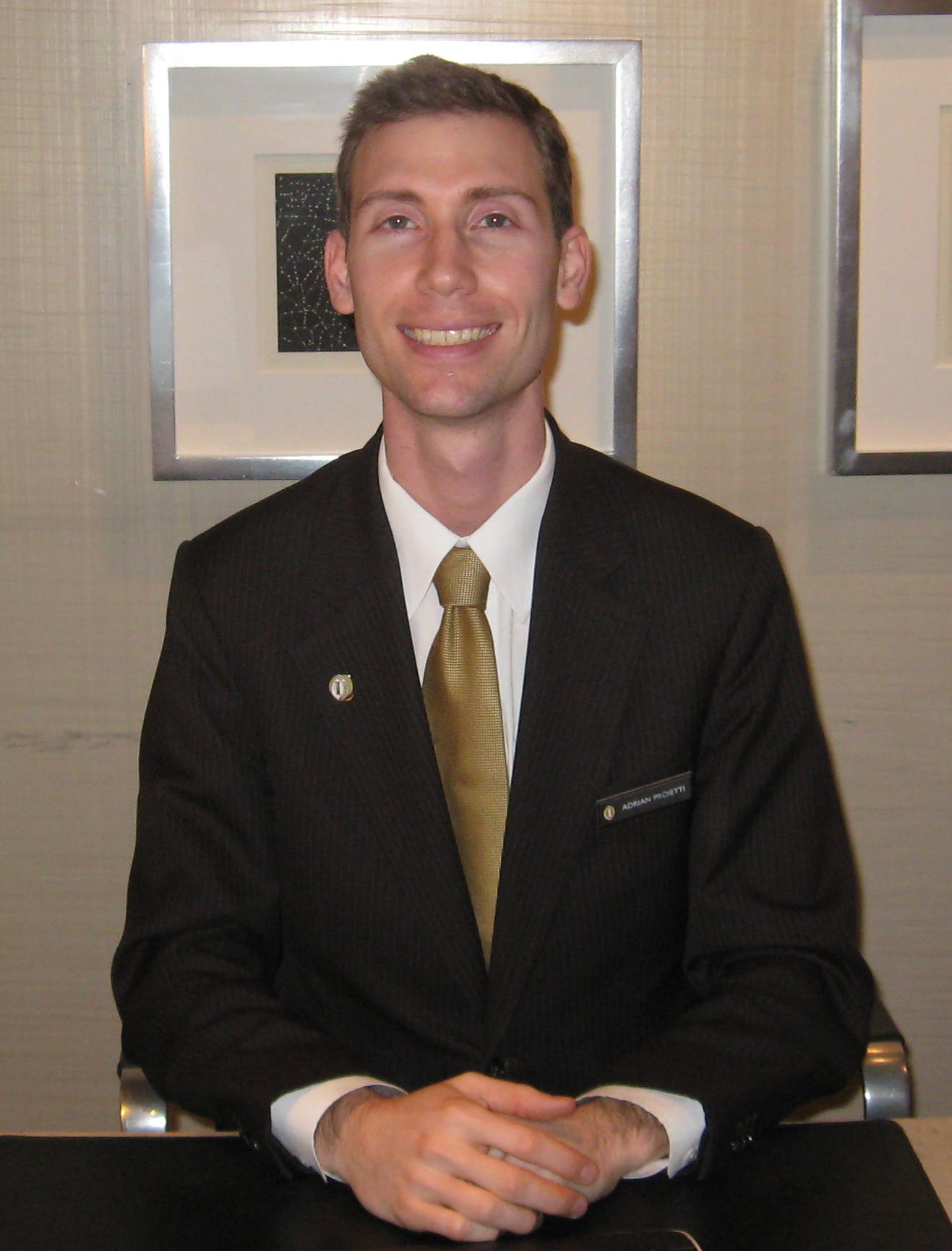 CHIC NEW YORK LUXURY HOTEL ON TIMES SQUARE
Right on Times Square, this New York luxury hotel is perfectly placed in the epicentre of Manhattan's theatre, dining, fashion and business districts. Just blocks from Broadway, savour a pre-theatre menu at Ça Va Brasserie or wander to nearby Restaurant Row for a myriad of dining options. Towering 36 storeys, this New York luxury hotel affords impressive views of the Hudson River and city skyline. The Lounge is perfect for after dinner cocktails and views of 44th Street.
HOTEL HIGHLIGHTS
Restaurant & Lounges

International cuisine is featured in our premiere restaurant led by renowned Chef, Todd English. The adjoining lounge serves cocktails and light sn...

Amenities & Services

A state-of-the-art fitness centre offers 24-hour access to a full range of fitness equipment and free weights for the perfect workout any time of day.

SPECIAL PACKAGES

There's always something special happening at an InterContinental hotel. Whether you are looking for a fun-filled getaway or a place to host your n...
InterContinental New York Times Square
300 West 44th Street

New York

,

NY

,

10036

United States

Front Desk

+1-212-8034500
Languages spoken by staff
English, Spanish, French
Pet Policy
Dogs and Cats allowed for a fee of 250USD non refundable fee
Pet Fee $250.00 per night
CHECK-IN

3:00 PM

CHECK-OUT

12:00 PM

Late Check out Available
Accessibility
Service animals allowed
31 Room(s) with Accessibility Standards
Guest Reviews
Rated

4.2

out of

5

 by

422

reviewers.
Rated

5.0

out of

5.0
 by
Jon355
Great Location
I booked this hotel because of the proximity to New York City without being in New York City. Very easy to get to Time Squares with a shuttle that passes in the next street for 3$. Saved a lot of money by not being on the island in hotel and parking. The room was very very cleen. The staff was superb. It's a must for travellers to NYC that want to get the best value for their buck.
July 28, 2013
Rated

3.0

out of

5.0
 by
Tda23
Room Cleanliness
The staff was very friendly and helpful. However the bed had hair in it the first night and had not been changed from the previous guest. We were given another room and a $25 discount for that night. Perhaps a free night stay might have been better. Also our second room smelled musty.
July 26, 2013
Rated

3.0

out of

5.0
 by
Cheo51
Average overall experience
Breakfast was good...staff was extremely nice...room was big but smelled like mildew....washroom was comfortable and big..... The overall look of the hotel needs improvement.....very close to New York City....The shuttle was late in picking you up in NY so plan on waiting....the shuttle was a bargain....The listing of food places that the hotel was out dated and. were not correct...we drove around and could not find the locations. Overall you get what you pay for....I stayed at the Holiday Inn on 57th in NY and the hotel was nicer however there was no breakfast.....
July 24, 2013
Rated

5.0

out of

5.0
Great service and friendly staff.
Wonderful experience and great staff at all levels. Clean, spacious and modern looking rooms. Breakfast included with our stay. Would definitely go back. Keep up the good work!
July 22, 2013
Rated

4.0

out of

5.0
 by
jasago10
Good service
A little detail, the blackout in the room´s window was torn
July 22, 2013
Rated

4.0

out of

5.0
 by
Janet42
Great service
First, I'd like to thank Amy at the front desk for helping us with the shuttle pick up at the Super 8. Her guidance was right on. Thank you so much Amy. The room was comfortable and clean. The shuttle from the hotel was not very good. It is not owned by the hotel. The first shuttle leaves at 9:00am. and the drivers spoke very little English. They were unable to make change if the head guy was not there. Then it takes you over an hour to get to Time Square. This was such a waste of time. We used the shuttle by Super 8 early in the morning(before 9am, then the other shuttle begins) and was picked up by the NJ transit. They were able to use the bus lanes to Times Square. This took only 20 to 30 minutes to get to NYC. Very easy to use. The only draw back is that it's about a 10 minute walk to get there and then when you return, you are dropped off above the Super 8, which is about a 15 minute walk. Also, the pool closed at 9:00pm at night. We did not get much use of this due to being in the city most of the day. The breakfast was good and the ladies working it were truly friendly!! Over all we were happy, we just wish they would run their own shuttle to NYC, with earlier times and run every half hour.
July 17, 2013
Rated

5.0

out of

5.0
 by
Jean1122
Loved it!
Loved everything about this hotel! Great staff, awesome pool, wonderful breakfast, most comfortable hotel bed I've ever slept in!! Would definitely recommend!
July 16, 2013
Rated

5.0

out of

5.0
 by
Lizzzey
Highly Recommended
We enjoyed our stay. The hotel is very clean, updated, lovely large rooms with comfy beds,delish breakfast and the pool is a bonus. Very kind and accomodating staff members. The gentleman if you can call him that) that operates the shuttle to and from NYC is very rude, not accomodating and only in it for your money.(nice bus driver however). It's a shame that he provides this poor service at such a highly recommened hotel.
July 16, 2013
Rated

5.0

out of

5.0
 by
LARRY39
FRIENDLY AND COMFORTABLE STAY
I AM VERY SURE THAT THIS WILL BE ONE OF THE MOST FRIENDLY, CLEAN AND COMFORTABLE LODGINGS YOU WILL EVER HAVE. ALSO REALLY VERY GOOD BREAKFAST FOOD, VARIETY AND SERVICE.
July 15, 2013
Rated

5.0

out of

5.0
 by
Kelgirl73
Perfect spot for visiting NYC!
We scoured the internet looking for a place to stay for our weekend in NYC. We had a few criteria: 1) Must have a pool - we were traveling with our kids - VERY important! 2) Must have free breakfast - hotel deals are often negated when you have to spend an additional $40 for breakfast every day. 3) Must have transportation into the city. This hotel met our criteria perfectly. It is a very international location - we met people from all over the world at breakfast and waiting for the shuttle into the city. The rooms are spacious and comfortable and reasonably quiet (it's fricken New Jersey, afterall, don't expect to hear cows mooing in the morning!#. The pool was very nice - pretty clean #not perfect, but, hey - it's a hotel!#, and often very busy. The one "complaint" is that there were never any pool towels! We called and asked three times, and never got any, so, we wandered through the hotel sopping wet. Oh well, it was July, we dried quickly. Breakfast was a good balance of the traditional "continental breakfast" #breads, yogurt, cereal, etc - the only fruit we saw was Bananas#, as well as biscuits and gravy, scrambled eggs and pancakes. Staff was exceptionally friendly and made sure tables were cleared quickly. The shuttle into the city #I believe it is contracted out, and not through the hotel, but I'm not 100% sure#, is the primary reason we will stay here again. For $7 per person, round trip, in less than 10 minutes #depending on traffic#, you are in Times' Square. You can't get better than that! They have several times to choose from, and are easy to find on the return trip. Granted, you have to stay within their timelines #no return trips after 10:00pm - but trust me, you're exhausted by 8:00pm, so don't try to push it#, but they are a shuttle service, not your personal driver, so adjust. One little thing that I want to point out is very minor, but just hit me the wrong way. The staff flat out asked for good reviews, and gave their names to make sure they were mentioned. I personally find this kind of tacky, but it did help me remember to complete my review. It's probably just me, but it kind of got annoying after a little bit. NOT a deal breaker by any means. Overall, great hotel! We had a blast, and will definitely stay here again when we had back to NYC.
July 13, 2013
Rated

4.0

out of

5.0
 by
fluffychibby
great service and comfortable room
Double queen room was very comfortable. The staff were friendly, especially Amy (Front Desk) and Mila (from the breakfast room). Both of them were very helpful, they made our stay most welcomed!
July 13, 2013
Rated

5.0

out of

5.0
 by
MarkD2323
Great for trips to NYC
This hotel was great for those that want to see NYC but can't afford to stay downtown. The rooms are nice and the breakfast in the mornings was both a money saver and a time saver. The best deal is the shuttle bus - for $7 round trip is will take you to Times Square and that is a huge savings over a cab or anything else.
July 12, 2013
Rated

5.0

out of

5.0
 by
Rizzo321
Wonderful Place to Stay!
I am so pleased with our stay. It was excellent, the staff was so kind and they go out of their way to help. I am telling you if you have to go to New York or nearby, this is the best place to stay. Every morning they have a free breakfast buffet, there are so many choices that you can fill up and skip lunch. I couldn't of asked for a better place to stay.
July 11, 2013
Rated

3.0

out of

5.0
 by
TheInfamousOne17
Walls are thin and have a good parking break.
When we arrived at his hotel, it's just a little outside of Hoboken NJ. when you pull in the parking lot, you'll notice it goes uphill. So you have to park at an angle, just make sure you excellent emergency parking breaks because you'll need them. Around 5 a.m., someone was getting ice form the machine outside of our room. I swear you can hear it right through the wall like it was in your room. Very noisy and the walls seem thin. Other than that, the room was okay, but kind of small for having two beds. I've been to quite a few Holiday Inn's and we had a little more room. I understand being in this area is kind of tight on space, but it was a bit over priced for the room I feel. The automatic front door of the hotel is kind of odd. You'll see what I mean if you stay here. Other than that, I guess the service and everything else was fine. Gas prices seem to be cheap around this area.
July 11, 2013
Rated

5.0

out of

5.0
 by
frenchy2013
wonderful hotel service and staff
i had a great time with my family at your hotel and the staff was so welcoming and kind. the room was neat and tidy and we also loved the free breakfast in the morning. the person in charge of breakfast did a wonderful job. we also loved the pool and we used it frequently. thanks angelo scarlato p.s i have stayed at other holiday inn express and would love to be credited with the points for two weeks visit in daytona florida last year.
July 11, 2013
Rated

5.0

out of

5.0
 by
Mel52
Great room and great service.
Everyone was helpful and kind. We really enjoyed the dining room ladies. They were very efficient, kept breakfast itmes well stocked and were always kind. We were able to congregate with our family in the dining room in off hours. That was nice. Front desk was helpful with all of our questions. Only complaint, the swimming pool was open 9am-9pm. We wish it could have been open the same hours that the exercize room was open.
July 8, 2013
Rated

4.0

out of

5.0
 by
AJ49
Great Price
This hotel is a great value close to New York City. Staff were helpful and friendly. Breakfast room is actually big enough to eat with your family with hot and cold choices. The shuttle from the hotel is helpful but not very organized. If you are willing to walk a few blocks the public shuttle options work just as well if not better.
July 7, 2013
Rated

5.0

out of

5.0
 by
Laura1961
Outstanding Service
The people working in this hotel are terrific. I had never been to New York/New Jersey. I took the shuttle bus that an independent company runs from the hotel. I didn't realize until 4:00 pm, and I was ready to go back to the hotel, that the shuttle didn't come until 8:00 p.m. I thought the paper they gave us was an example of when the shuttle runs, not the actual schedule. The people in the city bus/train lines were not helpful at all. I called the hotel to see if they could help get me back. They were great with directions! Upon our return, they suggested a restaurant at my asking, that too was terrific. If you should stay in this hotel, I highly recommend the lasagna from the Italian restaurant they have a menu for. I wish I could remember the name of it, because I would go to their website and give them a glowing review. The lasagna was huge, inexpensive, they delivered and it was delicious. At breakfast, a lady went around to the tables asking if everyone was pleased with the selection they had on the complimentary breakfast bar, and wishing each a good day. I would stay here again!
July 6, 2013
Rated

5.0

out of

5.0
 by
Tinacar
Great all the way around!!
Very comfortable bed,excellent breakfast choices,great staff, very friendly and accommodating, shuttle service to New York was amazing too!
July 5, 2013
Rated

5.0

out of

5.0
 by
ScottTN
GREAT location for a NY City visit and FANTASTIC Staff
Great location and value convenient to NYC, but what really sets this HI Express apart from others is the FANTASTIC Staff. At every opportunity the staff went above and beyond to make our short stay even better. The front desk was friendly and went out of their way to assist with questions and concerns. They provided assistance in the best way to get to NYC along with a map and directions to local attractions (Carlo's Bakery). The busy breakfast area was one of the cleanest and well stocked that I have seen. The staff was very friendly-- Mila deserves special recognition for her customer care. If you are planning a visit to NYC, makes this HI Express your lodging choice!
July 4, 2013
Rated

5.0

out of

5.0
 by
rhardy1770
comfortable stay
The hotel was very nice. The rooms were spacious enough for my family of five. They had amenities everywhere, lemonade, coffee, and a hot breakfast. The price was inexpensive and we got more than we expected.
July 3, 2013
Rated

4.0

out of

5.0
 by
Dancer401964
Room and Service
This is our second time staying here and I recommend it. The service was really good (bed and amenities were good) The breakfast and service was excellent!!! We stayed in one day just to relax after a 12 hour trip from Toronto and we were refreshed the next day...
June 29, 2013
Rated

5.0

out of

5.0
 by
Zad1
Great service, reasonable price, and comfortable setting.
Sam and Chris were very helpful in providing reliable information regarding the surroundings and places to eat. They made our stay very enjoyable.
June 28, 2013
Rated

4.0

out of

5.0
 by
RaeRae183
Comfortable and Great Service
Rooms are comfortable, very clean, and staff are very friendly! However, our room was right next to the housekeeping closet and they are very loud when preparing their carts for the day. So, request a room that isn't near the housekeeping closet! Other than that it was great! I wish they had a hot tub and I wish the pool was open until 11pm and not 9pm!
June 28, 2013
Rated

4.0

out of

5.0
 by
winningbooks
Exceptional Customer Service At Front Desk
I have stayed at a great many holiday inn express hotels, this one has been the best by far not only in cleanliness and beauty of rooms but in exceptional customer service at the front desk. Hina (the owner's wife) is a warm and charming person. She went out of her way to accommodate one of our requests. Nice to receive such hospitality!
June 26, 2013
Rated

4.0

out of

5.0
 by
mp21
Front desk
The personnel at the front desk were very helpful throughout our stay.
June 26, 2013
Rated

2.0

out of

5.0
 by
JHS1
Leaking window
It was raining the first day of this vacation ad when we returned to the room I found the window was leaking from a bad seal at the top. I contacted the fron desk and the sent maintanance up. They dried the window, AC unit, floor and changed the sheets on the hide a bed that got wet from the splashing. I asked how they planned to fix or correct the issue and the answer was to pull the blinds shut and keep a towel on the window sill. Luckily it stopped raining and the room and window dried up. We were not contacted by management for a follow up after the complaint and this is where they failed the most.
June 25, 2013
Rated

4.0

out of

5.0
 by
AdamfromPC
good alternative to Manhattan
We came to visit Manhattan but couldn't afford to sleep 4 nights there. This was right across the river and a relatively quick commute. The neighborhood is horrible and not something I felt good about initially. However, the hotel is very clean, up to date, and the staff was very friendly. We were only sleeping and eating breakfast there and were gone sightseeing from about 9am-11pm so alot of the amenities were not needed. There was shuttle service that picked up in front of the hotel, was a reasonable price, and only took about 30 minutes to get to Time Square. It was well coordinated and the drivers were very friendly and on time. The staff at the hotel was very helpful, always made sure to greet up when we came down, answered questions, and offered suggestions and helped out about places to see and go. Rooms were clean and up to date and the breakfast was a good value, definitely what you would expect from a better Holiday Inn Express.
June 25, 2013
Rated

5.0

out of

5.0
 by
Ashif
Sam is an Awesome Worker
I stay at this location at least once a month under a personal or business trip just because of the fella name Sam. Very very very helpful. Every time if my laptop didn't work or didn't get good reception for my phone to book a hotel, i just call him and its done in seconds. Has called back when he noticed a mistake on my reservation like booking 11 rooms once instead of 1. Thanks for having an awesome guy, makes us want to stay there even when at times we'd like to stay in nyc.
June 25, 2013
Rated

4.0

out of

5.0
 by
marina1
a very nice place
Staff is very welcoming and helpful. there is a bus shuttle that is $4/person one way, leaves at 9,10,11 am, comes back 8,9,10 pm that takes you right from hotel to Manhattan and back. very convinient, drive time depends on time of the day and the day - but never took more than 25 mins. if you drive yourself it's about 15 - 20 mins before you enter Manhattan, but you have to pay the Lincoln Tunnel toll ($13# and parking in Manhattan is insane $9/30 mins, so probably looking at $50 to $110 for a day. if you decide to stay in this hotel, consider spending an evening in Hoboken, NJ - beautiful view of Manhattan in lights and only 1 exit away from hotel. #don't need to go thru the Lincoln Tunnel). Breakfast was good and they keep the tables clean, food replenished. very nice job.
June 17, 2013