Skip Navigation
English
|
|
|
|

Sign In

Book online or call: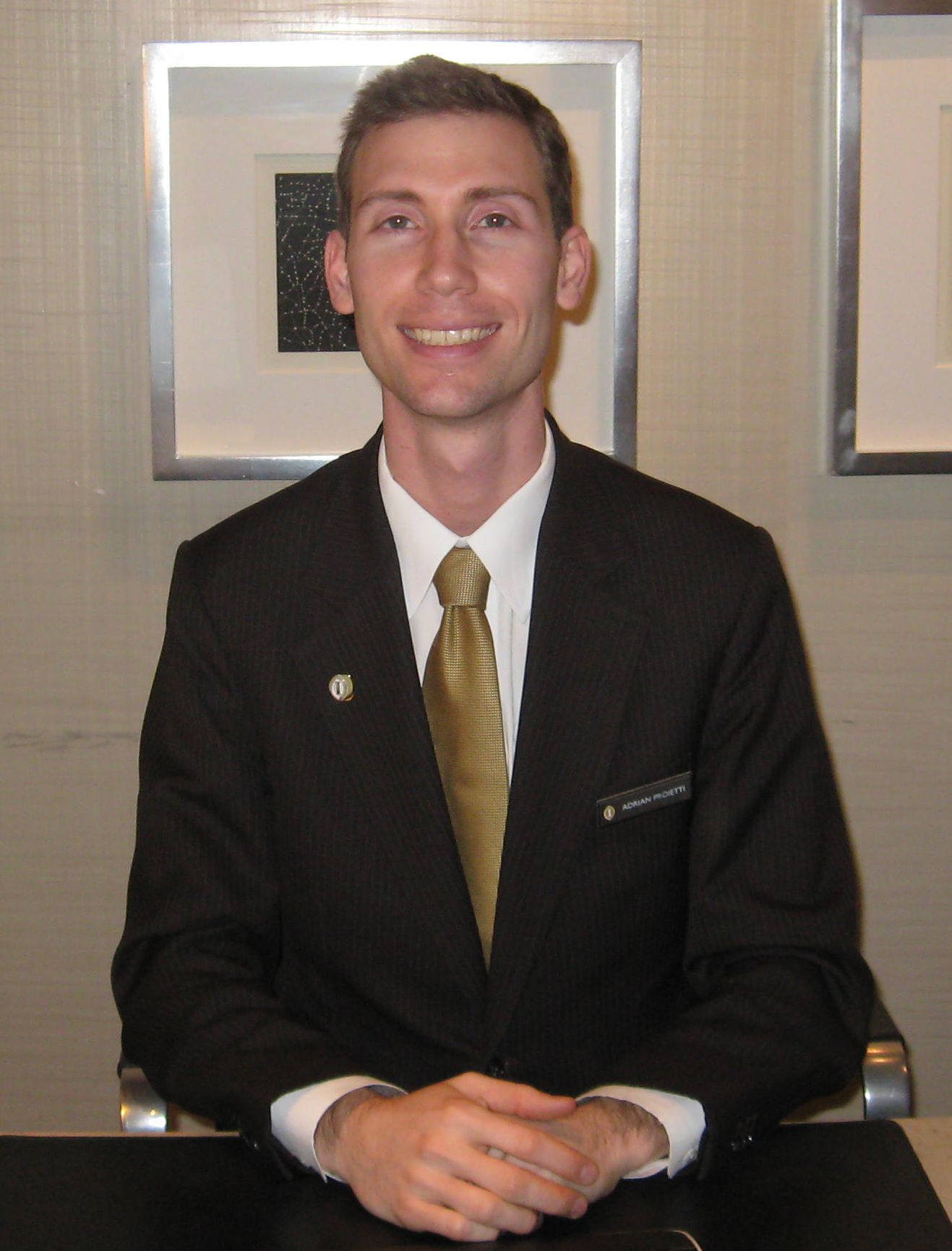 CHIC NEW YORK LUXURY HOTEL ON TIMES SQUARE
Right on Times Square, this New York luxury hotel is perfectly placed in the epicentre of Manhattan's theatre, dining, fashion and business districts. Just blocks from Broadway, savour a pre-theatre menu at Ça Va Brassiere or wander to nearby Restaurant Row for a myriad of dining options. Towering 36 storeys, this New York luxury hotel affords impressive views of the Hudson River and city skyline. The Lounge is perfect for after dinner cocktails and views of 44th Street.
HOTEL HIGHLIGHTS
Restaurant & Lounges

International cuisine is featured in our premiere restaurant led by renowned Chef, Todd English. The adjoining lounge serves cocktails and light sn...

Amenities & Services

A state-of-the-art fitness centre offers 24-hour access to a full range of fitness equipment and free weights for the perfect workout any time of day.

SPECIAL PACKAGES

There's always something special happening at an InterContinental hotel. Whether you are looking for a fun-filled getaway or a place to host your n...
New York Times Square
300 West 44th Street

New York

,

NY

,

10036

United States

Front Desk

+1-212-8034500
Languages spoken by staff
English, Spanish, French
Pet Policy
Dogs and Cats allowed for a fee of 250USD non refundable fee
Pet Fee $250.00 per night
CHECK-IN

3:00 PM

CHECK-OUT

12:00 PM

Late Check out Available
Accessibility
Service animals allowed
31 Room(s) with Accessibility Standards
Guest Reviews
Rated

4.5

out of

5

 by

686

reviewers.
Rated

5.0

out of

5.0
 by
Anita5
Exceeded my expectations
I am very pleased that we decided to stay at this hotel. The location was perfect, 1 block from Time Square. It is a newer hotel about 3 years old so it was very clean and new. The breakfast buffet was perfect with many options to choose from. It did get crowded some mornings with not many seats left to sit down at, but I did notice many people packing there breakfast to eat in there rooms. The service was amazing, very accomadating and very helpful. If I come back to New York I will definitely be staying at this hotel again. I would recommend anyone to stay here. The only downfall was the elevators took a long time some mornings. Not enough for the amount of floors in the hotel. Would have loved a roof top lounge but the hotel beside it had one and it was free for us to enter. We were so tired from all the walking that we had no energy to stay out late. Amazing stay!!!!!
August 6, 2013
Rated

5.0

out of

5.0
 by
STXgirl
Great location, nice room
Location close to many attractions and subway. Great breakfast and social hour. The room was large, especially for the city. The staff was very polite and personable. Only down side was the elevators were a little slow.
August 6, 2013
Rated

5.0

out of

5.0
 by
eightoff
Exceptional social evening reception
I am platinum member that has attended alot of social evening receptions. This hotel has the best that i have visited. The social incorporates food, drinks, and a social hour or two. I met some fantastic and interesting people. When i return, this is the place for me and my family.
August 5, 2013
Rated

4.0

out of

5.0
 by
ChuckGMA
Pizza stop at 9th Ave
My wife and I stayed at Staybridge's Time Square Hotel with 31 floors and 3 elevators. Their elevators are fast. Their Hospitality staff was extremely friendly. Their House Cleaning team was Awesome, they were courteous, accommodating to my late wake ups not to disturb my sleep, and cleaned with meticulous craftsmanship. The Concierge provided little value, they offered little insight into Time Square attractions. The were not leaders of Tourist, sheparding me or my wife to great New York attractions. We will stay again.
August 5, 2013
Rated

5.0

out of

5.0
 by
bbaby
very comfortable and helpful
the entire experience from checking in until checking out was pleasant. not only was the room very comfortable and clean, there was a social hour in the evening and also breakfast in the morning. this really helped when spending so much to stay in the city.
August 5, 2013
Rated

4.0

out of

5.0
 by
Rob1616
Very Friendly and Helpful Staff
This was my families first visit to New York City. The staff at Staybridge suites was very helpful in helping us navigate the city. Our room couldn't have been better and was our sanctuary away from the crowds.
August 2, 2013
Rated

5.0

out of

5.0
 by
leoncio
staybridge times square
Great place to stay at Times Square. It is not as close as other hotels to times square, but what I like best was the food and libations in the morning and evening. Hotels closer to Times Square charge the same but don't offer any food. People were very friendly. Elevator situations could have been better. I would say that was the only con.
August 1, 2013
Rated

4.0

out of

5.0
 by
DavePhDone
Great availability
I recently had to make a trip to NYC and needed a hotel for that night. I was able to log onto my computer and get a room at my usual spot in NYC...the Staybridge. Even with a malfunctioning elevator the staff was very helpful in moving guests quickly. Thanks
July 31, 2013
Rated

2.0

out of

5.0
Noise in room and broken elevators
The room was clean, service did their jobs, but the noise in the room was ridiculous. There was a whistling sound coming from within the piping in the bathroom. Also the elevators are awful and you may wait up to 20 minutes for 1.
July 31, 2013
Rated

5.0

out of

5.0
 by
RBSS
Great stay
Very clean and modern hotel, helpful staff, social reception and laundry facilities are great
July 29, 2013
Rated

5.0

out of

5.0
 by
Traveleelboy
Great NY Option
Great location, great staff, nice property and a good price. I will certainly stay here again!
July 28, 2013
Rated

5.0

out of

5.0
 by
Della432
Excellent !
"Great Hotel In The Heart Of Times Square". Very Close To All Attractions, Subway Service. And Bus Terminal. Excellent Staff. And Amenities. Definitely My #1 Pick For NYC Hotel's.
July 28, 2013
Rated

5.0

out of

5.0
 by
Zelinha
Pleasant surprise in NYC
I decided to check-in at Staybridge Suites at Times Square because I read many good ratings of clients on the internet, but when I stayed there with my husband, I was surprised to see it was even better than I expected. Near the good theatres, extremely friendly environment and a staff always ready to help. I certainly recommend for those who are seeking for a good place in New York City. Congratulations to Staybridge NYC!
July 28, 2013
Rated

5.0

out of

5.0
 by
moejoe
Friendly helpful service and comfy beds
We were pleasantly surprised at the convenience and kind, helpful service. Everyone on staff was sincere and informative. One of the staff at front stood outside in the blazing heat (we were there for the heatwave) to hail us a cab so we could stand in the air conditioning, little things like that made our trip extra enjoyable. The place was clean and cute! Thank you.
July 25, 2013
Rated

5.0

out of

5.0
 by
kenny58
Front desk service
When we first arrived, I was recognized as a platinum member and my request for 2 beds instead of the 1 bed I had reserved was granted. it made my son very happy. Additional requsts for information were always handled professionally and poitely.
July 22, 2013
Rated

5.0

out of

5.0
 by
rasheedgriffith
Great hotel!
My stay was very comfortable. The staff was very friendly and always served me with a smile. I love the user friendly design of my room. I would definitely recommend this hotel to anyone. It was close to everything and even where I was working. Usually a Marriot chain would be my first preference but this hotel was definitely lovely to stay at.
July 22, 2013
Rated

4.0

out of

5.0
 by
AYAS
Good value and great location
Good value for money located at 41 st. in a walking distance from the Times Square. The hotel provide good complimentary breakfast and also a good snacks from 5:00-7:00 PM from Mon-Thu.
July 17, 2013
Rated

5.0

out of

5.0
 by
omega257
great hotel and great service
my wife and I used our time share points to visit the hotel for 4 nights. I was apprehensive because the area didn't look to inviting, but the staff and hotel experience made up for it. We are priority club members so we were able to check in early into our room. This was great because it allowed us to explore the city earlier than we expected. The staff at the front desk was very helpful and also the attendants who served the morning breakfast and evening dinners. The rooms were small, but the view from the top floor was awesome. I heard others say that the elevators were slow, but we didn't experience that. They were small though. Overall this was a great experience for first time visitors to NYC. Would definitely recommend it and stay there when we visit NYC again.
July 17, 2013
Rated

5.0

out of

5.0
 by
Sara007
Fantastic place to stay!!
This hotel was excellent!! Close to everything, really comfortable bed, very friendly & helpful staff, free buffet breakfast, and appetisers from 5-7 on some weeknights (free beer, wine and food... Was more like free dinner than appetisers!) highly recommended for anyone wanting to visit NYC
July 16, 2013
Rated

5.0

out of

5.0
 by
Satisfied1306
This place is the BENCHMARK for customer service!!
I'm here on business and I'm SO VERY pleased with finding this hotel. It's like HOME away from home!! EVERYTHING about the customer service here is CONSISTENTLY EXEMPLARY!! When you want to know the names of the staff so that you can give COMPLIMENTS to their manager, that gives you an idea of the kind of service you receive from the front desk, housekeeping, and the dining area. Seriously, I'm thinking about living here PERMANENTLY!!
July 14, 2013
Rated

5.0

out of

5.0
 by
Niromel
Great stay and a wonderful location.
Nous avons adoré la propreté des lieux. The breakfast was good and we loved the possibility to bring it to the room. A variety of brown bread would have been nice. The 5 to 7 with a glass of wine or beer and some food was a great and a pleasant surprise. We were near everything and we could walk. We paid extra for a view and we got a view of a parking and some back buildings. Not what we expected. But we will be back!
July 10, 2013
Rated

5.0

out of

5.0
 by
Tina01
Very helpful staff.
The breakfast was wonderful. We really enjoyed the happy hour too. Will stay again on our next visit.
July 10, 2013
Rated

4.0

out of

5.0
 by
enfanterrible
great stay in spite of awful housekeeping
I can always count on a comfortable stay and great service @ Staybridge in NYC. Unfortunately, this time, the housekeeping was absolutely terrible. On the 3rd day into our stay, we realized that our linens were not changed, and when we spoke to someone at the front desk, we were told that the standard housekeeping was "limited" unless the guests request "full service". Of course, this was news to us because during our previous stays, linens were changed every day … lesson learned. However, limited housekeeping still doesn't explain the fact that there were no towels, toiletries (which we had to call to have someone bring up almost every night), and even toilet paper in the room. Nevertheless, the staff at front desk were more than apologetic, courteous and prompt about bringing up the items that we needed, basically doing the job of housekeeping. Still, Staybridge is a great hotel, and we will stay there again.
July 8, 2013
Rated

5.0

out of

5.0
 by
PaoloL
Excellent.
Great service, comfortable room, Good and varied breakfast, Hotel employees kind and rise to the occasion. Great location for attraction and metro.
July 7, 2013
Rated

5.0

out of

5.0
 by
FitzyNovaScotia
Nice place and good value
new, clean, great service, and nice sized rooms for new York. The two double bed rooms are bigger than the king, worth the extra dollars. Kitcheneet is well equiped and has a dish washer Stayed five nights late June. Nice breakfast included and can ask for a bag to go for fruits and yogurt. Location is just off times square and 42nd street where all the action is. The street itself is quiet, a tad seedy but safe for the family. Subway conveniently located at street corner, pizza, sub, and Chinese take out on the same block. Mostly tourist which made it fun to socialize in the elevators and breakfast. There is an evening social too but was too busy sightseeing. Have stayed in many hotels and would definitely stay here again. Ps you will get approached by guys selling hop on hop off bus tours at EVERY corner around times square. You can negotiate a deal, for example a multiple day multiple tour pass and teenagers at kid prices. It's new York, enjoy the sights, crowds, and atmosphere!
July 4, 2013
Rated

4.0

out of

5.0
 by
Pat66
Value for money accomodation
We are a family of 4 adults who recently stayed for 2 weeks at Staybridge Suites during our holiday to NYC. Overall, we thought we received value for our money - the location in NYC was brilliant, the beds were comfortable, the kitchenette in the room was great, the free breakfast was a quick convenient start to the day before our sightseeing, the free guest laundry (with detergent provided) was absolutely great for long stays. Complaints - the lifts (too few, long wait during peak hours). We were initially at a lower floor overlooking the street and there was some noise on Saturday night. When we complained to the management, they immediately moved us to the 22nd floor where it was very quiet. All in all, we would be happy to stay at this hotel again on our next visit to NYC.
July 4, 2013
Rated

5.0

out of

5.0
 by
jacquel
Very nice room
The room was perfectly clean and organized. Very comfortable beds and nice roomy bathrooms. The staff was extremely professional and very caring and helpful when I needed a room for the following night. I will definitely return and recommend this hotel to my friends. Jacqueline Shields
July 3, 2013
Rated

5.0

out of

5.0
 by
Beachbums72
Wonderful location
We stayed at Staybridge for 5 nights for our 30th anniversay.. To say everything was perfect would be an understatement! Everything was perfect from the start. We arrived before check in time and the staff was kind enough to secure our luggage so we could begin exploring. The hotel was an easy 5 minute walk off Time Square and centrally located to the bus terminal and several subways. Loads of really good restuarants within a couple of blocks in all directions. Restuarant Row is really close also. Our room was on the 25th floor with a nice view. The rooms are beautiful. After reading the reviews, we were expecting a really small room but to our surprise they were very comfortable with plenty of room to move around. Very modern and extremely clean. The breakfast and evening snacks were also very well done. The only nagative were the elevators were slow, but having said that, every elevator we took anywhere in NYC was slower. Our stay was wonderful and we would like to thank all of the staff for making our 30th anniversary so very special!!
July 3, 2013
Rated

3.0

out of

5.0
 by
brpshack
Elevators are useless
The hotel is fine in all respects, other than the Elevators. As most other reviewers said, the elevators are VERY slow. Each morning took over 15 minutes to get an elevator down to breakfast. On my second day, one of the elevators was taken out of service for repairs and a second elevator seemed to be under local staff control all day. This meant 1 elevator for 32 floors of rooms. Not acceptable in any way.
July 2, 2013
Rated

4.0

out of

5.0
 by
turtlefolks
Polite & helpful service staff and clean, safe, comfortable room
We had a very pleasant stay at Staybridge Suites. The service staff were knowledgeable, polite and helpful. The room was a little small but very functional and clean. The only minus we can see is the long waiting time for elevators, but something we can manage with a little patience. Breakfast while not having a big spread of food, was decent and generous in portions. Yes, a definite thumbs up from us.
July 1, 2013