Skip Navigation
English
|
|
|
|

Sign In

Book online or call: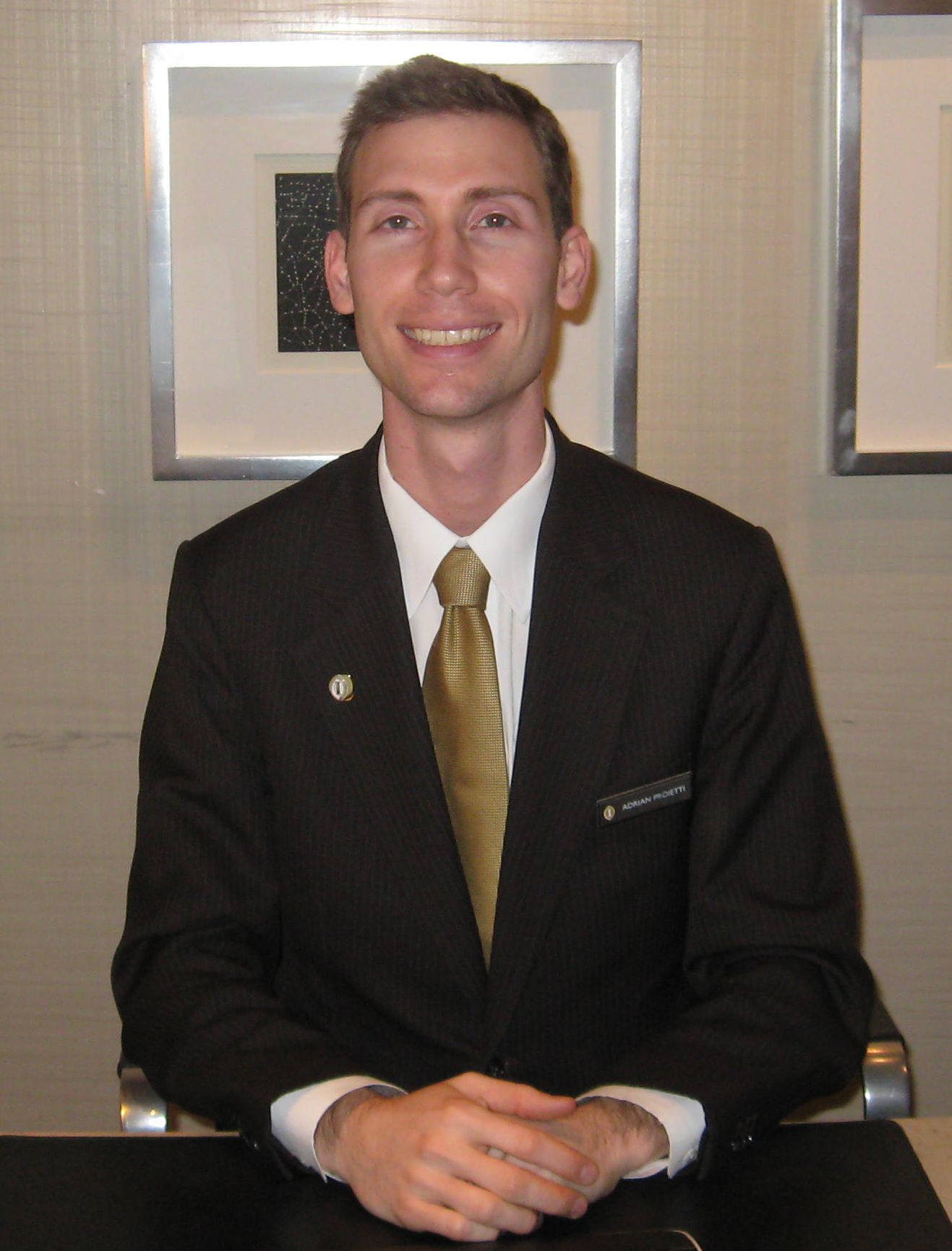 CHIC NEW YORK LUXURY HOTEL ON TIMES SQUARE
Right on Times Square, this New York luxury hotel is perfectly placed in the epicentre of Manhattan's theatre, dining, fashion and business districts. Just blocks from Broadway, savour a pre-theatre menu at Ça Va Brassiere or wander to nearby Restaurant Row for a myriad of dining options. Towering 36 storeys, this New York luxury hotel affords impressive views of the Hudson River and city skyline. The Lounge is perfect for after dinner cocktails and views of 44th Street.
HOTEL HIGHLIGHTS
Restaurant & Lounges

International cuisine is featured in our premiere restaurant led by renowned Chef, Todd English. The adjoining lounge serves cocktails and light sn...

Amenities & Services

A state-of-the-art fitness centre offers 24-hour access to a full range of fitness equipment and free weights for the perfect workout any time of day.

SPECIAL PACKAGES

There's always something special happening at an InterContinental hotel. Whether you are looking for a fun-filled getaway or a place to host your n...
New York Times Square
300 West 44th Street
New York , NY , 10036
United States
Front Desk +1-212-8034500
Languages spoken by staff
English, Spanish, French
Pet Policy
Dogs and Cats allowed for a fee of 250USD non refundable fee
Pet Fee $250.00 per night
CHECK-IN

3:00 PM

CHECK-OUT

12:00 PM

Late Check out Available
Accessibility
Service animals allowed
31 Room(s) with Accessibility Standards
Guest Reviews
Rated

4.1

out of

5

 by

1265

reviewers.
Rated

5.0

out of

5.0
 by
lawnboytx
My Favorite NYC Hotel
I have lived in New York as well as now travel there frequently. This hotel is the perfect location and the staff is great. There are a lot of great hotels in New York but this is always my first stop! And the use of the gym on the 15th floor is a wonderful value.
February 3, 2014
Rated

5.0

out of

5.0
 by
WusiMAN
The Best of the Best
simply the best ! They treat you so nice - very pleasant
February 3, 2014
Rated

5.0

out of

5.0
 by
joeb50
Good all around hotel
rooms are wonderful..clean, modern, comfortable bed, good bathroom. Everything you'd want in a hotel.
February 3, 2014
Rated

5.0

out of

5.0
 by
CatKats
Location! Location! Location!
Location is everything. While we chose not to dine in, this hotel is in Times Square, so we didn't need their bar/restaurant. I would definitely stay there again as Times Square is a good spot to catch mass transit to anywhere else. Assuming there's nothing going on in TS. I stayed there for the Giants-Yankees matchup last October.
February 3, 2014
Rated

4.0

out of

5.0
 by
Didymus
Love this hotel
Great location, New York Sports Club, good resto, wifi, great rooms, friendly staff amazing value!
February 2, 2014
Rated

5.0

out of

5.0
 by
Gaby20
Great service and location
Great location and service. Sandra at the front desk was very helpful and made our stay better. Overall we had a great time and would stay at this hotel again. I highly recommend to go watch the jersey boys. It's a great show and close to the hotel .
February 2, 2014
Rated

3.0

out of

5.0
 by
SS2014
Bathroom very dirty
I always stay at IHG hotels, ambassador and Gold Member. Week of Jan 28th stayed at Crowne Plaza Times Sq. The bathroom was not clean. There was hair all over the sink and toilet seat cover was very dirty. The Bathroom floor also was not clean. Not what you would expect from Crowne Plaza in the heart of Times Sq.
February 2, 2014
Rated

4.0

out of

5.0
 by
ma5445
Excellent location
This hotel is in the right spot in Manhattan. You have all in walking distance. The room was amazing, very comfy bed and the view was incredible. Only Erika at the front desk needs some training how to deal with the hotel guests. At this point she is certainly not the right person to handle such a job. Really never experienced somebody so nasty at any hotel.
February 1, 2014
Rated

5.0

out of

5.0
 by
a satisfied customer
Excellent services
I just want to say thanks to all the staff at the Crown Plaza. This was my first visit to New York City and you made my stay quite comfortable. As a Platinum Member I was very satisfied. I would definitely stay again!
February 1, 2014
Rated

5.0

out of

5.0
 by
Kenny 67
comfortable bed and great service.
We were elated with the rooms and bed. Service from waiters and clerks were the best.
February 1, 2014
Rated

5.0

out of

5.0
 by
SugarLand2002
Crowne Plaza Times Square- Incredible!
We had a great experience- the staff, the room, the location the food- all top notch.
January 31, 2014
Rated

5.0

out of

5.0
 by
JoyceB
Nice staff, great gym
I especially like the well-equipped gym. Breakfast for one was also served in a friendly but unobtrusive way at the restaurant. Room is big and clean.
January 30, 2014
Rated

5.0

out of

5.0
 by
wendy40
awesome location and amenities
it is awesome to have a health club and breakfast spot on site. The Grab n Go breakfast could use more staff to keep the lines shorter. Otherwise love the security, bar, healthclub and fresh croissants from the Brasserie!
January 30, 2014
Rated

5.0

out of

5.0
 by
ScottX
Excellent Staff and Rooms
Both my wife and I visit this hotel frequently and esp enjoy being in Times Square in December. The front desk staff, Edith, is always more than accomodating and very customer service orientated which is always a nice way to start a weekend getaway. Keep up the good work,
January 30, 2014
Rated

4.0

out of

5.0
 by
Poie
Details
Stayed in room 4624. We love this hotel and always stay here but I repeat this comment and direct management to have a look at the black mould behind the sink taps and around the tub. This is such an easy fix that I cannot understand why a room which one must assume is cleaned a couple of times a week would have this problem. My house is cleaned once every 2 weeks and I don't have this. Please address it. Also, I know new management has made a lot of cost cutting changes and I'm for almost all of them although I do miss the concierge lounge, but the cheaper toilet paper is the worst. I got on the elevator with my package of toilet paper rolls and there was another guest carrying the same purchase. Hotel guests should not have to buy their own toilet paper in order to avoid the newspaper quality toilet paper provided by the hotel. I recommend this hotel but I also recommend to them that they pay attention to these details.
January 29, 2014
Rated

5.0

out of

5.0
 by
12jeremy34
Excellent hotel, Great location
My wife and I stayed 3 nights in January 2014. Despite the cold weather and snow we enjoyed our stay. The hotel is perfectly placed for the theatre district. Our 44th floor room was very clean, well equipped and the king bed was very comfortable. The view over the Hudson and the city was great. There were however a few negative points some of which could be fixed. We had to queue for breakfast despite the fact that there were numerous empty chairs. Too much time seemed to be wasted preparing tables. The diner style seating area looked very inflexible. I suggest a study of the efficiency of the service would help speed up throughput and also benefit cashflow (the breakfast was high priced for the offerings--no hot tomatoes for instance). The alternative breakfast/snack offering was pooly located near the lifts and also slow because there was only one server. The lobby/bar area was pretty typical for equivalent hotels, lacking atmosphere. Something which we found unacceptable was the fact that there was no food after 10.30 pm, unimaginable in any European hotel. When I say no food I mean not even nuts!! As the night wore on the bar staff seemed to lose interest in serving people. Despite these 'niggles' I would recomment the hotel to anyone needing a hotel in the area.
January 29, 2014
Rated

5.0

out of

5.0
 by
Georgia Peach
My 20th stay at this location
Each trip has been excellent. Location is perfect and convenient. Staff very accommodating and cordial. Restaurant very good and lounge has the best bar tenders -especially Martin and Phillip!
January 25, 2014
Rated

3.0

out of

5.0
 by
Ksdub
Good location but missing amenities
I have stayed here every year for the last 3 years and this year they changed their room service hours to 4:30pm to midnight so breakfast in the room was not an option. I will not return to the hotel because of this.
January 24, 2014
Rated

5.0

out of

5.0
 by
bobboc
Great Visit
Having breakfast overlooking times square each morning was the Best!
January 17, 2014
Rated

2.0

out of

5.0
 by
Sarah615
Bland stay
Non descript hotel, bored staff. The location and the overall ambience of Times Square was great, the only let down was getting back to the hotel. The rooms were not that clean, the hotel staff at all levels were bored and barely accommodating, I would not recommend this hotel.
January 15, 2014
Rated

5.0

out of

5.0
Excellent Location
We stayed at the Crowne Plaza on a recent short trip to NYC. It was perfectly located for the two Broadway shows we attended. The room was clean. The staff was very helpful. I would recommend this hotel to friends and colleagues.
January 15, 2014
Rated

4.0

out of

5.0
 by
Boston boy
Great stay on New Year Eve 2013 waiting 2014
Great location, I wish i can pick the Time Square Window view.... The picture I took from the dinning room. Will come back again and recommended. The room is a bit small but can't ague because it's right at the middle of Timesquare
January 15, 2014
Rated

3.0

out of

5.0
 by
joey D
Great Location
Great location, nice lobby area and bar/lounge. The view of Times Square is nice as well. Room was comfortable. If you are looking for location and average hotel room, this is a good choice. Onre thing to mention...Our window would not open so we called guest services. 1 hour later a maintenance man came and got it opened. I asked how we kept it open as it would slam down...he said "Use this pen". Not the best answer or repair.
January 15, 2014
Rated

5.0

out of

5.0
 by
bobmck20
Great Hotel,Awesome location
After staying at the Crowne Plaza numerous times for business I stayed there in January with my family. Its a great hotel in a great spot to see everything you want to see in NYC! You are in the heart of Times Square but inside the hustle and bustle and noise of the square isnt even noticed. The hotel staff is very responsive and will help you plan out a great day,weekend or week! If you want to stay near all the action but enjoy a great hotel this is your place!
January 14, 2014
Rated

4.0

out of

5.0
 by
eyes95
Good location needs more attention on the cleaning and mantainance of bathrooms.
The room was ok but the bathroom faucet was loose and dirty. The bathtub faucet was broken, and after reporting both to the front desk, only the bathroom one was fix. The bathtub faucet was left broken and the bathroom and bathtub were not clean the next day. they were left dirty.
January 14, 2014
Rated

5.0

out of

5.0
 by
CNev28
Love the hotel
This is my second time staying at the Crowne Plaza Times Square. The hotel room was great, the staff were pleasant and friendly, and the hotel itself excellent. I would recommend this hotel to anyone and I will book this hotel the next time I visit NYC.
January 14, 2014
Rated

1.0

out of

5.0
Poorly treated
We had a terrible stay with you. The room looked good and beds good but: the furniture (wooden) badgered, there was no refrigerator which meant the food we brought was nth rowen at our cost and we coundn't save leftovers, there was no exhaust fan in bathroom. The two sets of neighbors were loud,the last shared two rooms across from each other with room full of kids racing back and forth! The desk staff were unfriendly and somewhat discourteous.Even the two women at the concierge desk were not very kind. No one offered us points or frequent flyer miles until we insisted when they gave us free internet service the last day of seven. Once we ate downstairs where we were charged $65. For greasy, oily. Burgers and fries. The David Bulet bistro with four stars was cheaper. In all, a very bad experience for us. One we shall not repeat with a Crowne Plaza. We are telling our friends and neighbors lest they befall our sad, unhappy and overpriced experience with you. By the way the APPA, a national organization no longer hosts it's annual events with you. Now I know why!
January 14, 2014
Rated

2.0

out of

5.0
Room comfort
The room was absolutely wonderful but extremely cold. This was the week NY experienced record low temps but the room temps were not changed. I kicked the heat up to 80 degrees but the room only warmed up to 70 degrees. I ended up using my coat and double folding my bed covers plus putting on day clothing to sleep in to stay warm. It also took me over ten minutes of running warm water for it to warm up.
January 12, 2014
Rated

4.0

out of

5.0
 by
Colet
Comfortable bed and very good service
We have been many times in this hotel because we like it! We miss the clublounge on the highest floor! That was a good opportunity to meet other priorityclubguests. Breakfast 'grap and go' on the loungefloor is not comparable to the former priorityclublounge.
January 11, 2014
Rated

4.0

out of

5.0
 by
Mbradley94
Great location but staff needs help making people feel welcome
The hotel is nice! Very clean and a fabulous location. My only complaint is that I felt like we were pushed out of both the bar and the restaurant when there were plenty of open tables and it was nowhere near closing time. The last morning at breakfast, we were told that we should go to the lobby if we wanted to sit any longer which left a bit of a sour taste in my mouth.
January 10, 2014