Skip Navigation
English
|
|
|
|

Sign In

Book online or call: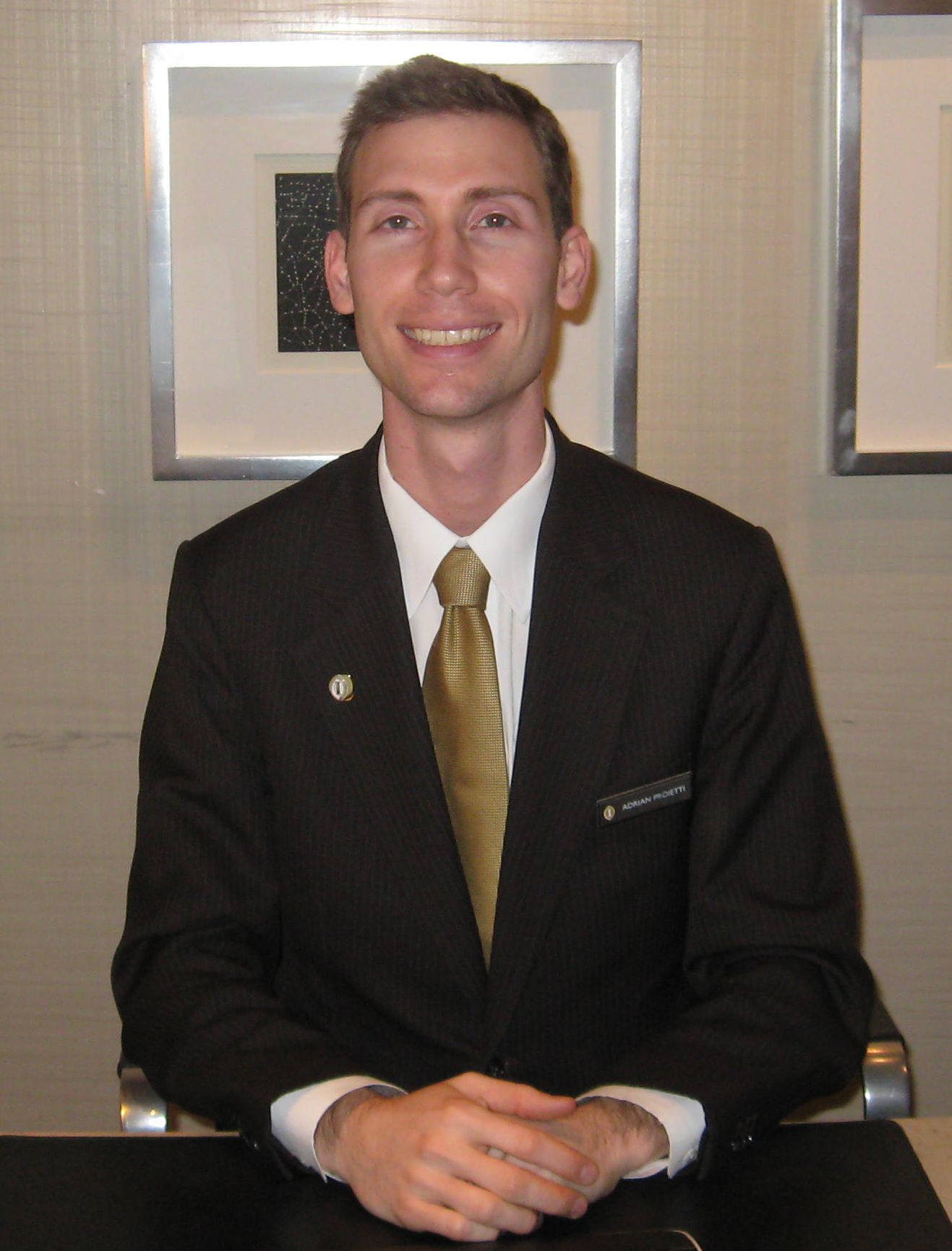 CHIC NEW YORK LUXURY HOTEL ON TIMES SQUARE
Right on Times Square, this New York luxury hotel is perfectly placed in the epicentre of Manhattan's theatre, dining, fashion and business districts. Just blocks from Broadway, savour a pre-theatre menu at Ça Va Brassiere or wander to nearby Restaurant Row for a myriad of dining options. Towering 36 storeys, this New York luxury hotel affords impressive views of the Hudson River and city skyline. The Lounge is perfect for after dinner cocktails and views of 44th Street.
HOTEL HIGHLIGHTS
Restaurant & Lounges

International cuisine is featured in our premiere restaurant led by renowned Chef, Todd English. The adjoining lounge serves cocktails and light sn...

Amenities & Services

A state-of-the-art fitness centre offers 24-hour access to a full range of fitness equipment and free weights for the perfect workout any time of day.

SPECIAL PACKAGES

There's always something special happening at an InterContinental hotel. Whether you are looking for a fun-filled getaway or a place to host your n...
New York Times Square
300 West 44th Street
New York , NY , 10036
United States
Front Desk +1-212-8034500
Languages spoken by staff
English, Spanish, French
Pet Policy
Dogs and Cats allowed for a fee of 250USD non refundable fee
Pet Fee $250.00 per night
CHECK-IN

3:00 PM

CHECK-OUT

12:00 PM

Late Check out Available
Accessibility
Service animals allowed
31 Room(s) with Accessibility Standards
Guest Reviews
Rated

4.1

out of

5

 by

1225

reviewers.
Rated

5.0

out of

5.0
 by
Shana1
Great location
We stayed mid-November 2013. Was perfect location for Times Square/Broadway attractions. Clean rooms, nice staff and would stay here again.
December 28, 2013
Rated

5.0

out of

5.0
 by
PSNCausinChaos
Christmas in New York
Always heard about Christmas in New York so the wife (who has never seen snow) and I decided to splurge a little and make it happen this year. We got in early on Monday the 23rd and had to wait for a room so we checked our bags in and hit the city. You are literally in the heart of Times Square when you step out onto the sidewalk. After doing a little shopping and sight-seeing we got back to the hotel and Erica at the front desk was great as she went above and beyond *[this phrase will be used a lot in this review]* to get us a room with that "perfect Times Square view". As you walk through the lobby and to the elevators it is very impressive knowing that you are in a very classy and modern hotel with professional security. When we got to our room (4415) it was very modern with a breath-taking view. The spacious bathroom shower with seamless glass and bathrobes made me look forward to taking a shower to unwind at the end of that day. We brought tickets to see the Broadway Musical "Wicked", and the theater is literally 2 blocks down from the hotel… [This is something we noticed about everything: Hell's Kitchen 2 lefts and 4 blocks; Rockefeller Center 3 blocks; Center of Times Square straight ahead; Juniors 1 block make a right; the Diamond District left 1 block right 1 block]. The Concierge Ben went above and beyond to try and help me find a watch that my wife wanted for Christmas (no luck though, had to order it online and get it when we got back home) but whenever he saw me he would inquire and try to think of somewhere else that might have it. The Hotel Staff was very helpful in getting us information about our activities; observation Deck of the Empire State Building, reservations for the 9-11 Memorial; but the person who stands out – who went "above and beyond" was Claire the restaurant receptionist. Her grace, beauty and personality had us wanting a picture of her as part of our memories. She is so down to earth and pleasant. Woke up Christmas morning to 19 degrees (burr) went to Central Park and then got back to the Hotel in time to watch my Miami Heat beat the Los Angeles Lakers. My thing has always been to stay in a nice hotel when you go on vacation because the room should be part of your experience with the memories of the place that you visit, and the Crowne Plaza Manhattan gave me exactly that and then some. Oh by the way, the wife got her first snow as we walked out and down the street headed to the airport to return home… perfect ending to a great vacation.
December 28, 2013
Rated

4.0

out of

5.0
 by
FirstDatefan
A reliable stay
We enjoyed our stay. The location is why we chose this hotel so that we could be close to the theatres we were visiting. We came to town to see First Date at the Longacre on 48th. We could see the theatre from the car park entrance/exit. Perfect! The beds were comfortable. The room was small ish for 2 adults 2 kids but it is NYC so knew to expect it. I did research and their hotel had larger rooms than nearby competitors. Check in was superb. Lovely staff. We had a Times Square view on 24th floor away from lifts. Other than sirens, it was very quiet. our room 2405 is rather tired these days. The furniture has a lot of wear and tear- the wood veneer on the table has been ripped off so it looks shabby. The fan in the bathroom did not work. Housekeeping was fine but not great. I left out notes twice ( even including a tip) for an extra box of Kleenex, extra plastic cups and extra towels. We did not get any extra and on the last evening we ran out of Kleenex and were running low on tp. Nothing major but annoying. We had a drink downstairs which was nice. So location, location, location it has. Everything else was fine but not outstanding. A solid stay. If I was coming back to see shows, I would consider staying there. I really liked the little kiosk w coffee/ drinks/croissants to purchase in the morning. That was spot on for a quick breakfast to get us up and out touring!
December 27, 2013
Rated

4.0

out of

5.0
 by
ukengland
bathroom
Had a great stay and the hotel is in a great location ,with good feel factor in the hotel...would stay again, only complaint I would have was that the bath/shower was broken and on 2 occasions I could get hot water to come through, however, I didn't report this and I am sure it would have been put right if I had ...... this would not put me off staying again.
December 27, 2013
Rated

1.0

out of

5.0
 by
Sanjose
Hot and Stuffy
We checked into our room and discovered that the room temperature was 74 degrees. We turned on the air to cool it down to 70, and left for dinner. When we came back the room was reading 75 degrees. We called the front desk and they sent a maintenance guy up and he explained that the system could only be on heat or cool for the entire building and it was set to heat. He said that there was nothing they could do but bring us a small fan. For three days we had our room range from 75-78 degrees. Upon checkout i was asked how our stay was and we explained not pleasant, i was then greeted by a senior front desk manager and she stated that she didn't see where we had called on the call log and was short and rude. She interrupted and was more concerned about not seeing a call on the call log instead of trying to deal with the situation. I tried to tell her that she can go to the room and see the fan that was brought to us if she needed proof that we brought this to the hotel's attention. I think they need to focus more and invest in customer service training. For the price we paid for the three nights we stayed, I DONT recommend anyone staying here.
December 26, 2013
Rated

4.0

out of

5.0
 by
Thomas9
Good Hotel…Poor Customer Service
After booking and paying extra for a room with a view of Times Square, we were placed in a room with no view of TS at all. After asking the front desk about it, we were moved to a room with a better view, but not the one that we had expected. At that time, our baggage was delivered and the man who brought them up told us that there were rooms with a better view and suggested we ask because he wasn't sure if any were available. When I called, I was given attitude by the person who answered, who even went as far as to ask me to describe the bell hop who told us that. Presumably so they could correct his "inappropriate" comments to us, which weren't inappropriate at all. It was so unprofessional that we called around to see what other hotels were available but none could be found so we stayed. The next morning, when my wife called to ask if there was coffee available she was given attitude again by the person who answered. We will never stay at this hotel again.
December 26, 2013
Rated

4.0

out of

5.0
 by
Lyn60
This is a good hotel for a brief New York stay
My family booked a 4 day stay at the hotel and, having read all the reviews, I emailed & requested a high floor (so that it was more quiet) and a Times Square view. We were given Floor 41 which was fine but our three rooms were on the back side of the Hotel and I was disappointed with the small size of my room. In the end, though, we didn't think it mattered. It's such a central hotel and it suited us just fine overall. We are also Platinum members, though sadly, no one mentioned that until I did. However, when I requested complimentary breakfast vouchers (as there's no Lounge) the Manager kindly agreed straight away, which I really appreciated. We have stayed at so many Crowne Plazas & Intercontinental Hotels but I have never been in such a busy place as this one! It is understandable therefore, that the staff are fairly brisk but it would have been nice if the Restaurant Managers took a second to say Good Morning at least as we patiently queued for breakfast each day. Overall, however, it was a good stay. The location is perfect for the tourist stuff and you can walk pretty much everywhere, if the weather holds out!
December 26, 2013
Rated

3.0

out of

5.0
 by
smith12
Good gym, not much else
I stayed here on business last week for the second time. The Crowne Plaza in Times Square is very basic overall. The room was adequate. Nothing special, but does the job. The best part was the gym. The gym has everything which is the only reason I continue to stay there. When it came time to check out, I was charged for internet which I should not have been. I also very specifically asked to be emailed my bill as I need to submit it for reimbursement. The woman said, no problem. I still have not received it. I called to speak to the front desk and they transferred me right away to Accounts Payable who they knew weren't there. I don't see why the front desk couldn't have just emailed me my bill.
December 24, 2013
Rated

5.0

out of

5.0
 by
AmitNewYork
Thanks Sandra Esp. for all your help!!
I would like to thank Sandra Esp for all her help with check-in and ensuring our room was best matched with our needs. She provided great help in providing us with directions as this was our first time visiting New York City. It is always nice to see cheerful and helpful staff at the front desk like Sandra. We really enjoyed our comfortable and relaxing stay at "Crown Plaza Times Square - Manhattan" for 3 days. I would highly recommend this hotel to all my family and friends in the future. Thanks Sandra for all your help, and hoping to visit the property again in the future!
December 23, 2013
Rated

2.0

out of

5.0
 by
3zoz
Did not meet my expectation
One of the worst hotel stay in my life. This hotel cannot be by any means a 5 star hotel. The furnitures are damaged, the safe dose not work, the painting is not clean, there is no refrigerator in the room, the room is close by the elevator and is very noizy, above that all the rate is very high and is not equivlant to the quality of the hotel.
December 23, 2013
Rated

5.0

out of

5.0
 by
JudeT
Great location!
Great location, fabulous views, lively bar - wouldn't hesitate to go back - or recommend!
December 21, 2013
Rated

5.0

out of

5.0
 by
Rodie01
Top notch hotel
Beautiful hotel and accommodations. Great staff. Located in central Times Square and close to everything. Highly recommend.
December 21, 2013
Rated

5.0

out of

5.0
 by
Sjwilson22
Great hotel in an excellent location.
Only stayed one night but it was a great hotel. Courteous and knowledgeable staff. We did not have to wait for luggage or our car when arriving or leaving. In fact the service was so quick it threw me off compared to other hotels I have stayed in. I stay in a lot of hotels and would highly recommend this one. Very close in proximity to a lot of the things tourists seek out when going to New York City.
December 21, 2013
Rated

4.0

out of

5.0
 by
Traveler4243
Great stay marginal service
As usual our stay was great as expected. Rooms were great as usual as was the front desk services. Service at the lounge/bar on the other hand was not up to the usual standard. On two occasions we waited quite while for service even after speaking with the bartender. Service on one occasion was eventually provided but extremely slow. Never did get service on one occasion and finally departed.
December 20, 2013
Rated

5.0

out of

5.0
Christmas in New York
We visited the city on 12th December 2013. On arrival we were upgraded to a 45th floor room overlooking Times Square. On our first evening, we were sent strawberries and champagne to our room by the guest relations manager. On the Saturday we not only were greeted by a snow storm, but also took in the Knicks at Madison square gardens. This is the third time we've been to New York and by far it was our best trip yet, thanks in no small part to the Crowne Plaza. We're already planning a return trip next year!
December 19, 2013
Rated

5.0

out of

5.0
 by
Trainster2k1
Always the Best
We have made it an annual event to stay at the Crowne Plaza in Times Square. It is always clean with a staff willing to do whatever they can to make your stay memorable. The gentleman running the Grab-N-Go booth was always smiling as he was making coffee and hot chocolate any way you wanted. He made you feel good when you left his booth. A nice way to start the day.
December 18, 2013
Rated

4.0

out of

5.0
 by
keecat
Comfortable bed but bathroom shower needs updating
The hotel was very nice overall but found the waitstaff in the lounge a little "bored". The beds were comfortable and room nice with a very nice view of Times Square. The handles on the shower and tub fixtures were coming out of the wall and need to be repaired or updated. Overall the hotel was nice but too steep on the price , at about 600 a night with taxes.
December 18, 2013
Rated

5.0

out of

5.0
 by
DAT18
Wonderful stay / Memorable Experience
My overall experience and review is Excellent! The staff, service and cleanliness of the room were commendable. We were traveling for a weekend on rewards and we were treated with as much respect as a paying customer. This is my second trip to NYC and staying at the Crown Plaza and I must say every time has been an enjoyable event. The ONLY complaint I have was our experience at Broadway 49 Lounge and Bar. We went down for dinner and the food was just okay and our waiter was HORRIBLE! No follow up what so ever and no attention to detail. This is no reflection of The Crown Plaza or our overall experience. WE WILL BE BACK!
December 18, 2013
Rated

4.0

out of

5.0
 by
Matt1217
Wonderful Hotel, Perfect Location
Our stay was nearly perfect. The only complaint i have is the hot water and water pressure in the shower. It was a very cold weekend so i'll let that one slide. We've stayed in this hotel many many times and have always had a great experience.
December 18, 2013
Rated

5.0

out of

5.0
 by
IHEARTNYC
Excellent Hotel and Location
My mother and I stayed at the Crowne Plaza for 2 nights for a short trip just to see the Christmas tree at Rockefeller Plaza and go to the Radio City Christmas show. Everything was perfect. Our room was clean, bed was was VERY comfy and the bathroom was clean. We had a corner view room and it was really nice too! Most of the staff was friendly. The young lady that checked us in had a very dry personality, but I am not going to give a bad review because of that. The gentleman working the little cafe where you buy coffee and breakfast items was super friendly and the bellman who stored our bags before we could check in was helpful too. We arrived at the hotel around noon and was told our room wouldn't be ready till around 3pm, but we could pre check-in and they would call us when it was ready. I had no problem with that because i knew we were early. We walked down the block to grab some food and 30 minutes later we got a call saying our room was ready! Everything is within walking distance. The longest walk we had was to Macy's, which was about 10 to 12 blocks. I have stayed at many different hotels in the city and the Crowne Plaza is now on the top of my list. I would recommend this hotel to anyone.
December 18, 2013
Rated

3.0

out of

5.0
 by
KrisD
Not as good as usual
This was probably my sixth visit to this hotel. I come to NYC fairly frequently for business, and since it is Christmas time in NYC, I brought my wife with me for this visit. Obviously I am usually very happy with the hotel, or I would not be a repeat customer. This time my room was not clean, and did not appear well maintained. There was damage to doors and walls that were not well repaired. There was a dime sized hole in the couch that did not inspire confidence in the room. The rest of the hotel was good, including the excellent staff. I would still recommend it overall, due to my other stays, but if this has been my first visit I would not have returned.
December 17, 2013
Rated

3.0

out of

5.0
 by
WarEagle2013
Some Guest services just awful
Location was great. Room was comfortable and front desk staff was welcoming and helpful. The valet staff and the wait staff were the worst. The doorman would stand inside while we tried to hail a cab, presumably because it was cold outside. He would just stand inside and watch us stand at the taxi stand. We ended up walking two blocks to get our own cab, dragging our luggage behind us. The waiter gave us grapefruit juice instead of orange juice and when I asked him for orange juice he told me that's what I had, and that I didn't know the difference. They were rude and lazy. We had to ask for every refill of our coffee cups. For such a crazy high price, one expects more. I'll stay elsewhere next time.
December 14, 2013
Rated

1.0

out of

5.0
 by
OakAvenuefriend
They've changed
We stay at this property when we come to New York for many years. Frankly, it has slipped. The heat in the room was out of control. When we called the staff, the guy that came up simply turned off the heat and opened the window saying "its an old hotel, they just can't control like new places do." Really? This is the 1st time in 4 winter stays that we've had this problem. The bathroom toilet refills every 10 minutes. The cleaning staff doesn't notice this? Even a little thing, the bathroom door, was damaged with poor repair. Looks like this facility wants to become one of the lower end hotels. It certainly is not up to Crowne Plaza standards.
December 14, 2013
Rated

4.0

out of

5.0
 by
auldyin
Excellent staff
A really good hotel in excellent location, nice big comfortable room with a view of the Hudson and very comfy large bed. However the outstanding aspect of the hotel is the top class staff - all friendly and helpful right from the room service lady with the big happy smile to Tony in the bar who was a real character who could not have tried harder to provide outstanding service.
December 14, 2013
Rated

4.0

out of

5.0
 by
husker12321
Great location
This was our second stay at this hotel. We would stay there again. Location is very convient and no noise from the street. The really plus of this hotel is the great workout facility and lap pool.
December 13, 2013
Rated

5.0

out of

5.0
 by
Ellen2013
Best Birthday Gift
Our stay was a Birthday Gift and it could not have been better. The room, staff, both upstairs and downstairs were so helpful and gracious and so enjoyable in every way. We were even blessed with snow. Something we seldom see down South. I hope that we can return for another enjoyable time.
December 13, 2013
Rated

1.0

out of

5.0
 by
Disappointed201312
Dirty, tired, small, and broken
The hotel rooms are small and crowded, even by New York standards. Everything is dirty and worn... the carpet was down right gross. When I put the do not disturb sign on the door, they called and woke me up to try to have housekeeping come at a time that was convenient for them. I asked if they could wait an hour and they said no. Then an hour later I got another call saying they could come, so even though I wasn't ready, I left the room for an hour so they could clean it. When I came back, no one had been there. I called down and complained and they said they could send someone and I asked if they could wait until an hour so I could get ready and leave to eat. They said yes, but then ten minutes later housekeeping was knocking on my door. I finally gave up and vacated the room. When I got back two hours later, housekeeping came again having apparently had some communication issue. The issues just went on. Definitely would recommend staying elsewhere.
December 13, 2013
Rated

4.0

out of

5.0
 by
Heather117
Great location
Comfortable hotel in prime location. Very comfy bed in quiet corner room with lovely big window with view of Hudson River.
December 13, 2013
Rated

5.0

out of

5.0
 by
JJones290
Great place
We stay here every time we are in NYC. It is a great hotel in a great location.
December 13, 2013
Rated

5.0

out of

5.0
 by
FloridaFox
Very convenient, great place to stay !
We found the Crown Plaza in the heart of Midtown Manhatten a very convenient location to all the Theatres, restaurants, Rockefeller center, etc. Also, it was easy to access in and out with efficient elevators. The Brassiere Restaurant had really good food at realistic prices. We have been to NYC many times before, and stayed at other places, but I'm sure we will be staying at the Crown Plaza on all subsequent trips. Thank you.
December 12, 2013