Skip Navigation
English
|
|
|
|

Sign In

Book online or call: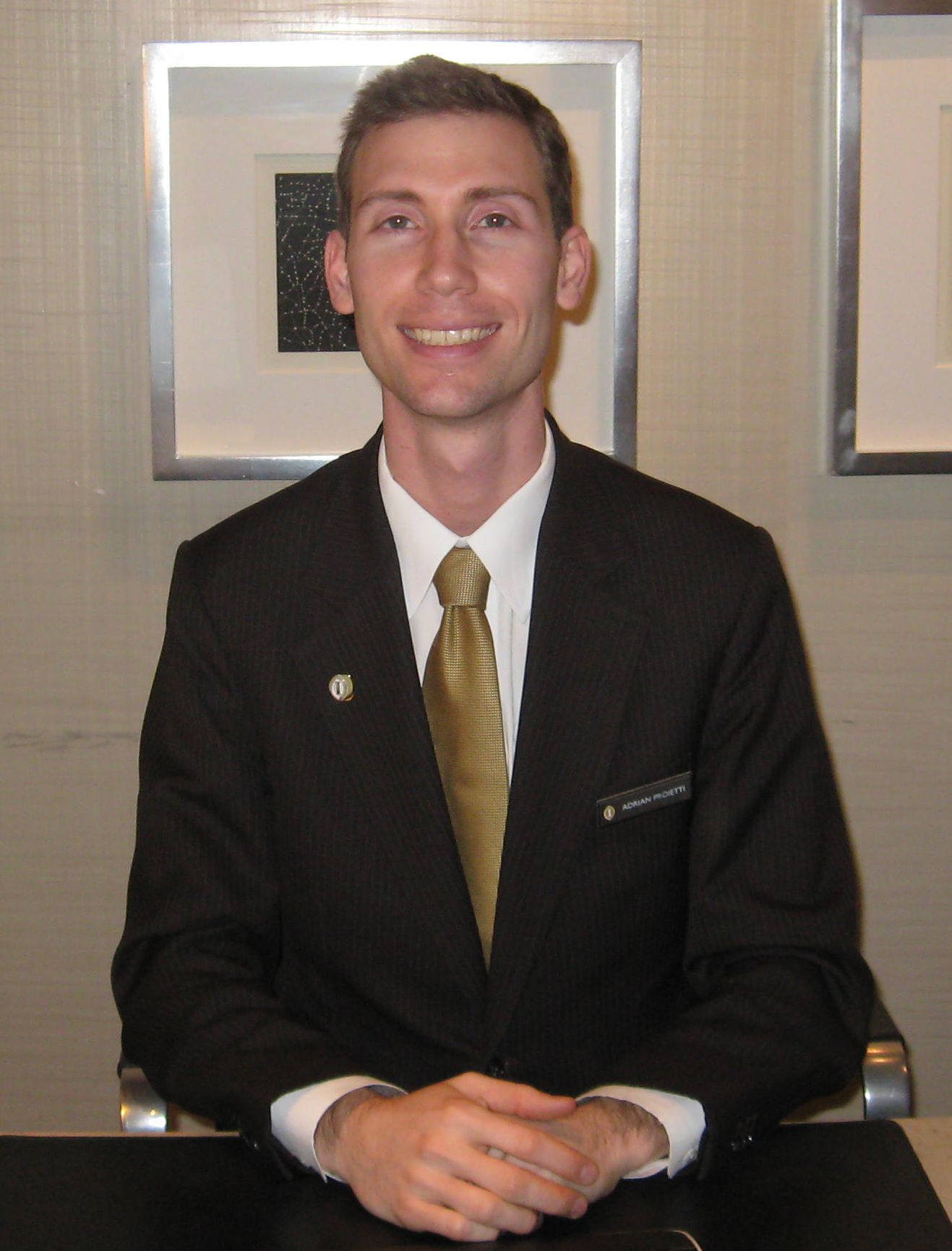 CHIC NEW YORK LUXURY HOTEL ON TIMES SQUARE
Right on Times Square, this New York luxury hotel is perfectly placed in the epicentre of Manhattan's theatre, dining, fashion and business districts. Just blocks from Broadway, savour a pre-theatre menu at Ça Va Brassiere or wander to nearby Restaurant Row for a myriad of dining options. Towering 36 storeys, this New York luxury hotel affords impressive views of the Hudson River and city skyline. The Lounge is perfect for after dinner cocktails and views of 44th Street.
HOTEL HIGHLIGHTS
Restaurant & Lounges

International cuisine is featured in our premiere restaurant led by renowned Chef, Todd English. The adjoining lounge serves cocktails and light sn...

Amenities & Services

A state-of-the-art fitness centre offers 24-hour access to a full range of fitness equipment and free weights for the perfect workout any time of day.

SPECIAL PACKAGES

There's always something special happening at an InterContinental hotel. Whether you are looking for a fun-filled getaway or a place to host your n...
New York Times Square
300 West 44th Street

New York

,

NY

,

10036

United States

Front Desk

+1-212-8034500
Languages spoken by staff
English, Spanish, French
Pet Policy
Dogs and Cats allowed for a fee of 250USD non refundable fee
Pet Fee $250.00 per night
CHECK-IN

3:00 PM

CHECK-OUT

12:00 PM

Late Check out Available
Accessibility
Service animals allowed
31 Room(s) with Accessibility Standards
Guest Reviews
Rated

4.1

out of

5

 by

1284

reviewers.
Rated

5.0

out of

5.0
Watching the Ball drop, New Years Eve 2013...
As a frequent traveller I always prefer IHG Hotels. My stay in Times Square was enjoyable, the hotel is centrally located, the room & amenities provided were of a high standard. The ideal venue to see in the New Year.
January 5, 2014
Rated

5.0

out of

5.0
 by
Kenster70
Great Location for New Years!
The Crown Plaza in Times Square, NYC is located in the heart of Times Square. Great Location! The hotel has comfortable beds and great service.
January 5, 2014
Rated

1.0

out of

5.0
 by
ccmedinas
very bad hotel experience
We arrived on the 27th December, we had to carry our bags to the reception. There was no one to help us carry 4 big suit cases. The reception staff was very neutral, nothing good, nothing really bad. The bar staff is very rude, left us waiting after the staf member told us to wait, but 20 minutes after told we decided to ask, and he said, there is no table. The room was very dirty, full of dust, during all our stay never was clean properly ( have pictures that confirm all this). por organization about the new years eve client acess to the hotel. A few other costumers complaint about the hotel being so bad and rude staff. Bad choice hotel , very expensive, compleetly a mistake not no return again in my life.
January 5, 2014
Rated

3.0

out of

5.0
 by
SDarner
My First New Years Eve
Looked forward to my first vist to NYC! Hotel is in a Great location.! For the most part it was a decent stay. New Years Eve on the other hand seemed like the first New Year they ever had!!! First we had to get wrist bands so we could get back into the Hotel. No problem I get the security. How do you run out of wrist bands? You know your guest capacity make more than you need!! So we get a printed sheet of paper stating we are guest. We manage to get through security and back to the room. Hey let's grab some room service before it gets to late. 7 PM!!! No answer. No answer!! No answer!!! Call the front desk. Hey we have an answer! Oh you can't order off that menu we have a New Years menu. We didn't get that menu. We will send one up NOT!!! I have to go get a menu but no one can tell me were to get one!! Are you kidding me! I find one and go back upstairs to place our order. No Answer! No Answer!! I call the front desk and they tell me they closed room service do to the high demand at now 8:30. Needless to say I spoke to a Manager LARRY! What a major disappointment !!! Never did to get to feed my family!! I went down to the gift store and grabbed some munchies! Thank god for that place! Oh did I mention no Hot water every morning!! We still had a Great time in NYC but would have a hard time going back to this place!!!
January 5, 2014
Rated

5.0

out of

5.0
 by
Janethq123
Good location and great service
Convenient location,Nice staff, comfortable bed,free wifi,good value!we will be back!
January 5, 2014
Rated

1.0

out of

5.0
 by
Guillermo33178
Staff does not care
I arrived at the hotel Broadway entrance on December 28, I had a long day drive and the traffic around the area was terrible, it takes 10 minutes per block. I have two small kids that were completely despaired to get out of the car and the hotel staff did not want to help me with bags, check in or valet parking because I was not on the right entrance, I should have used the other entrance. Seems that for this people, walking 10 more feet with the bags is too hard. The staff was not helpful, they were rude and they just don't care. When I finally got to the other entrance 30 minutes later, it took another 30 minutes for the valet parking to take my car, after asking for help to two people from the staff, again, they just don't care. This hotel has a lot of useless staff, I would not recommend it.
January 5, 2014
Rated

2.0

out of

5.0
 by
toizki69kv
Guest Information not recognized
Nice Receptionist but did not even recognized a platinum member and should have given me the best room available which I asked for a window that we can see Time Square.
January 4, 2014
Rated

3.0

out of

5.0
Suresh Stay at Crown Plaza Broadway Times Square NY
Room Service and Response was very poor. You need to call them twice/thrice to get something. Being a Platinum Member: a) No Little Early Check-In; b) No Breakfast; and c) No Water Bottles (atleast couple) in Room.
January 4, 2014
Rated

2.0

out of

5.0
 by
mo9287
Below expectations. Must be the New Years traffic.
First of all, I believe there was no recognition for Platinum members in the hotel. I requested my room to be cleaned came back and was still messy, called again- no one came. And I had to call a third time. Requested drinking cups and creamer for coffee, hadn't arrived for an hour. Three people were done taking a shower and still had not arrived. We just ended up leaving (waited an hour over). There was no personal level of service. Check-in process (lady was singing songs while checking me in) Where is the level of professionalism? And the room doors! Lord, the doors slammed so loud. I would wake up with the noise of my neighbors doors slamming.
January 4, 2014
Rated

4.0

out of

5.0
 by
dwillie
Great Room
This is a great hotel to stay at. Rooms are large for NYC but a little pricey due to being a Times Square. Would stay again but not at Christmas, too crazy. Valet parking a little pricey as well.
January 4, 2014
Rated

4.0

out of

5.0
 by
Plato392bc
Amazing location, the time square view is really good.
Overall the experience was very positive, a couple of things that kept it from being perfect. 1) the shower head did not work. 2) The parking experience was horrible. My understanding that even though the parking is under the hotel building and seems to be part of the same establishment, but it is actually independently operated. The staff at the parking lot are probably the worst I have ever seen. They were rude, and had very poor communication skills. While I was waiting for my car, about 3 or 4 other customers were waiting with me for their cars and were experiencing the same pain, incompetence, lack of communication, and plain rudeness. I did not feel like I was just going through some isolated case of an employee having a bad moment. Examples of poor communication. You give your ticket and pay the fees, nothing further is communicated to you. 10 minuted later a lady was there before me, was getting frustrated and asked about her car, and all the guy had to say to her in an angry tone, go look for it... so much for Vallet parking. Few minutes later the guys, about 5 or 10 minutes later, the attendant saw me still standing me there, and he asked if I already got my car back, and when I said no. He told me that when the driver brings in the next car make sure you catch him and let him know to pull your car. I was trying to explain to him, that people are operating with the assumption that he is communicating to the drivers which cars to pull next, and that there is some level of coordination.. and if the customer was supposed to communicate directly with these drivers, they should be told to do so once the payed. The guy did not seem to want hear any of it..
January 4, 2014
Rated

1.0

out of

5.0
 by
Sasa1965
Poorest service ever experiencedp
I am not sure at which point did this hotel loose its customer centricity and replaced it with total disregard to guest experience Imagine arriving to the hotel at 10:30 pm with three kids and spending over 20 minutes trying to find the bell boy in the parking to secure the luggage Next comes the check in ,very friendly staff acknowledges my platinum status send me and the family to the tower 35 floor it is almost 11:30 pm and bell boy finally here with the luggage Trying to get to the room the keys do not work so bell boy uses his master key and surprise someone is already sleeping in that room bell boy starts complaining to me that he wants to go home me the guest with three sleepy kids all under 8 so runs quickly to the lobby gets us a new room key works fin and another surprise it is a smoking room and the smell is just horrible although am a non smoker with kids so bell boy starts cursing saying he has to go home meanwhile you can imagine the state we are in after flying in from Orlando so room number three we are granted one I the second building 2310 with a fantastic view over the backside. Generator and air conditioning units and this is when the call came in apologizing and promising us an upgrade and asking us not to unpack the luggage and a surprise next morning with free breakfast for all during the stay (for which am very thankful) So now my expectations are to be at least given a room with a view Next morning at 9 am with the do not disturb sign in the door we get a charming call from front desk advising us that our request note the wording our request for upgrade has been declined due to capacity so not only we we're awaken without any consideration but also given the boot so to say Our request which we never made was declined somehow someone forgot that mayhem that my family was subjected to and the staff attitude we had to put up with be it the bell boy who wanted to go home or the in room dining guy with the same excuse asking me to hurry up and open the door More to come when there is a sign saying do not disturb that does not exempt the cleaning staff from keeping quite and not shouting or slamming doors in the floor I can take the New York attitude in the street but not in a hotel where am a paying guest unless reward night guest as sub guests which is pretty much the feeling I left with This is the worst hotel experience I have ever had in my life and free breakfast and fruit basket are far from managing guest expectations and form a very unprofessional answer to it What a shame
January 3, 2014
Rated

4.0

out of

5.0
 by
MIZ123
EXCELLENT LOCATION, TOO EXPENSIVE
THE LOCATION&STAFF WERE EXCELLENT BUT THE PRICE WAS TOO EXPENSIVE. MOREOVER, NO BREAKFAST WAS INCLUDED!
January 3, 2014
Rated

1.0

out of

5.0
 by
Bunny172
Poor service poor staff
Dirty room, broken shower, rude staff, looking a old tired hotel, needs work lots of it! Loss of exec lounge a miss, won't be staying here again
January 3, 2014
Rated

3.0

out of

5.0
 by
James19955833a
Spyware and heat
We have stayed at the Times Square Crowne Plaza many times over the years. Extreme disappointment that the "Club" has been permanently closed. The free WIFI came complete with spyware, I did not require both. The temperature in the room got as high as 77 degrees with no way to regulate. I stop at the front desk produced promises but no solution. Other than the above, it was a great stay.
January 3, 2014
Rated

1.0

out of

5.0
 by
Dissappointed3687
Choose a different hotel!
I would NOT recommend this hotel to anyone! Worst customer service! Booked rooms months in advance online for an upcoming trip to NYC at Christmas. We made the simple request of a connecting room to the suite we booked and were assured this would be possible. Called the month before, the day before and TWICE the morning of to confirm the rooms and to assure a smooth checkin. First, the rooms were not ready at the promised 3pm checkin time, but was told this was due to the special request of a connecting room. Then after a 2 hour wait for the rooms, we were told that their reservation system (and the countless amount of employees I talked to) were actually wrong and the type of room we requested no longer existed. As if that wasn't enough, they treated us like it was OUR FAULT! We had to insist for a discounted rate for the first night b/c we got our rooms so late. We were promised a specific discounted rate and once the bill came, it turned out to be 20% less than they promised. I have traveled worldwide and this is hands down the WORST customer service and hotel I have ever experienced. I actually wouldn't go as far as saying it was the worst, because that actually implies there was some type of customer service. If you are looking for a great NYC vacation, do NOT stay at this hotel
January 2, 2014
Rated

1.0

out of

5.0
 by
Dissappointed3687
DO NOT STAY HERE
A group of us took this trip after booking months in advanced, having made multiple attempts to confirm that all of our needs could be accommodated for. However, upon arriving to the hotel we were shocked to find that our rooms would not only not be ready for hours, but that the rooms we requested and were promised did not actually exist. We were lied to and as if this wasn't enough, the hotel staff could not admit their mistake(s) and made us seem as though they were entirely our fault. We were VERY disappointed with this experience and will not be returning again, nor will we be letting any of our friends, families, or coworkers stay here.
January 2, 2014
Rated

3.0

out of

5.0
 by
Jaxx63
Central location
I'm a Platinum member and am uncertain as to what I get for the constant use of ihg properties. There was no upgrade and no longer an executive lounge which provided breakfast and snacks in previous years that I've stayed at this hotel. When I mentioned this I was given one 'on the go' breakfast voucher, which was gratefully received. The bedroom and bathroom had seen better days, they were very tired and needed some love and attention. The bed linen was crisp and clean and enabled a good nights sleep. However, the aromatherapy kit was nowhere to be seen, even though it is mentioned in the literature about the hotel. The hotel is well situated for Times Square and the Subway system and it allowed easy travel across Manhattan and further afield.
January 2, 2014
Rated

4.0

out of

5.0
 by
pstraub252572
room temp was hot
room temp unconfortable; pool closed too early; kids disappointed
January 1, 2014
Rated

4.0

out of

5.0
 by
Betot
Guess Service
I felt like the staff was stressed by too many people
December 31, 2013
Rated

3.0

out of

5.0
 by
AlohaFromHawaii
Great location but Not Great in service & IHG elite member recognition.
My second time staying at Crowne Plaza NY Times Square for the holidays. Check in at noon but they only had a double bed room on 39th floor and a king bed room on the 32nd floor. However, the front desk offered us top floor room if we are willing to check in after 2pm as the room was still dirty. So I agreed and returned to check in later but only to find that the only king size bed room that is available was on the 31st floor. This was a great dissappointment. Also, the frontdesk reception refused to offer any free breakfast as they do not have a lounge for IHG platinum members. I find that the service and attitude of this hotel has gone from good to bad when I compared with my initial stay there about 3 years ago where I was checkin early/promptly on the top floor with my bed of choice and being offered free breakfast and lounge access. I find that the bathtub needed a replacement. I will probably stay at another hotel when I go back to visit.
December 31, 2013
Rated

2.0

out of

5.0
 by
Abdul.M
You don't get what you pay for
The location is good but the staff don't care about you and they treat gusts different apon the race sorry to say that but that what happened with me , the front disks day wasn't friendly but she is so friendly with people same as her race , that was so bad and make me hate the hotel Also you don't get what you pay for and they keep giving excuses .
December 31, 2013
Rated

5.0

out of

5.0
 by
First Time Visitor
A great first experience
My family and I just returned from our first trip to NYC. The staff at Crowne Plaza made our stay so enjoyable, it was a pleasure to return to the hotel after a long day of sight seeing! The rooms were clean, the beds were comfortable, (I love the pillows!) and the staff were some of the friendliest we've ever had the pleasure of meeting. We definitely will return to visit again, and we definitely will stay at the Crowne Plaza.
December 30, 2013
Rated

2.0

out of

5.0
 by
D & G
Treated like a rewards customer using reward points
That part was not good...On check in was not treated like a platinum rewards member Never mentioned my rewards status. was not offered even a bottle of water. I had called a week before and checked on dinner Christmas day and was told they did not have any thing special Christmas day. Found out later about the meals. too late had made arrangements other place for Christmas dinner. It was almost like we had a :L: on our forehead that we were using our reward points. I work hard and travel a lot to earn those points and I am very disappointed that I wasted them on the Crown Plaza Hotel. My stays at Holiday Inn Express have been more accommodating Than the Crown Plaza. Had read some of the reviews and ask I had any special for Breakfast was told that was something I had to buy at reservation time. Need less to say We were disappointed in out stay. Dan from Tennessee
December 30, 2013
Rated

4.0

out of

5.0
 by
Z Man
Very nice hotel, but ......
The overall hotel experience was very good. The hotel is very nice, staff very attentive and helpful. One thing that I was very surprised about, was the poor water pressure in the shower ! And it wasn't just one or two times. The pressure was terrible the entire stay ! And I spoke with someone else who stayed there, and they had the same experience. Other than that, everything else was good. The location is excellent.
December 30, 2013
Rated

5.0

out of

5.0
 by
hayleyj27
Excellent service
Your staff made our stay very pleasurable. They were friendly and helpful. We had room service on two occasions and the service was first class, nothing was a bother. The location of the hotel is first class and we will without doubt come back again.
December 30, 2013
Rated

3.0

out of

5.0
 by
NYCfirsttimer
Great Location!
The hotel is in a great location - walking distance to the major things. We walked from Penn Station (just a bit of a hike) an walked to Rockefeller Center, Intrepid Museum, the Gershwin Theater and the Majestic Theater. Room was very clean and bed was comfortable. We ate snacks at the bar one night and the service was a bit slow - server and bartender were chatting a lot of the time, but the restaurant served a great breakfast to get us ready for a day of walking and the service there was good. I'd return to this hotel.
December 30, 2013
Rated

5.0

out of

5.0
 by
Annie1966
Super comfort and great service.
We had a wonderful time while staying at the crown plaza hotel in times square. The staff was super helpful and treated us like VIP's. We will definitely be back to stay again in the future. Thanks to everyone at the crown plaza!!!
December 29, 2013
Rated

5.0

out of

5.0
 by
mom384
Perfect setting, staff, and location.
Here for a mom and daughters trip, great location. We were close to everything we wanted to do. Close to the subways for things futher. The concierge was wonderful, helping us with subway directions as well as offering great recommendations for dining. The hotel is right in the middle of it all but we felt very safe and tucked away. Our room was above the 41st floor so we heard no outside noise and had a beautiful view of the Hudson. All the staff were very pleasant and helpful. I would without a shadow of a doubt recommend this hotel as well as stay here again.
December 29, 2013
Rated

5.0

out of

5.0
 by
Shana1
Great location
We stayed mid-November 2013. Was perfect location for Times Square/Broadway attractions. Clean rooms, nice staff and would stay here again.
December 28, 2013