Skip Navigation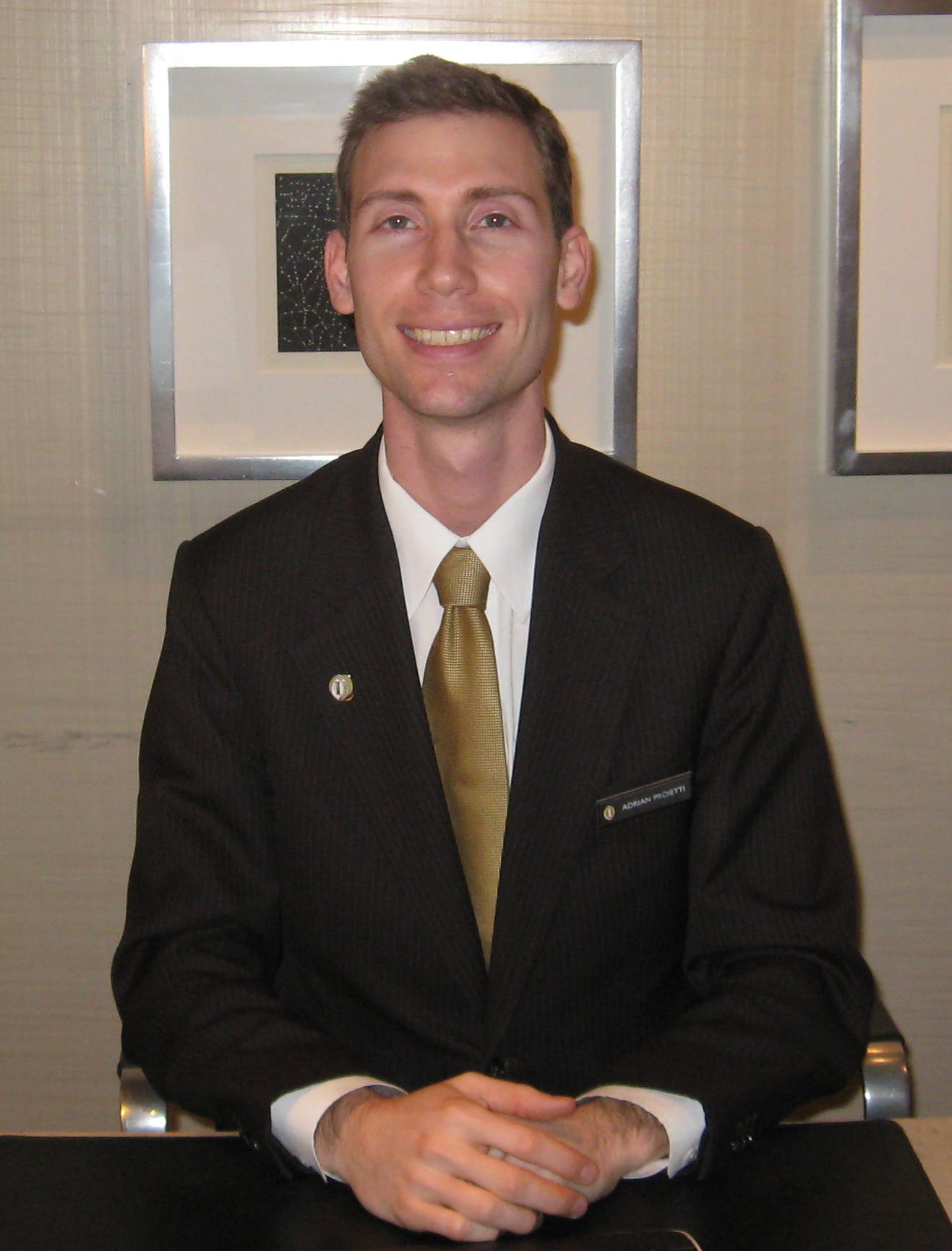 CHIC NEW YORK LUXURY HOTEL ON TIMES SQUARE
Right on Times Square, this New York luxury hotel is perfectly placed in the epicentre of Manhattan's theatre, dining, fashion and business districts. Just blocks from Broadway, savour a pre-theatre menu at Ça Va Brasserie or wander to nearby Restaurant Row for a myriad of dining options. Towering 36 storeys, this New York luxury hotel affords impressive views of the Hudson River and city skyline. The Lounge is perfect for after dinner cocktails and views of 44th Street.
HOTEL HIGHLIGHTS
Restaurant & Lounges

International cuisine is featured in our premiere restaurant led by renowned Chef, Todd English. The adjoining lounge serves cocktails and light sn...

Amenities & Services

A state-of-the-art fitness centre offers 24-hour access to a full range of fitness equipment and free weights for the perfect workout any time of day.

SPECIAL PACKAGES

There's always something special happening at an InterContinental hotel. Whether you are looking for a fun-filled getaway or a place to host your n...
InterContinental New York Times Square
300 West 44th Street

New York

,

NY

,

10036

United States

Front Desk

+1-212-8034500
Languages spoken by staff
English, Spanish, French
Pet Policy
Dogs and Cats allowed for a fee of 250USD non refundable fee
Pet Fee $250.00 per night
CHECK-IN

3:00 PM

CHECK-OUT

12:00 PM

Late Check out Available
Accessibility
Service animals allowed
31 Room(s) with Accessibility Standards
Guest Reviews
Rated

4.1

out of

5

 by

1463

reviewers.
Rated

3.0

out of

5.0
 by
Mike999s
Fab location, shame about the breakfast service and poor cocktails
The location is superb, smooth check in, room was ok. However the breakfast room is way too small for the hotel, slow to get seated and poor service. If you don't have breakfast included in your rate don't even think about it, eat out. The cocktail bar has great views, but again I found the service lacking and the quality of the cocktails frankly dire.
May 26, 2014
Rated

5.0

out of

5.0
 by
Amber3
This a absolutaly decent place to stay
I like it, with nice view to time sqare, perfect location.
May 26, 2014
Rated

3.0

out of

5.0
 by
Huang123
Staff Service is not good
Overall, the service is not very good from this hotel. The feedback is very slow.
May 25, 2014
Rated

5.0

out of

5.0
 by
Carrm
Anniversary weekend
Great location Great service Great food and bar, really enjoyed our stay.
May 21, 2014
Rated

3.0

out of

5.0
 by
Chris257
great location but not as impressed as I thought
This Crowne Plaza has a great location in the heart of Times Square but as a platnium Memeber didnt feel that I was taken care of as well as other IHG brand hotels, thought most of the staff was a litle rude during check in but great at check out. The room was qutie nice very clean but bathroom was very plain and water pressure very low. overall it is a nice hotel don't think i'll stay there again unless it was a rewards redeem night. felt it was not worth the amount I paid per night.
May 21, 2014
Rated

4.0

out of

5.0
 by
PeterGC
Great Location and Great Service
The Crowne Plaza is only one block from Times Square. Close to most tourist activities you want in NY. Reasonable value considering its location. Staff were great and would highly recommend
May 21, 2014
Rated

3.0

out of

5.0
 by
Papcamargo
Definitely not for business people
The rooms are good and the staff is helpful, but I had the impression that only one elevator (from the 4) works as it stops on almost every floor in the way down. Additionally, breakfast is very disappointing in the hotel. First they take forever to sit you down and more than once there was a huge line of people waiting in line. The restaurant's staff is very very slow and the breakfast options is very weak. There is not good variety of option of anything...it is much better to have breakfast anywhere outside as there are many options around the hotel
May 21, 2014
Rated

2.0

out of

5.0
 by
Gargie
Not Crowne Plaza worthy
I have never before been to a Crowne Plaza where there is no refrigerator in the room, or where you have to drink from plastic cups. It took a few hours to deliver a fridge (which we need for medication) that looked like it had been run over by a truck, but at least it worked. The first staff member that was supposed to deliver it somehow got lost... After asking for normal glasses they explained that the plastic cups (some of which were leaking by the way) were to avoid being sued. But even after a specific request for normal glasses this was denied. After sending some online feedback and calling I got a reaction, but it still took two days to get some glasses. They managed to get us glasses for our last night, and the glasses were accompanied by a bottle of wine, compliments of the hotel. Nice gesture, but I had preferred glasses immediately. Location at Times Square is very nice, but for the rest I was disappointed.
May 19, 2014
Rated

5.0

out of

5.0
 by
9k2rx
Home
Its the home away from home it is that simple try it
May 17, 2014
Rated

4.0

out of

5.0
 by
Cafe
Bathroom
Need to be updated but adequate. The drinking cups were so small and very few of them. Loved bathroom products.
May 17, 2014
Rated

4.0

out of

5.0
Great location!!
The location was within walking distance of everything you would want to do!! Would stay again and highly recommend!
May 14, 2014
Rated

2.0

out of

5.0
 by
UnhappyInNYC
Bad experience
We won't be visiting this hotel again. Despite the air outside being below freezing, our room temperature never got below 75. Usually it was over 80. The air filter was pitch black when we requested help in our room. The door to the dresser was broken (hanging off). I reported it but it was never addressed. We requested to change rooms, but the only option was to split parents and kids across 5 floors (totally unacceptable!!!!!)
May 14, 2014
Rated

5.0

out of

5.0
 by
Sassaquintraveler
Great stay!
Made a quick trip to NYC from Massachusetts to see the Billy Joel concert. This Crowne is perfectly located for any Manhattan plans, right in the heart of Times Square. Top notch service beginning to end, we arrived before our check in time and inquired to see if the room was ready, it was not, but there is a concierge available to hold your bags and I received a phone call when the room was ready. I got a free upgrade to our room upon check in which gave us a great view of the skyline from the upper floors. Only issue I had with the room was the bed was a touch soft for my liking, but I have that issue at many hotels. Room was super clean, spacious bathroom, office desk and chair, decent sized TV. Upon check out the next day, concierge was again available as we walked the city before our train home. If I ever had long or short term plans in NYC again, this would be my first and only destination for a hotel. Thanks!!
May 13, 2014
Rated

5.0

out of

5.0
 by
Ashy13
Great location
Great location with Times Square view. Rooms are clean and nice. Would definitely recommend to others!
May 13, 2014
Rated

5.0

out of

5.0
 by
Suejacken
Great service
I have been to New York City many times but have never stayed over until May 8th. Even though it was only one night, I appreciated the friendliness of the staff so much I will definitely be back again. Great service started with check in when my room was ready ahead of time. The room keys wouldn't work and a maid tried to help but they still wouldn't work. I went back to the desk where they apologized and prepared new keys immediately. The front desk personnel also made sure to tell me if there were any more problems with the key to just use the house phone and theybwould come to me. Any staff member we encountered had a great attuned and they were quick with a polite greeting. Checked our bags for a while on Friday before we left and used the business center to print transportation passes. The only downside was that the front entrance is being refurbished so we had to go to the parking area to enter but it wasn't any problem. Great location for a good price. I upgraded to a room with a view of Times Square. It was worth the small price difference. I had my grown nephew and two of his friends with me and they all enjoyed the hotel as well.
May 12, 2014
Rated

5.0

out of

5.0
 by
Travelmac
Almost Perfect
Great price, fantastic location, clean, nice staff, nice room, great shower. Only thing is the door latches, anytime someone in your hall let's the door close, it makes a huge nerve racking awakening 'clack!'. Was woken up several times by this. I suggest some sort of modification to the doors, maybe some rubber in the latch, and a ' shock absorber' like most other doors have.
May 12, 2014
Rated

3.0

out of

5.0
 by
Customer652
Time Square Crowne Plaza drop standard
I have stayed in this hotel a number of times in recent years. Most recent stay was May 4-6. Restaurant 1605 has reduced hour of operation, breakfast bar has been closed for good, no recognition of frequent stayers, and staff is less than enthusiastic and almost outright rude - at most indifferent. For the price paid for the room, it is not worth it. Intercontinental is newer and cheaper down the road not far away. Disappointed!
May 9, 2014
Rated

3.0

out of

5.0
 by
Blurr
Room needs maintenance
Room 3927 needs some attention from the maintenance crew. Towel rack is hanging by a thread, wallpaper in the bathroom is peeling, the bathtub is treacherously slippery and the room could use a repaint. Otherwise a nice hotel and we had a good stay but the room condition was disappointing.
May 6, 2014
Rated

3.0

out of

5.0
 by
MRREP
Great Front Desk Staff
When we arrived for check-in we automatically we offered an upgrade to Concierge level. However we could only get 1 bed. We choose to go for a 2 bed room as requested. The room was tired but clean. The outside noise woke us up every night. We heard every door bang close at all hours of the night and morning. Did not have a full nights sleep the 4 nights we were there. The location was great. Close to theatres and Times Square.
May 5, 2014
Rated

5.0

out of

5.0
 by
geegrincheux
Great situation and comfortable bed
Good prices for booking by web Excellent localization very near Times Square Excellent junior suite
May 5, 2014
Rated

5.0

out of

5.0
 by
dgnini
Service
Front desk was helpful. All stafff that we encountered were helpful and accommodating. Concierge was friendly and tended to our needs to get tickets for a play. Food was good. Room service was quick. Room service in the morning was not available.
May 5, 2014
Rated

3.0

out of

5.0
 by
Gwandac
Pricey, average hotel
If you want a clean, nice sized, rather expensive room, this is the place.
May 2, 2014
Rated

4.0

out of

5.0
 by
JaseyBoi
Great location and very comfortable
Stayed for the first time at this hotel before around 3 years ago, decided to go back as we loved it so much. We were staying on the top floor with fantastic views of the city and Times Square. It's in a very handy location for shops, theaters and restaurants and if you walk a couple of blocks to look for something to eat there is a good choice and much quieter away from the main crowds. The rooms were very well appointed, my wife and I were staying with our kids so we shared a twin double and there was plenty of space for us all, beds were extremely comfortable and no noise at all from outside but maybe that's because we were on the 46th floor. Slightly disappointed as a Platinum Rewards member that there was not much to offer us, still no club lounge and only one 'grab & go' breakfast voucher each for one morning that gets you a coffee and pastry.........
May 2, 2014
Rated

5.0

out of

5.0
 by
Alsy
Location,location location
great views from our room, very helpful staff especially the concierge staff who managed to get us on an excursion to Niagara falls with very short notice.
April 30, 2014
Rated

2.0

out of

5.0
 by
J.G.N
Paid extra for city view
We open the window and our room 4218, faces another building this was a TERRIBLE view and we paid extra. The escalators are terrible for kids, only on the day we left a bell man told how to go down with out the escalators. Front desk service terrible and not helpful at all. No one seems I listen and give honest good customer service. I felt like a numer and not a positive experience at all. I will return to NYC, but not to the crown plaza. You say indoor pool, yet i's a health club not included so kids dan't go swimming. Very misleading.
April 30, 2014
Rated

4.0

out of

5.0
 by
Robertt364
Great Anniversary Stay
Stayed here with my wife for our 5 year anniversary and it was great. They really made us feel special for the big day with a complimentary upgrade and some goodies delivered to our room. Would definitely come back!
April 30, 2014
Rated

5.0

out of

5.0
 by
UTfamily5
Perfect location
This great hotel is located in Times Square and could not be more convenient to theaters. Although there is a lot of traffic in the area, you do not hear it from your room. This is our new favorite hotel in NYC!
April 30, 2014
Rated

4.0

out of

5.0
 by
Yuri6624
Great Anniversary
My wife and I truly enjoyed our stay at your hotel during the celebration of our sixth wedding anniversary on April 24th of this year. We found our room to be outstanding and our room accommodations more than met our mark of high standard. By early the next morning my wife was planning our next stay at your hotel which will be to bring in the New Year on Times Square as once again guest of the Crowne Plaza. Thanks so much, Yuri & Dawn
April 28, 2014
Rated

4.0

out of

5.0
 by
DB1027
Internet Access
The room and hotel were very nice and I understand that you get what you pay for . Staying right in the heart of time square was well worth the room rate. But the fact that we needed to pay additional for internet access was absurd !!!! $9.95 for 4 hours ... How ridiculous . It wasn't even a flat rate for the length of our stay but different rates depending on the length of time ....4 hours being the least you could purchase . In 2014 for a hotel chain the size of the Crown Plaza not to offer free internet access is just Wrong !
April 28, 2014
Rated

4.0

out of

5.0
 by
My 60 birthday
Excellent room with a view
Stayed at the Crowne Plaza over Easter 2014 for 8 nights to celebrate my 60th birthday. My daughter had been in touch and asked if we could have a room with a nice view, Room 2127 had got this. We really enjoyed our stay, check in was fast and easy, room fantastic, grab and go breakfast was great to get out and about early. Resting in the bar for a drink in the evening before going out again or when we got back and watching the world go by was very relaxing. Food from the bar menu was good. Overall everyone one was very helpful. All three of us would stay again.
April 27, 2014