Skip Navigation
English
|
|
|
|

Sign In

Book online or call: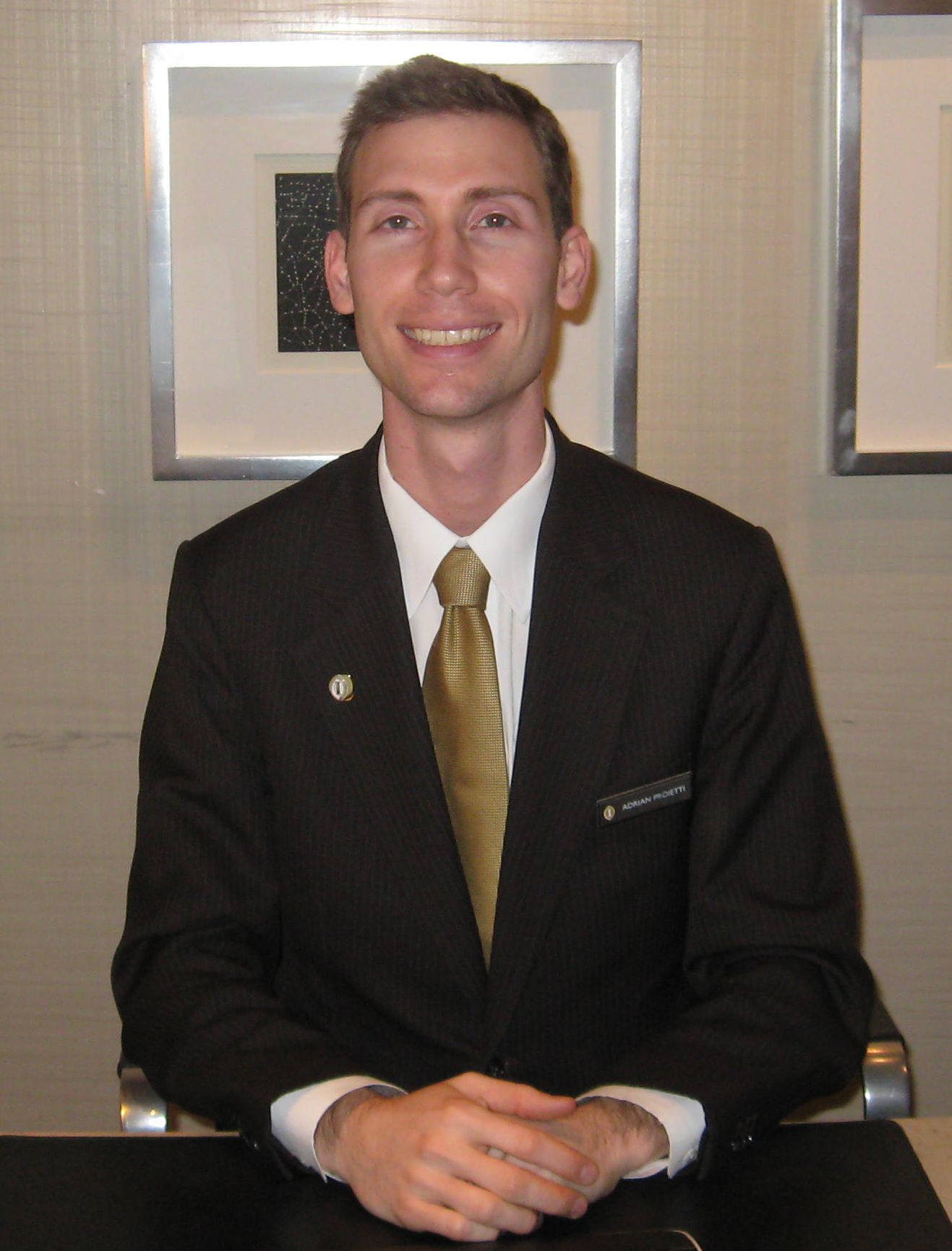 CHIC NEW YORK LUXURY HOTEL ON TIMES SQUARE
Right on Times Square, this New York luxury hotel is perfectly placed in the epicentre of Manhattan's theatre, dining, fashion and business districts. Just blocks from Broadway, savour a pre-theatre menu at Ça Va Brassiere or wander to nearby Restaurant Row for a myriad of dining options. Towering 36 storeys, this New York luxury hotel affords impressive views of the Hudson River and city skyline. The Lounge is perfect for after dinner cocktails and views of 44th Street.
HOTEL HIGHLIGHTS
Restaurant & Lounges

International cuisine is featured in our premiere restaurant led by renowned Chef, Todd English. The adjoining lounge serves cocktails and light sn...

Amenities & Services

A state-of-the-art fitness centre offers 24-hour access to a full range of fitness equipment and free weights for the perfect workout any time of day.

SPECIAL PACKAGES

There's always something special happening at an InterContinental hotel. Whether you are looking for a fun-filled getaway or a place to host your n...
New York Times Square
300 West 44th Street
New York , NY , 10036
United States
Front Desk +1-212-8034500
Languages spoken by staff
English, Spanish, French
Pet Policy
Dogs and Cats allowed for a fee of 250USD non refundable fee
Pet Fee $250.00 per night
CHECK-IN

3:00 PM

CHECK-OUT

12:00 PM

Late Check out Available
Accessibility
Service animals allowed
31 Room(s) with Accessibility Standards
Guest Reviews
Rated

4.2

out of

5

 by

513

reviewers.
Rated

3.0

out of

5.0
 by
Roma
Elevator and refrigerator/microwave
Only two elevators. So, when the hotel is full, it's too slow. And one of them broke in a period. Conclusion, we had to down the stairs and to up, we had a long wait. We usually bought food to eat in the room, if we had a microwave to heat the food, it'll be great. And a refrigerator for cokes, mineral water and fruits.
October 16, 2012
Rated

5.0

out of

5.0
 by
Mark63020
Wonderful hotel in perfect location
I spent 4 nights at this hotel in October of 2012. The hotel was very friendly to deal with the the front desk staff went above and beyond what they had to do to make sure I was happy. The room was the ideal size with a great via. The temperature controls worked great as I have had issues at other hotels with the thermostats. Overall the hotel was a great location and the property was great. I will be returning to this property in the future.
October 16, 2012
Rated

4.0

out of

5.0
 by
Sydney1015
Great staff, would stay again, just small water issue.
The people could not have been nicer. the room size was just fine for New York. Clean and good location. The shower pressure was not that good and the hot water should be hotter, but that was the only downside.
October 15, 2012
Rated

3.0

out of

5.0
 by
Harry9
Efficient Front Desk Staff
Front office staff were friendly and efficient. Was able to drop luggage at the front desk for storage. However, at the price of this room, I expect excellent all-round service. Room was not vacuumed over the two days. All trash cans were not emptied. Cleaning supplies were left on the bathroom counter. Think I will try another place on the next trip. Did not utilize the breakfast service.
October 14, 2012
Rated

1.0

out of

5.0
 by
Marco
New York
First we had to wait long time for the elevator, only one was in order, just to find out that the room we got was not ready. Back to waiting for the elevator to get down to the lobby. Although requesting a new room wasn't too bad, we had a long wait again for the elevator. It was a nightmare awaiting to get up or down. Not a nice experience.
October 9, 2012
Rated

4.0

out of

5.0
 by
Rocky1987
Great service and nice staff
Overall, the staff with Holiday Inn Express was really nice and helpful
October 9, 2012
Rated

1.0

out of

5.0
 by
sminda
Bad Experience
When we got there to check in, neither of our 2 rooms were ready. About 15 minutes later, one was ready but it took another hour before the 2nd was ready. Then, the following morning, one of the 2 elevators was broken. People were waiting upwards of 30 minutes to get from their room to the lobby. People were also walking 40 flights of steps in order to leave the hotel. They didn't offer us anything after both of those experiences so I will never ever stay here again.0
October 9, 2012
Rated

3.0

out of

5.0
 by
Heideeho
Small room and noisy air conditioner
A small room and a noisy air conditioner makes a good night sleep difficult. Check in was hassle free; without sounding like a misogynist , service from the male staff was excellent generally but cant say the same for the female staff . Location was not in Times Square as advertised.
October 8, 2012
Rated

1.0

out of

5.0
 by
travelor504
TINY ROOMS
From the beginning of my stay I regretted choosing this hotel. The lobby is TINY and the staff is extremely slow to check people in. It took me over half an hour just to check in and get my room key! The rooms are very outdated and TINY. Our room door was broken, the bathroom door wouldn't close properly, and the staff was unwilling and unresponsive!
October 7, 2012
Rated

3.0

out of

5.0
 by
paulo44
Good value and location, very quiet room..teeny and crowded lobby
Good value for Manhattan and a great location near Times Square. I was lucky and got a second floor room because using those elevators would have been difficult. Floors are small with maybe 6 rooms per hall so that means less noise, walking and doors closing outside of the room. So the rooms were very quiet and I slept well. The lobby is tiny, noisy and crowded. I did not partake of the comp. breakfast--again, too noisy and crowded. At first there was no hot water but ten minutes after I called a very courteous engineer came to fix the situation. There were no cups or glasses in the room. I called....but none ever came. There were two computers in the lobby and I rarely had to wait to use them. On Sunday morning the weekly Flea Market is held across the street. I use hotels in NYC for value and location and don't really care about much else expect getting a good night's sleep for the eight hours when I really need a hotel. With that in mind, this was fine, but had I needed to use the elevators for a higher floor, it might have been a different situation. The lobby and wait for elevators is really crazy...There was no view to speak of--but who cares? You want views and lobbies--pay $500 per night or more. It's NYC--enjoy it. I was recognized as a Priority Club member only by the desk person mentioning it (?) and got nothing..not even bottled water!
October 6, 2012
Rated

1.0

out of

5.0
 by
Joyce123
Great place to stay in New York City
We enjoyed staying at "Holiday Inn Express" Great location
October 5, 2012
Rated

2.0

out of

5.0
 by
tonyg
Needs upgrading
The main problem with this hotel is that 26 or more floors are sered by only two elevators which results in overloading in the morning rush hour. I was squeezed into the elevator one morning. There was no room yet at every floor guests forced their way in as the had waited 2o minutes already. The overloading resulted in the elevator getting stuck between floors for ten minutes while passengers were jammed in like sardines. A couple of other issues. I had a maid trying to get me out of my room an hour before checkout. I felt like I needed to apologise for still being there! I also had to push away a housekeeping cart that was always parked outside my door.
October 4, 2012
Rated

4.0

out of

5.0
 by
DonPR
Good Location & Value
Newer property in the ever expanding area that is now referred to as "Times Square". Almost at 9th Ave. it's a bit of a walk to the Hot Tix booth, Theaters, Rock Center and Bryant Park if not in walking shape or used to driving everywhere. Would stay again.
October 4, 2012
Rated

4.0

out of

5.0
 by
Fe66
Clean and comfy
This hotel is convenient if you want to explore Manhattan and be in the middle of Time Square.. We got the 3 day Hop on Hop off City tour ride in combination with the 3 day New York pass and we did not need to take the subway because the bus covers the whole area. The room is comfy and gets cleaned everyday. New towels are provided everywhere. The breakfast menu is good and there are good selections.
September 30, 2012
Rated

3.0

out of

5.0
 by
Jazzytap
Good location
This hotel is okay if you are only planning to use it only to sleep and to save a bit of money. The rooms are very small as is the bathroom space. We did not get our towels replaced every day and when we did, there were some that had black marks on them and we did not get two face towels all the time in the room. The elevator was okay and not as bad as some reviews had indicated. We only had to wait a few times, even during breakfast hours. Breakfast selection was sufficient but having the same thing every day got a bit monotonous with no different choices. If you are trying to save money, this hotel is satisfactory but if you're looking for more comfort and space, then this will not be suitable. The location is handy and we could basically walk or take the subway (bus) to shows and attractions. Also good restaurants around the area.
September 30, 2012
Rated

4.0

out of

5.0
 by
Felixxx
Great location in midtown
This was a perfect place for getting anywhere in the city. A walk from to Times Square, ease of local transportation and many close Convenience stores and pub just out the door. I highly recommend the stay to value ratio.
September 29, 2012
Rated

5.0

out of

5.0
 by
Linda6
Great Staff
We were impressed with the hard working staff. Everyone was friendly and made us feel welcome and willing to help us with any questions. Felt very at home and would definitely go back.
September 26, 2012
Rated

5.0

out of

5.0
 by
angie20
Comfortable bed and clean bathroom
My experience was excellent, as usual with Holiday Inns. Your staff in the reception area, concierge and breakfast room were very efficient, polite and helpful at all times.
September 25, 2012
Rated

4.0

out of

5.0
 by
jcartwright
Pleasantly Surprised
I was very pleasantly surprised with my stay at the Holiday Inn Express near Times Square. The value and location were good, and the staff were very nice and helpful. My room was clean and in great shape and the breakfast was awesome. I will continue to stay here as often as I travel to NYC.
September 19, 2012
Rated

4.0

out of

5.0
 by
Sebastian1969
Was I in the lift or my room, hard to tell.
Holiday Inn Express New York, I came to stay at this bijou Hotel right in the heart and the thick of it near Time Square. This was a different entrance to any hotel id ever stayed at, there were huge laundry bins and garbage bins that from my limo I couldn't even see the building and the driver had to move a further 25 meters away just to get me out. From the very beginning my stay was Mediocre,  Jamie was pleasant enough at the front desk, but no recognition of being a Platinum priority elite member, I had sent an email to inform the Hotel That I would be arriving late in the evening and the front office manager responded with a delightful warm message that all was organised and that they would be expecting us and keeping me a nice room on an upper level. That friendly attitude carried across to the helpful, Jamie on the front desk, who was brilliant, but i didn't feel that my bookings were special, maybe as my first four nights were reward nights.  This Hotel is well located just a few minutes walk to Times Square, and whilst the breakfast is included and great, there's something for everyone, I had no interaction with any staff as they were continuously rushing about, But the breakfast room does supply all that you would need to start your day in a very clean and nice space, with Bacon, eggs, sausages, pancakes and selection of hot and cold drinks, great unique cinnamon scrolls, as well nice and warm and fresh, all very nicely presented. there's busy periods but you can take food back to your room on a tray, there is only two lifts for 36 floors, 210 rooms so I needed to time my travel up and down well, especially as one lift was broken for two days.   The room is small just enough room to walk around the small double beds, but has  nearly everything you could want except a fridge, foolishly I didn't ask reception as they would have kept my insulin in their fridge, but just a little fridge in an already crowded room would have been welcome. I usually am very complimentary  about the beds in Holiday inns but these beds where just too hard for my liking. They do have the lovely pillow selection, so you will have a pillow to your taste. And free Wi-Fi, which worked well and continuously for three iPhones and iPads.  From about level 25 up the rooms have a great view of the city and we could see clearly downtown past the Empire State building to the Hudson river. The Bathroom is good with amenities and a good hot shower, though the water saver shower head was frustrating so I just had to shower allot longer to wash, the well airconditioned room made a retreat from the frenetic hustle and bustle of New York, What I find and I often talk about is the Vibe of a place, I didn't get it here no one talked to us in the breakfast room from the staff, and the front desk staff generally where efficient but not overly chatty or interested.  it is staff that have good leadership and make you want to turn up for work, so you have a passion for what you're doing, that makes a great place, I didn't meet a manager nor was I welcomed by a note or card, which I usually get as a long term Platinum Priority elite member. My first four days were reward nights, I shouldn't have felt a difference, but there was no news paper at my door each morning until the paid days started, and I felt I would have had a higher level room if I'd have come in as paying, but I will never know, what I do know I didn't feel the recognition of my club level.    If staying in New York I can recommend this hotel if a couple or single then you are almost guaranteed to have a good time. I personally wouldn't stay again just because for me the rooms are far too small, but for most people this wouldn't be a problem, especially if there's just one or two people as Ive said.   The Holiday Inn chain is celebrating their 60th Anniversary, and it has been a real pleasure for me to be part of that from my very first Holiday Inn stay in 1979. Thank you for being such an important part to my travel memories, of which this wonderful Hotel will be added.
September 18, 2012
Rated

4.0

out of

5.0
 by
jt44
A good deal in midtown Manhattan.
Attentive and professional staff. Remodeled hotel. The room and the bathroom were very clean. Small hotel, small areas, but not uncomfortable. Knockout breakfast included, one of the best I've had in this category. And LOCATION, LOCATION, LOCATION. Walk to Times Square, to the theaters, to Fifth Avenue, restaurants, bars. We had a great New York experience staying in this hotel and very affordable.
September 17, 2012
Rated

5.0

out of

5.0
 by
Momandgirlsfromcleveland
Comfortable bed and excellent staff
The staff was very professional and pleasant to deal with. The room was clean and the bed was comfortable. The location to Time Square was very convenient being only a couple of blocks away. I certainly would book this hotel again.
September 16, 2012
Rated

3.0

out of

5.0
 by
rdr1
the elevator did not work again
Sept 3 2012- there was very little choices in hotels in new york. i took a chance and booked the Holiday Inn even after reading the tripadvisor comments. we arrived after 3pm. from Canada, its a 9 hrs drive. the room was not ready, we had to wait. the hotel has only 2 elevators. well you guessed it one was broken down again. (read the trip advisor comments) its a ritual... the piece de resistance was the letter we received under our door the next morning stating to plan our day in limiting our use of the elevator between 8a.m. & 11 a.m. and 4 p.m. & 6 p.m. no problem were 60 plus and were on the upper floors, no problemo!, they have a solution,...if you wait more than 15 minutes, you should call the front desk and they will come and get you.... not so great service in my opinion . Holiday Inn management, if you read these comments i would like a partial refund. keep the staff, they saved your backside and then some. but please invest in a reliable elevator... rdr
September 12, 2012
Rated

4.0

out of

5.0
 by
jack56
Rooms and elevators need a bit of work
Room was clean and neat. Television would not work and after some investigation, I found the power cord literally pulled out of the television - after some patient effort, managed to insert and plug and the television worked. The coffee pot did not match the coffee maker - pot was too short and would not release the coffee from the filter above. On the second day of our stay, one elevator was out of service all day. Then late at night, some people decided to have extended conversations in the hallway - make sleeping a bid difficult. However, breakfast was great, just get there early to avoid the crowd.
September 9, 2012
Rated

3.0

out of

5.0
 by
Stephan
Nothing special, quite average.
Not a 4* hotel as indicated. Breakfast and location are good. But the rest is quite average. We arrived on a Friday night late and there was an industrial blower in our room! And the room had a funny smell. I went down at the reception and asked it was possible to get a new room. The lady did not even check and told me it was the last two double bed room. I did not argue because I was tired but I will never go back to this hotel again. I normally try to favor Holiday Inn hotels when I travel because I am a Priority Club member but this was a very bad experience for me. Room was not so clean and one elevator out of two was under repair for two days during my 3-day stay.
September 8, 2012
Rated

5.0

out of

5.0
 by
Pouncey
comfortable bed, friendly staff
On our recent visit to NYC, we were most thankful for the comfortable bed at night and the friendly staff posted at all the various stations during the day....check-in, check out and breakfast.
September 8, 2012
Rated

4.0

out of

5.0
 by
giannigianni
Too crowded but great location
Elevator and breakfast room too crowded between 9.00 and 9.30. Breakfast not really international. Room too little and noisy either for air conditioning at night or neighbours clacking doors. Double bed too little (short and tight not really king or queen size...).
September 2, 2012
Rated

4.0

out of

5.0
 by
Ahmed
Front office didn't solve any issue
Except for the vallet service all other services were poor specially the front office team.When the resturant was full of people the staff didn't do any thing and we stood 30 mintues in the second day to find a place to sit down and get our breakfast. Although Iam a platinum member, the front office didn't upgrade my accommodation or even suggest anything to get my satisfaction .
September 1, 2012
Rated

5.0

out of

5.0
THE HOLIDAY INN TIMES SQUARE WAS AMAZING!!!
The staff and management at this hotel made our first trip to New York an unbelievable experience. When I told them I was coming with my daughter for a week in July 2012 because coming to NYC was a lifelong dream of hers they surprised her with a message, WELCOME TO NYC, written on the bed with candy along with Welcome balloons in our hotel room when we arrived! We arrived early way before check in but that was not a problem, our room was ready and we were allowed to check in. The queen bed was very comfy and a choice of hard and soft pillows was available. We were greeted warmly every time we entered the lobby, and every morning at breakfast the staff was cheerful and hard at work. The hotel is in the perfect location from Time Square, all tourist attractions, shopping, restaurants, and especially the subway. The rooms are excellent, very nice and clean! Our room on the 34th floor was definitely worth the extra charge. The view was amazing!! We heard of people complaining about long waits for the elevator but we never had to wait longer than a few minutes for the elevator at any time of the day. The free breakfast is a perfect way to start your day; I loved the pancakes, the egg omelettes and cinnamon buns! It was more than we expected! A nice touch is the cold lemonade that is available in the lobby after being out in the heat all day. Anytime we ran into hotel staff, at breakfast, on the elevator, in the lobby, they were cheerful, helpful and pleasant. Jamie and Alex were amazing & could not have been more helpful. Thanks, guys!! Jamie went out of his way to help on numerous occasions. We had an evening flight home so our luggage was happily stored until we had to leave. Upon departure the front desk had arranged our ride for us and we were happily surprised to find out that a limousine had been sent. So, we went to the airport in style!! What a way to remember NYC!! Our stay at this hotel was such a positive experience and it definitely helped make our dream of a lifetime incredible!!! We will definitely stay here again when we return to NYC!! Thank you HOLIDAY INN TIMES SQUARE!!!
August 23, 2012
Rated

4.0

out of

5.0
 by
Bigwithers
It's close
If you want to be close to the New York experience (Times Square, Theater District, etc.) and understand that your hotel is really just the place to change clothes and rest your head at night, this is a great place. If you are looking for the hotel to be a part of your experience, not so much. Like many New York hotels, this one is "tall and narrow" with only 6 or so rooms on each of the 20+ floors. Getting up and down the elevator can be problematic at high traffic times if you are coming from or going to the upper floors. There is no utility elevator, so often times you end up sharing an elevator with a maintenance or housekeeping cart and staff. I didn't get a chance to try the breakfast which was included. A nice perk that not all hotels in the area offer.
August 7, 2012