Skip Navigation
English
|
|
|
|

Sign In

Book online or call: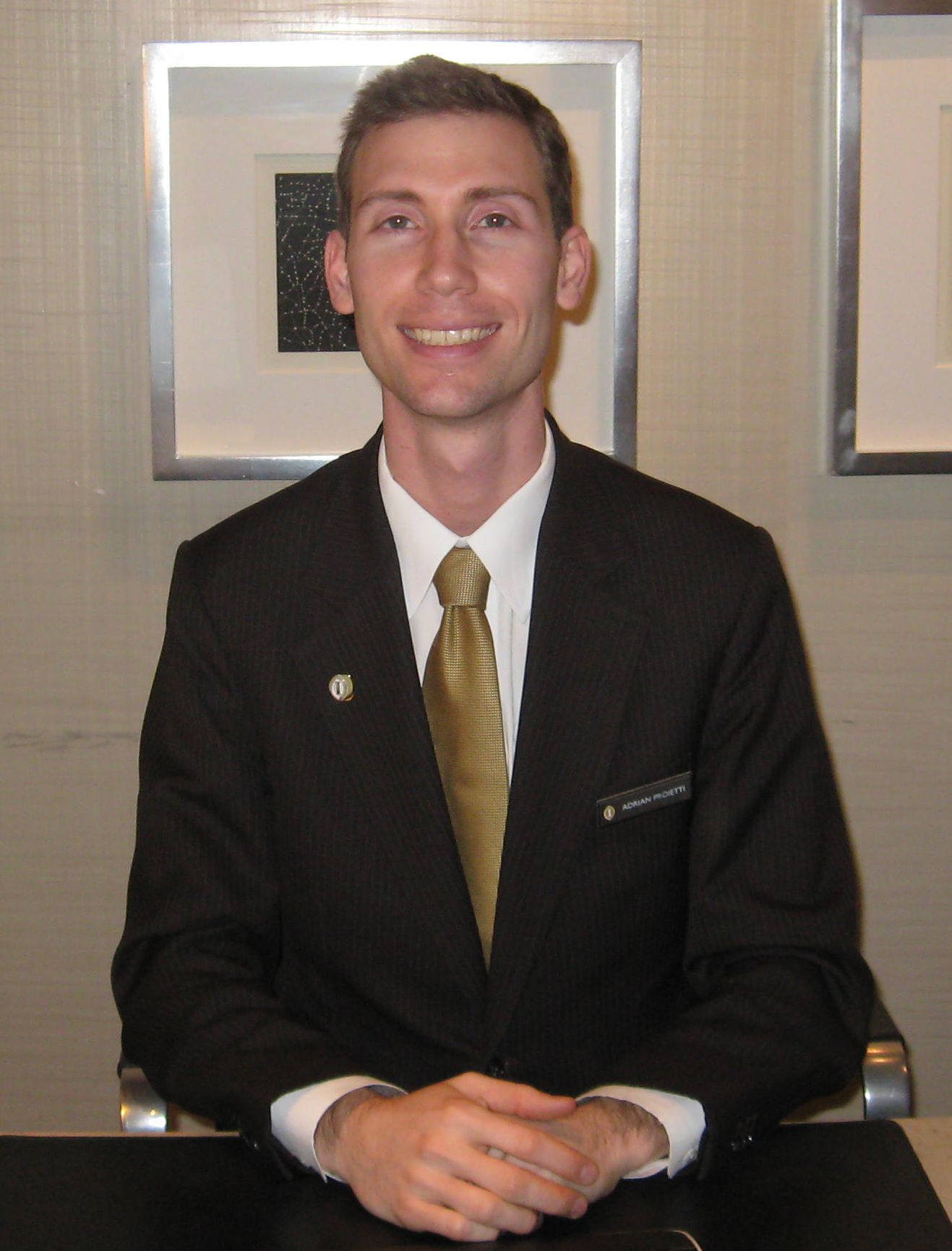 CHIC NEW YORK LUXURY HOTEL ON TIMES SQUARE
Right on Times Square, this New York luxury hotel is perfectly placed in the epicentre of Manhattan's theatre, dining, fashion and business districts. Just blocks from Broadway, savour a pre-theatre menu at Ça Va Brassiere or wander to nearby Restaurant Row for a myriad of dining options. Towering 36 storeys, this New York luxury hotel affords impressive views of the Hudson River and city skyline. The Lounge is perfect for after dinner cocktails and views of 44th Street.
HOTEL HIGHLIGHTS
Restaurant & Lounges

International cuisine is featured in our premiere restaurant led by renowned Chef, Todd English. The adjoining lounge serves cocktails and light sn...

Amenities & Services

A state-of-the-art fitness centre offers 24-hour access to a full range of fitness equipment and free weights for the perfect workout any time of day.

SPECIAL PACKAGES

There's always something special happening at an InterContinental hotel. Whether you are looking for a fun-filled getaway or a place to host your n...
New York Times Square
300 West 44th Street

New York

,

NY

,

10036

United States

Front Desk

+1-212-8034500
Languages spoken by staff
English, Spanish, French
Pet Policy
Dogs and Cats allowed for a fee of 250USD non refundable fee
Pet Fee $250.00 per night
CHECK-IN

3:00 PM

CHECK-OUT

12:00 PM

Late Check out Available
Accessibility
Service animals allowed
31 Room(s) with Accessibility Standards
Guest Reviews
Rated

3.8

out of

5

 by

805

reviewers.
Rated

3.0

out of

5.0
 by
Carlos3108
Comfortable
Everybody was friendly except Julivia at front desk , she was not friendly, she failed to make us feel welcomed, she answered my questions with an attitude.
July 5, 2013
Rated

4.0

out of

5.0
 by
Sixpack13
comfortable and exactly what I asked for
only complaint was A/C but I was in the older portion of the Inn and we were there for 1 night only. But the welcoming message and the very continental GM Joe "?:" is a real marketer! Be sure to meet him. Being a marketer/entrepreneur it is reassuring to meet people like Joe!
July 5, 2013
Rated

5.0

out of

5.0
 by
myold356
Travel with 8 year old
The hotel staff was exemplary in providing service for my grandson and me. The concierge was particularly helpful. We arrived at 11:00 AM, and the front desk staff found a room for us so we could make a 2:00 PM matinee Broadway performance. wow!
July 4, 2013
Rated

5.0

out of

5.0
 by
Carl72
Great service, great location, clean hotel
This property is located in a wonderful location in Midtown, lots of local restaurants within a couple of blocks. The staff was courteous and helpful. The restaurant and bar at the the hotel were also great. The property has a roof top pool perfect for cooling off after walking the streets on Manhattan. Only problem with pool is that is closes at 6:00 pm, it should definitely be open until at least 8:00 pm. The room was very clean and comfortable. Excellent neighborhood gym located in the basement, free to hotel guests. Discounts sat the restaurant for PC members. An overall excellent stay for 6 nights, and will likely choose this location on the next trip to New York.
July 3, 2013
Rated

2.0

out of

5.0
 by
BAPsquared
Overpriced
This building is not worth what they are charging. The bathroom has an industrial toilet (no tank, similar to the type you find in public restrooms) and was small. Very basic accommodations for the price we paid. I would not stay in this hotel again.
July 3, 2013
Rated

3.0

out of

5.0
 by
Izzy2Boston
Internet - bad.
I called the hotel and asked about the internet access. They said it was free and it had good speed. It turned out that I couldn't connect at all and when I complained they offered me a high speed internet for a fee of course. I didn't like that. Otherwise the hotel was clean and great location very close to Columbus Circle and Central Park.
July 2, 2013
Rated

4.0

out of

5.0
 by
Suz2004
Great value and room size for NY
This is our second time staying @ the Holiday Inn Midtown location. Love the room size and overall cost for the room is good too! Hope to stay again.
June 30, 2013
Rated

3.0

out of

5.0
 by
Bigzboy
Valet service
Customer desk members were friendly except valet and bell desk members. They are rude to the customers and I was not happy on their service. I don't go back again. Your Priority Platinum Member.
June 30, 2013
Rated

5.0

out of

5.0
 by
Timbo53
Location
Great location in Midtown. Very helpful and professional team running the show. Pool on the roof is great this time of year. Restaurant is great for breakfast, but I ate most meals in area restaurants.
June 30, 2013
Rated

4.0

out of

5.0
 by
SilviaC
Very nice stay
Room was clean and comfortable and we got a wonderful room (17th floor) with a very nice view of the city. Enough space to share with the children. Thanks!
June 27, 2013
Rated

4.0

out of

5.0
 by
DMAX50
A great value for families visiting NYC
As NYC hotels go, the Holiday Inn in Midtown on 57th Street was affordable for our family of four and convenient to Times Square, Central Park, Broadway, and subways. Not fancy, but clean and comfortable. A great place to come back to after a long day of touring the city. As a bonus, our kids loved swimming on the rooftop (wish it didn't close at 6 p.m.!), and the grown ups enjoyed relaxing with a poolside beverage. The staff was very friendly and helpful. We would definitely stay there again.
June 25, 2013
Rated

1.0

out of

5.0
 by
Ploppy
Very bad experience
We were booked at a room located at a level under maintenance and repair jobs. It was non comfortable to wake up around 7:30 am hearing a hammer hitting the wall at other side of our room. We arrived very late closely 2:00 am, it really was a very bad experience.
June 24, 2013
Rated

5.0

out of

5.0
 by
Jackie49
Convenient location and large guestrooms
This was the third time we've stayed at this Holiday Inn in New York and we will return there again. The staff was very accommodating with an early check in so that we might get our plans for the evening, which included a broadway show, started. The rooms are quite large, according to New York standards and have very comfortable beds. The location is quite convenient and within walking distance of many attractions, including Central Park. I would highly recommend this hotel for anyone desiring a quick New York vacation.
June 24, 2013
Rated

4.0

out of

5.0
 by
HaraldD
Nice place
Good location, comfortable beds in quiet area of NYC. Close to subway, Central Park, Broadway.
June 23, 2013
Rated

1.0

out of

5.0
 by
aschmit
Terrible experience with hotel and staff
Please do not be fooled by the nice pictures of the lobby and the rooftop pool. My girlfriend and I were visiting NY for pleasure and wanted a nice hotel close to Central Park with a pool. I completely regret selecting this hotel for our vacation. The hotel was in the middle of a renovation and aside from the noisy environment, there were boxes and Styrofoam pieces strewn throughout our entire floor. Upon entering our room, we noticed that our room had not been updated yet and also that it had not been cleaned yet. The garbage from the previous guest was still in the trash can and the old/used soap and shampoo was on the vanity. The AC unit cooled to room to a chilly 75 degrees and the window was broken so it could not shut completely. We dropped our bags off and went on with our day. We came back later on to grab a drink on the roof and relax but the rooftop closes at 6pm. The hours of the pool are 10am-6pm for any of you that still decide to book this hotel. The day of our check out we requested a late check out for 1 am. We went out for breakfast and came back just in time to check out and lay by the pool for our flight which was not until later in the day. The "advisor" threatened us on the pool deck and said he advised us not to use the pool if our check out date was that same day. We could pay $75/person or we can leave the pool deck. We went to the front desk to speak with the manager and she had mentioned that although the pool deck was nearly empty and we had been a guest for the previous 3 days, we were not able to use the pool deck unless we paid $150. This hotel sets a bad reputation for all other Holiday Inn brand properties.
June 23, 2013
Rated

5.0

out of

5.0
 by
kghjcp66
lots of fun
my fiance and i had a great time here with his son. the pool is super refreshing and there are plenty of seats and space to enjoy the sun and skyline. Perfect Hotel for family fun...
June 21, 2013
Rated

4.0

out of

5.0
 by
DFWTexans
Would stay again.
Staff were very courteous and helpful not only for hotel necessities, but for information about restaurants, taxi's, sightseeing, etc. Combfortable beds and good size room for NYC. Air conditioner was not the greatest and at some times during the day,the elevators took forever. I think it was when the staff was using them for their carts between floors. They would take one out of service for them and guests would have to wait . Otherwise great location.
June 21, 2013
Rated

1.0

out of

5.0
 by
Bill18
Not impressed
My wife and I stayed 6/11 - 6/15 as I had business meetings and my wife was touring. The staff is accommodating, however the facilities are sub-standard. Our room was one floor above a floor whose rooms are being renovated and we could hear the construction. Our bathroom water fixtures barely worked and the hair dryer actually exploded while my wife was using it. The lobby bathroom was disgustingly dirty with trash overflowing the barrel onto the floor. The elevator was struggling to move and to top matters off, our smoke detector alarm sounded a few times intermittently most likely due to the construction. I would find it very difficult to recommend the hotel to the company I work for (a Fortune 500 company).
June 20, 2013
Rated

1.0

out of

5.0
 by
fnnystr1418
Poor experience
Hotel was noisy; room was uncomfortably hot. No service from management.
June 19, 2013
Rated

1.0

out of

5.0
 by
Marlene225
TNF GO-Reveiw
I stayed at the hotel for a business trip. I checked in on Thursday night and was there until Monday am. Working 12 hour days then coming back to the hotel on Saturday at 11pm my room key wouldn't work. I go to the front desk and they say they had to move me and i had to move to a different tower. She politly offers me drink coupons. Remember that this is at 11pm, I have been working for 12 hours and have to work 12 hours the next day. then upon checking out my supervisor already had informed them that she was leaving a day early-they tried to charge her for Sunday night. And there was a credit card number left for them for my checkout on Monday am. The front desk once again could not perform the task due to lack of communication. And offers me drink coupons again. I was flying out. The drink coupons are worthless for a travelor who works long hours and is leaving. I stay at Holiday Inn expresses allover the country and Canada. I have not been this upset in a while. I feel most of this could have been avoided.
June 19, 2013
Rated

2.0

out of

5.0
 by
Brenda33
Staff and Service
The staff at the front desk was very rude on a daily bases, even when checking out. The restaurant food was cold two day in a row and when I brought this information to the attention of the staff I was told "OH-WELL" and he give me the bill and walked away. Our room was never cleaned. They made the bed but that was it. Trash was left on the night stand and the desk even after we tip the first night. We came back to the room to find the tip gone and the trash still on the desk right next to were we left the tip. The next night we intentionally left trash on the floor just to see if it would be removed, but it was still there when we returned (how sad). I will be returning to New York very soon but not to this hotel. I TOLD MY FRIENDS THAT WILL BE COMING OUT THERE ALSO TO "RUN DON'T WALK AWAY FROM THIS HOTEL. DON'T LET THE NICE LOBBY FOOL YOU LIKE I DID".
June 19, 2013
Rated

2.0

out of

5.0
 by
Jenkie18
May 2013 visit
Location is great and very close to Columbus Circle, Central Park and various subway lines. The lobby, common areas and rooms of the hotel are a little tired, but are tolerable. Elevators are slow and cramped. The toilet in our room was very difficult to flush (as in you had to move the handle in all directions, stand on one leg, and scrunch your face just the right way to get it to flush) and when we called to have it repaired, we were told they were all that way. The air conditioner never really cooled our room and when we called to see about having that repaired and to ask again about having the toilet fixed, they promised someone would come up and fix them. No one ever came. When my husband left the hotel headed for the airport, the bellman were very pushy in recommending a private car rather than a taxi. When we asked for a taxi, the bellman seemed perturbed, but went with us to hail a taxi for us. Rather than hailing a taxi for us he ran across the street to greet a neighbor, giving them a hug and kiss and left us to hail our own cab. Probably not a place we will visit again until they update the facilities and staff.
June 18, 2013
Rated

4.0

out of

5.0
 by
pclnsn
My short trip to NYC
This Holiday Inn was very nice, although the outside appearance did not really stand out in the New York streets. The location was excellent, however. Unfortunately, not sure if it is because it's New York, but there was no complimentary breakfast.
June 16, 2013
Rated

2.0

out of

5.0
 by
Signatureford
Un friendly staff and long overdue building upgrade in place
Rude experience with car park entry staff, meals and staff were below standard. Would not stay in this facility next in NYC.
June 16, 2013
Rated

4.0

out of

5.0
 by
PAF66
Nice but air conditioning not working well
Upon arrival we were treated with courtesy and the lobby are is quite nice. The rooms were average in size. They were apparently recently updated and smelled like new carpet, but overall the rooms were nothing special. The beds were comfortable and the pillow selection was nice. The room was clean. The bathroom set-up was a bit odd with no private sink (the sink was in an alcove outside the toilet/shower area. This made it difficult for me to blow dry my hair and get ready without waking my roommate. The most problematic issue was the air conditioning. It pumped out a small amount of coolish air (even on the highest setting), We called for help and a maintainence person arrived within a half hour. He worked on the unit for about 20 min (this was 11 pm) and was unable to fix it, so he asked someone to bring us a fan. We did not sleep too comfortably because of this. We did not ask to switch rooms because it was late and we were ready to sleep. This hotel was convenient to Lincoln Center which was where we needed to be. Overall the stay was pleasant enough- the a/c really needs to be repaired however as in the dead of summer it would be miserable.
June 15, 2013
Rated

5.0

out of

5.0
 by
IrinaV
Nice hotel in a good location
We enjoyed a comfort of the hotel very much. Everything was perfect. We would be even more happy if we had minibar and safebox :) Anyway, it's a very good hotel, especially in comparison with overpriced Manhattan hotels nearby.
June 15, 2013
Rated

4.0

out of

5.0
 by
RJE45
Goodl experience
I was pleased to come to a hotel in NY that catered to the needs of its customers. The roome was very comfortable and staff was attentive to my needs. Thank you.
June 15, 2013
Rated

5.0

out of

5.0
 by
Yankeesrock
Excellent stay
As always, we loved our stay. The staff is exceptional and very proactive in their approach to customer service. I had a neighbor that smoked a bit too heavily, but not a reflection of the staff and hotel.
June 12, 2013
Rated

1.0

out of

5.0
 by
Lewis54
Ruined Holiday
We had some major problems right from check in with the Holiday Inn. Upon checking into the hotel there was some confusion with our booking. However after about 20 minutes all seemed fine and we were asked for our credit card for incidentals only and that no money would be charged as it had been pre-paid, we also had an invoice confirming pre payment. A few days later very large sums of money were coming from our bank account each day. After speaking with front desk we were advised that a huge accounting error had occurred on their end and they were very sorry and all would be rectified. This was NOT the case and after checking out of the Holiday Inn and arriving at our next hotel our credit card was declined. After lots of frustrating investigation we discovered that the Holiday Inn were wrongfully holding 3 times the amount of accommodation on our bank account. The Holiday Inn were extremely unwilling to help us during this stressful time and accepted absolutely no responsibility for this ongoing error which had never originally been rectified as they said it had. We did not see this money again for 2 weeks by which time our holiday was over. The Holiday Inn ruined our entire 3 week stay in the US and we highly recommend any potential guest consider staying elsewhere.
June 12, 2013
Rated

4.0

out of

5.0
 by
Bocy
Spacious room
I loved the hotel because of its spacious comfortable rooms, its swimming pool and its location (near Central Park, near the cultural Lincoln Centre and just outside the hazardness of Times Square).
June 10, 2013