Skip Navigation
English
|
|
|
|

Sign In

Book online or call: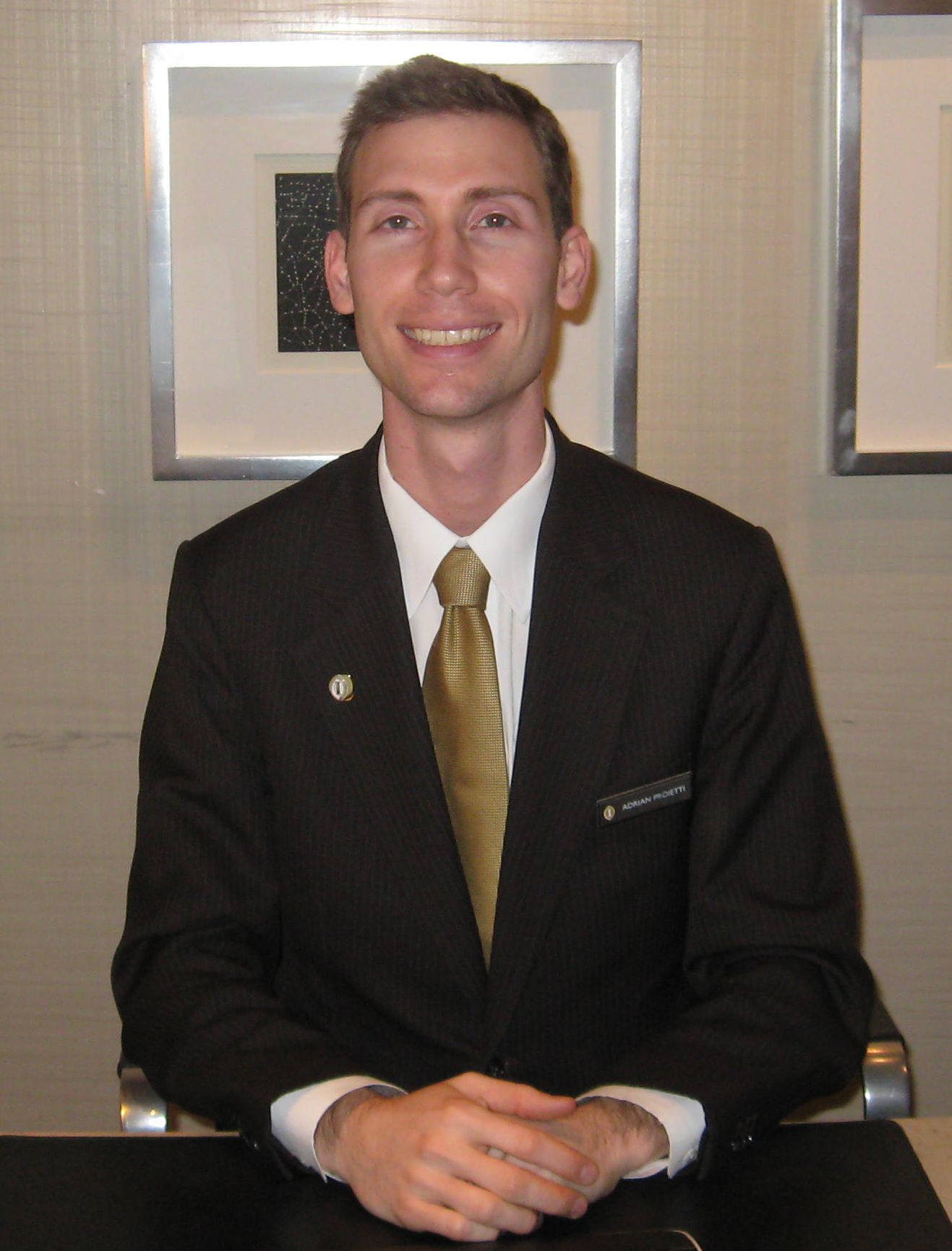 CHIC NEW YORK LUXURY HOTEL ON TIMES SQUARE
Right on Times Square, this New York luxury hotel is perfectly placed in the epicentre of Manhattan's theatre, dining, fashion and business districts. Just blocks from Broadway, savour a pre-theatre menu at Ça Va Brassiere or wander to nearby Restaurant Row for a myriad of dining options. Towering 36 storeys, this New York luxury hotel affords impressive views of the Hudson River and city skyline. The Lounge is perfect for after dinner cocktails and views of 44th Street.
HOTEL HIGHLIGHTS
Restaurant & Lounges

International cuisine is featured in our premiere restaurant led by renowned Chef, Todd English. The adjoining lounge serves cocktails and light sn...

Amenities & Services

A state-of-the-art fitness centre offers 24-hour access to a full range of fitness equipment and free weights for the perfect workout any time of day.

SPECIAL PACKAGES

There's always something special happening at an InterContinental hotel. Whether you are looking for a fun-filled getaway or a place to host your n...
New York Times Square
300 West 44th Street
New York , NY , 10036
United States
Front Desk +1-212-8034500
Languages spoken by staff
English, Spanish, French
Pet Policy
Dogs and Cats allowed for a fee of 250USD non refundable fee
Pet Fee $250.00 per night
CHECK-IN

3:00 PM

CHECK-OUT

12:00 PM

Late Check out Available
Accessibility
Service animals allowed
31 Room(s) with Accessibility Standards
Guest Reviews
Rated

3.8

out of

5

 by

790

reviewers.
Rated

4.0

out of

5.0
 by
T. Kumar
Location and comfort
Well fitted, good location with friendly & helpful staff. Enjoyed our stay for a week. Areas of improvement could be toilet flush refurbishing and frequency of elevators.
August 30, 2014
Rated

2.0

out of

5.0
 by
Ravingmad
Old and poor, but cheap for Manhattan
Because of the costs of hotels in Manhattan, I found a good rate for this hotel and thought it would be okay as a Holiday Inn. It is in desperate need of renovation in the rooms and the public areas as things are just old and worn out. The internet service was intermittent at best and generally non existent. I couldn't plug in a USB stick at the 'business center' - which is actually two computers sitting on a table - to print out documents, but the reception staff were able to help once I emailed things to them. On the positive, the staff were very friendly and did keep the hotel clean. I would only stay here again if the rate was really competitive.
August 29, 2014
Rated

4.0

out of

5.0
Good Experience
Had a great time at the Holiday Inn Midtown. My family always stay at the Holiday Inn when we go on vacation. The rooms were large and the staff were friendly and helpful.
August 28, 2014
Rated

5.0

out of

5.0
 by
Trish987
Great location
The hotel was great, safe location and walking distance to central Park, time square, whole food and Very convenient will go back for sure.
August 28, 2014
Rated

2.0

out of

5.0
 by
Myreview
Relying much on location
I want to say first that the staff at the hotel was very professional and responsive. It does seem that this hotel is relying much on their location and simply assuming that people will come because they are where they are. I guess it's working but there are so many choices in the area (and frankly in better logistical areas) that are comparable in cost to this HI property. Staff was great, rooms are old and they show age. We had 3 in our room that we were told could work for 4. No extra blankets in room, 1 coffee for 3 people, no hotel guide (book) in the room. I went after a long day working to the vending machine late night for something to snack on. We were on the 6th floor with vending on odd floors. I WENT TO 7TH, MACHINE BROKEN, I WENT TO 5TH MACHINE WAS BROKEN, I WENT TO 3RD AND PAID 2.50 FOR A SODA THAT SEEMED TO COME OUT OF A HEATER...COME ONE, 3 MACHINES BROKEN!?!? I have stayed at tons of HI and IHG properties all over the WORLD and this will not be one that to which I will ever return.
August 27, 2014
Rated

4.0

out of

5.0
 by
Pluti101
Summer with a pool!!
Great room (king bed) on the 11th floor!!! Always book on line or directly with the hotel if you have special requests. If you use the 800 number your requests may be ignored!
August 26, 2014
Rated

5.0

out of

5.0
 by
traveling moma
Great location and wonderful hotel!
We stayed 3 nights. No problems of any kind! Staff was great and hotel was comfortable and quiet. Husband used the fitness area with no complaints. Easy walking to many things. About 6 or 7 blocks from Broadway and Times Square. Many restaurants close. Used the hotel taxi back to airport. $45 vs $41 in yellow taxi but a much more comfortable ride! No complaints at all! Great stay!!!
August 25, 2014
Rated

3.0

out of

5.0
 by
lrt28
room was very unremarkable
this hotel was a non-smoking but my room smelled like stale smoke. I did advise the front desk of same and they did offer to refresh the or change my room. As I noted before that I was quite handi-capped and it would have been a chore to move. hotel could make a better effort in refreshing rooms.
August 25, 2014
Rated

5.0

out of

5.0
 by
murre278
Hotel constantly improving
In addition to a great location and extremely friendly and helpful staff, this property seems to be constantly improving. My wife and I stay here twice a year and each time something good has been added Just now (August 2014) the ground floor areas have all received new carpeting, and room safes have been installed in the South (B) Tower rooms, and are planned for the North Tower rooms possibly as soon as the end of the year. The rooms are good-sized, and the bathrooms have plenty of sink shelf room for toiletries of two people, something sadly lacking in many higher-priced hotels.
August 24, 2014
Rated

5.0

out of

5.0
 by
Compuwriter
Overall a very good stay.
We stayed here one night and overall it was a good stay. Check in was fast even though they were a bit short staffed. All the staff were very polite and helpful, especially the woman running the concierge desk. The room was clean and the beds were comfortable. We were in the South Tower and found it very quiet for sleeping. We did notice the slight musty smell in some hallways. I have smelled it before and I would call it "Au de pool". Worth putting up with if you are looking for one of the few places in the city that have a pool in a reasonably priced hotel. The décor is a bit dated, but if you call it "Retro" you're good! The only drawback with the room was the loud toilet. When you flushed, it sounded like a jet taking off. We had lunch in the on-site restaurant. I would have to say it was OK, but not much more than that. A bit pricey for what we got. Our own fault. Why would you eat at the hotel with all the wonderful places around in New York???????? Location was good if you don't mind a bit of walking to get to where the action is. But if you do mind walking there are couple of subway stations close by, so you are covered. We didn't go there, but the on-site bar looked inviting for a night cap. We are putting this on our list of places to stay.
August 23, 2014
Rated

3.0

out of

5.0
 by
Murphy2
Convenient stay
It was the best price for the location Which is close to our venue. There were no immediate benefits for ihg members except for the late checkout. They did away with the free breakfast and /or drinks.For business guest, this is important since we are always in a hurry to get to work in the morning so it was convenient to have breakfast inside the hotel. The bathroom needs an exhaust vent to get rid of the musty smell. On the plus side, the lady who cleans our room did a good job. And this time my room came with a magnifying mirror!
August 23, 2014
Rated

5.0

out of

5.0
 by
ThomL
Great location
We always stay at the Holiday Inn Midtown when we visit New York, which is four to six times a year. It is convenient to almost every where we go. Broadway shows, restaurants, Central Park and the subway. The staff is always friendly and helpful. I always recommend this hotel to my friends.
August 22, 2014
Rated

4.0

out of

5.0
 by
Travel-Travel
Another Great Stay
Another great stay at this West 57th street location. Great for the value and you can't beat the area. Stayed in room 1624. No complaints. I was very happy that a room was available and I was able to check-in early. Housekeeping keeps the room very nice and clean (and the housekeepers always say hello and smile). The hotel gym is also pretty good. Internet was spotty on my last night, but it didn't hinder me too much.
August 21, 2014
Rated

4.0

out of

5.0
 by
Wendy41
Great Bed and Location
I will gladly stay here again! Great location for walking and dining .. shopping.. ease of access to taxi's, they had a car ready for me to get to the Airport. Hotel was doing some remodeling so I'm sure it will be even better in the future. Would recomend that the pool could be open longer.. I was ready for the roof top evening.. but, it closed by 6.
August 21, 2014
Rated

4.0

out of

5.0
 by
crackalackin
Great location but starting to show wear and tear
I've been staying at this hotel for 12 years. The location is ideal for someone who wants to drive to NYC, park (parking garage under the hotel), and then walk out in Midtown or jump on a train to go uptown or downtown. The bartender is fantastic; he's been there for years and remembers you even if you haven't been back in a year. The only criticism I have is that the rooms definitely need to be renovated. I know that project is ongoing but the B Tower could definitely use an overhaul. Oh yeah; if you ever run into the owner, you're in for a good time. That guy is quite the character!
August 21, 2014
Rated

2.0

out of

5.0
 by
Flying Teddy
Over priced, rooms very small, hotel need urgent renewal
Only the lobby is attractive. Once you enter the lifts, done deal : you'll notice many scratches on ceilings and carpet floors. Once entering the rooms, you're devastated : an alazingly limited space in the bathroom. Shaving was a challenge every morning for avoiding knowking in side walls or making the hair dryer falling from its base. After asking several times, we never received a fourth towel while we were 4 registered guests. I booked 3 nights normal, then 1 with IHG points, then 1 again normal, all those at the same time and in a row. No one did receive me as IHG member, and I had to explain at every single time when talking with the front desk, that I was staying for 5 days in a row, not just 3, or 1. Ultimatly, the staff did great in some other way by having my oldest daughter having vouchered breakfast with us even though I had to explain as well several times that this had been advertised to me as such at booking time. The cleaning personal was, contraraly to the front desk personal, very very smiling and welcoming. They were the people making you feel good there. I was deeply disappointed of having just no single happy nor smiling faces from the staff or front desk. I was nearly to propose tips for extracting a smile from faces. Brekfast quality was excellent.
August 19, 2014
Rated

4.0

out of

5.0
 by
tdbroun
Bad/no wifi in room
The pool was fantastic, but only open till 6:00pm. By the time you return from a days activities in the big apple, it was closed. The window had only a sheer curtain. If you like to sleep in on vacation, you're out of luck. The Wifi signal was terrible. If i sat just in front of the door, I got a very weak signal (not good enough to stream video). That is the only signal in my room, essentially providing no wifi service. The location was a great central place to see the city. Just a block and a half from the 59th st station. Room was clean. Service Friendly. Did not use concierge or bell staff.
August 19, 2014
Rated

4.0

out of

5.0
 by
casper123
Good hotel for west side
Older building that has been updated. Rooms were clean and comfortable. Bathroom was old, but clean. Only problem was the elevators. They were very small and I had to wait long time to get a elevator. Recommend staying on lower floor so that you can avoid the elevator problem. Stairwells were dark, definitely need more light.
August 18, 2014
Rated

4.0

out of

5.0
 by
HanQ
Nice service
Staffs are really kind, even though thers's some problem regarding room cleaning
August 18, 2014
Rated

5.0

out of

5.0
 by
Mikins
Great location!
We stayed here in August with my young family and my parents. The hotel is wonderfully located just walking distance to many excellent restaurants and so close to Time Square. Food in the hotel was good but there are so many choices. I would recommend doing a circle line cruise to orientate yourself with the city. Thank you to Mr C for making us feel so welcome in the hotel. We would stay again if we returned to New York
August 17, 2014
Rated

4.0

out of

5.0
 by
HanQ
Pretty well stay
All staff gived kind and nice sevices. I hope to visti again.
August 17, 2014
Rated

5.0

out of

5.0
 by
KazooBruce
Large rooms, quiet location
We stay at many IHG hotels in NYC, and this has the largest rooms next to the Intercontinental. While the property is older, it is clean and well maintained. It is in a area where night sirens are little heard. Two blocks from the park and the subway. Many places to eat down on 9th ave.
August 15, 2014
Rated

4.0

out of

5.0
 by
Bob837
Unsure before arrival
I was a little unsure about the hotel before we arrived. There were various negative comments on the net, but I have to say it was fine for my family and I. We were staying on the 17th floor of the front tower over looking the pool. The room had been renovated and was clean and comfortable. I can see how the room may be a bit dated for some, but it was functional and as I mentioned before, it was clean. The air con did work, but it was a bit noisy. Overall the room was good. The pool could do with opening a little bit earlier at say 9am, while it wasn't heated, it was fine on a hot day. Opening at 10am didn't really give you enough time before going out for the day. The location was very good, a little bit away from all the noise and people but close enough for you to in the middle of it with a 10 minute walk. I was surprised how close to Times Square we were. The park is only 5 minutes away Aa is Columbus circus metro. Being so close to the park is good when you are travelling with a 6 year old. Overall, much better than I expected.
August 15, 2014
Rated

4.0

out of

5.0
 by
WallyGlo
Good Central Location
This hotel is a couple of blocks from Central Park & not far from Time Square & the Theatre district, although a short taxi cab ride to it, is reasonably priced. The staff at the hotel were all friendly & helpful. Being able to store our luggage before & after our stay was very helpful as it allowed us to explore more of New York City, before leaving town. Our room was a nice comfortable size, with nice King size bedding & towels. Our only dissapointment was we had asked for 2 Queen size bed, because of a 3rd person joining us. When we ckd in they informed us there were no 2 Queen size beds available but they would bring in a rollaway for extra cost. We didn't really have much of choice at that point. Other than this inconvenience & additional $, we did enjoy our stay. Might consider returning but placing our reservations directly to the hotel.
August 15, 2014
Rated

5.0

out of

5.0
Great Visit
Starting with Elizabeth at front desk, management needs to look at how many kudos she gets in these reviews, staff and stay was great. Pool on roof was major bonus.Location,room ( in towers )and value was great
August 14, 2014
Rated

3.0

out of

5.0
 by
Michael Montreal
Good hotel but...
Great location and "some" friendly staff. I was there on business and needed reliable internet access. Wireless is free but terrible - I was even asked to complete an internet survey at the start of my connection and obliged, but the survey site crashed after the first 3 questions #really?#. The room was comfortable but I couldn't open my closet door more than 10 inches to hang my suit because it was obstructed by the night table. The A/C had 3 settings #low, med, and high# but the temp control dial was seized and wouldn't turn at all #maybe with vice grips it would#. The worst were the elevators #3 of them#. I waited for 10 minutes on the 17th floor for an elevator that had enough room to take me to the lobby. When I finally got one, it stopped at every floor on the way down because there were so many other guests waiting to descend too. There are better hotels in that category/price range/location.
August 14, 2014
Rated

4.0

out of

5.0
 by
CCP40
Good location
Chose this hotel primarily due to its location. Was pleasantly surprised for the most part. Enjoyed the lobby bar.
August 13, 2014
Rated

1.0

out of

5.0
Counter staff couldnt care less
Ive stayed with Holiday inn on many occasions. Ive always had value for money and a pleasant stay. BUT. I booked three rooms for guests attending my daughters wedding. Two of the bookings were ok mine included. The third booking I made for my son and girlfriend. When they arrived to check in they were told that they had no booking. (this was after I had already confirmed on my arrival that all 3 rooms were available and ready) They were put up for the night in a half renovated room then moved around the hotel for the rest of the stay. The counter staff even handed over room keys to my son for my room !!! What if it wasnt my son ? When i approached the manager Janet to complain it was like talking to someone that had to deal with hundreds of complaints per day. The best she could come up with was "I will make it right for you". She never did. Oh by the way, no complaints about the room or service staff. The cleaning was spotless. And if anyone ever smiled behind that front desk it would be a miracle. Poor attitude 57th st. Left a bad taste, in what was otherwise a perfect wedding experience.
August 12, 2014
Rated

3.0

out of

5.0
 by
AroundTheWorldGuy
Location is good, hotel needs a remodel
I had a joining room, you can hear the folks in that room and it is quite disturbing. The location is good, but I've stayed in much better IHG hotels in NYC for the price.
August 12, 2014
Rated

2.0

out of

5.0
 by
tarebear13
Pass right on by
Even with the tv volume considerably loud, you can hear doors slamming throughout the hallway. Had to search through 4 floors before finding a working/stocked soda machine with water. Towels felt like sandpaper, truly the worst towel I've ever had to use. Best thing about the hotel, the 10 minute walk to Central Park- Other than that it's not that close to anything. For what you pay, continue your search for a better hotel.
August 12, 2014