Skip Navigation
English
|
|
|
|

Sign In

Book online or call: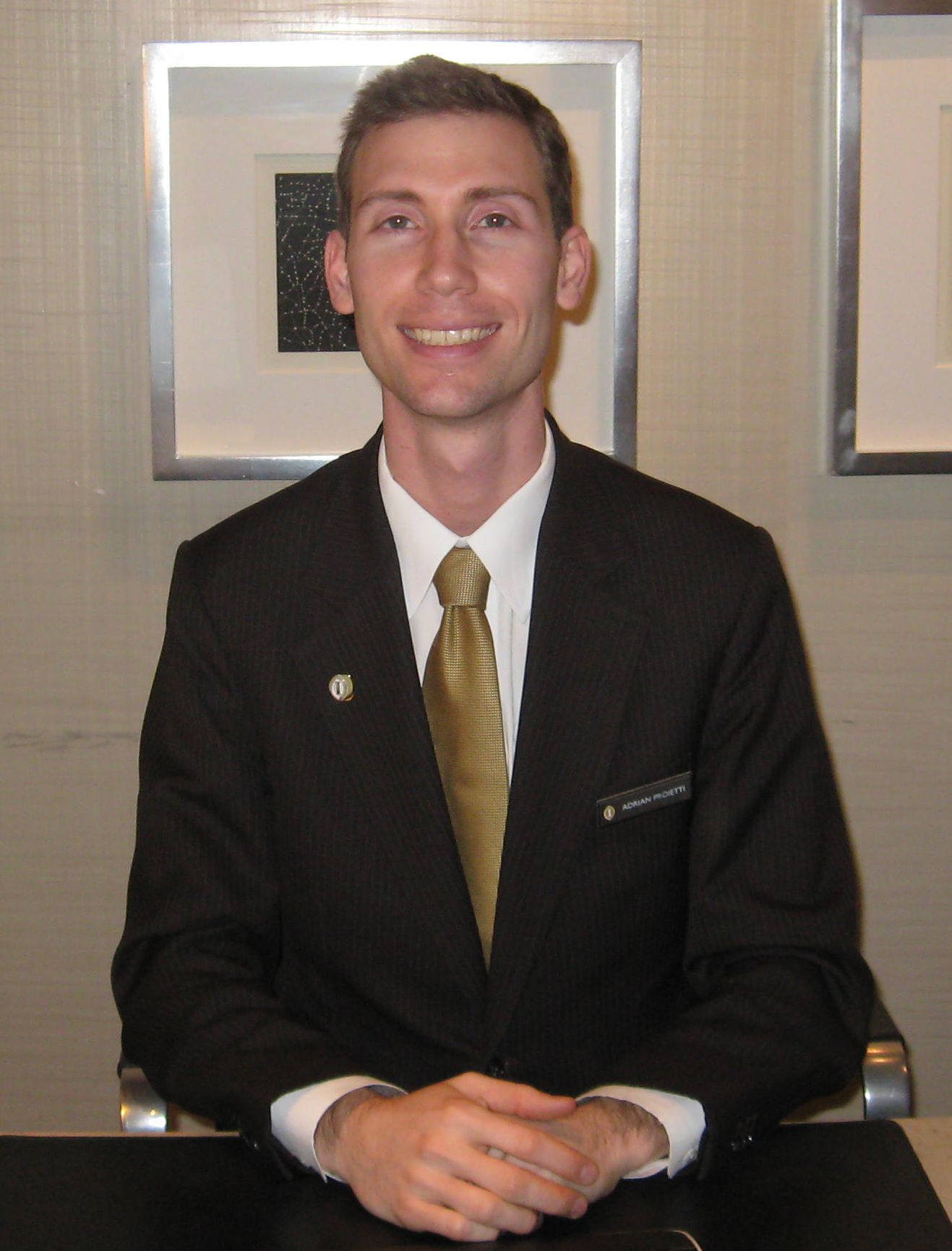 CHIC NEW YORK LUXURY HOTEL ON TIMES SQUARE
Right on Times Square, this New York luxury hotel is perfectly placed in the epicentre of Manhattan's theatre, dining, fashion and business districts. Just blocks from Broadway, savour a pre-theatre menu at Ça Va Brassiere or wander to nearby Restaurant Row for a myriad of dining options. Towering 36 storeys, this New York luxury hotel affords impressive views of the Hudson River and city skyline. The Lounge is perfect for after dinner cocktails and views of 44th Street.
HOTEL HIGHLIGHTS
Restaurant & Lounges

International cuisine is featured in our premiere restaurant led by renowned Chef, Todd English. The adjoining lounge serves cocktails and light sn...

Amenities & Services

A state-of-the-art fitness centre offers 24-hour access to a full range of fitness equipment and free weights for the perfect workout any time of day.

SPECIAL PACKAGES

There's always something special happening at an InterContinental hotel. Whether you are looking for a fun-filled getaway or a place to host your n...
New York Times Square
300 West 44th Street
New York , NY , 10036
United States
Front Desk +1-212-8034500
Languages spoken by staff
English, Spanish, French
Pet Policy
Dogs and Cats allowed for a fee of 250USD non refundable fee
Pet Fee $250.00 per night
CHECK-IN

3:00 PM

CHECK-OUT

12:00 PM

Late Check out Available
Accessibility
Service animals allowed
31 Room(s) with Accessibility Standards
Guest Reviews
Rated

3.8

out of

5

 by

763

reviewers.
Rated

5.0

out of

5.0
 by
L. Brian
An all around fine place to stay.
I've stayed here several times and I have always been pleased. It's a great location. Quiet but near the action and the park. The place is clean, rooms are large and the staff is pleasant. We are making this our regular place to stay when we go in for a show.
June 11, 2014
Rated

3.0

out of

5.0
 by
AbbyGCC
Could have been better
The location was great and overall the hotel is nice. We had problems with our toliet the ENTIRE stay. I had to call the front desk to have someone come fix it five times in the three nights we stayed. We didn't have hot water our first night due to service work on the street or something like that but it was not nice to just arrive off the plane and not be able to take a hot shower before bed. Those are the only complaints I have though.
June 11, 2014
Rated

5.0

out of

5.0
 by
LFAS
Excellent
On my next time at nyc, I will definitely consider to stay there again!
June 11, 2014
Rated

5.0

out of

5.0
 by
DG28
Curtious/helpful staff
Our room was clean and up-to-date. The staff was courteous and helpful. My family needed to be at an event by 3:00 pm. I requested early check in at the time I booked the reservation and my request was honored. This was very important to our stay!
June 10, 2014
Rated

3.0

out of

5.0
 by
deiv
ok visit
The reception staff was friendly and helpful The bellboys were friendly but busy on their mobiles and chewing gum.
June 9, 2014
Rated

5.0

out of

5.0
 by
Travelsmonthly
Gem in the city
Don't let the outward appearance or the pricing scare you away. This is a great hotel for any price point. The hospitality of the staff makes this a gem in the city. You have easy access to the train station and cabs. The concierge is awesome, front desk staff, especially Elizabeth, were very helpful and accommodating. Give this hotel a try, you will not be disappointed. I promise.
June 9, 2014
Rated

5.0

out of

5.0
 by
VJYN
Value for the money
Great Location , onsite valet parking, value for the money and close to the central park and other important places in Manhattan.
June 7, 2014
Rated

5.0

out of

5.0
 by
Heraclitus
Just Right
We stayed in a "Two Double Bed Deluxe Non-Smoking" room that was spacious and sparkling. No refrigerator, however. Otherwise, a real cut-above. We were on the 9th floor. Above on roof was a fabulous, sunny swimming pool. Nice that we didn't have to go through lobby in swimwear. The location was close to Columbus Circle/ Central Park and John Jay College, where we attended a conference. Parking right next door, with discount when ticket stamped by hotel.
June 5, 2014
Rated

5.0

out of

5.0
 by
megs110
the best stay
I chose this hotel for me and my wife for a little weekend gettaway .we just got married in jan and never had a honeymoon so this was the closest to a honeymoon we will get. I didnt expect much but from the min we checked in to checkout was a great experience. We got an upgrade to the best room free breakfast voucher which was amazing . The pool was great and relaxing .we hung out at the bar and our bartender ben was great he made our drinks perfect everytime and his service was very much appreciated . The best was the owner as well he greeted us and made us feel welcomed .we would so stay here again and i would reccomend this hotel to anybody and everybody i know . Thank you for a great weekend
June 5, 2014
Rated

5.0

out of

5.0
 by
Lulu, Cubana
Very efficient and friendly staff and always very helpful.
I was very happy to have found this location at the last minute, that was around the corner from the hospital my daughter was having her baby. I could not have asked for anything better and the price I paid was great.
June 5, 2014
Rated

4.0

out of

5.0
 by
dodger6
Good place to stay in Manhattan
Overall a reasonable place to stay in Manhattan. Everything is expensive there, but the price was competitive given auto club discount. Rather noisy air conditioner and noisy, slow toilet -- though we did not experience intrusive street noise, earplugs were a good idea for sleeping. Beds were comfortable. Pool area on the roof was lovely with lots of lounge chairs, but the pool is unheated (Brrrr!). Can easily walk to Central Park and there is a reasonably priced diner nearby.
June 4, 2014
Rated

4.0

out of

5.0
 by
Forgotten things
Accessories left behind
While in my haste to pack, I inadvertently left my cell phone accessories in the room. I called the next day and to my pleasant surprise, a member of the housekeeping staff had turned them into lost and found. They arranged to send the items to me. They arrived by fedex in a few days. Thank you to the staff for your honesty and integrity. I guess there really are good people in the world!
June 3, 2014
Rated

3.0

out of

5.0
 by
Bill from Evansville
You get what you pay for
We stayed 5 nights in room 618 One of us is in a wheelchair and it was a tight squeeze in the elevator. Pros: Location, Initial cost is lower, employees were friendly, concierge (Jocelyn) was very helpful. Cons: Bathroom door would not close at all! Large extra charge for: parking, Extra charge for refrigerator and extra charge for extra person in room (Bring an ice chest and get ice from ice machine.) I recommend this property ONLY if you KNOW all the costs before booking a room.
June 2, 2014
Rated

2.0

out of

5.0
 by
Silver possum
it was not the exactly the same as the picture of the website
When we arrived on our first day, in the room it has the horrible smell and we didn't know what it is. The door wouldn't lock, had to get maintenance up to fix it and it says needs new battery, i asked for another room. we got other room on the same floor, the smell of the room is shocking and the condition of the room looks aged. Next day we went to reception and asked for better room because the shower didn't run probably, then we got another room (3rd) time up few floors above, the smell still the same to other rooms and we know the room is aged as well the carpet. we know that nothing matched to the advertising website pictures of the room when i made the bookings. we had to stay there for 10 days to pull up with it. It has no special light for fire alarm, no tty phone or clock wake up for the deaf. I have to ask for fridge as i have medication that needs to be in fridge. The coffee making has no teas. The services are terrible when we ask them to make a call for us because we are deaf, they said to ask bell boy. they really have no interest to help. my parents has been trying to fax me via the hotel, their fax machine busy (i guess it has no paper or just off the hook), my parents gave up. The restaurant we went for breakfast and dinner, it is like make at home no food has quality taste. we will not be going back there and it is not 4 star, it is 1-2 star. The staff there need to improve their role model to work, all they do is talk and bum around. Thanks we wasted alot of money for staying there, not happy.
June 2, 2014
Rated

1.0

out of

5.0
 by
M.A.R.
Not a good stay
We arrived at our hotel in the evening, when entering the hotel lobby was not the cleanest. The bell hops would not allow us to use a rolling cart for our luggage. The gal at the front desk was nice. When we got in our room it was not very clean, there were stains on the little cloths at the end of the beds, it was hot and stuffy, the air conditioning unit did not work, our television was broken, our shower was broken. The repair man was in our room until 2:00 am trying to fix all of these items. He was able to fix the A/C, never did work very well, it took two days to fix the Television, the shower never did get fixed. We asked to be move to another room but they did not have availability for a roll away bed and we needed to have the bed. We were given 4 pass for a free breakfast for our trouble that ended up costing us $20.00. The breakfast was good. We were only given 3 towels each day when we had 4 people staying in the room. When I asked house keeping for more towels they did bring more towels with a note on how to reuse our towels for a few days. We had to call down for toilet paper, and Kleenex each day of our stay, The elevators are very slow, took the stairs most of the time. Very loud, would not stay at this hotel ever.
June 1, 2014
Rated

5.0

out of

5.0
great experience
The room was spacious and very comfortable. The buffet breakfast was very good. The staff were very accommodating for an early check in and a late checkout.
June 1, 2014
Rated

5.0

out of

5.0
 by
Frehley1
Recent Stay May 24-27
I've been staying at the Holiday Inn West 57th for over 25 years. You can't beat the location and price. It's only a 15-20 minute walk to Times Square. But who needs Times Square when the hotel is so close to 9th Ave and "Hells Kitchen" and all the great non-touristy restaurants. You're also a 10 minute walk to Central Park. The hotel staff is friendly, and the per night cost is very reasonable for New York. Guests of the hotel also have a generous discount to the parking garage. The rooms are clean and spacious. My only suggestion would be to include a vent for the bathroom and to add more counter space of the bathroom vanity. Other than that this hotel is great and I highly recommend it!
May 30, 2014
Rated

4.0

out of

5.0
 by
Mary23martin
Pool
Our overall experience was very good. We were a disappointed with the pool rules. We checked in late afternoon on Sunday, had an event that evening and had planned on spending the day at the pool on Monday. We went up to the pool around 10:45 am and the pool attendant asked what room we were staying in. I told him, he then checked with the desk. I had to go to lobby and returned and asked my room again, checked with the desk again, and told us since we were checking out we were unable to stay at the pool past 12. I did request a late check out at 1 pm and we were able to stay until then, but the front desk did not inform him of the late check out. He made me feel uncomfortable. My feeling is that we did pay for the room and should have been able to stay at the pool all day on Monday, especially since it was not crowded at all. Thank you.
May 29, 2014
Rated

5.0

out of

5.0
 by
lipsticklibrarian35
Great location! Can't be beat for the price.
As based on prior reviews, the rooms are okay, bathrooms small and elevator slow but...for the price of a midtown hotel which is in walking distance to many major attractions and parking garage adjacent to hotel, we were very pleased with our stay here. We are IGH reward members, although we don't always stay in their hotels. I would definitely stay here again and would recommend it to people who want a room to sleep in and who spend most of their time out of it exploring the city. Also, my kids liked the rooftop pool.
May 29, 2014
Rated

4.0

out of

5.0
Old building but still comfortable
The building is a little old and the air conditioner is also old. However, the location is quite convenient and the facility are quite OK, except the shower: The "water-switch" is too complicated to operate and hard to control the water temperature somehow. But one thing that is not quite OK is that the hotel doesn't have umbrellas to borrow. The last night we stay there, it rained heavily but when I checked with the front desk, the reply is to ask me to buy one from the gift shop.
May 27, 2014
Rated

4.0

out of

5.0
 by
CCmember
Great mid town stay
Great hotel to stay in in mid town. Helpful staff, and good bedrooms. Clean and unto date. Breakfast could be better and better quality, but over all a good place to stay. Not a great gym, but usable.
May 27, 2014
Rated

3.0

out of

5.0
 by
Emanuelledubai
A hotel in need of renovation. A mix of the great and the terrible
Fabulous location, lovely (and very helpful) staff, as is always the case in Holiday Inns they had very comfortable, good quality beds. Spacious rooms for New York. This is where the "great" finishes, the internet was down the whole time that I was there and it seemed not to surprise the ever patient staff when I complained. The AC in my colleagues room wasn't working and nothing was done about it for 2 days. The noise within the hotel was unacceptable throughout the night. No amount of comfortable bed will take way from the noise. Just to top it off I could hear every flush from every toilet within 15 metres of me. Not a good stay at all but the staff did try and make up for it. I wouldn't advise this hotel for business travel but a city break on a quiet floor could work.
May 26, 2014
Rated

1.0

out of

5.0
 by
MDonado
Desorganized Front Desk and bedroom in need of cleaning supervision
Bedrooms are in need of cleaning supervision and maintenance. My bedroom was with broken curtains full of holes and little details that makes you feel in a dirty place. Front desk will be in top of collecting your fees but not willing to help you as a guest. The overall is poor and for what you pay per night, I will make a better research next time.
May 26, 2014
Rated

5.0

out of

5.0
 by
Doreen123
Just The Ticket!
I am very satisfied with this hotel. We came cross-country to a graduation and the hotel greatly enhanced our experience. Holiday Inn Midtown reminds me of how I felt about the hotels / motels and America when I first came to these shores in 1971. No fuss, but somehow they have everything you need. The rooms at the hotel are spacious, the bathrooms ok, and I liked the plain white cotton towels and sheets. We had a room with two double beds and it could have slept four. There are plenty of staff and they were professional and helpful. We had breakfast most days and service is quick, some reasonable choices, and the dining room is a pleasant place to sit. The lobby is also spacious and always lively, concierge and desk service very good. The location of the hotel is excellent, and W. 57th is a nice New York Street. Restaurant Row on 9th Avenue is walking distance which cuts the cost of dining out quite a bit. Matles florist nearby helped us out, and there is a Staples for printing etc. and everything else you need nearby. This hotel boasts a rooftop pool which opened today for Memorial Day tomorrow, and this is a luxury, and something that would bring me back during the summer months. Yes, I would definitely return here. I bulked at the price originally, but at the end of the day I feel it was good value, and hopefully the staff are getting a decent wage and health insurance. We really used our room and the hotel as a respite and place to relax.
May 25, 2014
Rated

5.0

out of

5.0
 by
SHT Tan
Spacious, clean and comfortable room
Very comfortable Queen beds, not the newest but very well maintained. Good layout and useful business desk. A good choice to consider in the midtown area!
May 25, 2014
Rated

2.0

out of

5.0
 by
ssk06
Comfortable bed but no internet
I was told while booking wifi services were available in the room. But I stayed three nights and wifi was not available. Had asked every single day and night about the wifi status, but all was told that they are working on it. My call to front office was transferred to technical department on the day of check-in but technical department said everything appeared to be fine!! I had to go and stay in my relative's house in New Jersey and spend time mostly in Starbucks to get wifi access!
May 24, 2014
Rated

5.0

out of

5.0
 by
ElizabethAnne
This place is a GEM!
We had 4 rooms for 8 of us -- including 3 senior citizens - trip into NYC for a Broadway show, dinner out, and easy-going tourism. What a great location and place for this kind of trip! We stayed in the newly renovated tower -- the rooms were crisp and clean - spacious (which we rarely see at this price point in the city) and restful. Lots of hot water - good beds. The elevators are quick and frequent getting up and down these towers. The lobby is big and there is lots of comfortable seating (our elderly parents waited there and people-watched often). This hotel is close to Central Park and the 59th st. Metro station. So easy to get around. The staff was super nice & helpful - especially the bellmen - who got us cabs and drivers--- helped us predict time schedules -- and stored our bags the last day when we checked out but didn't have to fly until evening. The coffee shop was helpful for people who didn't want to go out for food/coffee in the morning. We will be staying here again -- great value and a terrific spot for a group.
May 24, 2014
Rated

4.0

out of

5.0
 by
The travelling Mom
Good location good value
Close to subway, shopping, Central Park, Columbus Circle.
May 23, 2014
Rated

4.0

out of

5.0
 by
Wastbone
the convience
Because of it's central location this particular hotel is a very easily located hotel in the midst of everything that New York has to offer. We've come back to this hotel several times and each time the location has proven to be one of the best attributes of this hotel. With a good staff, and very cordial workers, it really sells this place.
May 18, 2014
Rated

5.0

out of

5.0
 by
Wm123
Lovely stay at the Holiday Inn on 57th street
Location is excellent. JuOlivia front desk is excellent. Love her smile and always willing to extend herself.
May 17, 2014