Skip Navigation
English
|
|
|
|

Sign In

Book online or call: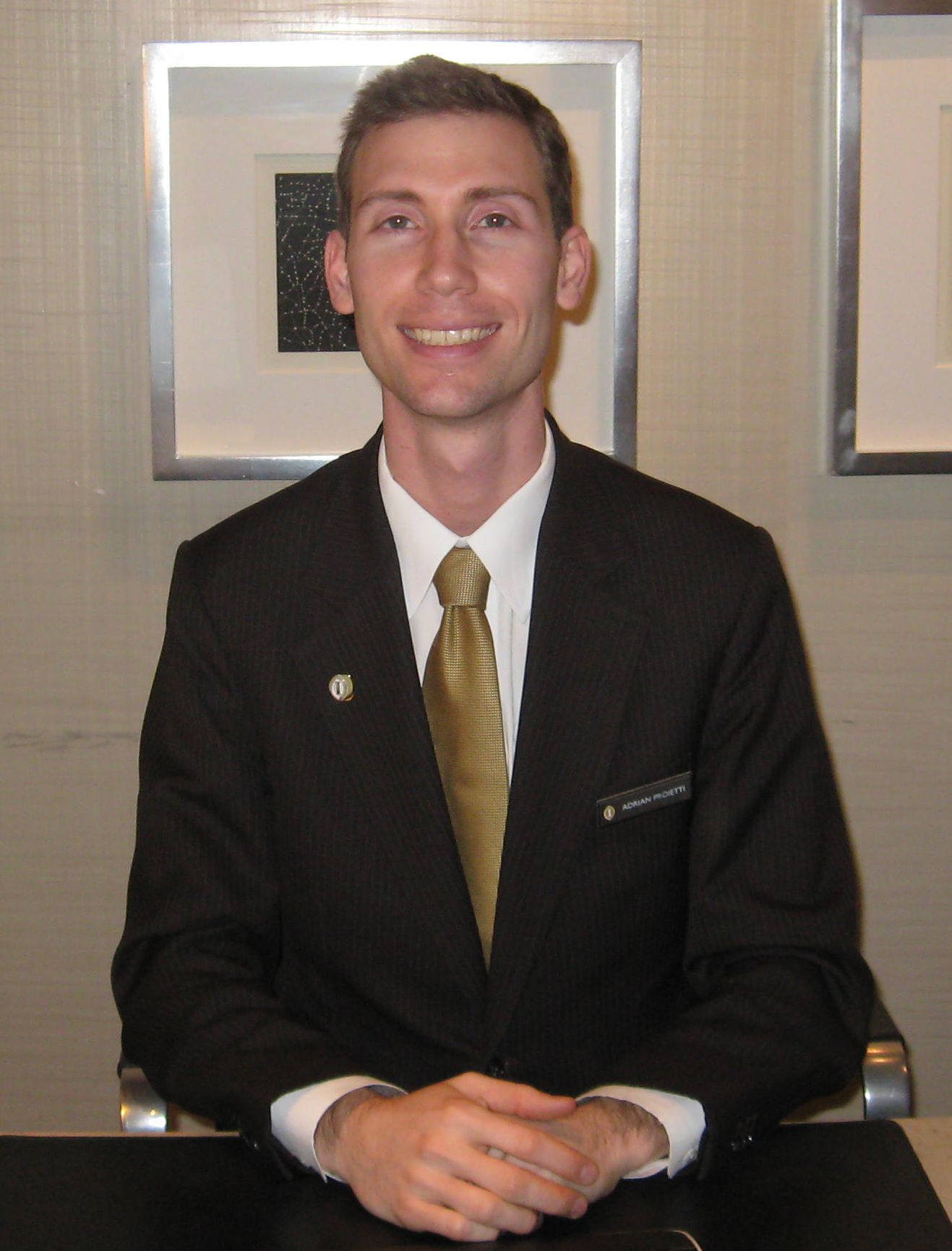 CHIC NEW YORK LUXURY HOTEL ON TIMES SQUARE
Right on Times Square, this New York luxury hotel is perfectly placed in the epicentre of Manhattan's theatre, dining, fashion and business districts. Just blocks from Broadway, savour a pre-theatre menu at Ça Va Brassiere or wander to nearby Restaurant Row for a myriad of dining options. Towering 36 storeys, this New York luxury hotel affords impressive views of the Hudson River and city skyline. The Lounge is perfect for after dinner cocktails and views of 44th Street.
HOTEL HIGHLIGHTS
Restaurant & Lounges

International cuisine is featured in our premiere restaurant led by renowned Chef, Todd English. The adjoining lounge serves cocktails and light sn...

Amenities & Services

A state-of-the-art fitness centre offers 24-hour access to a full range of fitness equipment and free weights for the perfect workout any time of day.

SPECIAL PACKAGES

There's always something special happening at an InterContinental hotel. Whether you are looking for a fun-filled getaway or a place to host your n...
New York Times Square
300 West 44th Street

New York

,

NY

,

10036

United States

Front Desk

+1-212-8034500
Languages spoken by staff
English, Spanish, French
Pet Policy
Dogs and Cats allowed for a fee of 250USD non refundable fee
Pet Fee $250.00 per night
CHECK-IN

3:00 PM

CHECK-OUT

12:00 PM

Late Check out Available
Accessibility
Service animals allowed
31 Room(s) with Accessibility Standards
Guest Reviews
Rated

4.2

out of

5

 by

559

reviewers.
Rated

5.0

out of

5.0
 by
2014Guest
Cannot beat this value (especially considering the location)
And the staff is fantastic. How can you not like a front desk that always smiles and either has or will immediately get the answer to every question? The rooms are immaculate, location makes the entire city accessible, and there is a big, fat, all you can eat breakfast.
June 6, 2014
Rated

4.0

out of

5.0
 by
Stev77
Weeken Concierge Attitude
I would like to say one thing about your weekend concierge Judy, although she was very helpful in arranging dinner reservations for my wife and I, we found her attitude cool. Since we are Canadians traveling to the USA we did not have a data/cell package on our phone and she said that reservations could not be made while we were out of the hotel due to this. Since we are guests at the hotel why could she not have used the hotel's phone number and our room number. I think this person needs some help when it comes to being courteous and going the extra mile. Thank you
June 5, 2014
Rated

5.0

out of

5.0
 by
datcrack
Great place would definitely recommend
The staff was incredibly. Especially the reception was very helpful in every aspect. Had a very comfortable sleep. Would definitely stay again. Internet was very fast which was very important for me.
June 5, 2014
Rated

5.0

out of

5.0
 by
TheatreGoers
We would Recommend
I was very concerned about this hotel after reading some of the reviews regarding breakfast, staff and elevators. Our stay was wonderful. Yes, the rooms are small but you are in NYC. We found the hotel to be quiet and comfortable. We never waited for the elevator and the hotel was nearly sold out. We never had trouble with finding a spot to sit for breakfast either. The food was great for a complimentary breakfast. The location was great for Time Square and especially for the theatre district. Just a 4 or 5 block walk and all very safe.
June 4, 2014
Rated

5.0

out of

5.0
 by
PN92
Don't Be Afraid of the City
I hadn't been to New York for years and my memories weren't real good, but my attitude of fear changed as soon as I checked in. EVERYONE was really wonderful. They helped us find our tours, store our luggage (even when we lost the claim tickets!), and park our car. The room was quiet, clean and comfortable and the breakfast was great! I highly recommend the property for anyone staying in the city.
June 3, 2014
Rated

4.0

out of

5.0
 by
sojo11
SMALL but clean
Considering this was our first trip to NYC, we had no idea what to expect. The staff were friendly and helpful, the room was clean but very small, the breakfast was lovely but crowded due to limited space. The hotel concierge was professional but the experience was infuriating since our promised airport transport was over TWO hours late . I would NOT recommend using the concierge to arrange transport. This hotel location is in the "garment district" which is within walking distance of nearly all points of interest or bus routes to same but the area is not the best.
June 3, 2014
Rated

5.0

out of

5.0
 by
Suze4
Comfortable, convenient and great service
Would definitely stay again. The employees were all very helpful and courteous. The hotel is centrally located and made it easy to get around. Thank you for a great stay.
June 1, 2014
Rated

3.0

out of

5.0
 by
Najiha
Great location
Good location, very very small room, cooridor. 2 elevators only to serve 36 floor and arround 200 rooms. Not recommended
May 30, 2014
Rated

4.0

out of

5.0
 by
Vipr
Comfortable bed and great service.
Pros : 1) Its Holiday inn :) We Love it !! 2) Variety of complimentary continental healthy breakfast choices. 3) A home away from home when talking about room and its comfort , sleep quality and room cleanliness. 4) Cooperative staff 5) Close to times square Cons : 1) Elevator made us to wait more than 5 minutes many times. As we had to use it 3-4 times we can ignore it.
May 30, 2014
Rated

5.0

out of

5.0
 by
RBUZAR
Holiday Inn Express: the best choice in NYC.
Great hotel, staff high friendly, all comfortable, nice location and nice breakfast. WiFi very fast. IHG Rewards recognition. Nice concierge.
May 28, 2014
Rated

5.0

out of

5.0
 by
stew219
Good Times at the Holiday Inn
We had a ball. I will be coming back soon. Love the location
May 24, 2014
Rated

5.0

out of

5.0
 by
First Timers from NC
Great Service!
From the moment we arrived at 12:PM till our check-out we found the entire staff very friendly and willing to be of service.
May 18, 2014
Rated

4.0

out of

5.0
 by
kooper46
Good location and good breakfast
Only two elevators did entail some wait time. Room wasn't ready at 5pm-slow maid service. The top drawer of the dresser in Room 1303 wouldn't remain closed when empty and was even more open when clothes were added. The morning of May 13th when we checked out, there was no cold water, only hot.
May 16, 2014
Rated

3.0

out of

5.0
 by
Chis08
Comfortable bed
Before I arrived at the hotel, I sent a money order (money orders are considered cash) . I mailed this money order to this hotel. When I called to see if it had been received, they were very nonchalant and informed me that they don't accept money orders, and they also claimed they never received one. Mind you they never would place me on hold to even attempt to look for this money order, so when I checked in the clerk brought it up again, which I really didn't see the need to bring it up if you claim you never received it. That to me just didn't sit well with me. The room was nice but I still say they should have on their website that they don't accept money orders, and I'm pretty sure my money order was sitting on a desk somewhere in that hotel, but instead of sending it back, they kept it & I had to pay with my card ..was very upset with their customer service..
May 15, 2014
Rated

4.0

out of

5.0
 by
SweJOCA
It's a good hotel.
OK, I will make it short and to the point. The Holiday Inn Express is a brand that gives you a "sleep and go" hotel. Has been so everywhere. Expect luxury and pampering, and you'll be disappointed. Spent 12 nights here. Beds are good, linen and towel clean. As would be expected. Rooms are small (real estate at a premium in NY!) but perfectly adequate. The big American beds aren't doing it better, although they are comfortable. So don't expect to lounge around in your room or to play basketball... it's a bedroom with a bathroom. Bathroom OK, but water pressure low. No point in having a massage shower head with no pressure :) Breakfast is basic - with all necessary items for a good breakfast, but no excesses. There's all you really need. Staff, especially breakfast staff (special THANKS to all breakfast staff) has been extremely friendly. Always in a good mood, doing their best. Although I don't understand why deliveries have to be made at 6.30 in the morning. Lifts are a problem, blame the architect. No service lifts means the housekeeping staff have to move their equipment in guest lifts, there may be some waiting time now and then. During 12 days I had to wait for a max. of 7 minutes and usually 1-3 minutes. Not bad, 36 floors after all. Again, staff doing their best with smiles and hellos... Do something about your wireless Internet... had to log in multiple times this morning just to deliver this review... irritating. And slow some times, but that's hotels for you.... not a specific HIE issue, in my experience. Again, want to be pampered on your vacation, this is not the place. It's a good basic stay at NY prices (which are high generally). I'd stay here again, yes. But do something about that Internet provider of yours... 5th login now...
May 15, 2014
Rated

1.0

out of

5.0
 by
JackieGa
Don't Stay Here!
This hotel is a dump! Rooms to small, smell of urine, elevator horably slow....breakfast was a joke!
May 14, 2014
Rated

5.0

out of

5.0
 by
Traveladventurer123
Great location. Afforable. Definately up to Holiday Inn Standards!
Loved our Stay in New York. The room was Clean and comfy and very easy to access. It was affordable and close to everything. There is even a wonderful little Irish pub down the street! The staff was awesome. Especially Angelica, she greeted me and took care of all our needs. The late check out for being a Holiday Inn members was great. We also took the Mega bus which picked up about 4 streets over. The free breakfast was really good too. They had more than expected including yogurt, eggs, bagels etc,..It was perfect for us to get to Broadway and times square. Perfect for the sightseer! It has a coffee maker, iron and hairdryer and water juice and coffee allday downstairs. Great! I was worried about booking a hotel on line but my friends said I did great by picking this one,..can't do better than that!
May 12, 2014
Rated

4.0

out of

5.0
 by
vicky05
convenient location, friendly staff
Overall enjoyed our time here. Room small but what you would expect in new York. Friendly staff. Breakfast has good variety although very busy.
May 10, 2014
Rated

5.0

out of

5.0
 by
SPom
staff was pleasant
good location, close to subway. The continental breakfast had many options. Would definitely stay again.
May 10, 2014
Rated

4.0

out of

5.0
 by
PriorityUser13
Business & Leisure review
Excellent location near main attraction at Manhattan. You can go from hotel to almost any transport mean, just walking. Kind of noisy at rush hours in the morning, since hotel is tight in space. Breakfast hours get crowdy and busy. Have to take breakfast to the room sometimes because tables and chairs are not enough. Exactly what you need if your plan is to spend your time outside, sightseeing, visiting museums, attractions, etc...
May 9, 2014
Rated

5.0

out of

5.0
 by
faerytime
A Pleasant Surprise
Completely enjoyed our stay at this hotel. Very nice, spacious room, great breakfast and wonderful location. I would recommend this hotel as being a very good place to stay in New York.
May 8, 2014
Rated

4.0

out of

5.0
conveniently located & good breakfast
This hotel was conveniently located near times square & the theater district. Breakfast options were great, good variety & prompt service. Rooms very small but what I expected in NYC. Overall good value.
April 30, 2014
Rated

4.0

out of

5.0
 by
Alessandra P.
Good location, comfortable room
Great location: near bus terminal, Sean Penn Station, subway,5 minutes walking from Times Square .Quiet room, comfortable bed. Kind, helpful staff. Good Breackfast
April 28, 2014
Rated

4.0

out of

5.0
 by
AndreasGermany
Great location
Good hotel in perfect location! Just a few blocks away from Times Square. Please be careful with purchasing musical tickets at the desk in the front hall. Seems that they add a huge surcharge on the regular ticket prices.
April 25, 2014
Rated

1.0

out of

5.0
 by
Rani48
Breakfast accident
Hotel location and staff nice , but ruined by breakfast incident .Area for breakfast so tiny for amount of people and tables cramped into a to tight area, which of course spoilt it for me.Still awaiting to hear back from Hotel Mangement.
April 19, 2014
Rated

5.0

out of

5.0
 by
RFDAAG
Clean and friendly
I was greeted by name upon my arrival and acknowledged as a chain member. The room was large by NYC standards, well lit and clean. Every staff person I encountered was very friendly. Great location.
April 17, 2014
Rated

5.0

out of

5.0
 by
Carlsmom
Clean and Comfortable
Convenient ~ Clean ~ Great service! Awesome breakfast ~ would definitely stay there again.
April 12, 2014
Rated

5.0

out of

5.0
 by
Mr W
English man in new york.
We stayed 4 night. The hotels was quiet and the beds are really comfortable. This hotel was ideal for our sightseeing trip. We visited in late March when the weather was between 2 & -2c most days, and I thought it was a really nice touch that there was hot chocolate on tap on in the hotel reception area. All the staff were lovely and friendly, particularly the staff in the breakfast room, who have a really busy time. I would struggle to find a negative point, and I look forward to staying here again.
April 10, 2014
Rated

2.0

out of

5.0
 by
Mercy12
Excellent service but extremely outdated and tiny room.
I love the HIE brand. At this property, the employees were excellent and were willing to help and assist me! All employee-guest touch-points were met with my satisfaction. However, the room is severely outdated and extremely small! I do not think it is worth it to stay at this hotel for this hotel's average price!
April 4, 2014
Rated

1.0

out of

5.0
 by
addicks
basic
Excellent view Small rooms tiny bathroom WC flushing problems 200 rooms and only two escalators up to 15 minutes wait
April 2, 2014