Skip Navigation
English
|
|
|
|

Sign In

Book online or call: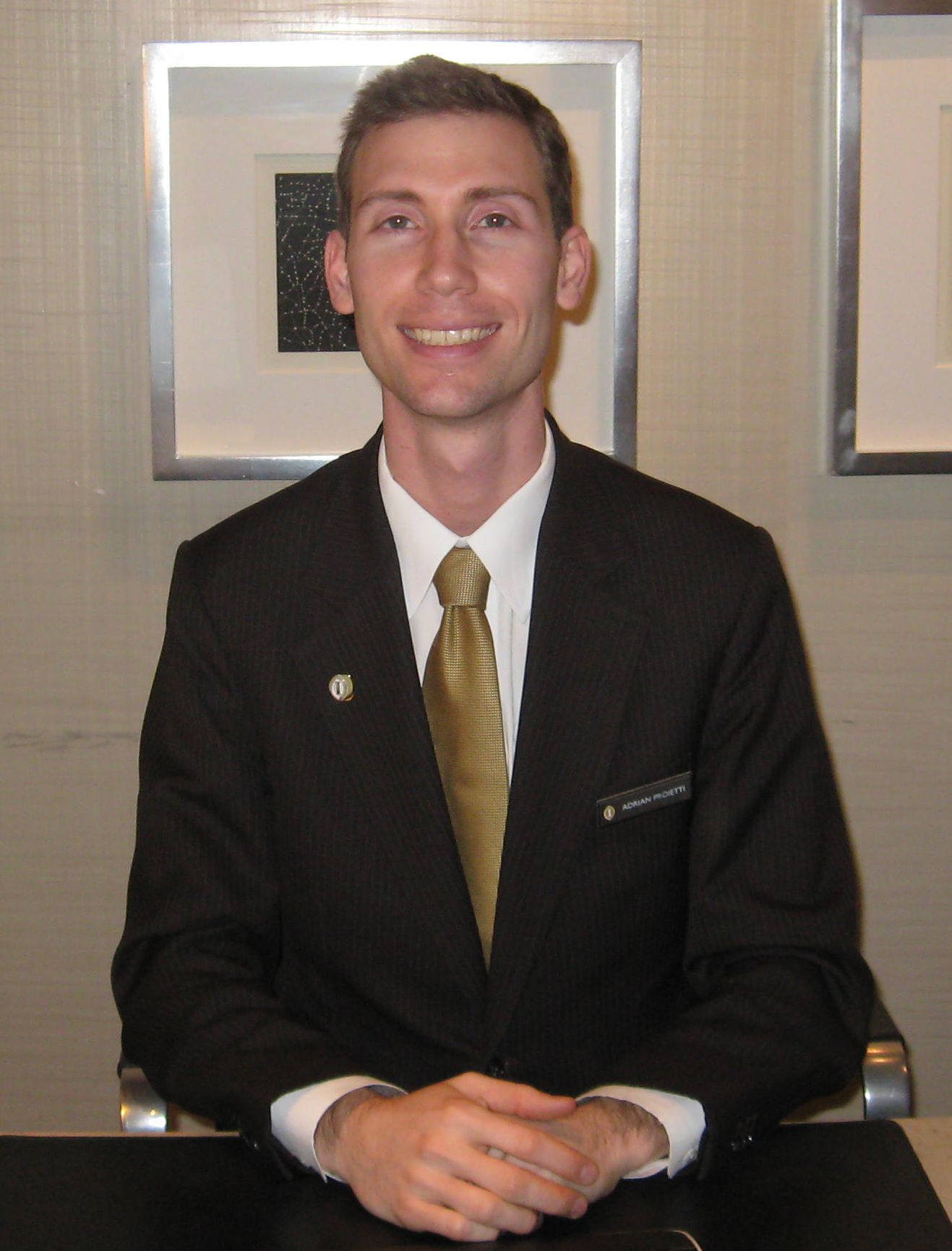 CHIC NEW YORK LUXURY HOTEL ON TIMES SQUARE
Right on Times Square, this New York luxury hotel is perfectly placed in the epicentre of Manhattan's theatre, dining, fashion and business districts. Just blocks from Broadway, savour a pre-theatre menu at Ça Va Brassiere or wander to nearby Restaurant Row for a myriad of dining options. Towering 36 storeys, this New York luxury hotel affords impressive views of the Hudson River and city skyline. The Lounge is perfect for after dinner cocktails and views of 44th Street.
HOTEL HIGHLIGHTS
Restaurant & Lounges

International cuisine is featured in our premiere restaurant led by renowned Chef, Todd English. The adjoining lounge serves cocktails and light sn...

Amenities & Services

A state-of-the-art fitness centre offers 24-hour access to a full range of fitness equipment and free weights for the perfect workout any time of day.

SPECIAL PACKAGES

There's always something special happening at an InterContinental hotel. Whether you are looking for a fun-filled getaway or a place to host your n...
New York Times Square
300 West 44th Street
New York , NY , 10036
United States
Front Desk +1-212-8034500
Languages spoken by staff
English, Spanish, French
Pet Policy
Dogs and Cats allowed for a fee of 250USD non refundable fee
Pet Fee $250.00 per night
CHECK-IN

3:00 PM

CHECK-OUT

12:00 PM

Late Check out Available
Accessibility
Service animals allowed
31 Room(s) with Accessibility Standards
Guest Reviews
Rated

4.5

out of

5

 by

663

reviewers.
Rated

5.0

out of

5.0
 by
Ani08
My experience
This was my nice stay in staybridge hotel in newyork.First thing location is very closer to every thing &hotel itself very nice specially its suits having kitchnette in the suits ,i would like to stay here again and again ,try it.
January 14, 2014
Rated

5.0

out of

5.0
 by
Pastelito
Great hotel with great facilities
Our stay was very pleasant at this hotel. Its very close to Time Square, near many shops and restaurants. The room is very cosy and our room had wonderful king size bed. We were very pleased to have little kitchen in the room, which included microwave, toaster, machine for filtered coffee, dishwasher and even plates, mugs, utensils, pots and other equipment for cooking and also a big fridge with freezer! We liked the furniture and decoration it was modern and nice. Guest laundry came very handy, since we had to stay one week longer in New York due to the weather and did not have any clean clothes left, so that was huge relief. They even had complimentary breakfast and drinks in the evening, but did not have chance to go in the evening. There is also gym and i saw that some evenings they have life singer's performances. The only bad thing was the temperature in the breakfast area, since it was really cold outside and the place is all surrounded by glass, otherwise we loved the hotel and would definitely stay again if we are in New York.
January 13, 2014
Rated

5.0

out of

5.0
 by
Cwesternny
You could live in these suites!!
We were able to book a room for a great price last minute on New Year's Day!! Love the free happy hour on week nights, only complaint is the elevators are very slow and it's hard to move around when there are a lot of guests! Otherwise I loved that there's a full fridge and kitchen... Great location to Times Square and all the subway lines. Definitely recommend.
January 12, 2014
Rated

5.0

out of

5.0
 by
JoanDMWS
Ugh the elevator!
My daughter and I stayed on the second floor...room 201 as I don't ride elevators. However, the grinding from the gears of the elevator all night and day were horrible....we finally started wearing ear plugs to sleep. Other than that, the service, breakfast, location and the "socials" Tuesday-Thursday were great!
January 12, 2014
Rated

4.0

out of

5.0
 by
Stephen from Atlanta
Snowy stay
We stay here often. Our stay was great, as usual, except for three things. 1. The girl at the front desk promised to call us on our cell phone when our room was ready. She never called, and we waited 3 hours for a room. We finally found out a room was ready when we noticed that front desk personnel were checking in anyone as they arrived. 2. Our room was not serviced at all the second day of our 3 day stay. 3. The bed was too soft.
January 9, 2014
Rated

4.0

out of

5.0
 by
Turtlebeach
Comfortable hotel with good service
On arrival, I was recognisded as Platignum Eliter Member. Very good check-in.. What we found unusul was that the chamber maids were knocking at our door before we went down for breakfast in order to service our room - this was sometimes at 9.00am. We were not the only guests that encountered this problem. We then put out the 'do not disturb 'sign before going to bed and removeing it on our way to breakfast. Many guests on our floor we noted did the same. I have never had this problem in any hotel before. I would like to commend the staff in the dinning room who served the breakfast. There was a large turn-over of guests each day and some guests were quite rude to the staff who were doing their best to accomodate everyone, but they kepy smiling and was attentive to everyone. Congratulations to all staff at breakfast. My only real issue was that I usually have extended check out and on checking in, Reception has always reminded me of this service. Sadly, this did not happen here and on my last day was sent my Bill with checkout for 11.00am. I spoke to REception before breakfast and they were not very happy to give me an extended checkout, when I said that we were being picked up at 3.-00pm for the Airport, she then said that we can keep our room until 2.00pm., but I do not think that she ws very happy. In all, I would stay at the Staybridge Suites again and overall, our stay was very pleasant.
January 7, 2014
Rated

5.0

out of

5.0
 by
DotBar
Great as always
I stay at StayBridge as a principal every time I'm in the city. The staff is the always helpful (and I can mention Arjeta in the reception in particular) and I enjoy my stay. Also important that it is the easiest to get to. Just take the E line from JFC and it will take you almost directly to the hotel entrance. In 2 words - highly recommended.
January 7, 2014
Rated

5.0

out of

5.0
 by
Eme222
Comfortable and great location
I truely enjoyed a wonderful stay the Staybridge Times Square Hotel. The room itself was very comfortable and impeccably maintained. The bed was extremely comfortable both for lounging and sleeping. The room also included a small kitchenette complete with stove and refrigerator - a very nice amenity. The breakfast buffet in the Pantry was very good with a comfortable seating area. What I really liked was the sitting area located just outside of the Pantry. The chairs and seating were comfy and fresh coffee and water were readily available - it seemed at all times. And to my pleasant surprise, there were magazines and games available for guests. The location was also very good and in close walking distance from Times Square. I highly recommend this hotel.
January 7, 2014
Rated

5.0

out of

5.0
 by
billmendez
Great Location Slow Elevators
Loved this hotel. It is centrally located near Times Square and the staff are extremely friendly. Breakfast was good and evening drinks and snacks abundant. only issue was how crowded the hotel was and how slow the elevators operated given the number of guests staying at the property.
January 6, 2014
Rated

4.0

out of

5.0
 by
Mellie13
We Would Go Back
Positives: love the kitchenette in the room; modern room; very much enjoyed the free happy hour from 5pm - 7pm each night (drinks and food - perfect time for a snack!); great location to Times Square and places to get food Could be Better: the elevators are pretty slow; you can hear through all the walls (we could hear people having regular volume conversations in their rooms while we were in the hall, and hear people in the hall while we were in our room); the bathroom door in our room looked like it had never been wiped down; we paid for a room with a view, but were on the 18th floor and were told that we were "just high enough to have a view" - we might as well have gotten a room without a view and paid less. We don't feel there were any cons that would prevent us form staying again. Overall, we would stay here again, but ask to stay on a lower floor so we could take the stairs instead of waiting for an elevator, and pay less for a room without a view.
January 6, 2014
Rated

5.0

out of

5.0
 by
Stacy W
Times Square Sparkler
We stayed at the Staybridge Suites Times Square property two nights during December 2013. We were so impressed by the hotel's cleanliness, comfort, and warm welcome by all staff members. The breakfast and social evening food and drink far exceeded our expectations. The location was ideal and the room rate more than reasonable. The street is slightly seedy but Staybridge and its immediate hotel neighbors may be revitalizing it, one street number at a time. Hotels should offer hospitality by definition, but this property, its management and every staff member we encountered, made us feel like treasured guests. What a credit to the property at such a busy time of year! Hats off to this hotel and its team of hosts for delighting our family of four with a wonderful stay.
January 6, 2014
Rated

5.0

out of

5.0
 by
Suzanne8294
Great bang for the buck!
While this property is not in the "thick of things", it provides an excellent value, extremely clean accommodations, and a gracious and very professional staff. The subway is 1-1/2 blocks up the street, and He**'s Kitchen is just around the corner if you're looking for wonderful dining experiences without the high price. And, the kitchen suite came in handy because we always brought back "doggie" bags for a late night snack. The breakfast in the morning can't be beat, and the socials during the week are a great way to end your day, and meet people from all over the world. Yes, the elevators can be a bit slow, but no more crowded or slower than any I've experienced in a high rise with limited access. However, we were stopping on the 3rd and 2nd floors to pick up people going down for breakfast. Stairs, anyone??? This hotel met all of my expectations, and then some. Thanks for a wonderful Christmas holiday visit!!
January 5, 2014
Rated

5.0

out of

5.0
 by
Angelos
Excellent stay together with staff's kindness
Everything was perfect. We were very impessed and the whole staff was very gentle and willing to provide the high quality of services. I did not though like the noise of the elevators coming to the room, it was quite annoying at specific traffic hours. I would recommend this hotel to other future guests.
January 3, 2014
Rated

5.0

out of

5.0
 by
southshoreboston
Very Clean and Updated Room
Very pleased with my stay here. The room was very clean and the perfect size for myself and teen daughter. Great, fully stocked kitchenette. Walking distance to Time Square. Elevator at peak time took a while. We were on the 7th floor, so we used the elevator to go up and used the stairs to go down. I didn't mind since the rate was good.Breakfast was ok,but a bit crowded. Go early to avoid the crowd.Cozy lounge to unwind when returning at night. Overall, very pleased with this hotel and would come back again.
January 2, 2014
Rated

5.0

out of

5.0
 by
Michou
The room and all
We really appreciate our stay. The room was perfect and the staff too. We return to this hotel for sure.
January 2, 2014
Rated

5.0

out of

5.0
 by
Mamaw08
Great stay
We had a great stay at the Staybridge Suites Timesquare. Everything was wonderful. The only problem was the elevators. The staff were friendly and very helpful. The room was great. We enjoyed the free hot breakfast every morning. The social time in the evening was good. The food in the evening was plenty. Overall the stay was wonderful. I reccomend the hotel very highly.
December 31, 2013
Rated

5.0

out of

5.0
 by
Biamen
Great stay
Booked last minute. Great price, exceptional surroundings, great breakfast, they even found combs for me when I mentioned I forgot my brush. Would absolutely return
December 27, 2013
Rated

5.0

out of

5.0
 by
Janet611
Great place to stay
My husband & I had a wonderful stay ... Would highly recommend to friends & family. Everyone was so accommodating...room was so pristine & up-to -date. Very comfortable, looked like a luxury suite. Full buffet breakfast included....great food & rate! We will definitely be back.
December 27, 2013
Rated

3.0

out of

5.0
 by
KEEDGE
Poor Elevator Service
The wait for the elevators, particularly in the morning, is awful. We waited almost 30 minutes every morning and were to far up to take the stairs. This is not the optimal way to start the day. Past that, everything was pretty average (room, location, etc). Not a lot happening nearby so if you stay here, plan on walking a bit. Red lines (1,2,3,4) are a couple of blocks away. I do give them kudos for not charging for internet access. If you can book relatively cheap, you'll be happy. If you pay Times Square type rates, you won't.
December 26, 2013
Rated

5.0

out of

5.0
 by
jswan
professional staff
Our weekend stay at the Staybridge suites was wonderful!!! We stayed during the Christmas season and the staff and location were just Perfect. Our room was a great size and very clean. After a long day/night of shopping we were greeted by our hotel manager, Miss Bringley, who treated us to a complimentary drink at the cozy lounge. Already planning our return trip for next Christmas...Loved it!!
December 26, 2013
Rated

1.0

out of

5.0
 by
WaitingOn26
Terrible elevators spoilt stay
Despite the nice location and great room design, the elevator situation would prevent us staying at this hotel again. One morning it took us just over 20 minutes to wait for an elevator. We ended up adding 20 minutes of travel time to everything that we did. The actual building is not wide and it looks like there is no other way to add more elevator cars so it is not a problem that is easily solved. I think it will need to reduce its rate drastically to reflect this. For the money that we spent at this hotel, we would have been much better off in another hotel. We were on the 26th floor - so walking up/down the stairs was not an option.
December 26, 2013
Rated

4.0

out of

5.0
 by
Jazzedup
The lifts take ages to arrive
Apart from the lifts everything else is excellent...the staff are excellent and attitude of personnel is key..will stay again but something needs to be done of the lifts plsssssss......
December 25, 2013
Rated

5.0

out of

5.0
 by
Don26
Unbelievable Experience!!! Scott Family
If you decide not to choose Staybridge for your stay in New York City, you will have stayed in the wrong place. Location, Location, Location, and on top of that a Great Staff, Clean Rooms and Free Food and Drinks. Can't say enough good things about Staybridge.
December 22, 2013
Rated

5.0

out of

5.0
 by
Barbara06811
Christmas getaway
We live in Connecticut and stayed for two nights to go to some shows and enjoy the Christmas decorations. This hotel is located a little low in Times Square district, but close enough to walk. Also close to subway lines. Breakfast is comprehensive and evening drinks and food quite a bonus. We would definitely stay here again.
December 22, 2013
Rated

5.0

out of

5.0
 by
Mickey118
Excellent stay
This hotel in centrally located to all they k dry landmarks. .Subway station in less than a block away. Great breakfast in the morning. .Staff is very attentive To the needs of the guest..
December 22, 2013
Rated

3.0

out of

5.0
 by
Rnavarro
Room was great but not too clean too many dust and hair in the bathroom
Hotel have great location but the front desk wasn't too friendly the lady check me in never ask name or said my name was kind rude one guys ask me if I need help with the luggage and he start and left on the first bag, rude is well... The room was a lot dust on the top is the fridge is a lot dust on the top off the beds and the pictures and I found some hair on the shower and floor on the bathroom !!!k
December 20, 2013
Rated

5.0

out of

5.0
 by
JoeVCC
Great place to stay in NYC.
An incredible place to stay in the city. For the past 12 years we have go to NYC to visit for the holidays. We have stayed at many places, St Regis, Sheraton, Hilton and several other major hotels. The Staybridge hotel, by far has been the place to stay in city. I would highly recommend to anyone who is looking for nice, affordable and centrally located hotel to look no farther than this place.
December 20, 2013
Rated

4.0

out of

5.0
 by
auh4ever
location and good for families
We had 2 full bed studio suite and it accomdated us 2 adults w/3 small kids comfortably . Breakfast was ok . Location is within walking distance to TS . Elevators take longer waits sometimes.
December 20, 2013
Rated

4.0

out of

5.0
 by
Shameless
Shameless
Good stay. Lifts very busy. Room clean and spacious
December 19, 2013
Rated

4.0

out of

5.0
 by
marylikestotravel
great place for short and long stays
This is a great location a block off times square. Having the kitchenette with plates, silverware, pots/pans and even wine glasses in the room was awesome since we purchased goods to eat and warm up. We had a room on the 22nd floor and could see times square below. The staff was very helpful when we were 30min late for our late checkout due to traffic. Breakfast was amazing and glad they had egg white omlets! Healthy choices! Only setbacks were the elevators taking up to 10min of wait time and the shower is tiny. However the rooms were very spacious in comparison for the average hotel room or suite you'd find in the city.
December 19, 2013