Skip Navigation
English
|
|
|
|

Sign In

Book online or call: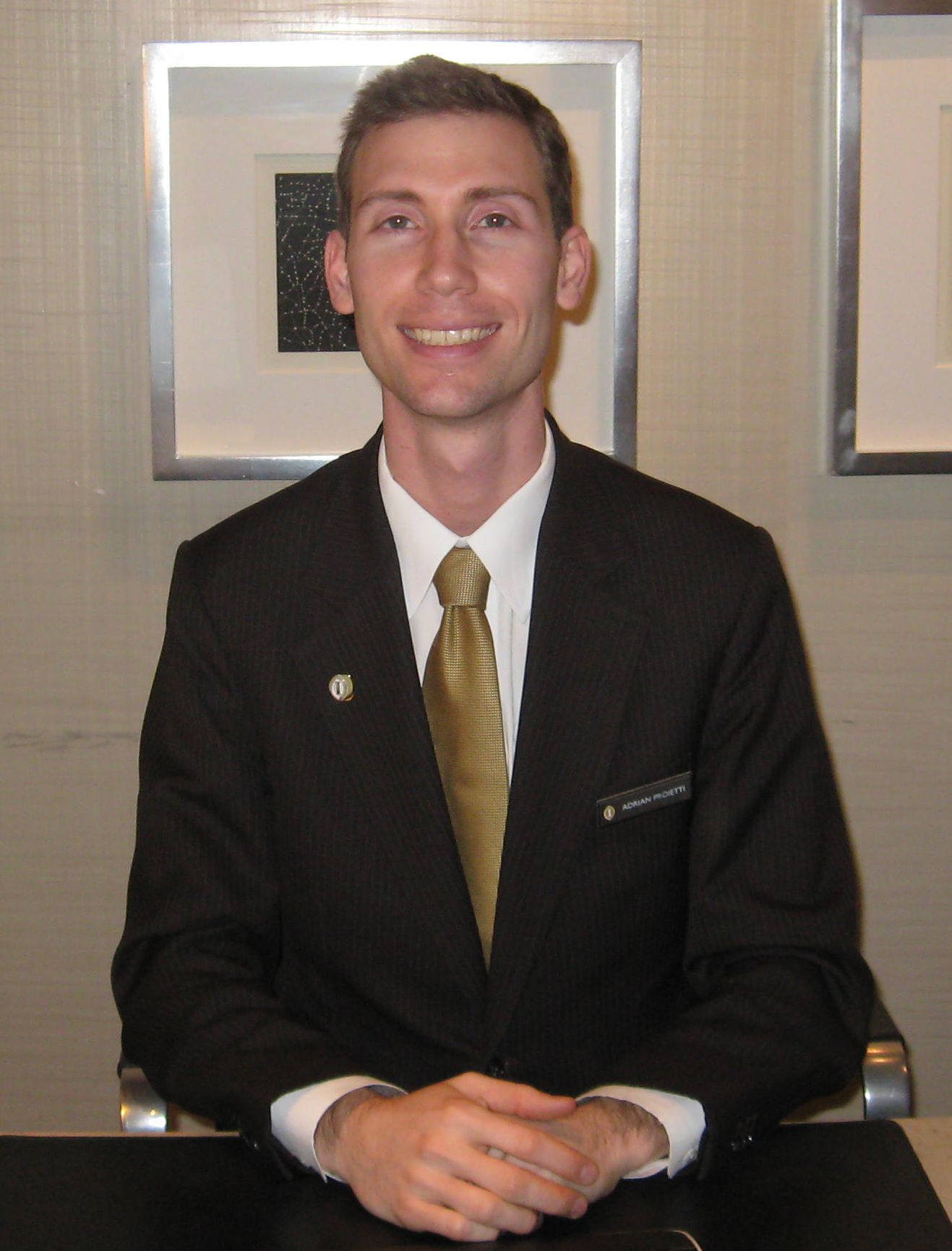 CHIC NEW YORK LUXURY HOTEL ON TIMES SQUARE
Right on Times Square, this New York luxury hotel is perfectly placed in the epicentre of Manhattan's theatre, dining, fashion and business districts. Just blocks from Broadway, savour a pre-theatre menu at Ça Va Brassiere or wander to nearby Restaurant Row for a myriad of dining options. Towering 36 storeys, this New York luxury hotel affords impressive views of the Hudson River and city skyline. The Lounge is perfect for after dinner cocktails and views of 44th Street.
HOTEL HIGHLIGHTS
Restaurant & Lounges

International cuisine is featured in our premiere restaurant led by renowned Chef, Todd English. The adjoining lounge serves cocktails and light sn...

Amenities & Services

A state-of-the-art fitness centre offers 24-hour access to a full range of fitness equipment and free weights for the perfect workout any time of day.

SPECIAL PACKAGES

There's always something special happening at an InterContinental hotel. Whether you are looking for a fun-filled getaway or a place to host your n...
New York Times Square
300 West 44th Street
New York , NY , 10036
United States
Front Desk +1-212-8034500
Languages spoken by staff
English, Spanish, French
Pet Policy
Dogs and Cats allowed for a fee of 250USD non refundable fee
Pet Fee $250.00 per night
CHECK-IN

3:00 PM

CHECK-OUT

12:00 PM

Late Check out Available
Accessibility
Service animals allowed
31 Room(s) with Accessibility Standards
Guest Reviews
Rated

4.2

out of

5

 by

359

reviewers.
Rated

1.0

out of

5.0
 by
rcl123
This property is in need of complete renovation!
The smell in the room was extremely strong of smoke and foul odors!
October 22, 2013
Rated

5.0

out of

5.0
 by
kyour
overall great experience
very convenience location to go to ny, awesome staff and very great customer service, night guy been help ful, comfortable bedding, has a good sleep, and great b'fast,
October 21, 2013
Rated

5.0

out of

5.0
 by
Venda
EXCELLENT ALL ROUND!!
Originally booked for 3 nights and because of our welcome, excellent service and VERY comfy beds we ended up staying for 2 and a half weeks. We had a bad experience coming from JFK to New Jersey, so we were wondering if this was what it was going to be like all the time as we had never been to NYC before. that thought went out of our heads as we were greeted with warm smiles (by Sam, who is a gem!) and friendly service, they could not help us enough. Breakfast in the dining room was great, food was excellent and staff always smiling and helpful. Honestly we had been traveling for many weeks and had stayed at so many hotels, this Hotel (& staff) beat them all!! Highly recommended.Its not the Ritz, but hey, why would you stay there when you have such great service here? I know its a bit far out of NYC itself but never fear they have a $7.00 round trip shuttle bus hourly to and from Times square every day!! First bus in is 8:00am and last bus out the city is at 10:00pm. There are few very good shopping malls very close also. My husband and I had the best time there and I am sure you will too.
October 20, 2013
Rated

4.0

out of

5.0
 by
2cramped2move
Cramped Room, but overall good hotel
This hotel is nicely maintained, the beds and amenities are in good condition and are as advertised. The breakfast is very nice, and the shuttle service into Manhattan is a great service which we greatly appreciated having. Our ONLY complaint was our room. We reserved a typical 2 Queen Bed room. However, our particular room (#429) is situated around a stairwell, and so the inside of the room is smaller than a normal 2 Queen Bed room. We arrived at this hotel after our first full day in Manhattan and were frankly too exhausted to even ask to change rooms. And the next nights our exhaustion level only increased, so we never did ask for a move. However, the hotel staff should know and understand the layout of the rooms in their hotel, and they should NEVER put a family of four staying in their hotel for three nights in a room as cramped as that. There was no room at all to walk on the side of the bed by the window, and the entrance to the bathroom (which did not have a bathtub but only a shower stall) was on the wall next to the other bed. And the walkway to get to that bathroom door was maybe a foot wide. The chair that should have been in the corner by the far bed was situated at the end of the walkway into the room and the ottoman was actually next to the chair IN the walkway. And this walkway was very long and narrow, no wider than the width of the door to the room. Needless to say, we were extremely disappointed to be put into this extremely cramped room ... four people with barely enough room to set our suitcases anywhere. Like I said, our exhaustion caused us to endure it, but it was very disappointing to be a 3-night paying customer and get this kind of a room for four people. They should have given this room to a party of one or two people. In fact, this room should just be a king bed room. That would work MUCH better. So if you're a large party, don't let them give you a room ending in "29". When I told the desk attendant about this when checking out, she tried to comment that I should have reserved a deluxe room. That to me made it plainly clear that the hotelo staff does not know the layout of this room and how it is subpar for the room type for which it is designated.
October 20, 2013
Rated

5.0

out of

5.0
 by
marie00
Friendly staff-good shuttle bus
We stayed here with our family and found it a good value. The staff were helpful and friendly, the rooms were spacious and clean, and the breakfast was good and had many choices. The shuttle bus service into New York City worked very good for us, we used it over a number of days.
October 19, 2013
Rated

5.0

out of

5.0
 by
iBecca
Great Location, Comfortable Bed, Great Service.
I recently stayed at the Holiday Inn Express North Bergen and I was extremely impressed by how nice the hotel was. The staff at the front desk were extremely helpful (especially if you get confused with the shuttle service like we did). They went above and beyond to make sure your stay was as easy going as possible. Secondly, the room was great! Very clean and spacious. We stayed on the 5th floor in room 524. It was close to the elevators which was good so we didn't have to walk too far and the ceilings were very high which was lovely. The walls were a little thin. we could hear the people next door sometimes but that's normal for any hotel. The beds were super comfortable and the bathroom was very clean and large too. The only thing that was confusing was the private shuttle services to NYC. There is a shuttle for $12 round trip and one for $7 round trip. We took the $12 shuttle because it returns a little bit later. However, we found that it was always very late on the return. They want you to get to where the shuttle picks you up 30 minutes early and sometimes they didn't leave until 30 minutes after it was supposed to. We found the $7 shuttle to be much better, and if anything it left early not late! All in all, I definitely recommend this hotel. It's a great value for the price and it's in a perfect location. Only takes 10-20 minutes (depending on traffic) to get to NYC from the hotel.
October 18, 2013
Rated

2.0

out of

5.0
 by
Holdyourbreath
room was stinky!
room smelled ....musty smell .... dirty ashtray ceiling had major water damage as did the walls
October 17, 2013
Rated

5.0

out of

5.0
 by
Vijayesh
Best alternative to expensive stay in NYC
Shuttle service to NYC is amazing. It is much cheaper and on time compared to some of the other shuttle services in north bergen area hotels.
October 16, 2013
Rated

5.0

out of

5.0
 by
Patty7
Great service....enjoyable stay
I recently had a business trip and stayed the night at your hotel. The front desk emplyees were so nice and very helpful. The room was very nice, the beds were very comfortable and the breakfast was wonderful. I would definitely return the next time I am in town for my business seminar. I would also highly recommend the hotel to my friends. Thank you!!!
October 16, 2013
Rated

5.0

out of

5.0
 by
TribecaPJoe
Great Value
Staff was helpful, Kind and Polite. They recommended a Wonderful delivery restaurant that I used twice. Ladies at breakfast work very hard and took super care of all my needs. Can't beat this property for the money. I Highly Recommend!!!.
October 15, 2013
Rated

5.0

out of

5.0
 by
akretam
Perfect to link quiet accomodation with N.Y. experience
Very polite and competent staff. Although situated directly at the busy street towards Lincoln Tunnel, rather quiet inside. Permanent offer of coffee and juice adorable.Variety of breakfast offer simply gorgeous, fresh fruits, tasty bakery items, eggs, etc. - just what you need to start the day. Shuttle service reliable - if traffic permits it, you are in N.Y. midtown in about 20 minutes, just perfect. In comparison to the other hotels we used during our round trip, Holiday Inn Express North Bergen does not have to fear competition! Thanks again to the staff!!!
October 13, 2013
Rated

5.0

out of

5.0
 by
DJ22
Great Location for visit to NYC!
This is a great location for your NYC visit. (had trouble finding the hotel late at night from highway due to construction and detours) Take the shuttle from the hotel to NYC daily only $7 per person and takes you to Times Square. The shuttle also picks up at Times Square to shuttle back. Latest shuttle is 10PM. We used the New Jersey Transit Shuttle on our last day as the shuttle times did not meet our traveling needs. This is available every 15 minutes from the Super 8 Motel but makes numerous stops along the way and is a bit of a hike from the stop on the way back. Great breakfast choices each morning to start the day. Comfortable beds and clean rooms. Very friendly staff. Will stay again for my next NYC trip!
October 11, 2013
Rated

5.0

out of

5.0
 by
Vijayesh
Excellent Service
I have been visiting NYC almost every week for the past 8 weeks. Holiday Inn at North Bergen is by far the best option. Rooms are comfortable, very clean and well maintained. This would be my default choice for future visits. Best part is the frequent shuttle service to NYC which is so convenient.
October 10, 2013
Rated

5.0

out of

5.0
 by
tumama
Awesomeeee!
The service was really good! We got there without a reservation, but the guys were able to find something good for me! The breakfast is really good! I really enjoyed the time I spend there! The location is great as well if you want to be in the New York area! Keep it up guys
October 9, 2013
Rated

5.0

out of

5.0
 by
CountryFamilyof4
WIll defintely being going back for a stay
My husband and I stayed there with our adult daughter and her friend since we were going to the city for two days. The staff was very friendly and helpful. The hotel is located right near the Lincoln Tunnel so going to the city and back was a breeze. Rooms were clean and the breakfast was great.
October 9, 2013
Rated

5.0

out of

5.0
 by
happy0111
Nice stay
It's a very good choice for a visit to New York city. Shuttle bus takes 15 min if no traffic (unfortunately most of time there is traffic#. Friendly staff, good choice of breakfast. Big room #and big bathroom, too). The only thing not so good is the internet wifi access- very slow and unstable.
October 8, 2013
Rated

5.0

out of

5.0
 by
JPKTEK
Clean Hotel, Great Value, Great Staff
This hotel scored very high in all the catgories that count, for us. As with most of the other guests we met we were there to visit New York City. For that reason we never really ventured out into the neighbourhood of the hotel. So, I have no comment about that. Room was clean and well made up every day. Every staff member we met was warm, friendly and helpful, beyond the call of duty. The breakfast, while extremely generous and plentiful, became a little monotonous towards the end of our week. It would have been nice to see a better assortment of fresh fruits and a little less " processed " food. But, all in all, it was very good value when you consider the cost of the room including breakfast and late night free coffee and tea service. We will definitely pick this Holiday Inn for our next Big Apple Adventure. One reason why one should take my comments to heart is that my wife and I own and operate a B & B in the Niagara Area of Ontario. I know a few things about hospitality. These people do a great job. And we appreciate that. Peter & Teresa, St. Catharines , Ontario. Canada
October 5, 2013
Rated

2.0

out of

5.0
 by
Alain148
A bit desapointed
When I made the reservation, I did ask for a quiet area far from elevators and ice/vending machines. Guess what, my room was located in between the elevators and the ice machine. Nice and well located hotel but in a very noisy area. I booked two nights but left after the first because of that. Staff never asked me why I left after first night. Overall room comfort,staff and breakfast meets the Holiday Inn standards.
October 2, 2013
Rated

3.0

out of

5.0
 by
J414
Comfortable bed,but stale odor in room
Room was clean and beds comfortable, but there was a stale odor in room. Late September but needed air conditioning and it was not sufficient.
October 2, 2013
Rated

5.0

out of

5.0
 by
MTLRResources
Great beds and breakfast variety.
Great Staff and management. Enjoyed the Tuesday night refreshments.
September 29, 2013
Rated

1.0

out of

5.0
 by
Stolsss
Don't be fooled by new exterior
The pictures of the outside make this look like a brand new hotel - it's not. The hotel is old and worn. There is a bad smell the minute you walk into the lobby and the smell is throughout the entire hotel, including the rooms. My room smelled like perfume trying to cover up the bad smell. Overall, the hotel, even with the smell was clean. They try but it's old and worn. There are holes in the wallpaper in the halls, stains on the carpeting, etc. The front desk was not helpful or friendly I selected this location because of its' location #right next to the tunnel# but I will never stay there again.
September 12, 2013
Rated

4.0

out of

5.0
 by
TWBoy52
Comfortable bed and Great service
the room was very comfortable and the staff was very friendly. the only problem was getting to the hotel and leaving the hotel as we drove in from out of state and only stayed 1 night. I would recommend this hotel for business purposes, but not so much for leisure.
September 7, 2013
Rated

4.0

out of

5.0
 by
MeMe2013
Overnight Trip
I was worried about what we would see when we arrived. I had researched multiple hotels in the area and for the location and cot we chose this Holiday Inn. We enjoyed our stay. We got a good rate for a holiday weekend. We checked in with little problem. The only issue was our room was on the 5th floor and the A/C in that room wasn't working well but they switched it before we had brought all of our stuff in. We ended up with a more convenient room on the 2nd floor that had great access to the back lot. We stayed one in the hotel but spent most of the evening in NYC. This hotel is conveniently located near the Lincoln Tunnel, in fact, my hubby was surprised by how quickly we zipped in and out of the city. The hotel is located in a so-so neighborhood, but the hotel itself does not reflect the same rundown nature of the area. The lobby was nice, clean, smelled clean. The room was clean ( I am very picky about room cleanliness) and most importantly the bathroom was clean. The only issue was the shower curtain rod seemed to be bent and it keep sliding and there was a spot behind the sink next to the tub that needed to be painted and recovered. Overall it was good stay and we would use this property again.
September 5, 2013
Rated

4.0

out of

5.0
 by
Miami1
Comfortable bed
Good hotel, but no the Staff in the counter. Clean, good location, good price.
September 3, 2013
Rated

4.0

out of

5.0
 by
mcaraballo22
Guest Experience
Good Value / Price balance, Very good breakfast service... I would recommend improve shuttle transportation to Manhattan.
September 1, 2013
Rated

1.0

out of

5.0
 by
Kodang
Horrible place to stay (not going back again)
Bad smell. (Even cigarette smell) Bad service. (Even lying) Breakfast was OK. Transportation to NY was OK. Everything else was pretty bad.
August 31, 2013
Rated

1.0

out of

5.0
 by
mrh2013
Worst Hotel Stay Ever, Dirty and Horrible Customer Service
Worst hotel experience ever! We booked using a third party and not directly with the hotel. We requested two queens as we were travelling as a family. Prior to travelling I always call the hotel to ensure the reservation is there. I called the Sunday before arriving and was told I had a king and couldn't switch. I was told I could speak to the manager. After three attempts to speak to her the end result was we needed to pay $40 per night extra to go from a king to two queens. In our extensive travels, we have never had to pay to switch bed types. When we arrived in NYC we were going to check in late so I contacted the hotel to let them know, as soon as I said my name, I was hung up on. This happened 6 times before I realized it was not a phone issue but I was actually getting hung up on. In reading other reviews the same thing happened to another traveller. Check in was fine, we got to our room, it was filthy. Beds made, trash emptied, that's about it. There were tears in the sheets and cigarette burns on the green blanket. The furniture must get dusted bi-monthly as I could write in the dust and our feet were black from walking around barefoot. After my initial contact with the manager I decided it best not to discuss the filth in our rooms and make the best of our vacation. The following day while waiting for a shuttle we witnessed another family checking in and they were told they needed to pay $50 to switch from a king to two queens, they too had used a third party booking and had requested two beds. They received the same rudeness from the manager that I did on the phone. The next day, my husband and I spoke to Hina Vakharia, the manager to discuss where the sum of $40 came from. She quoted me two prices, neither of which came to the sum of $40. I told her that she could not randomly assign extra charges and that I had been present when she did the same thing yesterday to another patron. She told me flat out that that never happened. I told her that we were right there and spoke to the family after it happened, she insisted I fabricated that. As I she raised her voice and was becoming very defensive, my husband tried to lighten the mood and said "I wanted two beds so I don't need to sleep in the same bed with my wife, she snores" .Her response to this was "With your choice of wife I can see why you would want two beds." Unlike my husband, she was not kidding. I asked her who owned the hotel and she refused to tell me. She then flat out refused to speak to me. When we went to check out, Hina was not there and the young man told me that there were no charges, I asked if he was sure and he said they were not on there. I asked for an account balance showing this but because there were no charges he said that there was no bill. We returned this week to find our visa with the $120 charge. This really isn't about the money, but about the horrific customer service and appalling filth in this hotel. I usually do not write reviews of this nature, but thanks to Hina, who has a letter left on each bed stating "We encourage you to rate a "10" on any Hotel service which you may receive in the future., I remembered to write this. However, I will not be giving the ten that was requested, just a big fat ZERO!
August 28, 2013
Rated

5.0

out of

5.0
 by
Faren
Enjoy staying
It's a great place to stay. We love the hotel amenities. Located conveniently near the tunnel to Manhattan.
August 28, 2013
Rated

4.0

out of

5.0
 by
East2013
Great value for the money
Our family recently stayed for 5 nights at the Holiday Inn Express in North Bergen, New Jersey. We were very impressed with the breakfast, the prompt service when dealing with minor issues, and the friendly staff. The hotel has nice touches, such as the coffee/tea, lemonade and fruit in the lobby. Very refreshing after a long day touring New York City! The staff answered all of our inquiries with a smile, and the service staff were great as well. For the money that you spend, the value in being so close to New York City with either the shuttle or the city buses was convenient. We will definitely stay there again if we are so lucky to return to the area.
August 27, 2013
Rated

3.0

out of

5.0
 by
Business123
Isolated without a car
This Hotel is a great clean comfortable hotel with an ideal outdoor pool to relax and let the kids play. Concerns with this hotel was the location. This is set in a very industrial area with no bus stop, non walking with kids to anything. We stayed one night then switched to another hotel down the street which was cheaper and with in walking distance to all majors shopping spots and restaurants. If you have a vehicle I suppose this location would be ok.
August 27, 2013