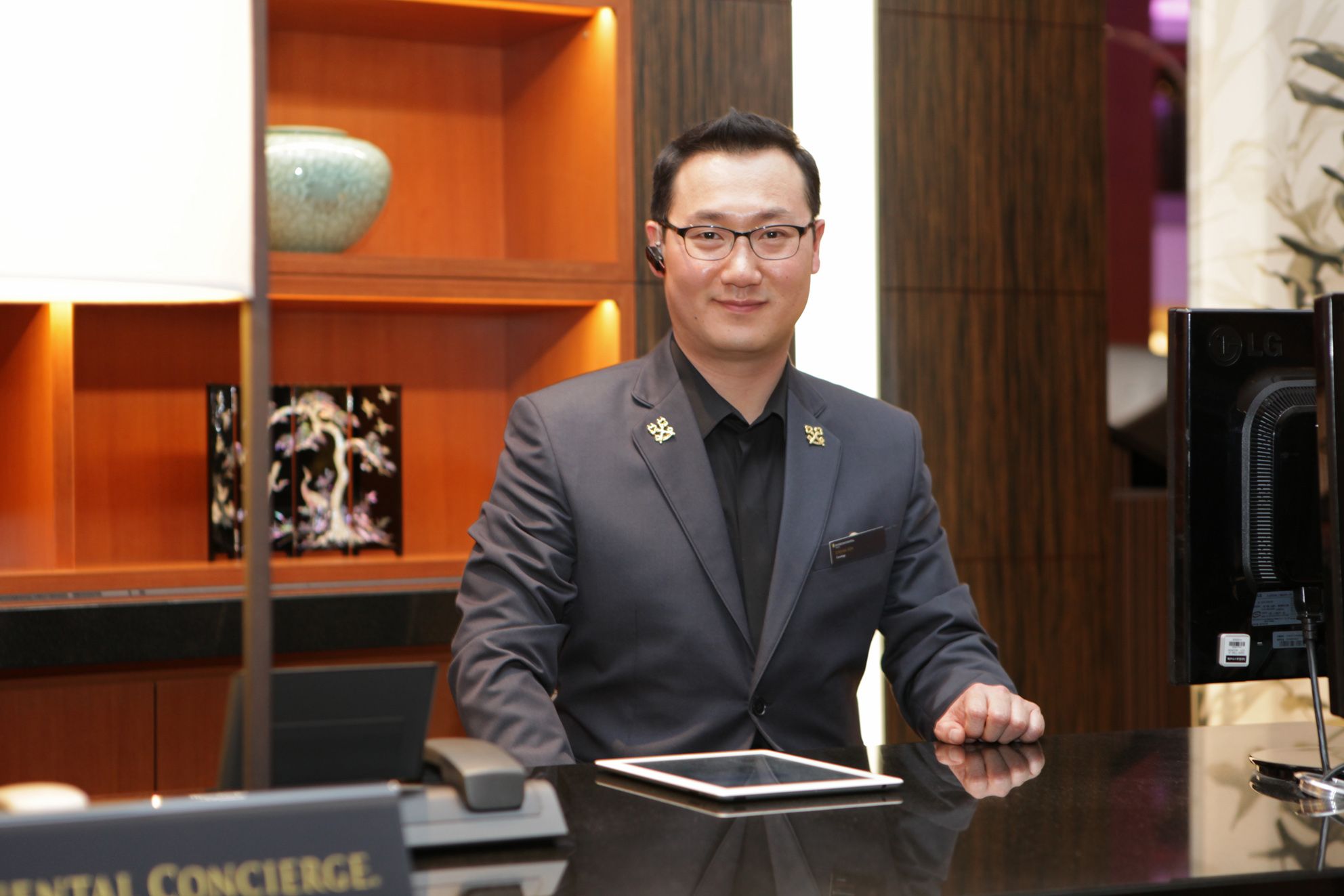 Stefan Kim
Concierge Manager 82234308525
Welcome To Seoul
Welcome to the vibrant city, Seoul & Welcome to InterContinental Seoul COEX! Our employees endearvor to share their experience with our guests who want to know better Seoul and Korea culture. With all our staff, I look forward to welcoming you in Seoul! Thank you.
InterContinental Seoul COEX is part of the massive World Trade Center Seoul, the country's one-stop business destination. You'll walk to COEX, City Airport, Logis & Travel and the COEX Mall's underground 16-screen theatre and more than 200 shops. Well worth a short drive are the Namdaemun Market, the Namsan Hanok Village and the Korean War Battlefields.
MORNING

Starting a day with watching a beautiful sunrise from the Han River in your room. Just in front of our hotel, there is a temple, named 'Bong Eun Sa', which is secondary one in its size and age in Seoul. Walk inside of this temple and feel the chaste and pure atmosphere of its unique oriental emotion. After taking a walk, stop by one of the famous fancy Korean soup restaurant, BonJuk. They have various kind of Korean traditional soup made by fresh seafood and vegetables as well. We strongly recommend you trying some 'ear shell soup'. Taste is really wonderful and it is also very good for your health and it can be offered special opportunity to have unforgettable memories to you in Seoul.

AFTERNOON

Visit Insa-dong area. Insa-dong is the street which is lined with hundreds of art galleries & antique shops. They sell all sorts of Korean antiques and traditional souvenirs, and the area looks like a big art museum. You can rest at a traditional Korean tea house, named Yetchatchip. And eat traditional Korean luncheon at the restaurant, Sancheon, which is famous for Korean traditional temple food. We are sure that you could have a memorable moment in Insadong. The Changdeok palace, the place has the beauty of perfect harmony which expresses that human being assimilates nature while nature assimilates human being, so the palace just reflexts our nature-friendly characteristic that shows man is not a being which dominates nature but harmonizes with nature. Also it is the most preserved original shape among existing palaces of Joseon Dynasty. On those scores, Changdeokgung was designated as UNESCO's World Cultural Heritage in Februrry 1997.

EVENING

To finish the wonderful day in Seoul, we recommend you visiting the N Seoul tower, a landmark of the metropolitan city of Seoul is to be introduced with its new name and look to provide more fun and excitement. Many citizens and foreign tourists have visited the Tower and were taken by the scenic view of the city while also enjoying the nature of Namsan mountain. Seoul Tower is located on the peak of Namsan in Seoul, a city of 10 million people around downtown. You will have an unforgettable experience at N Seoul Tower, the best place to view the city, with its convenient facilities and beautiful surroundings.After that you can go to the Cheonggyecheon Stream. This 5.84km-long stream runs through downtown Seoul. Originally a natural stream, it was filled and covered with asphalt in 1958 to make a road, but following major restoration works that began in July of 2003 and lasting for two years and three months, it has now become a refreshing stream that helps keep downtown Seoul cool. Visitors can walk along the stream and enjoy the numerous nearby attraction, or simply admire th tricking stream from any of the 22 bridges that cross Cheonggyecheon.
LOCAL CULTURE

Tipping

Tipping is not a traditional Korean custom; however, a 10 percent service charge is added to bills at all tourist hotels and tipping is not expected. It's never necessary to tip a taxi driver unless he assists you with your luggage or takes you to or from the airport.




Dress

From mid-March through late May and mid-September through mid-November, you can wear long-sleeved shirts and slacks with a light jacket. During summer, June through August, short-sleeved shirts and shorts are acceptable, but on formal occasions, long trousers and a tie are recommended. In late November through early March, you must be prepared for the cold. A scarf and gloves are recommended for January and February, and remember that it snows heavily at higher elevations in Korea.




Korean Manners

Greeting and saying "Thank you" are very important to Koreans. Words of greeting and thanks are usually said with a bow of the head. The depth of the bow depends on the relative seniority between the two speakers. Koreans do not appreciate an overly outgoing style and they generally limit direct physical contact to a courteous handshake. However, as one gets to know Koreans better, a greater familiarity becomes possible. In fact, foreigners are often quite surprised to see women walking hand in hand. Physical contact among friends while talking to them is perfectly acceptable in Korea. Public displays of affection between the sexes such as kissing and hugging are not as uncommon as in the past but are generally regarded as unseemly. There are many clean public restrooms throughout Korea. It is also acceptable to use restrooms in office buildings, hotels, shops, and restaurants. Koreans traditionally sit, eat, and sleep on the floor, so shoes are always removed when entering a Korean home. Bare feet are considered to be impolite, so it is best to wear socks or stockings when visiting a home. Young Koreans are accustomed to 'going Dutch' but it is more common to be either a host or a guest. It was traditionally regarded as impolite to talk during a meal, but nowadays Koreans are encouraged to talk and laugh while eating. Real appreciation of the food and service is gratefully received. It is impolite to blow your nose at the table




Taxis

Taxi stands are ubiquitous around the cities, and taxis may also be hailed almost anywhere on the streets except at a bus stop or a dangerous place to stop.




Public Transportation

Intercity Buses Korea has an extensive intercity bus system connecting almost every city and town. These buses do not provide special facilities for foreign travelers, there is no English timetable, and the seats are more cramped than express buses, but for adventurous visitors they are an interesting way to get closer to the spirit and lifestyle of the Korean people. Intercity bus terminals are usually located within express bus terminals in major cities and near the downtown area in small cities. City Buses The bus system differs slightly from city to city in Korea. There are two types, regular local and seated coach buses, and both are numbered according to routes. The bus system is so extensive that buses go virtually everywhere in every city. Since bus signs are written only in Hangeul (the Korean alphabet), finding the right bus can be confusing for first-time visitors. Hotel staff can assist in choosing the correct bus and bus stoop for your destination. Fares can be paid as you board with cash (coins or |\1,000 notes) or a transportation card. To stop the bus at your destination, push one of the stop buttons located along the interior of the bus as you approach your stop. It may be better to let the driver know your destination. Ask someone to write it down for you to hand it as you board. City express coaches, called jwaseok buses, stop less frequently and travel more rapidly through congested areas. The fare for the city express coach is about \1,300. Subways There are excellent subway train systems in Seoul, Incheon, Gyeonggi-do Province, Busan, Daegu and Gwangju and Daejeon. The subway is the most efficient and convenient way for travelers to get around the city. Station names, ticket windows and transfer signs are all clearly marked in English.




DID YOU KNOW ?

The division of Korea into South and North

The Korean Demilitarized Zone that separates the two Koreas remains heavily guarded.The North Korean population is far more culturally distinct and isolated than the East German population was in the late 1980s. Unlike in East Germany, North Koreans generally cannot receive foreign broadcasting or read foreign publications. In addition, the time period in which the two countries have been divided is longer; Germany was divided for 44 years, whereas the Koreas have been divided for over 60, and have been technically at war for most of that period.




Jeju Island

Jeju Island, also known as the "Island of the Gods," is a popular vacation spot for Koreans and many foreign tourists. It remains one of the top honeymoon destinations for Korean newlyweds. The island's mixture of volcanic rock, frequent rains, and temperate climate, make it very similar to the Hawaiian Islands in the U.S. The island offers visitors a wide range of activities: hiking on Halla-san (South Korea's highest peak), catching sunrises and sunsets over the ocean, viewing majestic waterfalls, riding horses, or just lying around on the sandy beaches.




Prepaid Sim Card

If you want to use your mobile phone in Korea, you can buy the prepaid sim Card in the Airport. You can also purchase a prepaid sim card at the Hotel Concierge as well. You can select the local call and date. You can use for international calling as well. If you need any assistance, please contact the Concierge after you checking in the hotel.




WHAT TO PACK

Clothes

In Korea, there are four different seasons. Travelers need to check the season and weather in advance to bring their outwear properly.




First Aid

It is recommended to bring some medicine depending on your own health conditions, so you may save some money and time in case of emergency situation.




Guide Book

It will help quick understanding of Seoul , Korea and Local culture.



InterContinental Seoul Coex
524 Bongeunsa-Ro

Seoul

,

135-975

Korea, Republic Of

Front Desk

+82-2-34522500
Languages spoken by staff
English, Japanese, Korean, Chinese
Pet Policy
Guests are not allowed to bring pets with the exception of guide dogs into the hotel according to local health and hygiene regulations. Please contact the Concierge Desk for alternative arrangements.