Skip Navigation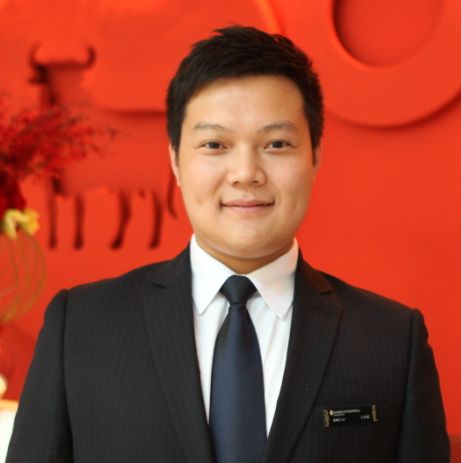 Eric Li
Assistant Chief Concierge 86755339933888128
Welcome To Shenzhen
It is a pleasure to welcome you to InterContinental Shenzhen. Our Concierge team are delighted to have you with us and we are rewarded each time you enjoy an authentic experience to share with family and friends back home.
Our concierge is a window of Shenzhen, We are not only providing information but real local experience is our major business. No matter for leisure or come for business that we are always makes your trip feel comfort and a beautiful memories.
MORNING

Most of Shenzhen's residents come from different parts of China and form a melting pot of Chinese traditions and cultures. Views on food are passionately expressed and for locals, Cantonese cuisine is often top of their list because of our proximity to Hong Kong. El Chino Chinese restaurant in hotel serves the most exquisite dim sum breakfast and creative Chaozhou style cuisine. It's a perfect place to begin your day with a selection of delicious.

AFTERNOON

If you are in need of retail therapy, we have the perfect prescription! After all, Shenzhen is China's largest manufacturing area. I recommend you spend the afternoon at Jia Hua Market, located behind the MOI Shopping Mall at the north of Huaqiang Road. You can find shoes, household items and clothing from well-known brands that were meant for export, but are on sale at cheap, local prices. Make sure you bargain, and start by trying to get 50 percent off the price.

EVENING

Located a mere 10-minute walk from the hotel is Window of the World, where the world's manmade wonders are miniaturised in amazing detail. Enjoy the Eiffel Tower, the Pyramids of Giza and Venice among others. We recommend the Grand Show from 7.30pm to 8.45pm. Every weekend and on public holidays, the show is rounded off with a 10-minute firework display. Then take a taxi to Shekou Sea World where you can have your pick of many different restaurants and bars.
LOCAL CULTURE

DINING WITH A LOCAL

When you play host, it is always gracious to pay for a meal. However, your local guest may request to pay as a matter of courtesy.




FESTIVAL OF LANTERNS

During the Lunar Year (the traditional Chinese calendar), the 15th day of Jan is the first night to see a full moon. So the day is also called Yuan Xiao Festival in China. Chinese people will celebrate this traditional festival by lighting the streets and specially the parks with traditional Chinese red lanterns. People will attach riddles to the lanterns, and the community will walk around the park and try to guess the riddles. If someone finds the correct answer, he or she will receive a gift; Chinese people believe that answering a riddle will bring you good luck. Unofficially Chinese people believe this day is lover's day as well, so they celebrate it by sending the couple flowers and love messages, also many Chinese young people will get married on this special day.




ORIGIN OF MID-AUTUMN FESTIVAL

The Mongolian ruled China during the Yuan dynasty (1206-1368), unfortunately this dynasty was very tough for the Chinese people. The people wanted to dethrone the leaders but it was very hard to plan such an action because the Chinese territory was so big and it had to be secret. Zhu Yuanzhang and his advisor Liu Bowen came up with an idea to distribute moon cakes all around the territory with a secret message inside planning a revolt. This revolt was organized to unite the people and fight the Mongolian on the night of Aug the 15th, if everybody fought together they might had a better chance to win the war. The plan was so successful, that the army of Zhu yuanzhang lead by the general Xu da, headed towards the Capital of the Yuan dynasty and finally dethroned the Mongolian leaders. The leader of the revolt, Zhu yuanzhang, became the new emperor of the Ming dynasty (1368-1644).




DID YOU KNOW ?

Origin of the festival of Lanterns - Yuan Xiao Fes

The legend says, a long time ago during the Han Wu Di Dynasty (160 BC), there was a maid of honor called Yuan Xiao (Lantern), who could not go home for the New Year because she had to serve the emperor. She felt very miserable because she could not see her old parents, so she wanted to end her life by jumping into a water hole. But a wise man (called Dong Fang Shuo) stopped her and told her he will talk to the emperor and try to convince him to let her go home for the festival. The wise man made up a story saying that the god of fire received an order from the Jade emperor (God of Gods), to come to earth on Jan 16th and destroy Chang An city (Capital of the Han Wu Di Dynasty). The emperor Han Wu Di asked the wise man for advice, he told the emperor the god of fire likes to eat the glutinous rice ball, so he should eat it as well, also they should hang red lanterns in the houses, trees, streets, everywhere, and light fireworks and firecrackers during Jan 15th evening (the day before the god of fire will come), so that when the Jade emperor looks down to earth he can see red color and fire everywhere and think the capital of the Han Dynasty is being destroyed . The idea was to fool the emperor so he will go outside to seek shelter during the night, and Yuan Xiao (the maid of honor) could go home to reunite with her old parents for this special day.




Special Economic Zone

The late Chinese Premier, Chairman Deng Xiaoping, awarded Shenzhen the country's first Special Economic Zone status because of our strategic proximity to Hong Kong. This presented businesses with the opportunity to trade with foreign companies. Chinese migrants from all over the land flocked to prosper here.




The Myth of Mid-Autumn Festival

The story says, a long time ago, ten suns appeared on earth and they were killing all the living creatures. A man named Hou yi, who was the best archer on earth, shot down nine suns and saved the earth. The Queen of the Jade emperor (God of the gods) gave him a pill that granted eternal life as a reward to shooting down the suns. Hou yi was deeply in love with a beautiful woman called Chang'e, because he received just one pill and couldn't share it with his wife Chang'e, he told her to hide the pill in a safe place in the house. But one day a bad man called Peng Meng went to the house to steal the pill while Hou yi was out hunting, Chang'e didn't want Peng Meng to steal the pill, so she ate it. When she ate the pill, her body started to fly to the sky, but she wants to stay close to her husband, so she landed on the moon. In the moon lives a Jade Rabbit that makes medicine, so Chang'e asked the rabbit to help her make a special pill that will let her go back to earth.




WHAT TO PACK

Clothing

Light cotton or linen clothing is recommended during summer from March to September when temperatures can get as high as 38 degrees Celsius, especially during the months of June and July.




Currency

The Chinese currency is the CNY (Chinese Yuan), known locally as RMB (Renminbi). Most restaurants accept major credit cards such as American Express, Visa and Mastercard. However, smaller local restaurants will only accept cash.




Power adapter

Electric outlets in China are 220W, our hotel can provide you with an adapter, if you need one, please contact Instant Service Center.




Taxi issue

During certain hours (06:30-07:30, 18:30-19:30) sometimes it's difficult to catch a taxi due to all of the taxi drivers needing to change their shift between these hours. The Concierge team will do our best to find an alternative for you, it could be the subway or hotel limousine.




Visas

Visitor visas are required for foreign passport holders except Singapore, Brunei and Japan passport holders. Group visas can be arranged from authorized travel agencies in Hong Kong free of charge if the visitors are travelling in groups. Alternatively, visa-on-arrival can be obtained from Huanggang checkpoint and Louhu checkpoint for HKD 150 (Rises significantly if you hold a passport from a non reciprocal's country, for more details, please ask our Concierge). US and Pakistani passport holders cannot obtain their visa at the border. The visa is valid for Shenzhen Special Economic Zone only. No photo is required for the visa-on-arrival.



InterContinental Shenzhen
9009 Shennan Road,

Shenzhen

,

518053

China, People's Republic Of

Front Desk

+86-755-33993388
Languages spoken by staff
German, English, Spanish, French, Japanese, Korean, Chinese
Pet Policy
Pets are not allowed in our hotel.