Skip Navigation
English
|
|
|
|

Sign In

Book online or call: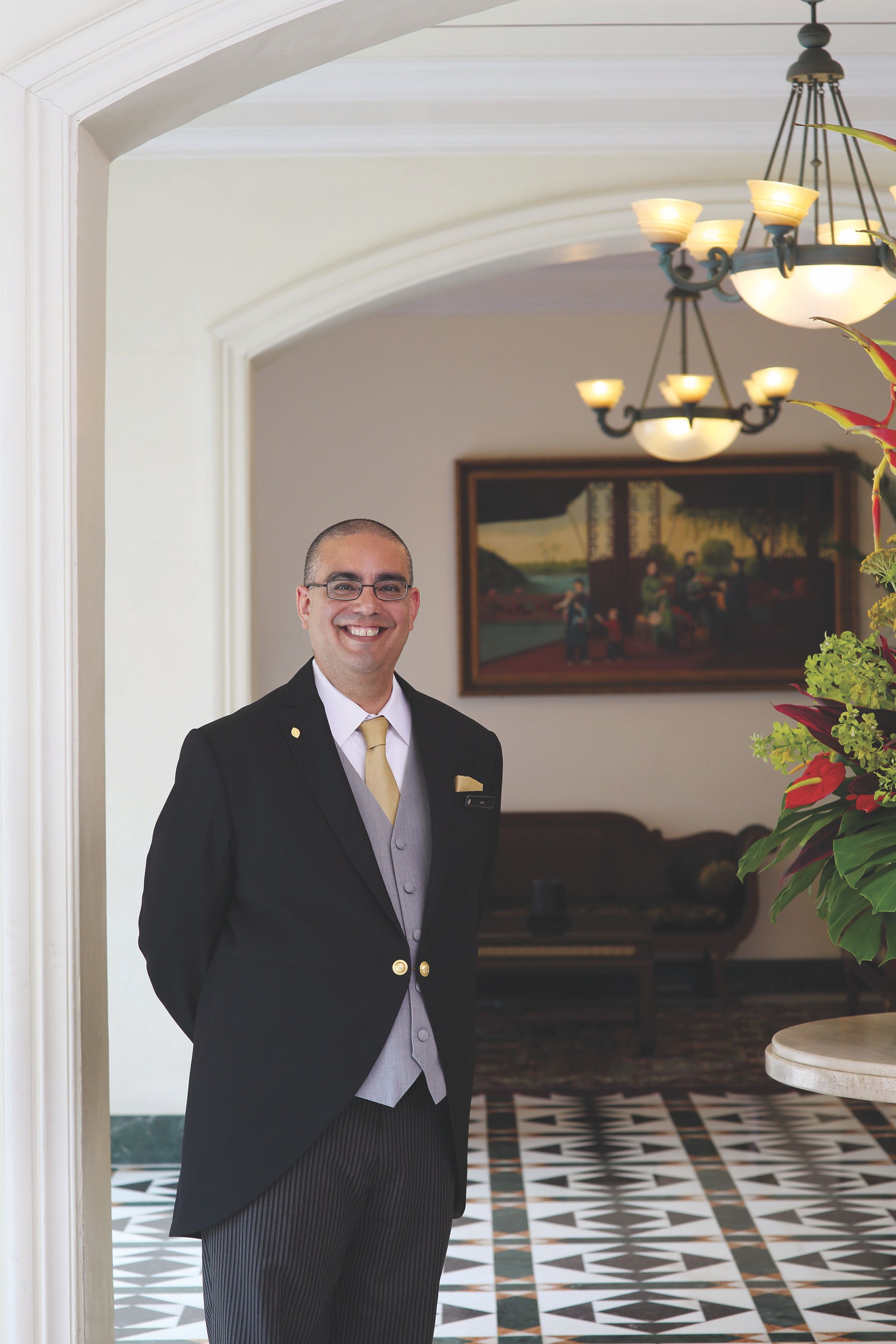 Insider Tips
LOCAL CULTURE
WEATHER
Singapore's weather is mainly warm and humid throughout the year. Bring an umbrella as you never know when it is going to rain. The average daily temperature is 26-32°C.
A PERANAKAN-STYLE LANDMARK HOTEL IN SINGAPORE'S BUGIS PRECINCT
The only 5-star luxury hotel in Singapore to preserve Peranakan heritage in a shophouse-style setting, the hotel is located in the Bugis precinct, close to Orchard Road and the Marina Bay area. Adjoining the hotel is Bugis Junction Shopping Mall and Bugis Train Station, which provide convenient access to various attractions around Singapore. With over 400 luxurious guest rooms, the hotel is an oasis in the city, featuring a rooftop garden, outdoor pool and a range of fine dining options.
HOTEL HIGHLIGHTS
Restaurant & Lounges

Celebrate Singapore's diverse culinary delights with us. Be it the award-winning world buffet at Olive Tree, authentic Cantonese specialities at Ma...

Amenities & Services

Unwind in luxury in our spa and outdoor swimming or get your blood pumping in our 24-hour fitness center. Relax in the elegantly appointed Club Int...

SPECIAL PACKAGES

There's always something special happening at an InterContinental hotel. Whether you are looking for a fun-filled getaway or a place to host your n...
Singapore
80 Middle Road
Singapore , 188966
Singapore
Front Desk +65-6-3387600
Languages spoken by staff
German, English, Indonesian, Japanese, Korean, Dutch , Tagalog, Chinese
Pet Policy
Contact hotel for details
CHECK-IN

3:00 PM

CHECK-OUT

12:00 PM

Late Check out Available
Accessibility
2 Room(s) with Accessibility Standards
Parking
Guest Reviews
Rated

4.5

out of

5

 by

606

reviewers.
Rated

4.0

out of

5.0
 by
JessieKao
Staff and service
Warm and welcome feeling. It is great to stay in a hotel with the feeling However, the decoration is getting old.
October 13, 2013
Rated

2.0

out of

5.0
 by
geoffw48
Rooms
i bookek 2 rooms ,almost 5 months in advance my wife sent emails getting the rooms together as we had small children or connecting rooms, but no on the day off checking in the rooms were 3 rooms apart. room 1 for 2x adults. room 2 for 1 x adult and 2x children so the room has ix bed in it, so asked if this is the wrong room as we ordered a room with 2 x doudle beds, they want to bring in a folding bed, the room is not big enough. For the money we paid we would stay some where else next time., I loved Singapore the place is great, just make sure you copy all emails as when you check in its adifferant story.
October 11, 2013
Rated

5.0

out of

5.0
staff and service were very excellent!!
front desk was very welcome us, and very kindly served to the room. A Korean staff was excellent, when we face to the problem at the strange place, she served very kindly ans properly.
October 10, 2013
Rated

5.0

out of

5.0
 by
Mummabear
Beautiful pool, comfortable bed and good food
This hotel is definitely worth the extra few dollars . It is close to Orchard Rd without being right on the busy shopping strip. The beds are comfortable and the rooms are well appointed. Staff are friendly and willing to help with any issues that may arise or questions you may have. The breakfast buffet is huge and the food is excellent and the roof top pool is wonderful to cool off in the afternoon after a day sightseeing or shopping.
October 10, 2013
Rated

5.0

out of

5.0
 by
IJW57
Great family hotel
Great stay for my family. Excellent staff and very friendly indeed, Booked a disabled room which was set out beautifully. Nothing was a problem for the staff who went out of their way to ensure our stay was comfortable and hassle free. Highly recommend,
October 9, 2013
Rated

5.0

out of

5.0
 by
ACONDO
Excellent Hotel
We arrived with 2 small children and we're so looked after for our entire stay here. The staff were courteous and friendly. We were amazed that the hotel went out of their way to provide a birthday cake, fruit platter and birthday gift for our son. Absolutely amazing. We will definitely be back.
October 9, 2013
Rated

5.0

out of

5.0
 by
Heiko69
Nice Hotel
A very nice Hotel with friendly staff and a perfect location. Everywhere arround shops, bars and restaurants. Swimming pool on the top. I stayed there with my wife and son for one week and we will come back for sure to this place.
October 9, 2013
Rated

5.0

out of

5.0
 by
xturtlex
Relaxing Stay
Holiday Inn Orchard is one of the best hotel i stayed with so far. upon check in was greeted by muhammad as a platinum member and his service was excellent. Had my welcome drink and free internet even i didnt get the room upgrade i was given free breakfast by muhammad which i like to thank him for it. excellent hotel which is why i always return to it.
October 8, 2013
Rated

2.0

out of

5.0
 by
KK1688
Bad experience!
The furnitures in the room was just painted with lacquer. It smell really sick. The window of room can be opened but they didn't. Another thing, this hotel has no up grade for Platinum Ambassador manber. Don't go there anymore.
October 8, 2013
Rated

5.0

out of

5.0
 by
RSSB1
Great Service
Location is good. Service is great. No complaints.
October 7, 2013
Rated

5.0

out of

5.0
 by
Jieva
great service
nice staff, cheap price,good location,and super clean,i will recommend that!
October 7, 2013
Rated

5.0

out of

5.0
 by
Alfredl
Great Stay
Excellent and professional service was provided to my family and I during our 7 night stay at this hotel. Everything from the room to the breakfast was excellent. The staff always had a smile on their faces and were ready to assist us with our queries. Thank you Holiday Inn Orchard City Centre for the wonderful time we had whilst at your hotel and we look forward to coming back in the future. Regards Alfred Western Australia
October 6, 2013
Rated

5.0

out of

5.0
 by
Kaycee
The best Holiday Inn ever stayed in
From the moment we arrived, we were impressed with the courteous staff the ambience of the hotel and the fabulous suite. We had an issue with the smell of smoke in our non smoking room but the staff did everything they could to help us. Every member of staff we encountered were polite, helpful and friendly. The waiter in the bar without being asked even bought us some iced water when we arrived back hot and exhausted. The location was great and very short distance from Orchard Road. The room was clean and comfortable. We had been upgraded to a junior suite via the IHG rewards programme and thoroughly enjoyed the whole experience. We were given access to the Executive lounge which included breakfast, drinks and snacks throughout the day. Would thoroughly recommend and would certainly return.
October 6, 2013
Rated

5.0

out of

5.0
 by
Dazzy12
beautiful hotel
This was a beautiful hotel and our room was very quiet. The only thing it lacked was a washer and dryer to our laundry. We could not find a laundromat within walking distance and to get our laundry done by a cleaner was too expensive. Thanks
October 5, 2013
Rated

5.0

out of

5.0
 by
iamkj
good staying for me
it was second time. delcious breakfast and drinks.
October 5, 2013
Rated

4.0

out of

5.0
 by
OlafZ
Erholsam
Freundliches Personal und zuvorkommend. Zentrale Lage.
October 5, 2013
Rated

4.0

out of

5.0
 by
Bazzamack51
Good location, well appointed room, friendly staff
Hotel is very close to top end Orchard Road shopping. Room was well appointed with comfortable bed. In house dining discounts offered to IHG Rewards Club members together with free drink voucher. Staff attentive and friendly.
October 3, 2013
Rated

3.0

out of

5.0
 by
yufromchina
bad experience
the room is quite noice. and the front desk staff. their service quite bad. The room provide some fruites for the IHG member. but can not eat. For IHG member. I am quite angry with this experience no newspaper. no warm service. when u ask the front desk staff. the girleven dont look at your eyes. overall. so bad experience
October 2, 2013
Rated

5.0

out of

5.0
 by
Jas1011
Be it holiday, be it business...
Excellent staff to welcome you, spacious rooms to comfort you, extremely clean n sizable bathrooms for your maintenance. Overall an exquisitely rich hotel.
October 2, 2013
Rated

5.0

out of

5.0
 by
RCGS77
Exceptionally high rating
After a life of travelling it is not often that I can rank a hotel so high. The attitude of staff is excellent. The standard of housekeeping is excellent. The rooms are spacious and the beds very comfortable. It is however the standard, Quality and presentation of the buffet dinner which is outstanding. The freshness of the salad and the jumbo prawns puts the restaurant nto a class of cuisine that can only be experienced at only a few but very expensive restaurants Worldwide.
October 2, 2013
Rated

5.0

out of

5.0
 by
Gabstar
Great location
Great location, easy walk to shopping centres and many food outlets, staff very friendly and efficient. Comfortable room, very clean pool, gym a little small however met my needs and would recommend as a place to stay.
October 2, 2013
Rated

5.0

out of

5.0
 by
Belkie1522
very relaxed hotel rested well in comfortable bed.
very pleased to have stayed in this hotel. Staff very pleasant and helpful. Pool area very clean and pool staff consently cleaning area for guests. Rooms spotless and fluffy towels and water bottles refreshed daily. Atmosphere warm with very polite staff who catered to all our needs and behaved professioaly at all times. This ensured that our stay was a memorable one. Convienient to shops and restaurants on Orchard Road. Would definately stay there again. Would recommend this hotel highly.
October 1, 2013
Rated

5.0

out of

5.0
 by
Kimrob
Fantastic stay at Holiday Inn
My husband and I together with our baby daughter stayed at Holiday Inn for four nights last week. The first night of our stay we had a small issue which I addressed with the duty manager. Not only did the duty manager resolve this quickly, he went above and beyond our expectations to ensure the remainder of our stay was amazing. Duty Manager Tan I cannot speak highly enough of you for the outstanding service you provided to me and my family, to ensure we were happy, and comfortable, especially showing tremendous consideration for our daughter too. We were treated with the upmost respect, courtesy, understanding and I cannot thank you enough. Our stay at Holiday Inn became such an enjoyable and memorable experience and I would like to thank you, and manager Michael and all your staff for making our stay so fantastic, thank you :)
October 1, 2013
Rated

4.0

out of

5.0
 by
Lee900
Family Accommodation
We organised a taxi via the hotel and upon arriving at the airport at 3am the taxi did not turn up.....the hotel was most apologetic. Then upon arriving at the hotel we discover our room was on 8th floor and our four children were placed on the 6th floor...I showed the front desk my initial email which clearly requested connecting rooms. Again staff were apologetic and offered a complimentary meal but we were handed an account at the end and had to pay for the soft drinks which were quite expensive. They did manage to put us on the same floor but no where near each other unfortunately. I realise these things happen but considering the cost of the rooms during the F1 period it was disappointing as three of the four kids were sick for a few days. Overall, accommodation was good, though to be honest the rooms were lovely temperature wise but the corridors temperature were sometimes worse than outside! Location was perfect and for that reason we would consider staying there again......... Thankyou
September 29, 2013
Rated

5.0

out of

5.0
 by
Malone
Staff and Hotel Excellent.....
Everyone went out of their way to make my stay comfortable and with a Smile :-)
September 27, 2013
Rated

5.0

out of

5.0
 by
vouky
Staff the key
I stay regularly at the Holiday Inn Orchard City Centre and I am always welcomed back personally by key staff members. The staff are friendly and helpful in all areas from the Concierge, Reception, Club Room, Restaraunts and Guest Services. The staff make this establishment a "home away from home" for me whether it is a business or holiday trip. I have been staying regularly in this hotel since 1988.
September 22, 2013
Rated

5.0

out of

5.0
 by
Swede50
Great location and serviceminded staff
Everything with this hotel was great. Location, room, pool and especially the Executive lounge. Everyone of the staff was very friendly and really tried to make our stay comfortable.
September 22, 2013
Rated

5.0

out of

5.0
 by
Caroleland2
Friendly staff ,good value hotel
Nice hotel , comfortable room and beds ,very friendly staff and good service. Room was a little noisy early in the morning due to people leaving a night club. Book a room at the front of the hotel to avoid this. Overall a great hotel
September 19, 2013
Rated

5.0

out of

5.0
 by
xturtlex
Amazing Hotel
Holiday Inn Singapore Orchard City Center has never failed to make my stay a wonderful one. staff's are friendly location is great close by to the main shopping area orchard road. front desk staff are always willing to help and always has a smile on them.
September 18, 2013
Rated

5.0

out of

5.0
 by
kajanfirst
Great Service, Neat and clean, great location
We loved our stay at Holiday Inn Orchard City. Rooms are spacious and very clean and neat. Bathroom was big enough with Marble floor and big tub. The service was very good. The breakfast buffet was good. Lots of options for vegetarians. I could get a complimentary shaving kit when needed. Very good location. We had a room right behind Orchard Central Mall. 10 mins from Marina Bay Sands in taxi. Close to 2 MRT stations. Right behind this hotel had tons of restaurants and bars. This is one of the very few hotels which offers a room for 2 adults and 2 kids.
September 18, 2013