Skip Navigation
English
|
|
|
|

Sign In

Book online or call: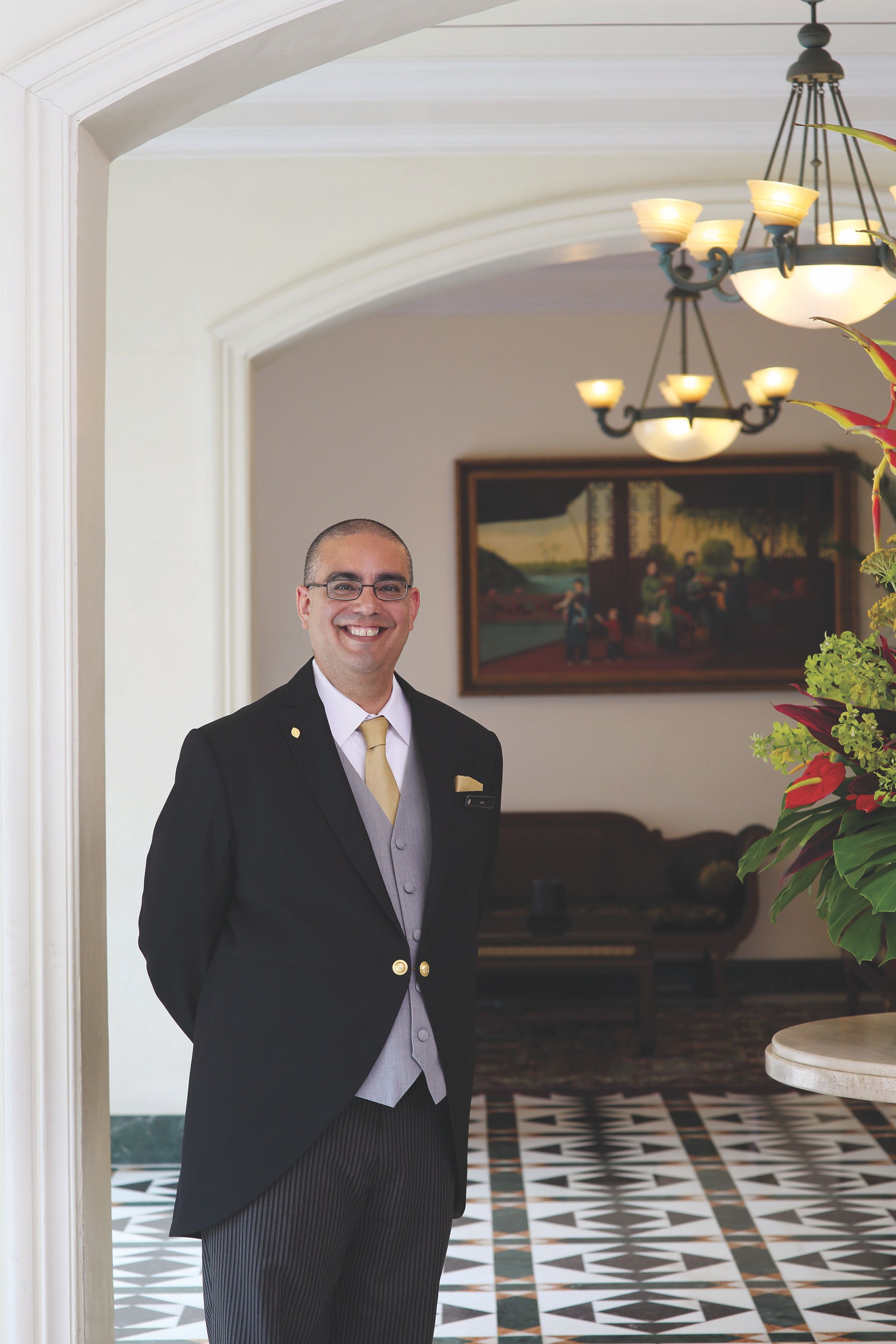 Insider Tips
LOCAL CULTURE
WEATHER
Singapore's weather is mainly warm and humid throughout the year. Bring an umbrella as you never know when it is going to rain. The average daily temperature is 26-32°C.
A PERANAKAN-STYLE LANDMARK HOTEL IN SINGAPORE'S BUGIS PRECINCT
The only 5-star luxury hotel in Singapore to preserve Peranakan heritage in a shophouse-style setting, the hotel is located in the Bugis precinct, close to Orchard Road and the Marina Bay area. Adjoining the hotel is Bugis Junction Shopping Mall and Bugis Train Station, which provide convenient access to various attractions around Singapore. With over 400 luxurious guest rooms, the hotel is an oasis in the city, featuring a rooftop garden, outdoor pool and a range of fine dining options.
HOTEL HIGHLIGHTS
Restaurant & Lounges

Celebrate Singapore's diverse culinary delights with us. Be it the award-winning world buffet at Olive Tree, authentic Cantonese specialities at Ma...

Amenities & Services

Unwind in luxury in our spa and outdoor swimming or get your blood pumping in our 24-hour fitness center. Relax in the elegantly appointed Club Int...

SPECIAL PACKAGES

There's always something special happening at an InterContinental hotel. Whether you are looking for a fun-filled getaway or a place to host your n...
Singapore
80 Middle Road
Singapore , 188966
Singapore
Front Desk +65-6-3387600
Languages spoken by staff
German, English, Indonesian, Japanese, Korean, Dutch , Tagalog, Chinese
Pet Policy
Contact hotel for details
CHECK-IN

3:00 PM

CHECK-OUT

12:00 PM

Late Check out Available
Accessibility
2 Room(s) with Accessibility Standards
Parking
Guest Reviews
Rated

4.2

out of

5

 by

486

reviewers.
Rated

4.0

out of

5.0
 by
TCKC
Very friendly staff and well run establishment
My wife and I stayed at this hotel for 3 nights from 7th August and we had a very good stay Despite the very evident refurb work ongoing at the hotel we did not feel at all inconvenienced or disturbed by any noise Huge thanks to Jasmine in Guest relations for enhancing our short stay and for the very warm welcome plus your personal touches in making our 25th wedding celebration even more memorable Had a great meal in the hotels' Chinese restaurant -truly fantastic time! Special thanks to the waitress who served us (wish I could remember her name) Good recommendations and service Hope to stay again sometime in the very near future
August 18, 2014
Rated

4.0

out of

5.0
 by
Marc888
Great service!
Pleasantly surprised with overall quality of service. Always greeted with a smile and friendly attitude of the staff - even better then some of the 5 star hotels i've stayed in! They also provided free breakfast for children and even hung our laundry! Now that is what I call top notch service!
August 16, 2014
Rated

5.0

out of

5.0
 by
Anita-10
Great for families
Stayed here recently and was very pleased. Great location good size rooms and lovely staff. We were traveling with a 2year old an found the room and port-a-cot they supplied excellent. Would definitely stay here again.
August 16, 2014
Rated

3.0

out of

5.0
 by
Seacat
Reasonably happy stay
Good Hotel. Staff are courteous and response is good. The hotel requires to upgrade its Gym equipment and provide more variety. Food is good. In room dining menu limited but adequate and satisfies all palates. TV channels limited and gets boring as there are very few movie channels or Lifestyle channels. would definitely re-book here though.
August 16, 2014
Rated

5.0

out of

5.0
 by
Kenny354
Great place close to many places of interest
we were able to stroll down the streets of Singapore Chinatown was close proximity
August 15, 2014
Rated

5.0

out of

5.0
 by
AJBar
Jewel in the East
Good over all hotel to stay at while in Singapore. Reasonable rates, centrally located to key sites to visit. Great views of the lower parts of the island and the Marina in the distance.
August 14, 2014
Rated

4.0

out of

5.0
 by
mat2014
Housekeeping
Housekeeping was good as it responded promptly to my request
August 14, 2014
Rated

5.0

out of

5.0
 by
Bobby2207
Great Stay In Singapore
This Holiday Inn was great! Before our arrival, Jona, one of the hotel manager's helped me out when I ran into problems. We were flying to Singapore on a private plane which experienced problems. We had to delay our flight a week, which should have caused me to lose my $800 deposit with Holiday Inn Atrium. I explained my problem to Jona, and he pushed my reservations back a week with no penalty. Upon arrival, we received a warm and friendly greeting. We checked into our room, and there were some issues. I explained the issues to Danicah, and she immediately upgraded us to a new room. Danicah went above and beyond to ensure we had a great stay. She is a real asset to the Holiday Inn Atrium. The executive lounge was really nice. The views of the Singapore skyline are amazing. The staff in the executive lounge was also great. Yasmin was so friendly and provided great service. The food selection and drink selection was fantastic. The breakfast buffet is very tasty and somewhat overwhelming. There are so many varieties of food, catering to all nationalities. Sam, one of the chef's for the 4th floor breakfast was great. He encouraged me to try some of the Indian food, and I am glad I did. The food was amazing, and I will eat it every opportunity I get. Every morning, he would come check on me and my wife, and give advice on our daily trips. Finally, the location of this hotel is perfect. The zoo, Orchid Gardens, Sentosa Island, cable cars, and Little India are all within a 15 minute cab ride. China Town, Clark's Quay, River Walk, and the Marina Bay Sands Square are all within a 30 minute walk and provide beautiful views of the city. Also, the River Walk was a great place to run to get in your morning exercise. This will be the only hotel I stay at when visiting Singapore. The staff made my wife and me feel more like family as opposed to customers. Thank you for a great stay!
August 12, 2014
Rated

3.0

out of

5.0
 by
oziee
Stayed well
Though there was some disturbance in the meeting hall and lobby due to face lift which perhaps management has informed earlier. Overall staying in Holiday Inn Atrium was worth. It is situated in good location, facilities are good. Quick services, food are quality.
August 11, 2014
Rated

4.0

out of

5.0
 by
62Doris62
Comfortable room and good service
We stayed for 8 nights in this hotel. The staff were very nice and helpful. The room was very comfortable and a good size. Although we asked for three single beds, we got a double bed and a single bed. Hotel is undergoing some renovations but this did not disturb our stay. Check in and check out extremely efficient. We were on the 13th floor and there was a strong unpleasant smell in the corridor leading to our room. The MRT is 15 minutes walk from the hotel. This was the only negative point for us. Overall we were satisfied with the hotel and enjoyed our stay there.
August 10, 2014
Rated

4.0

out of

5.0
 by
ekShaji
Friendly n welcoming service personals.
it was refreshing change to meeting smiling faces when you interact.
August 10, 2014
Rated

5.0

out of

5.0
Very good service and experience
The overall experience is good, friendly staff, must give a try to the hotel buffet.
August 9, 2014
Rated

5.0

out of

5.0
 by
Jasonjc72
Surprised
Brilliant hotel,great location with staff that are more than eager to do there best too make your stay enjoyable.HOME AWAY FROM HOME is the best way to describe it.
August 8, 2014
Rated

4.0

out of

5.0
 by
iveehk
comfortable room and friendly helpful staff
The guest room we stayed was quite comfy. The hotel staff was generally helpful and friendly. We had buffet breakfast every morning during our stay. The food was so-so but the service was nice overall speaking. The only downside of the hotel is its location. It's quite far from the train station.
August 7, 2014
Rated

4.0

out of

5.0
 by
MagnusP
Great overall
We stayed for a total of four nights during one week. Everything was good. Except for the humidity in the room. The towels dried very slowly and normal paper wrinkled a bit. Also probably why the sheets almost felt sticky. Not really a big problem. I would seriously consider the hotel if I ever return to Singapore.
August 7, 2014
Rated

4.0

out of

5.0
 by
tshywk
Good location
Close to major shopping centre in Orchard Rd. BUs service at door step and its only about 10 mins bus ride to Orchard Rd.
August 7, 2014
Rated

5.0

out of

5.0
 by
Mich7788
Sehr guter, zuvorkommender Service
Sehr guter, unaufdringlicher aber zuvorkommender Service. Gesamtes Ambiente passend und gute Basis, um eine Woche Singapore vorbehaltlos zu erleben.
August 6, 2014
Rated

4.0

out of

5.0
 by
Cutie luv
Good service
We are able to check in around 12+ pm . Overall room condition good . As my birthday round the corner , the hotel send red wine / cake / card etc etc makes my heart felt warm . The hotel b'fast variety good too . Looking forward for next stay .
August 6, 2014
Rated

5.0

out of

5.0
 by
Krish the traveller
One of my favourite hotels around the world
I have stayed here many times over the last 3 years and I have always have a very pleasant experience. The staff is extremely polite and cooperative all the time. The hospitality is commendable. The choice of options at breakfast is one of the best with atleast 30-40 different items to try. I am always left craving to try each one :) The executive lounge at the top floor for platinum club members is very comfortable. The hotel has lots of restaurants & places accessible by walk which makes it a place that one must stay atleast once. Thank you Holiday Inn Atrium for everything. I am coming back again this week to get pampered yet again.
August 5, 2014
Rated

5.0

out of

5.0
 by
Danny Ng
Excellent hotel to stay in
The hotel staffs never fails to impress me with their sincerity and professionalism. The room was clean and neat. The housekeeping was very efficient in keeping my room tidy. This hotel is definitely my favourite hotel in Singapore.
August 4, 2014
Rated

1.0

out of

5.0
 by
mutuyu
atmosphere
there is remodling condition and it should be notice before booking status . noisy .. Concierge never take an action even they seeing us bring 4 big luggages ,,,
August 4, 2014
Rated

4.0

out of

5.0
 by
Alice 822
Good service
Much appreciate the front desk help to up grade my room to a room with a double bed and a single bed so that my daughter can sleep better. Beside the 'strange smell' come from the air-conditioning system and a bit far from MRT station, this is a value hotel,
August 4, 2014
Rated

4.0

out of

5.0
All good despite the renovations
Lobby and restaurant renovations were more than compensated for by the attitude of the staff and service levels offered. Very enjoyable weeks holiday. Would certainly stay again
August 4, 2014
Rated

4.0

out of

5.0
 by
WilliamQ
Return stay
We stayed in a Deluxe Room this visit and at check-in, was told that this was one of the newly renovated rooms and they would love for us to feedback on the room. Although my last stay here was barely a month ago in an Executive room, I could not really recall the specifics (but it was a great stay) so I will just comment on this stay instead of a comparison. We liked that the bed came with pillows that has cases clearly identifying which is a soft pillow and which is a firm pillow.I like soft and my wife likes firm. I believe the bed was a queen size and being used to a King size, it did felt a little "small". I think the biggest disappointment coming from a "refreshed" room was that the mirror in the bathroom was not one of the items "refreshed" as it was plainly carried over due to the large patches of spotting on the mirror. While it is certainly functional, it did take away some of the bubbly feel. We were tripped up by the (temporary) closure of the Melting Pot Cafe which we dined at during our June's stay but we had a surprising great dinner at the Chinese restaurant even if it was pricier. Food was good and service was commendable. I would certainly return for more stays this year if my schedule permits.
August 3, 2014
Rated

5.0

out of

5.0
 by
Beugel
Great Staff
This hotel is always on my list because of location, price and excellent staff. Good room always and lovely view from 27th Floor Club Lounge
August 3, 2014
Rated

4.0

out of

5.0
 by
Iwee
Great customer service
The front desk staffs were really friendly and helpful. They were very attentive too. Overall it was really a good stay apart from the renovation.
August 2, 2014
Rated

2.0

out of

5.0
 by
Traveler030114
Surprised at registration
I was very disappointed when I checked in. I requested for a single room with two beds. Instead, I received a single room with one bed and a cot. I guess the staff thought this would satisfied my request by adding a cot. The room was so small with the cot, I had to jump over the cot to move around in the room. I was very unsatisfied and requested for a room change. The hotel was under construction, so changing to a new room was not available. But what disturbed me was that my two bed room was confirmed several weeks ago when I made the reservation. It just means that the confirmation doesn't really mean you got what you requested for and paid for. The staff made good on my room change on the next day but I had to leave the executive floor. Too bad, I think I will go to a different hotel on my next stay, either Holiday Inn Clark Quay or somewhere else.
August 1, 2014
Rated

4.0

out of

5.0
 by
Kristycn
Best place for traveling with family
Spacious room, friendly staff, Good location and convenience local transport...all made us a successful holiday by exploring a true Singapore with 3 young kids. Holiday Inn Atrium provides one of our most comfortable and valuable stays. Only the upgrading works in the lobby is a bit annoyance.
July 31, 2014
Rated

3.0

out of

5.0
 by
TL1NZ
Queit corner in Singapore
This property is positively priced given the location is a bit out of the action area. However with ease of taxis in Singapore it is OK for getting around. The down side is there is no nearby MRT station & given the weather in Singapore walking is for the brave. The staff are friendly and service is adequate. There is currently some renovations happening at teh restaurant floors and thus the breakfast experience is somewhat affected. Spread & quality of food . For hotels in Singapore, I would rate my experience as good as usually the staff attitude tend to be less of warmth, more sterile. However I detected an effort to show a more hospitable side..
July 31, 2014
Rated

4.0

out of

5.0
 by
DR46200
Comfortable Beds, Improving Hotel
The Holiday Inn Atrium is undergoing some renovation. I believe that when it's complete, this will be a great hotel. It's actually quite nice now but a bit dated. The rooms are very comfortable and clean but they are dates (perhaps ours just hasn't been renovated yet). The pictures about the renovation look great if they are able to accomplish their goals. The pool was small but nice and the fitness room had more equipment than most large hotels I've stayed at recently.
July 31, 2014