Skip Navigation
English
|
|
|
|

Sign In

Book online or call: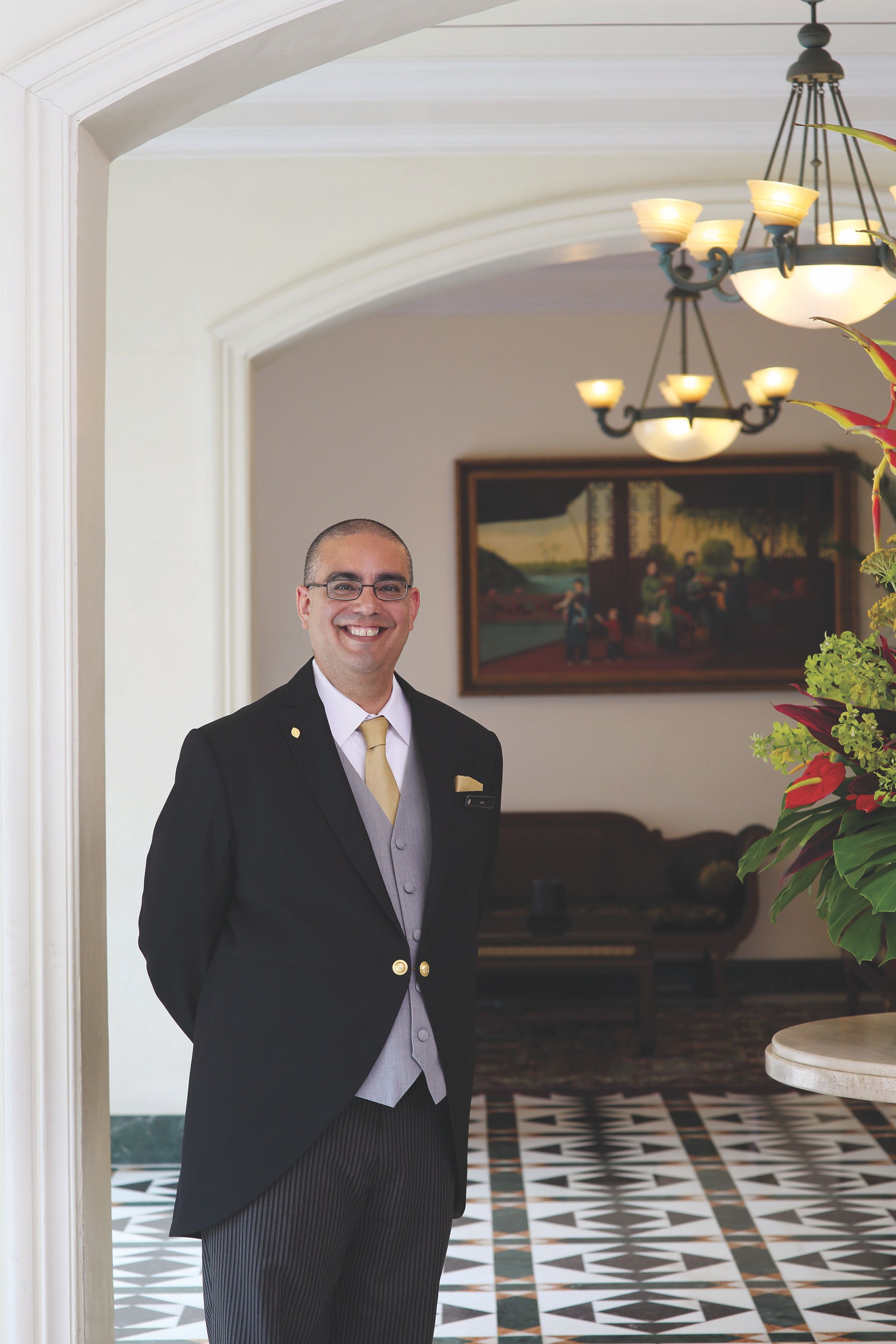 Insider Tips
LOCAL CULTURE
WEATHER
Singapore's weather is mainly warm and humid throughout the year. Bring an umbrella as you never know when it is going to rain. The average daily temperature is 26-32°C.
A PERANAKAN-STYLE LANDMARK HOTEL IN SINGAPORE'S BUGIS PRECINCT
The only 5-star luxury hotel in Singapore to preserve Peranakan heritage in a shophouse-style setting, the hotel is located in the Bugis precinct, close to Orchard Road and the Marina Bay area. Adjoining the hotel is Bugis Junction Shopping Mall and Bugis Train Station, which provide convenient access to various attractions around Singapore. With over 400 luxurious guest rooms, the hotel is an oasis in the city, featuring a rooftop garden, outdoor pool and a range of fine dining options.
HOTEL HIGHLIGHTS
Restaurant & Lounges

Celebrate Singapore's diverse culinary delights with us. Be it the award-winning world buffet at Olive Tree, authentic Cantonese specialities at Ma...

Amenities & Services

Unwind in luxury in our spa and outdoor swimming or get your blood pumping in our 24-hour fitness center. Relax in the elegantly appointed Club Int...

SPECIAL PACKAGES

There's always something special happening at an InterContinental hotel. Whether you are looking for a fun-filled getaway or a place to host your n...
Singapore
80 Middle Road
Singapore , 188966
Singapore
Front Desk +65-6-3387600
Languages spoken by staff
German, English, Indonesian, Japanese, Korean, Dutch , Tagalog, Chinese
Pet Policy
Contact hotel for details
CHECK-IN

3:00 PM

CHECK-OUT

12:00 PM

Late Check out Available
Accessibility
2 Room(s) with Accessibility Standards
Parking
Guest Reviews
Rated

4.5

out of

5

 by

601

reviewers.
Rated

5.0

out of

5.0
 by
AKKMPM
Very convenient location and excellent hotel
Stayed here for 5 nights in July. Very close to Orchard Road and MRT station. Rooms are like new and very clean and comfortable. Bathrooms are superb and there are even 2 shower heads with good water pressure and plenty of hot water. Staff are very accommodating. Rooftop pool and spa are very good - only complaint is that spa was not in service for 2 days. Loved our stay here and would definitely come back again.
July 13, 2014
Rated

4.0

out of

5.0
 by
Chas 30
Great Satff members
As I stayed for over thirty days You get to see familiar staff members. Every staff was friendly, with a warm smile, a kind word and very helpful. The hotel is very clean with a positive atmosphere. The first impression from the porters is big smile and welcome. The check-in was fast and efficient. My room was always clean and organized. The Tandor restaurant food is very good. As I ate there quite often I ordered off the fixed menu and the staff changed the food selection so I did not always eat the same food. As I may be going back for another extended stay I look forward to my stay.
July 10, 2014
Rated

4.0

out of

5.0
 by
OKBroncos
Great location and good service.
We had a great overall experience staying at the hotel, good service and conveniently located. Buffet restaurant was good with room to improvement; hotel bedding might be suggested in time for upgrade.
July 9, 2014
Rated

5.0

out of

5.0
 by
elf64
Great Place
I had a lovely stay in your Hotel even though it was only less than 24 hours. The room was big and spacious and, best of all, I was able to sleep well. I was kindly allowed to do a late check out (2:00 PM). Staff was good and kind.
July 8, 2014
Rated

4.0

out of

5.0
 by
trevorcox52
Good Location
I stay at Holiday Inn around the world and the reasn is because of the same high standard of service that I have come to expect . Generally this does not change and for sure here in Singapore I was not disappointed. My only comment was to the lack of courtesy Bus service from the airport.
July 7, 2014
Rated

5.0

out of

5.0
 by
AusMyke
Excellent Staff & Relaxed Stay
Wow - the Service of the Staff - especially the Reservations Team (Jo in particular) was exemplary. First I was to arrive very early - my room was promised. Then due to flight delays I was arriving very late - the room was held as promised. The Room was fantastic on the 8th floor with a view - totally relaxing and wonderful view of orchard road and the greenery beyond. The room (812) was spotless and very well kept - bed and showers just superb ( these are the two things I look for first in most hotels) - could not fault this one. The Inclusive Breakfast - had a very good selection, was tasteful and staff here once again always attentive and ready to assist. Overall experience of the Hotel, its location, the ambience, and most of all the Staff - very impressive. Would have no hesitation to stay here again or recommend to anyone wanting to stay here.
July 7, 2014
Rated

3.0

out of

5.0
 by
JonJon27
Upgrades not guaranteed
Good Hotel. However for Priority members be aware this hotel seem to resist making the due upgrades for some reason and give all sorts of excuses not to upgrade you. So be aware the Holiday Inn motto for members as "guaranteed " is a myth.
July 6, 2014
Rated

5.0

out of

5.0
 by
HelsSuomi
Great stopover in Singapore
We stayed for a 2 night stopover in June. The hotel was very good for this purpose. Our room was clean and comfortable. The bathroom was clean and the shower pressure was very good, all toiletries were provided. There is a small pool on the roof which was perfect for cooling off at the end of the day. There is also a gym which we did not use. Breakfast buffet was tasty with a mix of Asian and European to choose from.
July 1, 2014
Rated

5.0

out of

5.0
 by
Jaivish
Excellent hotel with great food n stay
We stayed in this hotel from 20 June to 24 June in a family room at the 7th floor. It was a beautiful experience . The concierge was very helpful in recommending the sight- seeings and the best way to travel to the required destination. The buffet breakfast was simply amazing with a good combination of American and Indian spread. The food in the Indian restaurant is also amazing. We had to depart on 24th evening. They were extremely considerate and gave us an extended stay of 2 hrs for checkout as we had a late evening flight. So although we had to check out at 12pm we left at 2. It was very kind of them as we were traveling with our 2 kids.One more advantage of staying in this hotel is its location. It's close to the MRT and all the best shopping malls. Overall, a fantastic hotel with an extremely helpful staff. Thank You for the great service. I highly recommend this hotel at Orchard road.
June 29, 2014
Rated

5.0

out of

5.0
 by
SANJAY1966
EXCELLENT HOTEL
The stay in Holiday Inn was exception, the staff is courteous and the location is just on the Orchard street, the breakfast was also very good. The free internet was of immense use and I recommend this hotel.
June 27, 2014
Rated

5.0

out of

5.0
 by
Bernd_S
Großer Pool, tolle Lage
Wir waren 4 Tage in Singapur und hatten das HI wegen der guten Lage und des großen Pools gewählt. Wegen meines IHG Platinum Status bekamen wir einen kostenlosen Shuttleservice zum Flughafen, Onlinezugriff per Tablet/Smartphone/PC auf 3000 Tageszeitungen, Begrüßungscocktails und schnellen Wifi Internetzugang. Im Businesscenter (24/7) stehen PCs und Drucker zur kostenlosen Verfügung. Zu bemängeln gibt es nur Kleinigkeiten: Die Klimaanlage ist sehr schwerfällig (man kann sie aber deaktivieren) - die Standardtemperatur von 22 Grad war kaum zu ändern. Fernsehsender: Bildqualität der meisten Sender war schlecht (es war gerade Fußball WM). Der Pool ist groß, aber sehr warm. Es gibt keinen kontinuierlichen Service: Handtücher von anderen Gästen bleiben dann liegen, Getränke müssen per Roomservice geordert werden. Die Umkleideräume sind nicht klimatisiert.
June 26, 2014
Rated

4.0

out of

5.0
 by
Marie02
Great Service!
Overall the service is excellent. They are quick to response to your needs. The room is clean, linens are crisp and clean only complain by my husband is his side of bed is a little bit sagging. We took their offer by paying extra per stay, so we get the use of the executive lounge anytime, we have breakfast included, all drinks and snacks included, free use of wifi anywhere in the hotel, late check out up to 4 p.m. and free 2 pcs. of laundry for every day stay. It's really a good deal and the place is so quiet and every staff there are very friendly and helpful. we usually take that offer every time we stay at Holiday Inn. It's really worth it.
June 25, 2014
Rated

5.0

out of

5.0
 by
SashimiBoy01
Great Location - Great Staff
The Holiday Inn is situated in a great location which is conveniently situated near popular shopping areas and restaurants. The hotel staff is excellent! They're very knowledgeable about Singapore and are courteous, friendly, and go the extra mile to assist you. The rooms are large, the beds are comfortable and the bathroom has great counter space to put all of your things. The one thing that needs improvement is the gym facility. It's very small and cramped. If there are three or more people in the gym at the same time you'll be very close to each other and try not to touch when passing. Also the gym has a large glass wall and roof which keeps it quite warm/hot inside. It opens at 6am, not 24 hours a day like most hotels in the same class. Aside from the gym I highly recommend this Holiday Inn to families and business travelers.
June 24, 2014
Rated

5.0

out of

5.0
Superb service , great location - wonderful pool
Used for a mixture of work and a few days holiday the Orchard City Centre Holiday Inn was a great choice . The rooms were very clean and the beds very comfortable. The location was great for fair priced taxis to the airport and town and also for the buses and the MRT station close by . Staff were exemplary throughout and the quality of the pool area was a testament to the hard working and industrious young man who looked after it . Food from the bar was really good - the breakfast was as expected a hotel buffet type with good choices and attentive service from all the staff Thank you Holiday Inn for a lovely stay in great surroundings ( and no I don't work for Holiday Inn , this is just a true reflection from well travelled people )
June 23, 2014
Rated

5.0

out of

5.0
 by
Bibianca
Good
The hotel location and cleanliness is extremely good. The room, and comfortable bed. Staffs were helpful.
June 19, 2014
Rated

4.0

out of

5.0
 by
Reyal
great service and memorable stay
Overall good experience will surely stay in this property on my next visit. We will use the venue for all our business meetings in futrue
June 19, 2014
Rated

5.0

out of

5.0
 by
Ja808
Good location, friendly staffs
We love the nice and big room to fit our family. Late checked-out was just match our flight. Good location near Orchard shopping street.
June 18, 2014
Rated

5.0

out of

5.0
 by
Jackaroowho
Great Time
Cant fault any part of our stay,we dined out in other places and didnt dine in house.Probably the only minor complaint was that the light switches were hard to find at night
June 18, 2014
Rated

5.0

out of

5.0
 by
kate321
First Time Visit to Singapore
This hotel is in a good position close to vibrant restaurants, shops and transport. For a very late flight out of Singapore the next day, the extra money spent for an upgrade was worthwhile. It included a full cooked breakfast enjoyed in the lovely Riverview Restaurant, late check out till 4 PM, along with access to the Executive Lounge, complimentary drinks and excellent food there from 4-6pm, enough for dinner! The staff were very friendly and helpful.
June 17, 2014
Rated

5.0

out of

5.0
 by
Jackaroowho
Holiday Gem
Upon arrival we were quickly shown to our room which was clean and comfortable with a large king bed and spacious bathroom with everything a traveller requires in it.Our room was tended everyday and shampoos etc topped up as required. The staff were always polite and very helpful. The hotel is ideally situated near Orchard Rd with Cuppage Plaza in very short walking distance where we able to access a whole range of asian food at very reasonable prices.This is the only reason we did not dine at the hotel as we wanted to partake of as much Asian cuisine as possible. In short we had a wonderful stay at Holiday Inn Orchard City Centre where our every need was tended to by friendly and helpful staff.Congratulations to all on their professionalism and fully recommend staying here
June 16, 2014
Rated

5.0

out of

5.0
 by
Prakash07
Great Place to Stay
This is a nice place to stay , execlent lent location, good rooms , nice food ,
June 15, 2014
Rated

5.0

out of

5.0
 by
Bob7955
Great Stay.
I spent 12 nights at the hotel on business. Great location and great service. Helena made my morning each day with a friendly greeting at breakfast and great service. Overall, the staff were very friendly and helpful. Highly recommend.
June 15, 2014
Rated

4.0

out of

5.0
 by
cj__
Good location, clean, prompt service
As always, clean, comfortable, and in a good location to places to eat and listen to bands.
June 15, 2014
Rated

5.0

out of

5.0
GREAT LOCATION AND GREAT PEOPLE FOR SERVICE
WE STAYED THERE FOR SECOND TIME AND WOULD LOVE TO STAY EVERY TIME IN SINGAPORE. GREAT LOCATION AND BEST FOR INDIANS THAT THEY HAVE ADDED JET IN TOILET. THAT SHOWS THEY WELCOME INDIANS TOO.
June 14, 2014
Rated

4.0

out of

5.0
 by
RAJ100
Good location
Almost everything you need is within walking distance
June 11, 2014
Rated

5.0

out of

5.0
good location
walking distance to primary shopping area and restaurant
June 10, 2014
Rated

5.0

out of

5.0
Great customer service
Typical Holiday Inn property. Great service and food.
June 7, 2014
Rated

5.0

out of

5.0
 by
hdgleich
Comfortable stay
Meanwhile we are yearly repeaters in the Holiday Inn since 2004.Because the quality of this place never changed,we will repeat again.A gem is the pool.Very clean and exellent maintained by a "chinese-looking"guy.We can recomment this hotel.
June 6, 2014
Rated

5.0

out of

5.0
 by
RobQatar
A relaxing and enjoyable stay
Every effort was made by management and staff to ensure we had a relaxing and enjoyable stay. After a long flight from Europe, we appreciated every aspect of our hotel experience.
June 5, 2014
Rated

5.0

out of

5.0
 by
macfhionnlaoich
Pool and Breakfast
The pool is one of the main reasons that we stay at the Holiday Inn and it is always a pleasure to be anticipated after months of work and a long flight. We are never disappointed with it and would like to acknowledge the high standard of pool cleanliness, etc, maintained by Gibson. We would also like to acknowledge the professionalism and welcome that we received from the manager of the breakfast restaurant.
June 5, 2014