Skip Navigation
English
|
|
|
|

Sign In

Book online or call: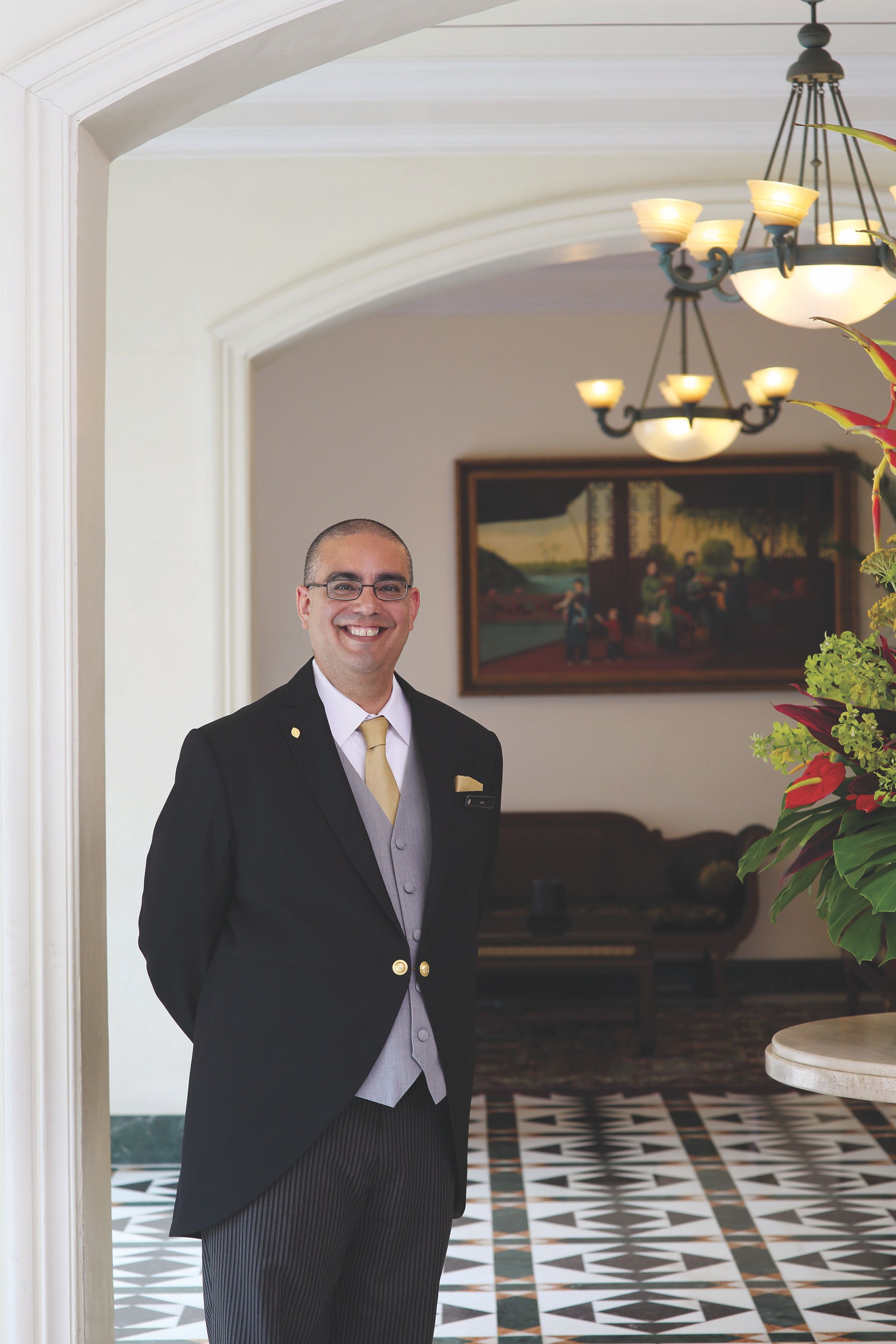 Insider Tips
LOCAL CULTURE
WEATHER
Singapore's weather is mainly warm and humid throughout the year. Bring an umbrella as you never know when it is going to rain. The average daily temperature is 26-32°C.
A PERANAKAN-STYLE LANDMARK HOTEL IN SINGAPORE'S BUGIS PRECINCT
The only 5-star luxury hotel in Singapore to preserve Peranakan heritage in a shophouse-style setting, the hotel is located in the Bugis precinct, close to Orchard Road and the Marina Bay area. Adjoining the hotel is Bugis Junction Shopping Mall and Bugis Train Station, which provide convenient access to various attractions around Singapore. With over 400 luxurious guest rooms, the hotel is an oasis in the city, featuring a rooftop garden, outdoor pool and a range of fine dining options.
HOTEL HIGHLIGHTS
Restaurant & Lounges

Celebrate Singapore's diverse culinary delights with us. Be it the award-winning world buffet at Olive Tree, authentic Cantonese specialities at Ma...

Amenities & Services

Unwind in luxury in our spa and outdoor swimming or get your blood pumping in our 24-hour fitness center. Relax in the elegantly appointed Club Int...

SPECIAL PACKAGES

There's always something special happening at an InterContinental hotel. Whether you are looking for a fun-filled getaway or a place to host your n...
Singapore
80 Middle Road
Singapore , 188966
Singapore
Front Desk +65-6-3387600
Languages spoken by staff
German, English, Indonesian, Japanese, Korean, Dutch , Tagalog, Chinese
Pet Policy
Contact hotel for details
CHECK-IN

3:00 PM

CHECK-OUT

12:00 PM

Late Check out Available
Accessibility
2 Room(s) with Accessibility Standards
Parking
Guest Reviews
Rated

4.2

out of

5

 by

485

reviewers.
Rated

4.0

out of

5.0
great service
my family had a great time staying in your hotel, we experience helpful staff, friendly and knowledgeable concierge. the food is great in your various resto.
June 6, 2014
Rated

4.0

out of

5.0
 by
Chjohnson
服务一流,安静舒适
服务一流,安静舒适。 只是房间内湿度较大,希望宾馆能在以后进行整改。 空调控制开关没有除湿功能选择,感觉不太好。 酒店的早餐很好,环境也好。
June 5, 2014
Rated

5.0

out of

5.0
 by
jo20
excellant staff
Staff were very attentive and saw to all our needs.
June 5, 2014
Rated

5.0

out of

5.0
Comfortable Property
Comfortable Property, Great Service, No Complain For this property.
June 3, 2014
Rated

4.0

out of

5.0
 by
Ventsi
Good hotel but level is going down
I stayed many times at this hotel and always was thinking it's one of the best hotel deals in the city. Even I will still recommend it I must mention that its standard dropped down a bit. First, there were renovation works going on which were not anounced on the website. Fairness with the guests is of utmost importance. The buffet breakfast is far from what it was before (last visited 3 months ago). Less variety in many aspects - less bread choice, only one type of cold cut sausage, 2 types of cheese, no olives, etc. But the check-in and check-out was really the fastest I've seen - everything was prepared, printed and ready and done in seconds. Amazing.
June 3, 2014
Rated

5.0

out of

5.0
 by
Rajvirtual
Comfortable stay for Business
Good Location, excellent staff with right attitude, cozy and relaxing environment makes this hotel a value for money spent specially for business.
June 2, 2014
Rated

2.0

out of

5.0
 by
Skier21
Room and Lounge
The Hotel is going thru an upgrade and needs it . The room had a musty smell about it every time you walked in . I was dissapointed with the fact that because I booked the room on points I was unable to access the club lounge ,I had to pay extra . I am a Platinum member and have been for a number of years and when I want to use points I dont get to use the lounge .
June 1, 2014
Rated

5.0

out of

5.0
 by
KenDC
Perfect stopover hotel.
We arrived jet lagged and exhausted and the checkin staff were terrific. They arranged a room so we could freshen up and gave us lots of information we didn't know we would use until later in our stay. Special mention must be made for Yasmin (guest experience manager) she gave us a great deal of attention (an anniversary stay) and made what was just a stop over into a very memorable part of our holidays. Well Done! The hotel is close (but not too close) to the main city precinct, with a free shuttle to Orchard Rd (shopping) and a short leisurely boat ride ($3 water taxi) to the major sites. This hotel will definitely be a stopover on future long hall flights in the future.
May 30, 2014
Rated

5.0

out of

5.0
 by
Ding1
a great place to stay in Singapore
welcoming, friendly staff. very comfortable room furnished with everything you need. although the MRT station is a little bit far, there is a bus stop at the corner and taxis are always available and fares are affordable.
May 30, 2014
Rated

5.0

out of

5.0
 by
Fuentes-Sanchez
Good service and great staff
Staff very friendly and always supportive; porters are very efficient on their job, quick check-in process.
May 30, 2014
Rated

2.0

out of

5.0
 by
Putraskyline
Unattentive Staff and Poor FnB Product
Arrived in Atrium late evening using a taxi. While there are 2 staff standing at lobby, they are not interested to help you with the luggage or show us the reception since the building is in under refurbishment. Met a front desk which was very friendly. Got a room in 26th floor. Nice view of Singapore. However the bed was hard, not comfort at all. Pillow was too small for HI standard. I didnt like the shower in the bath tub. Air circulation in the bathroom was poor. After checking in, we straight to the Executive Lounge. Food selection was good but the service was non existence. I wait for 10 min, no one asking to help you with the beverages selection. Poor service. You need to self service go to the counter and ask the drink. Lounge waitress are interested to talk wothin themself only. I have used the concierge the next day and they was good helping with the transportation option. Breakfast was very poor. Poor in term of selection, hygiene of the place and also the staff. Only 1 hot station available which is egg counter. Only 1 wok available for chef to cooked. While I am seeing around 4-6 waitress, none of them interested to ask you either coffee or tea. You have to wait 10-15 minute to get attention and another 15min for coffee to arrived. I feel this is the first time I encounter terrible value, poor service in Holiday Inn that I have been to. I will avoid this hotel at all cost.
May 30, 2014
Rated

4.0

out of

5.0
 by
Shanghairen
Genereally good
Generally good hotel to stay, the location is not good, a bit far from the subway station. The swimming is cool!
May 30, 2014
Rated

4.0

out of

5.0
 by
pioneer79
Nice suite room
I enjoy the big nice suite room at top level. And now looking forward the facelift.
May 21, 2014
Rated

2.0

out of

5.0
 by
Yien
Air-Con
The air-con is either too cold at 21degC or too hot in room 16-04. I have to wear double layers of t-shirt and long pants in the room. Regarding the Changi Room, my colleague and i were freezing when attending training 5 days in this room. It is at the right hand side of the room. While colleagues sitting at the left hand side are hot. @_@
May 20, 2014
Rated

3.0

out of

5.0
Bad Rooms And Uncomfortable bed
These was the 4th time to your property was not at all pleased these time with the room service and food at all .... It was a bad experience rooms were not clean , bed was most uncomfortable tp sleep on . Had a bad experience , would be thinking whether to come or no next time when i visit singapore
May 18, 2014
Rated

1.0

out of

5.0
 by
CasonQingdaoChina
舒适的睡眠质量,方便的洗衣房
本人经常来新加坡出差,曾经比较过很多酒店,最终选择了Holidayinn Singapore Atrium作为一个长期落脚的地方。在这个酒店,前台和客房服务特别亲切,尤其是前台工作人员,非常礼貌、得体。给人一种信赖的感觉。 美国方式的自助洗衣是我非常喜欢的一个内容之一。每一次去住店,晚上自己去洗衣服,感觉跟自在,很方便。而且不用担心送洗衣服的时间,一切都在自己掌控中。非常好。
May 16, 2014
Rated

4.0

out of

5.0
 by
Jarsun
Overall very good
Like others room, bfast, amenities etc all very good or excellent. So i will just comment on things that can be improved. I drove. Nobody is there to receive us at drop off. I want to check in so need to park awhile at drop off but no one there to guide. I have stayed at HI city centre. Its very well serviced n guided. First impression important. Lacking here. 2nd, staff at check in not informative nor inquisitve. Have to ask for evrythng like carpark to room preference. At the end have to ask again room info but a vague answer given expecting me to understand, as though i stayed in HI all my life. Other hotels incl HI city centre, elaborate and reassure guests about room pref. Need to service better here. However, contact at all other times with staff at reception was excellent. Until, again, I was waiting to checkout, the guy at checkout just nodded his head to beckon me to go to him. In most other hotels the staff would be most polite n respectful. This lacks basic social grace. I am not waiting to buy groceries. And after that i never heard a single word from him. Not even thanks n see you again etc. i have to ask him for a carpark coupon. It all seems too aloof for guest service. If not for the less than expected, start and end to the stay, evrything else was perfect. Even the renovation did not affect us at all.
May 15, 2014
Rated

4.0

out of

5.0
 by
TwoTTs
Met our requirements
Having booked on-line for 3 persons and getting a confirmation which indicated there was no guarantee of bed configuration and an extra charge may be made for an extra person, we were absolutely delighted to find we had been allocated a room with 3 single beds, This was absolutely perfect for 3 unrelated females to share a room. Thank you for providing this configuration. We were a little disappointed at the lack of knowledge at concierge (more than 1 staff member) on specifics of a number of attractions. We wanted to know more information than just reading a brochure, but often got vague or conflicting answers. There were very few brochures available. We did receive a gift after booking 1 tour. Do the concierge staff ever go on training trips/attractions/tours? The lobby was undergoing refurbishment, so we had to use the lounge bar area to access wifi - the staff were very understanding. Housekeeping did check every day if we were ready for our room to be done - very pleasant staff, but I have not experienced this interruption at other properties
May 11, 2014
Rated

5.0

out of

5.0
Great hotel
Highly recommend as we experienced an excellent service from everyone.
May 9, 2014
Rated

5.0

out of

5.0
 by
CAPTRON
GREAT HOTEL BUT NOT A LOT OF PLACES AROUND HOTEL
We come to Singapore at least 3 times a year and have never stayed in this hotel before, so we decided to give it a try and we really like it. We found the staff to be very pleasant, with a can do attitude . We liked the lobby bar because the time of night we were there was no live music and we were able to have a conversation without having to shout... The service was good, the beer was cold and the bar food was good. The one thing that is over looked on the website are the 2 convenience stores in the hotel that sell a little bit of everything just like a 7-11. But the best thing about the stores is that they stay open until 2:30 (0230) in the morning and they sell beer, wine and hard liquor, so if you come in on a flight from the USA after midnight you can use these stores and not have to leave the hotel. Also, there are 2 7-11's 2 blocks from the hotel one to the left and one to the right.. You have to walk 10/15 mins from the hotel to get to a lot stuff but that's not to bad, We will be coming back to this hotel...
May 8, 2014
Rated

5.0

out of

5.0
 by
luoluom
客房整洁,服务前台人员热情有效率
客房整洁,服务前台人员热情有效率客房整洁,服务前台人员热情有效率客房整洁,服务前台人员热情有效率客房整洁,服务前台人员热情有效率
May 3, 2014
Rated

5.0

out of

5.0
 by
Co rod
Our Holiday Inn Atrium Experience
My wife and I had a reservation for 4 nights at this Hotel. Unfortunately I was hospitalized a few hours after our arrival, remaining there for three days. From the moment we arrived (with myself feeling very unwell), every employee could not have been more helpful. The care and service was exemplary and far beyond the call of duty. Certainly this attention offset what could have been a regrettable holiday. Our thanks to all staff and management .
April 28, 2014
Rated

5.0

out of

5.0
 by
Alby
Club Floor recommended
A short stay whilst attending a conference. booked club floor as have stayed on club floor here and at Holiday inn Central. Both good. Service from staff was excellent, attentive with out being over the top. I liked breakfast here as even though not a wide range it was quiet and had enough to satisfy my needs. Overall i would stay again and recommend it. Location id good, only 5 minutes for the river and then can walk along to Boat Quay.
April 25, 2014
Rated

5.0

out of

5.0
 by
Tembo
Great Hotel
Glad to find the Atrium as being a regular cruiser out of Singapore this hotel offers great facilities for a great value. We choose the KING BED EXECUTIVE SUITE on the highest floor and have always had a great stay. Vicinity not bad- great walk down to Marina Bay. Customer service excellent and very professional. Staying again November 2014
April 22, 2014
Rated

4.0

out of

5.0
 by
ytwong
Good Location
You can take a walk along the river bank early in the morning and at the evening, instead of walking along the Orchard shopping malls.
April 18, 2014
Rated

4.0

out of

5.0
 by
personify
Very good hotel
The only disadvantage is that the location is far from the MRT station. Although there is a bus station right at the hotel, but the singapore bus system is not that convenient for foreigners. Otherwise the hotel is geneally a good hotel with cleaniness and friendly staff.
April 16, 2014
Rated

4.0

out of

5.0
 by
Harry2772
Excellent Service
I wrongly booked my room but your staff was quick to point it and we quickly resolved the error. Your staffs are all very friendly, always with a happy face.
April 15, 2014
Rated

5.0

out of

5.0
 by
virtualaris
One of the best highlight of my parents anniversary
At first, I thought that the hotel only fits to the tour group or business group booking since the hotel is big and has lot of rooms. However, I was wrong !!! Since the hotel staffs are very good in taking care of us. I booked a suite on HI Atrium as a moment to celebrate my parents anniversary. I arrived quite early and I was told that they have setup temporary room since our suite was not ready yet. I just can say wow !! Other hotels usually asked me to wait if the room was not ready but setting up temporary room so we could get rest are really nice touch. Eventhough there is no upgrade since it is the highest category in the hotel but I really appreciate how they treated Platinum members. Early check-in, drink vouchers, and also they way that they handle my requests to make my parents anniversary memorable. There was birthday cake in the suite room along with the greeting card; even some of the words in greeting card are using Bahasa Indonesia which are very appealing. My parents is very happy and eventhough that they probably have ever stayed in a suite in other *4 or *5 hotels but they said that it was one of the best hotel services that they ever had. I also had a chance to meet Jerrick, the duty manager; and also fabulous staffs in lounge like ms. Kartini and ms. Rosa which are very helpful and kind during our stay. My parents enjoyed a lot to chat with ms. Rosa since she is very fluent in Bahasa. All in all, it was very pleasant stay and kudos to all of the teams in Holiday Inn Singapore Atrium.
April 14, 2014
Rated

2.0

out of

5.0
 by
another cup of coffee!
Sorry, but it needs an upgrade
I found the room small, dark and dingy and not at all appealing. The wiring system needed an upgrade and the aircon controls were limited. The location is fair enough, but a long walk from any of the main sites. I didn't eat there, so I have no comment on the food, but the restaurant appeared appealing. The staff varied--several folks were top grade, but quite a few seemed rather disinterested. House keeping was late--I had already returned to my room about 4pm and was showering when they came to refresh the room. Overall, no one was really bad, but the place suffered in comparison to my stay before at the Saigon Intercontinental and the Semerang Crowne Plaza, both of which got 5 stars from me with bonus points to their exceptional staff. Bottom line is that the entire place just needs to be upgraded in appearance, function and energy. Even the elevators moved at a snail's pace, which is sorta the mood of the hotel...
April 11, 2014
Rated

5.0

out of

5.0
 by
Artyka
Great Hotel
Super hotel. High level service and super Food & Beverage !
April 11, 2014