Skip Navigation
English
|
|
|
|

Sign In

Book online or call: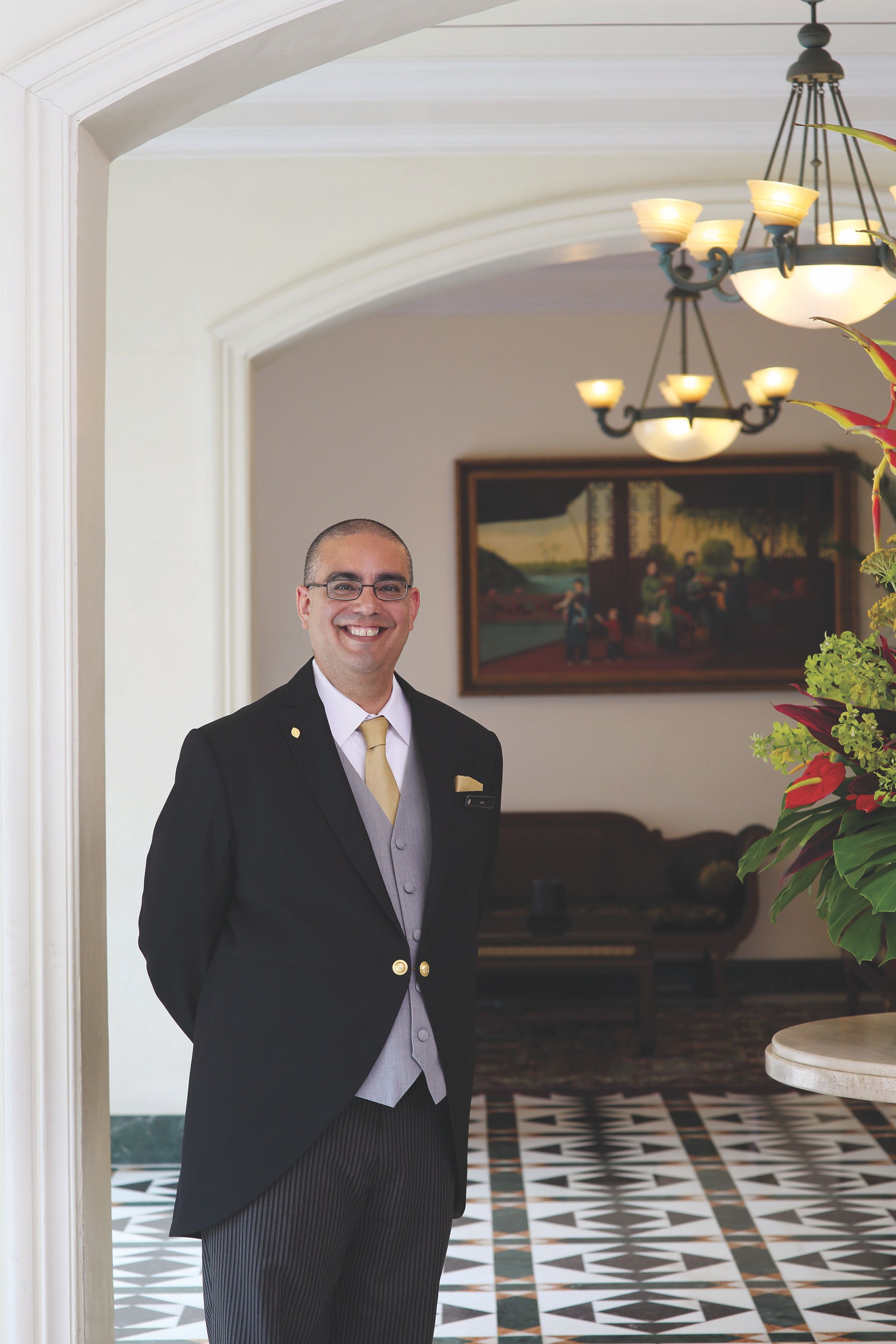 Insider Tips
LOCAL CULTURE
WEATHER
Singapore's weather is mainly warm and humid throughout the year. Bring an umbrella as you never know when it is going to rain. The average daily temperature is 26-32°C.
A PERANAKAN-STYLE LANDMARK HOTEL IN SINGAPORE'S BUGIS PRECINCT
The only 5-star luxury hotel in Singapore to preserve Peranakan heritage in a shophouse-style setting, the hotel is located in the Bugis precinct, close to Orchard Road and the Marina Bay area. Adjoining the hotel is Bugis Junction Shopping Mall and Bugis Train Station, which provide convenient access to various attractions around Singapore. With over 400 luxurious guest rooms, the hotel is an oasis in the city, featuring a rooftop garden, outdoor pool and a range of fine dining options.
HOTEL HIGHLIGHTS
Restaurant & Lounges

Celebrate Singapore's diverse culinary delights with us. Be it the award-winning world buffet at Olive Tree, authentic Cantonese specialities at Ma...

Amenities & Services

Unwind in luxury in our spa and outdoor swimming or get your blood pumping in our 24-hour fitness center. Relax in the elegantly appointed Club Int...

SPECIAL PACKAGES

There's always something special happening at an InterContinental hotel. Whether you are looking for a fun-filled getaway or a place to host your n...
Singapore
80 Middle Road
Singapore , 188966
Singapore
Front Desk +65-6-3387600
Languages spoken by staff
German, English, Indonesian, Japanese, Korean, Dutch , Tagalog, Chinese
Pet Policy
Contact hotel for details
CHECK-IN

3:00 PM

CHECK-OUT

12:00 PM

Late Check out Available
Accessibility
2 Room(s) with Accessibility Standards
Parking
Guest Reviews
Rated

4.5

out of

5

 by

604

reviewers.
Rated

4.0

out of

5.0
 by
rasisri
Comfortable stay
I stayed for a day at the Holiday Inn Orchard City Centre. I am delighted with the room and the services. There are plenty of good nightspots within a shout of the hotel and I wish I could have stayed over for the weekend. But it is a bit too pricey. I guess this is a function of the demand and supply.
May 6, 2014
Rated

4.0

out of

5.0
 by
Feliciardo
satisfactory
my stay in the hotel was pleasant and I have enjoyied and i shall be back soon
May 5, 2014
Rated

5.0

out of

5.0
 by
Bomrekab
good service, great location, comfortable room and bed
last minute accommodation deal. Staff and service very good. Room facilities very good, block out curtains allowed a great sleep. Comfort pillows and comfortable bed. five minutes to Orchard road shopping. central location. near MRT.
May 3, 2014
Rated

5.0

out of

5.0
 by
The Welshies
Trustworthy great service
We have been visiting this hotel, and no other in Singapore since 1998, so we go back a long way. As we have got older, the hotel has got better, and year on year we have seen changes further improve the hotels service. We have never had a complaint, and never had an occasion when the staff have ever said no to any request we have made. The best thing about the hotel is that it is very laid back, the staff are so friendly and trustworthy, and it is the only hotel I know where we leave personal items around in the room without a worry in the world..
April 29, 2014
Rated

5.0

out of

5.0
very relaxing atmosphere
Our room ( Premier suite) overlooked a beautiful lush garden full of trees. Phone calls were answered promptly and request attended to immediately. Laundry service was excellent.Rooms were serviced beautifully. Very calm and soothing atmosphere.if you want to have some peace and quiet, this is the place to stay. A visit to the Indian restaurant a must.
April 28, 2014
Rated

5.0

out of

5.0
性价比超高
性价比超高,性价比超高,性价比超高,性价比超高,性价比超高,性价比超高,性价比超高,性价比超高,性价比超高,性价比超高,性价比超高,性价比超高,
April 27, 2014
Rated

5.0

out of

5.0
 by
DillipK
Overall Great Service and Staff
This is the 4th time we have been to Singapore and have stayed at the Holiday Inn Orchid 3 of these times. From now forth, this will be the only Hotel we book in Singapore. Not only is it centrally located, but the service from the friendly staff, the Executive lounge, and the amenities are exceptional. Highly recommended to anyone for business and families alike.
April 27, 2014
Rated

3.0

out of

5.0
 by
Bali63
Lack of loyalty recognition
Checked in today and got the usual thank you for been a loyal Platinum member which is great to see but the recognition stopped there , Usually as a Platinum member in the IHG group you get a room upgrade or entrance to the club lounge but as I booked a club room there was no need and this time at this hotel there was no other recognition which maybe a small thing but it's a reason why business travelers like myself remain loyal to a group like IHG. So over all a disappointing start to a six day stay.
April 22, 2014
Rated

5.0

out of

5.0
 by
Cushy68
Great Service
Great staff, good location, great pool. Nice club lounge. We like this hotel as our kids enjoy the pool on stopovers and its handy for shops and dining on Orchard Road. On business trips I like it as its handy for the business centre and for the nightlife of Clarke Quay.
April 22, 2014
Rated

5.0

out of

5.0
 by
picmartin
Excellent hotel and walking distance to Orchard Road
Checking in not flawless! But talking to another lady and being platinum members for long we were given a wonderful upgrade to one of the best suites! We were very grateful for this! Business lounge is excellent! Great service and extremely friendly. We could stay in the lounge as long as we wanted to wait for our very late flight. What a relief! This was our second stay and we enjoyed the hotel with all the extras! Service in the bar and music in the lobby was very good! What more do you need in a good hotel??
April 22, 2014
Rated

1.0

out of

5.0
 by
Jungleman.chan
Terrible Experience @ Singapore Orchard City Centre
My ratings are a bit irony. On one hand, the hotel score well on location and amenities but on the other, it handled very badly on customer feedback. I had booked a one night getaway stay at the hotel hoping to have a relaxing Good Friday holiday but it turned out to be the worst stay I ever had in IHG of hotels. I checked in at around 2pm on 17 Apr and only found out that there is renovation work in the hotel. The front desk didn't inform me until I got into the room and found the slip of paper discreetly left on the paper holder. I've requested for another room but was told they were fully occupied. Since the renovation is till 5.30pm, I accepted the fact and hope to have a quieter evening. To my horror, the drilling and pounding didn't even stop after 6pm and it took another 15 mins to come to complete silence after a call to the front desk, Since 18 Apr is a holiday, I thought the hotel would be considerate enough to stop work for a day and let their guests sleep in. However, the renovation work starts again in the morning. The hotel offered a late check-out but what is the point? I found out that the renovation work is just next door and imagine the echo from these drilling and pounding inside the room, it's just unbearable. I was forced to check-out early. I understand that hotels need to constantly rejuvenate their rooms but some pre-informaiton/action can help to mitigate the situation:- 1) Pre-inform guest of renovation work and get their acceptance/understanding. 2) Block out rooms near to renovation work and do not allocate to guests. 3) Engage a more professional customer service manager. When I mentioned that I would put a negative feedback, I was told "I cannot put a gun on your head to write a good feedback, right?" Enough said. I'm just utterly disappointed with the whole stay at Singapore Orchard City Centre.
April 21, 2014
Rated

5.0

out of

5.0
 by
Albertan2014
Excellent value for money
Excellent stay, better than expected. Close to shopping and restaurants, short taxi or bus ride to Botanical Gardens and marina area.
April 21, 2014
Rated

5.0

out of

5.0
 by
ljtrumper
Excellent first abroad experience
I had never traveled outside the U.S. I chose to stay at the Orchard City Centre Holiday Inn because my boss had an account and points with which I was able to stay for a cheaper rate. I have to say, I could not be more pleased. We had a number of issues, what with us being foreigners, but the Holiday Inn was quick in resolving everything! First of all, we blew a circuit with our curling iron which resulted in our air being shut off. One of our travelers was sick in bed with a stomach bug (plane food, NOT hotel food), so we needed to get her back to a comfortable sleeping environment, stat. A quick visit to the front desk on our way out to explore and they had a repairman in our room within two minutes. No only did he get our fuse fixed and our room back to a comfortable temp, but he left us with an industrial converter with several outlets, every girls regime dream! The king size bed was huge! Big enough for three girls to sleep comfortably. The bathroom was magnificent, beautiful. Lastly, I left my pillow in the hotel room (great way to start out a 2 week vacation). I have had terrible luck in the past with leaving items in the room, i.e. never seeing them again. I was distraught as the pillow case belonged to my grandmother and it was such a great traveling pillow; I had pretty much accepted that I'd never see it again. But to my great surprise, I emailed the hotel as soon as I had internet access (by this time I was in Thailand), and not only had housekeeping found my pillow, but they had documented the item in their lost and found for safe keeping! By coincidence, my friend lives just up the street from the hotel and at my request, he was able to pick up my pillow, after verifying his identity w/a passport. I could not be more pleased with the honesty and benevolence of this hotel. I highly recommend it to anyone staying in Singapore. Oh and it happens to be conveniently located in the Orchard City Shopping area and a short walk to the metro rail.
April 21, 2014
Rated

4.0

out of

5.0
 by
Madness67
Lovely Hotel, Good Facilities
This was a lovely hotel with good facilities. The rooms were spacious, clean and modern. The pool area was nice. Breakfast buffet offered a varied selection of food. We upgraded to the executive package, as we required late check out and realised that the cost would be similar and that there were added benefits of complimentary pressing, afternoon tea and happy hour drinks. We did find that the benefits were slightly restrictive with children, compared to other hotels, but overall it was quite a good package. Staff could do with some training on inclusions. There were a couple of errors made in relation to this and we were overcharged in error, but these were promptly corrected once notified. The hotel was also very centrally located to Orchard Road shopping and restaurants.
April 21, 2014
Rated

4.0

out of

5.0
 by
umeandthekids
Superb Bedding and Ideal Location
We had a great 3 day stay recently. The rooms were comfortable and clean and the service at the restaurant was very good as was the food. A tiny glitch upon check in that took some time to fix but all in all a very pleasant stay. No recognition that I am a IHG Member.
April 20, 2014
Rated

5.0

out of

5.0
 by
eboy911
位置便利,服务一流
第一次到新加坡,赶上了下雨,费了一番周折才找到宾馆。地理位置还是什么便利的,从someset站下车从orchard center出来步行5分钟就能到宾馆,每天晚上就在orchard street各种压马路。宾馆非常不错,特别喜欢八楼的更衣室,还可以蒸桑拿。
April 18, 2014
Rated

4.0

out of

5.0
 by
Atie
Great Service, Clean & Comfortable
Second stay at Holiday Inn Orchard. Both stay experience Club floor privilege. Greeted by great staff especially Kristen who tried to make sure you get your every single request. Housekeeping staffs was attentive too. Rooms nice and clean. Convenient location. Close to shopping and restaurants. Will stay here again on future visits.
April 16, 2014
Rated

4.0

out of

5.0
 by
Travelling Scot
Comfortable with good locality
Well situated for shops and access to most facilities, but off the main street so is quiet and peaceful...comfortable room and good bathroom facilities.....good breakfast options although the breakfast room seemed a little small..pleasant cocktail bar and good service..ideal stopping -off point for a City Break
April 15, 2014
Rated

5.0

out of

5.0
 by
KunTW
A little gem in a garden city
A non-smoking room with thick somking environment was assigned upon arrivial. The front office staff and the manager of executive lounge were quickly re-assigned a fresh room for us. The room was comfortable and housekeeping staff were polite during our stay. The provision of food abd beverage area in the lounge is small but with good selection of foods and drinks for breakfast and cocktail hours. The hotel attendants were friendly with good manner. The pool area is not lush but charming for excise and relaxation. The hotel is small but very accommodating for its guests.
April 14, 2014
Rated

5.0

out of

5.0
 by
petelsa
It's all about People, People, People
Staff are exceptional, when a hotel makes you feel like you're at home you know it's good.
April 13, 2014
Rated

4.0

out of

5.0
 by
Oz Peter
HI Singapore
Good sized hotel in a good location close to many restaurants and bars. The Executive lounge lets it down a bit as it is dark and noisy. All the staff are friendly, helpful and warming. The buffet breakfast leaves a bit to be desired and the cafe is quite warm and humid. The Tandoori restaurant is superb, first class food. The rooftop pool, gym, etc is a good haven to escape the hustle and bustle. All in all a good hotel.
April 12, 2014
Rated

5.0

out of

5.0
Excellent
Excellent in many ways. Can't wait to stay more often in my every trip to Singapore.
April 11, 2014
Rated

5.0

out of

5.0
 by
micmac47
Excellent Customer Service in a great location
I have recently returned from a 2 week stay in this hotel, where I opted for an executive, non-smoking room with two twin beds. From our initial check-in at reception to our final farewell we were treated to the best customer service I have received in ANY hotel, anywhere.( My wife and I are both retired customer service professionals, and have published journal articles and a book on the subject, so we do know what we are talking about). Every member of staff we came into contact with was consistently helpful and friendly, and literally, nothing was too much trouble. Our choice of an executive room allowed us access to the club lounge, where cold soft drinks and tea/coffee are available all day. Alcoholic drinks are also served free between 6pm and 8pm, plus a choice of tempting hot and cold food - typically 3 hot dishes, plus salad, fruits, sweets, cheese board etc. The executive package also gives you access to free internet, 2 free items of laundry per day, and late check-out up to 4pm. Breakfast is also served in the exec lounge, where eggs, bacon, waffles, pancakes etc. can be made to order, plus a wide extension of items from the hot and cold breakfast buffet. We could also have taken breakfast in the Windows restaurant, but preferred the quieter, more intimate exec lounge. There is a pleasant swimming pool on the roof, which did not seem busy when we visited. Also, if you enjoy Indian food do not miss the in-hotel Tandoor restaurant, where we enjoyed a superb banquet meal at a very reasonable price. Rooms are generously sized, well air-conditioned, scrupulously clean, and have very comfortable beds with a choice of pillows. We were on the 6th floor, overlooking Cuppage Terrace with its bars and restaurants, but did not experience any external noise. The bathroom was well-supplied with toiletries, and had a large bath plus two showers, one moveable head and one fixed. A hair drier is also supplied. I will be writing separately to the hotel to thank them for a very special stay, and naming some of the team for their outstanding contribution to our wonderful holiday. To summarise, don't hesitate to book a stay here, and pay the little extra for the executive package, which provides such great value for money. Room Tip: Go for the executive package. It costs a little more, but represents such good value for money. See more room tips Stayed March 2014, travelled as a couple
April 10, 2014
Rated

4.0

out of

5.0
 by
Ian65
Good visit
Excellent room. Good location. Very happy with food and service in executive lounge. As with all Singapore hotels, expensive but, in comparison good value
April 10, 2014
Rated

5.0

out of

5.0
 by
Happyhippo32
Great location, great staff, great experience
I really like the Holiday Inn City Centre (Orchard Road) and always try to stay there when I go through Singapore. It has an excellent location, just 3 minutes walk from Orchard Road near Centerpoint. Wonderful staff, all warm and efficient. Beautiful Presidential Palace grounds opposite so it is green, and super insulated windows so you never hear traffic. I really like the fact it is 8 floors rather than the usual mass tourism 5 star hotels in Singapore with 40 floors or more. It feels so much more personal and intimate. Great room facilities and breakfast in a pleasant dining room overlooking the park, and above average room service food quality. It is expensive - as are all 4 & 5 star hotels in Singapore - but you definitley get great value for the money.
April 9, 2014
Rated

5.0

out of

5.0
 by
NicNat09
Always stay here
As the title says this hotel is a great place to stay. Staff are welcoming and helpful. Nothing is ever too much! Rooms are clean and since the renovations they are modern and relaxing. I have stayed at this hotel several times a year for the past 10 years and will continue to do so.
April 9, 2014
Rated

5.0

out of

5.0
 by
Alex87
great room, great location.
I was visiting friends in Singapore for the first time. I had one business dinner during stay. All in all the Orchard area is a great hub for food and shopping, access to public transport was easy, and you're close enough to everything.
April 8, 2014
Rated

5.0

out of

5.0
 by
Sabirhu
5 Star Rating
Excellent from check in to checkout. This hotel beat my expectations. Fabulous in every way.
April 8, 2014
Rated

3.0

out of

5.0
 by
kayes
a little disappointing for IHG gold member
Room a little musty, no newspapers,no fruit as advertised. Executive lounge and staff very good.
April 8, 2014
Rated

5.0

out of

5.0
 by
Willis1311
No traffiic noise, comfortable bed.
Our second stay at this hotel because of its proximity to Orchard Road shops, the Hop-on Hop-off bus stop and local restaurants and bars. The use of the Club Lounge was well worth the extra cost for the buffet breakfast, afternoon tea, the evening drinks and snacks and especially the 4pm checkout.
April 7, 2014