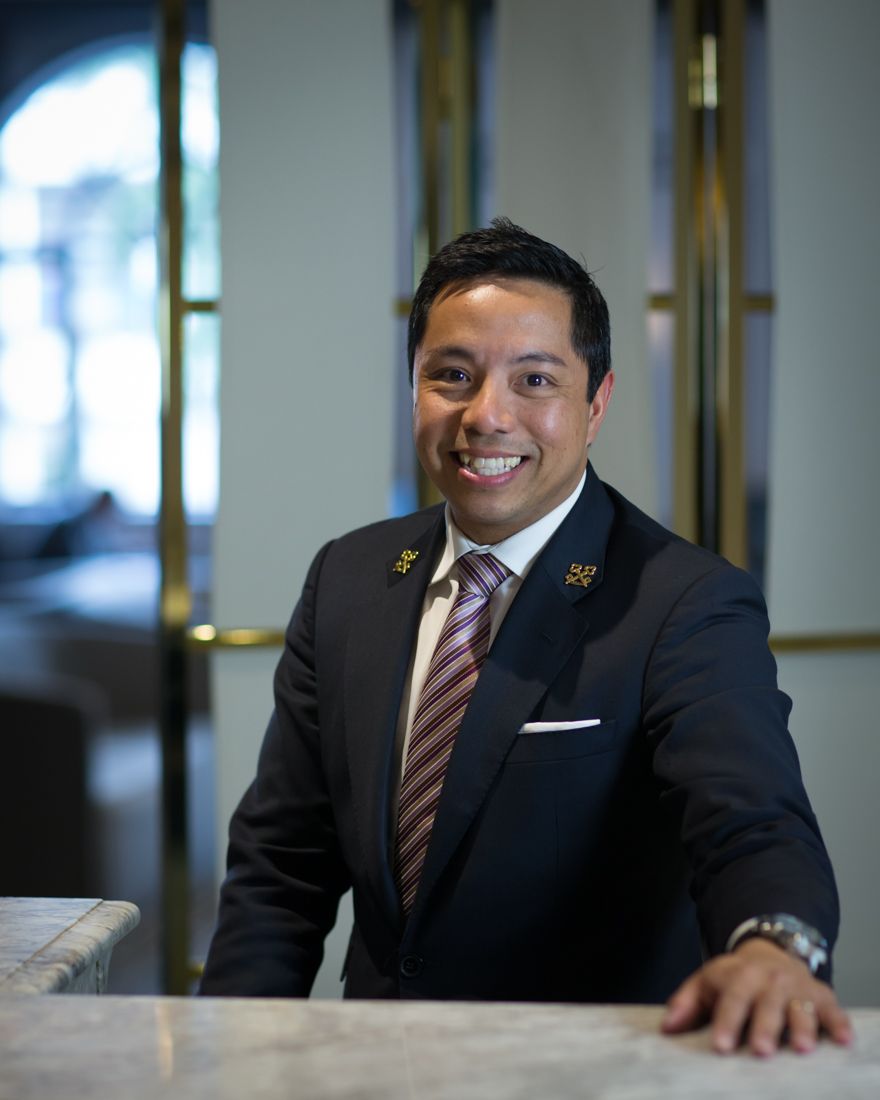 James Nobleza
Chef Concierge
Welcome To Sydney
Welcome to the InterContinental Sydney Double Bay.
We know it is the little moments that matter, the hidden eateries, the boutique galleries not found in the guidebooks, the intimate boutiques with personalised service and the latest events and new experiences, so you can return home with much more to share. Whatever your passion, our 'In the Know' connected Concierge can unlock hidden secrets to complement Sydney iconic experiences. Let InterContinental Sydney Double Bay help you discover it all.
MORNING

Start your day with a walk to Steyne Park on the corner of Ocean Avenue and William Street and enjoy the breathtaking scenery that is Double Bay Harbour. Enjoy a delicious buffet breakfast at the hotel followed by a stroll through Double Bay Village where you'll discover a variety of specialty shops including fashion boutiques, featuring Australian and international designers, art galleries, restaurants and cafes. Take a ferry from Double Bay Wharf to Circular Quay and enjoy the day in Sydney central business district (CBD) where there are plenty of activities including the Powerhouse Museum, Taronga Zoo, Royal Botanical gardens, and The Sydney Opera House. For the adventurous climb the iconic Sydney Harbour Bridge or take a thrilling ride at over 800km/h in the popular L-39 Albatros Jet, seen in various James Bond '007' and other air action movies.

AFTERNOON

Spend the afternoon meandering through some of the worlds finest art galleries including Frances Keevil, New South Wales Art Gallery and White Rabbit at Chippendale. To get the most out of your stay, Concierge is on hand to help plan the perfect afternoon. Enjoy the spectacular sunset overlooking the serene waters of Double Bay harbour at the rooftop pool and lounge with a glass of champagne.

EVENING

Start your evening at Stillery on level one where our bartender will create a bespoke cocktail. Enjoy dinner at Stockroom, our destination restaurant, featuring a seasonally led menu showcasing the best of local and international produce prepared featuring a Robata grill.
LOCAL CULTURE

There is no obligation to tip in Australia

There is no obligation to tip in Australia. Australians do believe in tipping when they have received good service though, so tip when you see fit.




Warm sunny days and cooler evenings

The climate of Sydney is temperate, having warm summers and cool winters, with rainfall spread throughout the year. The warmest months are January and February, with an average temperature range of 18.7–25.9 °C Sydney's overall climate is generally quite mild all year around; the city does not experience extreme seasonal weather differences. Summer days usually fall within the mid 20's and winter days in the mid teens.




Smoking

Smoking is banned from restaurants, shopping centres, bars, clubs, public transport, taxis and entrances to public buildings. The dedicated areas for smoking are clearly signed with fines applying to individuals who smoke outside of these designated areas.




DID YOU KNOW ?

Double Bay

Double Bay is named for the sandy shoreline interrupted by a miniature point. It refers to the two geographical formations between Point Piper and Darling Point, which are interrupted by a miniature point in between. The eastern part is also known as Blackburn Cove. The locality was originally called Keltie Cove after the master of HMS Sirius. The present name came into use around 1821 when Governor. Lachlan Macquarie earmarked the bay as a site for a future Botanical Gardens. The gardens were planned and marked out before Macquarie left Sydney, but his successor, Major-General Sir Thomas Makdougall Brisbane, never finished the project. In the early years of the colony, Double Bay was used as shelter for fishermen who would regularly fish around the harbour.




Executive Chef – Julien Pouteau

Julien Pouteau embarked on his culinary career back home in France where he worked for a number of hotels and Michelin star restaurants. Julien then decided to continue his career overseas where he had the opportunity to work for many prestigious hotels and establishments including Leading Hotels of the World and Relaiset Chateaux. During his travels overseas Julien found his way to Australia where he joined IHG and InterContinental Sydney in the position of Executive Sous Chef in August 2010. During his time at InterContinental Sydney, Julien has been a key driver for innovation of food production and presentation to achieve better market recognition for the hotel and particularly Cafe Opera. In the role of Executive Sous Chef, Julien has also played an integral part in building an energetic culinary team representing a high performance culture in an ever changing environment. Julien recently featured on SBS Food Safari with Luke Nguyen. You can watch the clip here: http://www.sbs.com.au/food/luke-nguyens-france/recipes/hervey-bay-scallops-artichoke-chips-perigord-truffle-and-chicken-jus




The InterContinentals Architectural Design

Rooftop pool & lounge The roof top pool & lounge provides an outdoor setting and is available as an event space within the hotel. Hotel guests and local patrons will arrive on level six and follow a leafy lined walk way to sculptural rock face walls before arriving at the infinity pool overlooking Double Bay and beyond. The sun rises over the cabanas on the east side and sets over the bar in the west. The private cabanas, outdoor seating and pool side lounges enable the space to operate with different types of service. Guest rooms the interior design for the typical rooms references the design of the public areas to ensure continuity of design and detail. Lighter more contemporary furniture will be set against framed elements making reference to the symmetry of the architecture. The design evokes a casual elegance and sophistication that is reflected across all interior spaces within the hotel. Architects: Bates Smart, Surry Hills.




Home to Double Bay Street Festival

Sunday, 1 November 2015 will be the biggest Double Bay festival yet. A huge celebration of the fabulously cosmopolitan community of Double Bay, combining every culture that makes up this great Aussie land we all call home. Sample the very best in gourmet cuisine including coffee, wine, organic produce and boutique gelato all while soaking up the village ambience.




WHAT TO PACK

Quarantine

Australia has the strictest quarantine laws in the World because of its unique environment. Please ensure you do not bring any unprocessed food, fresh food, animals and animal products or plant material into the country as heavy fines can be levied. There are also strict quarantine laws between states and fresh food can not be transported across state lines.




Sun protection

With our beautiful sub-tropical weather it is easy to enjoy relaxing by the beach lagoon pool, however, be sure to pack SPF 30+ sunscreen, light clothing, and a hat and sunglasses to ensure you save your skin from the sun. It is best to stay out of the sun during the middle of the day when the UV rays are the strongest.




Australian power sockets

Australia's power sockets require a flat two prong plug resembling an upside 'V'. It is advisable to bring an Australian socket adaptor; however, there are universal adapters available in the guest rooms.




Essentials

Swimwear, joggers & most importantly, your camera. There is an array of activities in Double Bay and Sydney CBD, and the best way to truly experience it is by foot. Comfortable footwear for during the day, your swimwear to relax in the pool, as well as your camera. We love to see our guests photos, tag us on Instagram @intercondoublebay or Facebook InterContinental Sydney Double Bay & Twitter @InterConSydDB



InterContinental Sydney Double Bay
33 Cross Street, Double Bay

Sydney

,

2028

Australia

Front Desk

+61-2-83888388
Languages spoken by staff
English
Pet Policy
Only guide dogs are allowed.