Paris Hotels
Famous for its romantic ambiance, unparalleled architecture and chic sensibilities, the City of Lights draws millions of international visitors each year. Paris is also heralded the world over for its exquisite cuisine, vibrant nightlife, and world-renowned institutions of art, such as The Louvre. From the Eiffel Tower to stately museums to its centuries-old Neoclassic architecture, Paris offers something for everyone. By carefully planning your trip to Paris, you can help ensure you'll get to experience all that makes Paris such a popular destination. From modern chic to historically elegant, Paris hotels also offer accommodations to suit a range of budgets and tastes.


Things to See
Whether you're a history buff or a cultural connoisseur, Paris is rich in historical sites and world-famous museums and galleries. Located on the Right Bank of the Seine River, the Louvre Museum is one of the world's largest museums and one of Paris's most treasured landmarks. Home to roughly 35,000 exhibits, from prehistory to the 21st century, the Louvre receives nearly 10 million visitors annually. Be sure to dine at one of the world-renowned restaurants or cafes within a few blocks of the Louvre. For foodies, this area is the epicenter of French cuisine and one of the most visited food destinations in the world.

A must-see attraction on its own, the Arc de Triomphe is the gateway to Paris's most vibrant area, Champs Élysées. A pedestrian mall, Champs Élysées is Paris's hub of chic, upscale shopping and dining. No one can — or should — resist visiting
Paris's most iconic landmark, the Eiffel Tower. Built in 1889, the wrought-iron structure is a marvel of human engineering and offers sweeping views of Paris. The landmark is sure to be crowded with tourists, so it's advisable to visit early in the day or late in the afternoon.

To truly experience Parisian charm, take a walk through Paris's Montmartre neighborhood. At first glance, it appears you've walked back in time. With cobblestone streets, centuries-old buildings, and sidewalk buskers selling their wares, you'll experience the Paris of old. Be sure to walk or take a cable car up the summit of the neighborhood and tour the white-domed Basilica of the Sacré Cœur. Iconic artist such as Pablo Picasso, Salvador Dali and Vincent Van Gough have all called Montmartre home.


Hotels in Paris
Paris hotels range from the most ultra-chic hotels in France to historic, repurposed budget hotels. No matter what your vacation budget allows, you'll be able to find a Paris hotel that fits your specific needs. The best time to visit Paris is during the summer months, June to August, when the weather is parfait (perfect). During this time, the temperature hovers around 70 degrees Fahrenheit and the the sky is almost always sunny, making touring Paris during these months beyond comparison. However, hotel rates reflect the influx of visitors and increase.

Paris is one of the most visited cities on the planet, and these months also experience hordes of tourists. To save some money and forgo the crowds, pack your most stylish jacket (it is Paris) and tour Paris during the winter. Visiting Paris during the holiday season has quickly become a popular plan for smart travelers, and you can stay at an exquisite Paris hotel at a significant discount.


Where to Stay
Covering more than 1,000 square miles, Paris is a sprawling metropolis. Finding the right hotel in Paris in the right location can significantly increase the quality of your trip. Paris is basically split in half over the Seine River — the Right Bank and the Left Bank. Beyond that, Paris is divided into 20 distinct neighborhoods. The location of your Paris hotel will depend largely on your budget and reason for visiting. However, without question, the best area to stay in Paris is along the Seine River, specifically on the Right Bank near the Les Halles, the Louvre and Palais Royal.

Staying in this area is perfect for visitors who would prefer to walk Paris's streets to visit the city's most famous attractions. However, this convenience is often reflected in the price tag, and it's arguably the most touristy area, albeit for good reason. To blend value with quality in a vibrant area, visitors may want to consider the Pigalle and Montmartre area. As mentioned, Montmartre is an authentic Parisian experience, and night owls will enjoy the area's vibrant nightlife.

To save some money, vacationers may wish to consider the Left Bank. Although a drawback is the hike to the Eiffel Tower, Paris hotels on the Left Bank are budget-friendly. For those seeking the most luxurious hotels in France, the Right Bank near Champs-Élysées is the most coveted area. With a bounty of world-class eateries, boutique shopping, a sizzling nightlife and steps away from historic attractions, this area is ideal for those with very discerning taste.


How to Get to Paris
Paris is served by two airports. The main hub, the Charles de Gaulle Airport, is roughly 15 miles northeast of the city center, and the Paris Orly Airport is 10 miles south of the city. Although Paris does offer a good public transportation system, the best way to see the city is by foot. If your hotel in Paris is located outside of the city center, the metro system, known as the RATP, offers 14 extensive routes throughout the metropolitan area. Once you've arrived, enjoy Paris by foot, as it's an incredibly pedestrian-friendly city once you're in the right place.

Driving in Paris should be avoided unless you're familiar with the city. Although it's highly navigable by foot, Paris experiences bad traffic and confusing roadways for vacationers. Areas not served by the RATP can be visited via the city's bus line.

Paris is one of the world's most romantic and beautiful cities in the world. From its world-class dining to its awe-inspiring museums to its authentic historical architecture, Paris is a one-of-a-kind destination. To fully enjoy all the city has to offer, finding the right accommodations is paramount. Suited for every budget and taste, the InterContinental Hotel Groups' options of Paris hotels can ensure your Parisian experience is très bon.


+ View More
- View Less
Displaying 19 Hotels in

Paris
More IHG Hotels in Paris, France
InterContinental Paris - Avenue Marceau
Two steps from the Champs Elysees avenue, come and discover our elegant and state of the art bedrooms, including Agraria amenities, Egyptian cotton bed linen and Kenzo & Missoni bedding sets. Other amenities include plasma TVs, iPod stations and complimentary internet WiFi /ADSL). Guests may choose between Parisian courtyard or Haussmanian Avenue views.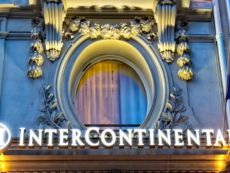 64 Marceau, Paris, 75008, France
Hotel Reservations : 1 877 424 2449 | Hotel Front Desk : 33-1-44433636
Holiday Inn Paris - Gare Montparnasse
You choose the Holiday Inn Paris - Montparnasse for its left bank location. All rooms feature free wireless Internet and a flat-screen TV, while access to the metro station and the device easy travel in Paris.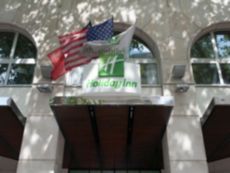 79/81 Avenue Du Maine, Paris, 75014, France
Hotel Reservations : 1 877 424 2449 | Hotel Front Desk : 33-1-43201393
Holiday Inn Paris - Montparnasse Pasteur
This hotel is located in the city town of Paris, 15th district, near "Vaugirard", "Montparnasse","Porte de Versailles" and "Tour Eiffel". The nearest metro station is "Vaugirard" line 12. The hotel has a car park, WiFi, air conditioning, laundry service, business center and meeting room.
10 Rue Gager Gabillot, Paris, 75015, France
Hotel Reservations : 1 877 424 2449 | Hotel Front Desk : 33-1-44192929
Holiday Inn Express Paris - Canal de la Villette
Get the best of both worlds at this eco-friendly central Paris hotel. Tucked away beside a quiet canal, Holiday Inn Express Paris-Canal de la Villette is just 3 metro stops from the bustling city centre.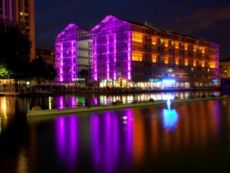 68 Quai De La Seine, Paris, 75019, France
Hotel Reservations : 1 877 424 2449 | Hotel Front Desk : 33-1-44650101
Holiday Inn Paris - Porte de Clichy
Friendly 24-hour Front Desk staff help you make the most of your stay at Holiday Inn Paris-Porte de Clichy hotel. Ask when booking about special deals like our popular Park, Stay and Go Package, and the Day Delegate Package including meeting room hire, lunch and refreshments.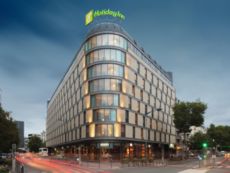 2 Rue Du 8 Mai 1945, Clichy, 92110, France
Hotel Reservations : 1 877 424 2449 | Hotel Front Desk : 33-1-76687700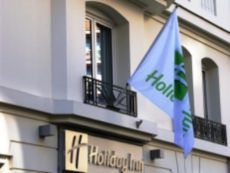 21 Rue Gudin, Paris, 75016, France
Hotel Reservations : 1 877 424 2449 | Hotel Front Desk : 33-1-46519922
Holiday Inn Paris - Versailles - Bougival
Choose the Holiday Inn Paris-Versailles-Bougival for stress-free meetings in a relaxed, green setting just 7km from La Défense business district. Ask about our good-value business packages when booking if you plan to hire one of our 19 fully equipped meeting rooms.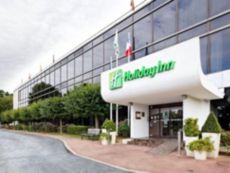 10-12 Rue Yvan Tourgueneff Rn 13, Paris-Bougival, 78380, France
Hotel Reservations : 1 877 424 2449 | Hotel Front Desk : 33-1-30081828
Holiday Inn Paris - Marne La Vallee
Disneyland® Paris is just 4 stations away by RER, with a direct journey time of less than 30 minutes. The shopping centre next to the hotel, complete with restaurants and a cinema, offers an array of leisure activities. Enjoy our special offer up to 50% off on our packages included family room with buffet breakfast, free and unlimited wireless and all Disney parks up to 2 adults and 2 children.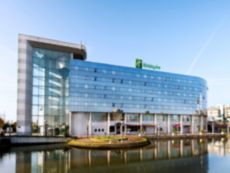 2 Boulevard du Levant, Noisy Le Grand, 93167, France
Hotel Reservations : 1 877 424 2449 | Hotel Front Desk : 33-1-45924747
Holiday Inn Paris - Ch. De Gaulle Airport
Our Park, Stay & Fly Package offers good value if you're flying out of Paris-Charles de Gaulle Airport. The package combines a night's accommodation at Holiday Inn Paris-Charles de Gaulle Airport with secure, underground parking for the duration of your trip.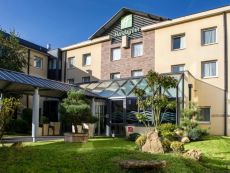 4 Allée du verger, Roissy en France, Paris, 95700, France
Hotel Reservations : 1 877 424 2449 | Hotel Front Desk : 33-1-30182200