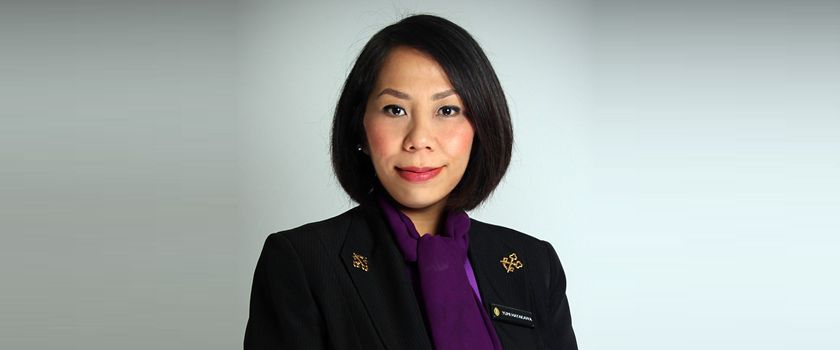 Mayumi Hayakawa
Chef Concierge 63027937000385
Welcome To Manila
Mabuhay! My name is Mayumi Hayakawa and I am the Chef Concierge of the InterContinental Manila. Get to know more about Manila and its colourful culture with the help of my Concierge Team. We aim to ensure your stay in Manila will be unique and enriching.
Our Chef Concierge, Mayumi Hayakawa is the President of the Les Clef d'Or, an international network of men and women with common interests and goals. The organisation is non-political, non-religious and non-union and it has its own mystique, a combination of their expertise, sources of inside information, intelligence and communication, formed to promote friendship between members so that they may better assist international travellers and tourists.
MORNING

Start your morning with a hearty Filipino breakfast. Sample old time favorites such as "longganisa" (sweet sausage), "tocino" (sweet cured pork) or "beef tapa" (cured beef) served with fried eggs and garlic rice. Other popular choices are "champorado" (chocolate flavored rice porridge) and "taho" (soybean custard with caramelized brown sugar syrup). After a hefty meal, stroll down Ayala Avenue and make your way through the gardens of the Ayala Triangle for a little piece of serenity within the vibrant city. Afterwards, visit the nearby Ayala Museum to discover a vast collection of Filipino art and dioramas to learn about the history of the Philippines.

AFTERNOON

A trip to Intramuros, the old town center of the Spanish colonial period, is highly recommended for an afternoon of leisure. Be enlightened with its architecture and extraordinary Catholic churches and museums. Most notable of which is the San Agustin Church. This monument, first built in 1571, is the only structure in Manila that is recognized as a World Heritage Site by UNESCO. After exploring the "Walled City", make your way to the Luneta Park where the monument of the country's national hero. Dr. Jose Rizal, is located.

EVENING

As the twilight settles, your thoughts may turn to good food and vibrant fun. Dinner at Barbara's Restaurant in Intramuros is ideal. Indulge in sumptuous Spanish-Filipino cuisine while enjoying the restaurant's nostalgic ambiance. Not to be missed is their evening cultural show which starts at 7:30 PM. After an enriching and satisfying dinner, head to Greenbelt at the Ayala Center, Makati. Experience the local night life as you enjoy a round of drinks in one of its upscale bars. For a quieter evening, a cup of coffee at a nearby Café would be a perfect way to cap off your night.
LOCAL CULTURE

RELIGION

With the Philippines being a predominantly Catholic country, it would not be unusual to come across locals who do the "Sign of the Cross" when passing by any Catholic church




PICTURE PERFECT

Filipinos are fond of capturing every moment through photographs as well as having their pictures taken. Feel free to ask for a souvenir shot so you may catch the warm smiles Filipinos are known for the world over.




TAGALOG

Tagalog is the national language although English is widely spoken. A few Tagalog words will surely please your local hosts and draw smiles from them. Start with "Salamat" (Thank you) and "Kamusta" (Hello).




JEEPNEY

The Jeepney is the most popular means of public transportation in the country and is famous for its flamboyant and colorful decor thus making it one of the iconic symbols of Philippine culture.




DID YOU KNOW ?

CITY LANDMARK

InterContinental Manila is a cultural showcase in Makati, as it is the longest standing hotel chain in the city. Designed by the country's National Artist Architect Leandro Locsin, InterCon, as the locals fondly call us, was conceptualized to accommodate the Pan-American airline crews who were frequenting the country via the old Nielsen Airport, which was then just right next door.




SAN AGUSTIN CHURCH

First built in 1571, it is the oldest known church in the country as well as being the first earthquake-proof building in stone. This makes San Agustin as the only surviving 16th century edifice, and one of the Baroque churches listed as a UNESCO World Heritage Site




PHILIPPINE AIRLINES

Philippine Airlines took to the skies on March 15, 1941, using a Beech Model 18 aircraft amid the specter of a global war. It went on to become Asia's first airline.




AYALA TRIANGLE GARDENS

Flanked by three main thoroughfares of Makati, its 20,000 square meters of lush landscape serves as a refuge and breathing space for city-dwellers with its natural attactions of local flora.




RICE TERRACES

Rice Terraces of the Philippine Cordilleras are considered to be the "8th wonder of the world" and is inscribed as a UNESCO World Heritage Site. If you're not comfortable with long rides, try a chopper.




WHAT TO PACK

CURRENCY

It is best to have an adequate amount of pesos before embarking on a trip - enough to cover airport incidentals. It is also a good idea to have bank notes lower than Php 100 handy for taxi fares, meals and other purchases.




SUNBLOCK

With Philippines being a tropical country, sunny skies is the norm. Pamper your skin to avoid the unwanted wrinkling, especially when you head off to that lounge chair by our poolside.




EXTRA SET OF CLOTHES

Coming in from a connecting flight? You don't want to miss that early morning meeting because of your delayed luggage. Bring an extra set of clothes with you in your hand luggage, just in case.




BOTTLED WATER

Coming in to the tropics from -5 to 36 degrees Celsius temperatures? Don't let dehydration get you. Complimentary bottles of mineral water are provided by the hotel.




PASSPORT AND OTHER DOCUMENTS

Have photocopies of your passport and other important documents ready. It is advisable to leave the original in the hotel safe. Please see the Concierge for more recommendations.



InterContinental Manila
No. 1 Ayala Ave

Manila

Philippines

Front Desk

+63-2-7937000