Skip Navigation
English
|
|
|
|

Sign In

Book online or call: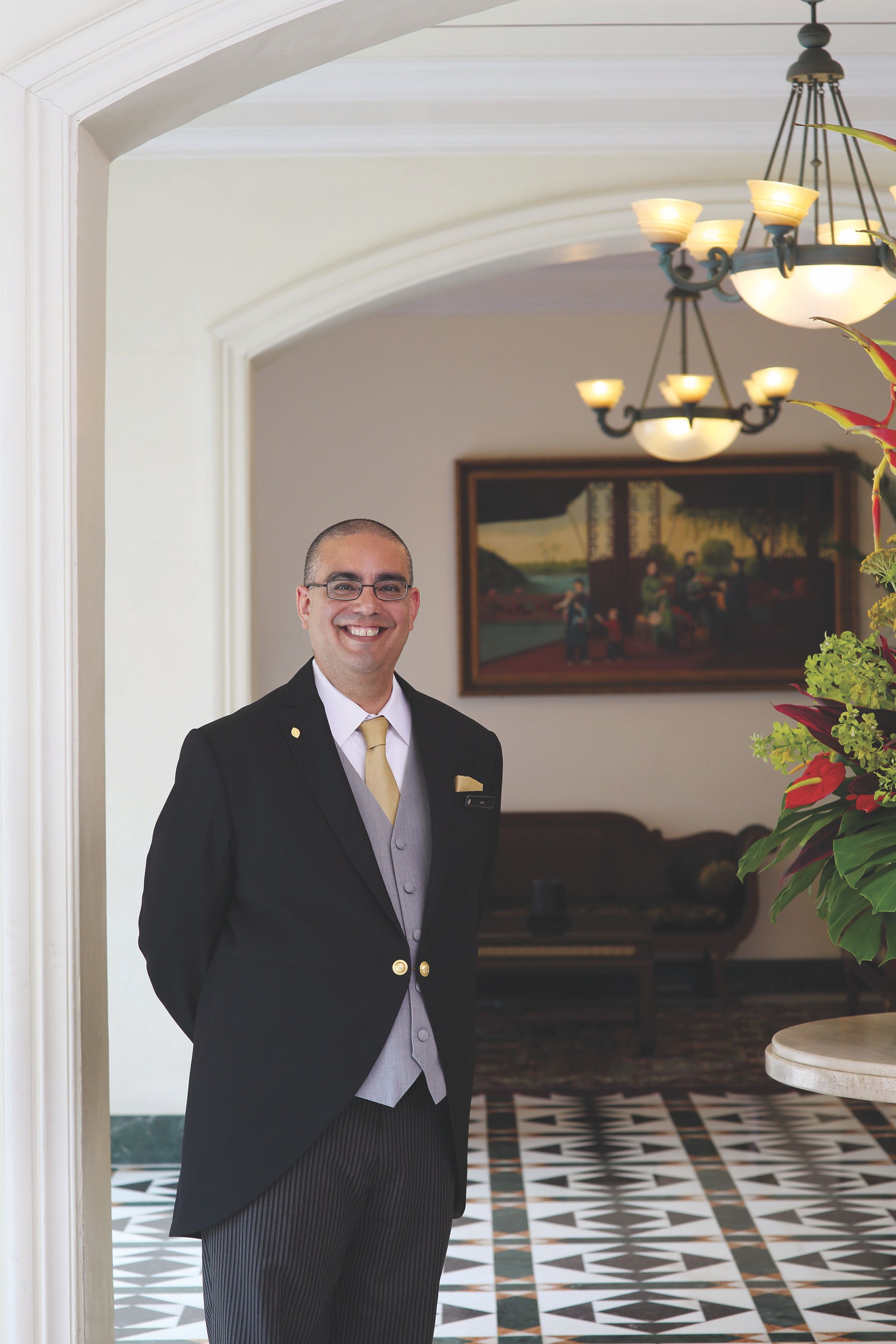 Insider Tips
LOCAL CULTURE
WEATHER
Singapore's weather is mainly warm and humid throughout the year. Bring an umbrella as you never know when it is going to rain. The average daily temperature is 26-32°C.
A PERANAKAN-STYLE LANDMARK HOTEL IN SINGAPORE'S BUGIS PRECINCT
The only 5-star luxury hotel in Singapore to preserve Peranakan heritage in a shophouse-style setting, the hotel is located in the Bugis precinct, close to Orchard Road and the Marina Bay area. Adjoining the hotel is Bugis Junction Shopping Mall and Bugis Train Station, which provide convenient access to various attractions around Singapore. With over 400 luxurious guest rooms, the hotel is an oasis in the city, featuring a rooftop garden, outdoor pool and a range of fine dining options.
HOTEL HIGHLIGHTS
Restaurant & Lounges

Celebrate Singapore's diverse culinary delights with us. Be it the award-winning world buffet at Olive Tree, authentic Cantonese specialities at Ma...

Amenities & Services

Unwind in luxury in our spa and outdoor swimming or get your blood pumping in our 24-hour fitness center. Relax in the elegantly appointed Club Int...

SPECIAL PACKAGES

There's always something special happening at an InterContinental hotel. Whether you are looking for a fun-filled getaway or a place to host your n...
Singapore
80 Middle Road
Singapore , 188966
Singapore
Front Desk +65-6-3387600
Languages spoken by staff
German, English, Indonesian, Japanese, Korean, Dutch , Tagalog, Chinese
Pet Policy
Contact hotel for details
CHECK-IN

3:00 PM

CHECK-OUT

12:00 PM

Late Check out Available
Accessibility
2 Room(s) with Accessibility Standards
Parking
Guest Reviews
Rated

4.5

out of

5

 by

638

reviewers.
Rated

5.0

out of

5.0
Great EXPERIENCE
My stay at Crowne Plaza, Changi Airport, Singapore was a great experience. The room was compact and very comfortable. I wish O could stay there longer. I look forward to my next stay at that property.
August 10, 2014
Rated

1.0

out of

5.0
 by
Eben30005
Nice Hotel, but Very Bad Customer Service
The hotel is nice, I was traveling without my husband for this trip, and I never imagined that I would receive such bad customer service in Singapore. But the customer service is absolutely the worst I have ever experienced. I was greeted by the bagboy who left my bags when I arrived to go help someone else, then at the front desk check in the check in clerk was very rude and unprofessional, and finally at checkout my credit card was charged and my husband card which was on file when the reservations were made was charged. The charges on his card were much higher then what was quoted to him when he made the reservations and the they told me that they needed a card for payment when I checked out, so they charged both our cards. Double and Incorrect charges.
August 9, 2014
Rated

4.0

out of

5.0
 by
Deb and Pete
A convenient oasis for stopovers
This is my 3rd stay and would recommend as it can just be reached by skytrain from other terminals. Very high standard of hotel, rooms and service. We love that we can look over the runway to watch the planes coming and going. Will return on next visit to Singapore, especially if a 1 night stopover.
August 8, 2014
Rated

5.0

out of

5.0
 by
WA state Mimi
Outstanding Accommodations!
After a very long, exhausting flight from the U.S., it was a pleasure to have our hotel just steps away from the airport when we arrived at 1 a.m. Despite its proximity to the airport, it seemed a world away when we stepped inside. The décor is beautiful, with open air corridors, water features and lush vegetation. The rooms were quiet, clean, modern and comfortable...no airplane noise. Desk staff and concierge were friendly and helpful, giving us easy directions for the nearby train into the city. Would definitely recommend to anyone visiting Singapore.
August 7, 2014
Rated

5.0

out of

5.0
 by
Marry8
Tolles Hotel für einen Zwischenstopp!
Das Hotel hat uns sehr gut gefallen. Freundliches hilfsbereites Personal. Preis Leistungsverhälnis sehr gut! Einzig im Spa Bereich würde ich keine Massage mehr buchen!!!
August 7, 2014
Rated

5.0

out of

5.0
 by
stolat
Rest and Relaxation
After a thirteen hour flight from Europe, it was an absolute delight to check-in to this oasis at the Crowne Plaza Hotel Changi Airport. Friendly reception staff showed empathy for the weary traveller and the soft lighting and décor of the reception area already helped to facilitate the relaxation process after a long flight. The amenities and layout of the guest rooms have been extremely well considered and the comfortable bed allowed for a restful sleep. With most guest rooms overlooking a tranquil pool or gardens area, the airport hotel had a tropical resort feel and was a prefect choice of accommodation for in between flights. The in room dining menu was full of choices and was great value for money, allowing the guest to sample many local dishes without leaving the comfort of the hotel room.
August 6, 2014
Rated

5.0

out of

5.0
 by
Jason NZ
Overnight Stay
Had 10 hour stop over between flights, late arrival, early departure. We decide to use the Crowne Plaza due to its convenient location at the airport. Was easy an easy walk from Terminal 3 arrival (approx 5 minutes, hotel joined to the airport). Room was modern, nicely decorated, and nicely appointed. The complimentary fresh fruit in the room was a nice touch. Warm bath was very nice, appreciated by both me and my wife. Bed was very comfortable, and slept like a baby until the scheduled wake up call at 5.30am. Went for the buffet breakfast at 6am. Food and service very good. Our girls, 16 and 13, loved the room and breakfast too. Overall experience was very good. Exceeded our expectations, will recommend to others who need short term accomodation. Regards Jason New Zealand
August 6, 2014
Rated

5.0

out of

5.0
 by
Guest 967
The atmosphere is too dark
The entrance and main lobby area is too dark . This is friendly to those that have Presbyopia. At least you should brighten up at the reception area for check-in and check-out.
August 4, 2014
Rated

5.0

out of

5.0
 by
The rocket scientist
One of the best I've stayed at!
I travel a lot on business and am quite used to tired and worn down rooms, indifferent staff, views of exhaust vents and cardboard breakfasts with battery acid for juice. The Crown at Changi is totally different. Its open architecture and thoughtfully furnished rooms are a sanctuary for the well travelled. The staff are exquisitely friendly, efficient and helpful, the rich breakfast buffet offers fresh and tasty choices of every flavour and the view of the airport is unique. There is also a nicely landscaped pool and wellness area. Find shops and entertainment at the mall in Terminal 3 right next to the hotel, along with MRT, taxis and car park. It doesn't get much better if you do not need the bling of a city high rise.
August 2, 2014
Rated

5.0

out of

5.0
Beautiful room to rest after long flights
You cannot beat this hotel if you find yourself either at the end or beginning of a long flight. Perfect location right in the airport with remarkable rooms and great service. A bit pricey, but OK for a single night here and there or a business trip to Singapore.
July 31, 2014
Rated

5.0

out of

5.0
Excellent n one of the best!
We were very impressed n delighted with the room size n decor. Even though there was four of us (3 adults n 1 child), the 2 beds we had were big enough for us. Service was exceptionally efficient ! We had to wake up early the next morning to start our fasting as Ramadan n as soon as we checked in n mentioned this, the receptionist quickly organised for us to have our breakfast to be served in our room at 4.30am as normal breakfast isn't till 6am. Sure enough on the dot, our breakfast was served n it was delicious! My kids were asking why we couldn't stay longer n I wish we could stay for several more nights but we were catching our flight the next day. Compliments to staff n chef n highly recommended hotel!
July 28, 2014
Rated

5.0

out of

5.0
 by
mah74
great location and service
it made our transiting through to Australia very easy and restful to use this hotel. We were able to rest after a busy season.
July 28, 2014
Rated

2.0

out of

5.0
 by
MotherwithBaby
More care & support given would be appreciated
When I stayed at Crown Plaza on 23/7, I had a very good experience because of the excellent service that was given to me and my baby of 7 months old. It was so good, I decided to stay another night. But things took a turn from 24/7. I was promised twice that I would be given a baby cot and high chair that night but it never came. The next morning 25/6, the duty manager followed up with me closely after I gave my feedback and my request was finally met. I decided to stay another night. Upon check out on the 26/7, I requested for a pram from the terminal, the concierge told me they can't get it for me. But on 24/7, a front desk officer did it for me. When I asked Front Desk Officer why was there a discrepancy in service, she blamed it on the concierge and said it has nothing to do with the front desk. I was confused! Being a tired mother, I felt helpless and upset. A mother with a baby, I felt that I could have been treated with more support and care. I really feel disheartened by what happened.
July 27, 2014
Rated

5.0

out of

5.0
Emergency Stay at Changi
My son developed an ear infection and was unable to fly. The staff got me a great room and everyone was really friendly! If you need an overnight stay to break a journey or you need a quality room for an early departure, Crowne Plaza is your hotel!
July 27, 2014
Rated

5.0

out of

5.0
 by
ChangiReview
Another great stay
My fourth stay at this hotel and it continues to maintain a high standard. I usually stay at the Changi hotel for transit stops as it is attached to Terminal 3 at the airport (no need to go outside) and has attractive rooms and one of the best hotel pools that I have found anywhere in the world. I arrived early in the morning and my room was ready for which I was grateful after a long flight from Europe. I can be sensitive to noise but the rooms are well sound-proofed and I am not disturbed by the airport traffic. I also used the Club Lounge this time and the service was great and the canapes and drinks lovely. The only negatives (and they were minor) on this occasion - the tiled area needed a vacuum and the air con was very cool but remedied by a prompt visit of an engineer. The check out was efficient but the person attending was not friendly and I didn't receive an invoice (my stay was pre-paid).
July 27, 2014
Rated

5.0

out of

5.0
 by
Christine 1
comfortable room with fantastic runway view
I stayed here on my outward trip and return trip to Australia..This hotel delivers excellence in all fields..The pool and gym facilities were fabulous..My room was spacious comfortable lovely and clean and the view over the runway was amazing, and surprizingley very quiet. The breakfast had a wide choice and was very good. I have stayed in Singapore many times on my annual trips to Australia, but will always stay at Crowne Plaza in future as proximity to Terminal for onward travel perfect. Staff were exceptionally friendly and helpful and also gave me extra time in my room till 6pm as my flight was not till 11pm at no extra charge.
July 27, 2014
Rated

4.0

out of

5.0
 by
joemy
Nice and good location
- Nice location, easy to move around, friendly people, but need to improve on check in and check out speed
July 25, 2014
Rated

5.0

out of

5.0
 by
Belawan
Good as always
We had early flights the next day so decided to stay the last night in the Crowne Plaza Changi. As always rooms were comfortable, and service was good. Unfortunately due to early departure we didn't get to enjoy the breakfast. Ideally located and always a pleasant stay.
July 24, 2014
Rated

5.0

out of

5.0
 by
Win14
Great facilities, location, amenities and excellent service.
The room design and facilities like swimming pool are great. The location is excellent as it is in the heart of the airport and for frequent travellers or for those on transit or indending to spend one or two days in Singapore, it is an excellent choice. Beside the dinning choices in the hotel, the three airport terminals provide large variaties of dinning and shopping choices. The MRT (or Subway), public buses and taxi are just below the hotel.
July 24, 2014
Rated

5.0

out of

5.0
 by
Zezito
One of most comfortable rooms
Hard to say something as I like very much the Crowne Plaza hotels around the world, maybe they are not the best but their staff, service and facilities makes me really feel very comfortable not mention that they have one of the best mattress I had ever slept on,
July 24, 2014
Rated

5.0

out of

5.0
 by
aaa11
Staycation
it exceed my expectation. love the location and ambiance
July 23, 2014
Rated

5.0

out of

5.0
 by
Bearytim
Pleasant Stay
a quiet and excellent hotel to stay for an early flight out especially.... but the facilities are enough to keep you in
July 23, 2014
Rated

5.0

out of

5.0
 by
mosaik
Great hotel and excellent service
From checking in, everything was great. Being upgraded to a suite even better. Beautiful pool. Would definitely stay longer next stopover. Food was great too. Room was very clean and with great amenities. Stayed here when it was first opened and still the same great service today . Thank you to the staff .
July 21, 2014
Rated

5.0

out of

5.0
 by
Clark8282
The Staff were so Accommodating!!
We had arrived a day earlier than we were supposed to without being able to book at the hotel. The staff were amazing at helping us out to get us rooms for the night and make us feel so comfortable especially after such a long flight. There was always a smile and the service was very prompt and courteous.
July 20, 2014
Rated

5.0

out of

5.0
 by
Marites
Singapore stop over
I stayed in this hotel because I arrived from Bali at 11PM and have to take an early flight to NY the ff morning. It was an excellent hotel and the service was terrific. It was so convenient for me because it was located inside of Terminal 3.
July 18, 2014
Rated

5.0

out of

5.0
 by
JoandRon11
Extremely helpful staff
A truly wonderful hotel, ideally situated for weary travellers. The staff are always caring and considerate. We could not recommend the hotel more highly.
July 17, 2014
Rated

5.0

out of

5.0
 by
RainbowFlash
Excellent even with baby
We stayed in one of the regular rooms, with a six month old baby. A baby cot was provided and the room was not at all squishy, even with all our luggage. There was still heaps of room for us the lay out the baby's playmat so he could "skydive" the next morning. Soundproofing was excellent, could only hear some aeroplanes. The aeroplane noise in our house at home can be noisier! The only complaint I have is not having enough rubbish bin space. There was a recycle bin under the desk and a tiny bin next to the toilet. When travelling with a baby, you have more than enough dirty nappies to easily fill that tiny bin, with no room for any extra rubbish. Even if we weren't with a baby, I think we would have needed more rubbish bin space.
July 16, 2014
Rated

5.0

out of

5.0
 by
granny marie
safe haven
My stay was perfect for my requirements and the bed was very nice and comfortable and the staff very friendly and nice. Thankyou very much
July 16, 2014
Rated

5.0

out of

5.0
 by
Kat29
Comfortable stay and great service
This is our first stay in Crowne Plaza Changi Airport. We were very please with our stay and we were given a special room with direct access to the open pool on level 3. Check in was greeted by a friendly staff and process of checking in was smooth. Housekeeping services were great. We were provided good supply of coffee, tea, sugar and milk to keep us for the night. Room and toilet are spacious and clean. Nice ambience. When we asked for an additional night, the process was smooth and the staff handled the admin works efficiently, in which we were given at an honoured rate to pay for an additional night. Overall, we will recommend Crowne Plaza Changi Airport to all International travellers and locals. Perfect for short transit and family stay.
July 16, 2014
Rated

2.0

out of

5.0
 by
Chasa
Non-smoking room reeked of smoke
Our non-smoking room reeked of smoke when we opened the door. Our room was quickly changed though this is not an experience you want after a long flight and around mid-night plus the room was on the airport side and quite noisy. One wonders if the cleaners had any sense of smell. At some other hotels there is a warning that if smoking takes place in a non-smoking room that $250 will be charged against your credit card for cleaning the room of smoke. This would be a good policy that should be introduced universally.
July 15, 2014