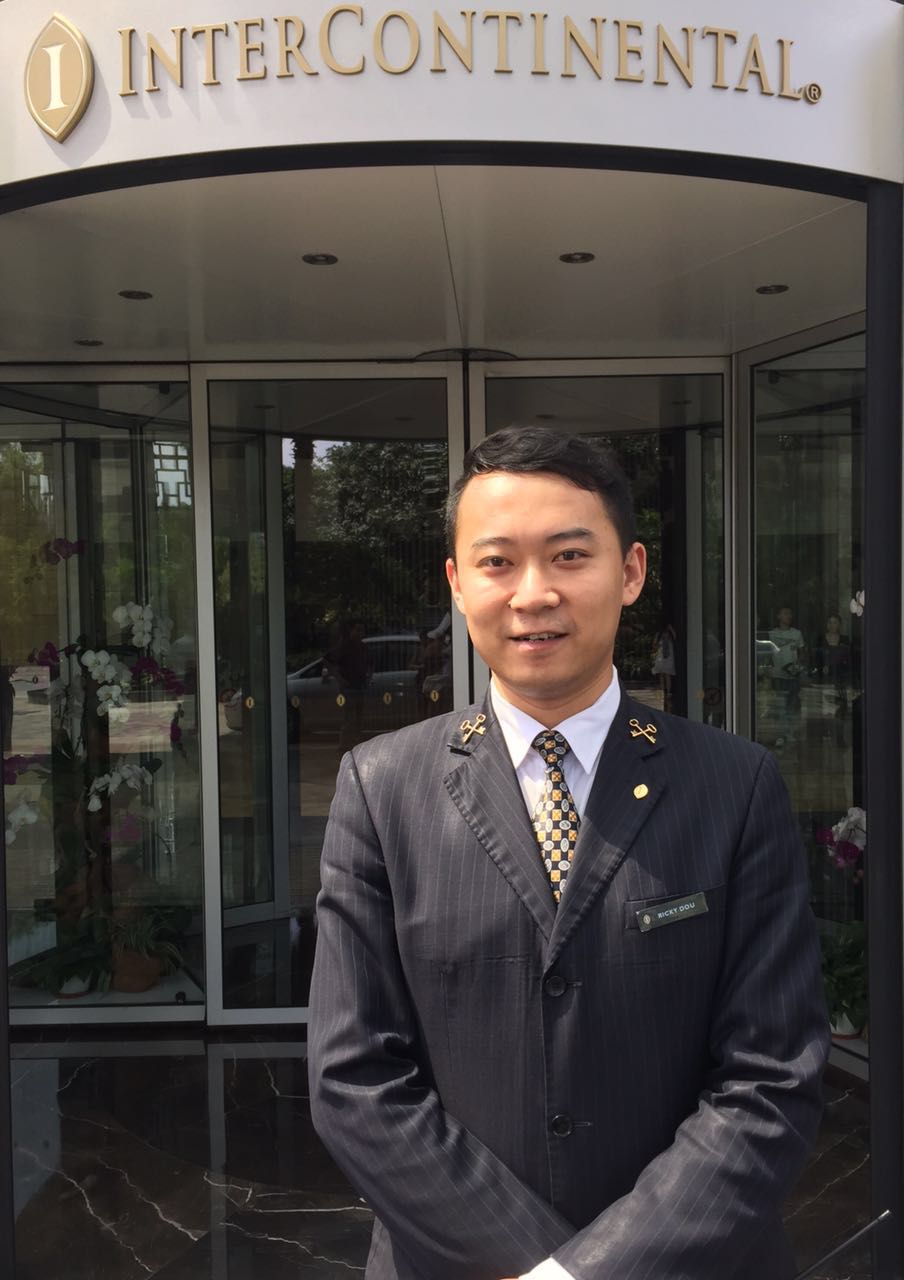 Ricky Dou
Chief Concierge 86757862688886671
Welcome To Foshan
It is a pleasure to welcome you to InterContinental Foshan. Our Concierge team and I are honoured to have you with us. We show you what we think are some of the highlights and hope it gives you a taste of what it feels like to be a local in Foshan.
The hotel offers you splendid views of Qiandeng Lake from 445 well-appointed guest rooms and suites, while an extensive range of exquisite Chinese and international dining experiences from our five swank restaurants and bars leave you spoilt for choice. Our magnificent pillar-free Grand ballroom and unsurpassed levels of service ensure all your events are successful.Our Concierge team will happily share their expert local knowledge to connect you to Foshan.
MORNING

Foshan was built in the Jin Dynasty, and got its name in Tang Dynasty." In the second year of Zhenguan Period of the Tang Dynasty (A.D.628), three figures of Buddha were found at Tapo (a hill) and here have been thought to be a land of Buddhists so given the name of Foshan (a hill of Buddha). The ancient Foshan boasts a long history and has abundant traditional cultures and folk-customs for you to explore. Days in Foshan can happily be spent wandering along Qiandeng Lake, Practicing Taiji or Wingchun Kungfu with local residents in bamboo grove to breathe in the city, and after a morning's wandering, you can have your brunch at "Dun Huang Cha Yi Guan" the famous restaurant offering dim sum, tea art and local snacks, which is just located along Qian deng Lake, the perfect place to start your wonderful day.

AFTERNOON

In the Chinese, ''Zumiao'' meaning ''Temple of the Ancestors'', simply indicates that it is the oldest temple in town.It is a must place to visit. For architecture ensuthiastic,a large-scale, with unique national style and strong local characteristics of ancient building group is not to be missed. If you're a little hungery during afternoon, you could walk to the Ren Shou Temple,which is only 500-metre away from "Zumiao" to have vegetarian Food and workship the buddha.

EVENING

Foshan is the home to Chinese Kung Fu, you could find a lot of Kung Fu Clubs hidden in the cities. The local residents will go there to learn and practice Kung Fu after day work starting from 7:30pm usually. You can go to Hongsheng Kung Fu Club, which originated in 1851 to learn some Kung-Fu gestures or watch the Kung Fu performance.
LOCAL CULTURE

Kung Fu

Did you know that Bruce Li was trained in martial arts right here in Foshan by the legendary Wong Fei Hong? With many martial arts schools around the city, schedule a private class and blend in with the locals.




local signature dishes

A visit to Foshan is incomplete without tasting some dessert of Renxin Dessert in Shunde district in Foshan,which originated from Qing Dynasty.




DID YOU KNOW ?

Cross Tongji Bridge on the Lantern Festival

On the Lantern Festival evening, hundreds of thousands of people with families and friends will come to Tongji Bridge to celebrate the Festival. Everyone will take a small windmill walking through Tongji Bridge slowly while whispering "Cross Tongji Bridge, trouble go away" to pray for lucky. The custom handed down for hundreds years which originated from Ming Dynasty. Now the Tongji custom is more and more popular even in Perl River Delta Region and Hongkong Region, crossing Tongji Bridge on the Lantern Festival is a big New Year event in the Per River Delta Region.




WHAT TO PACK

Sports Outfit

Pack your running shoes and grab a jogging map at the Concierge Lounge. Morning or evening, mesmerizing Qian Deng Lake will keep you fit with a revitalizing run.



InterContinental Foshan
20 Denghu East Road,

Foshan

,

528200

China, People's Republic Of

Front Desk

+86-757-86268888
Languages spoken by staff
German, English, French, Hindi, Italian, Japanese, Chinese
Pet Policy
Pets Not Allowed.