Skip Navigation
English
|
|
|
|

Sign In

Book online or call: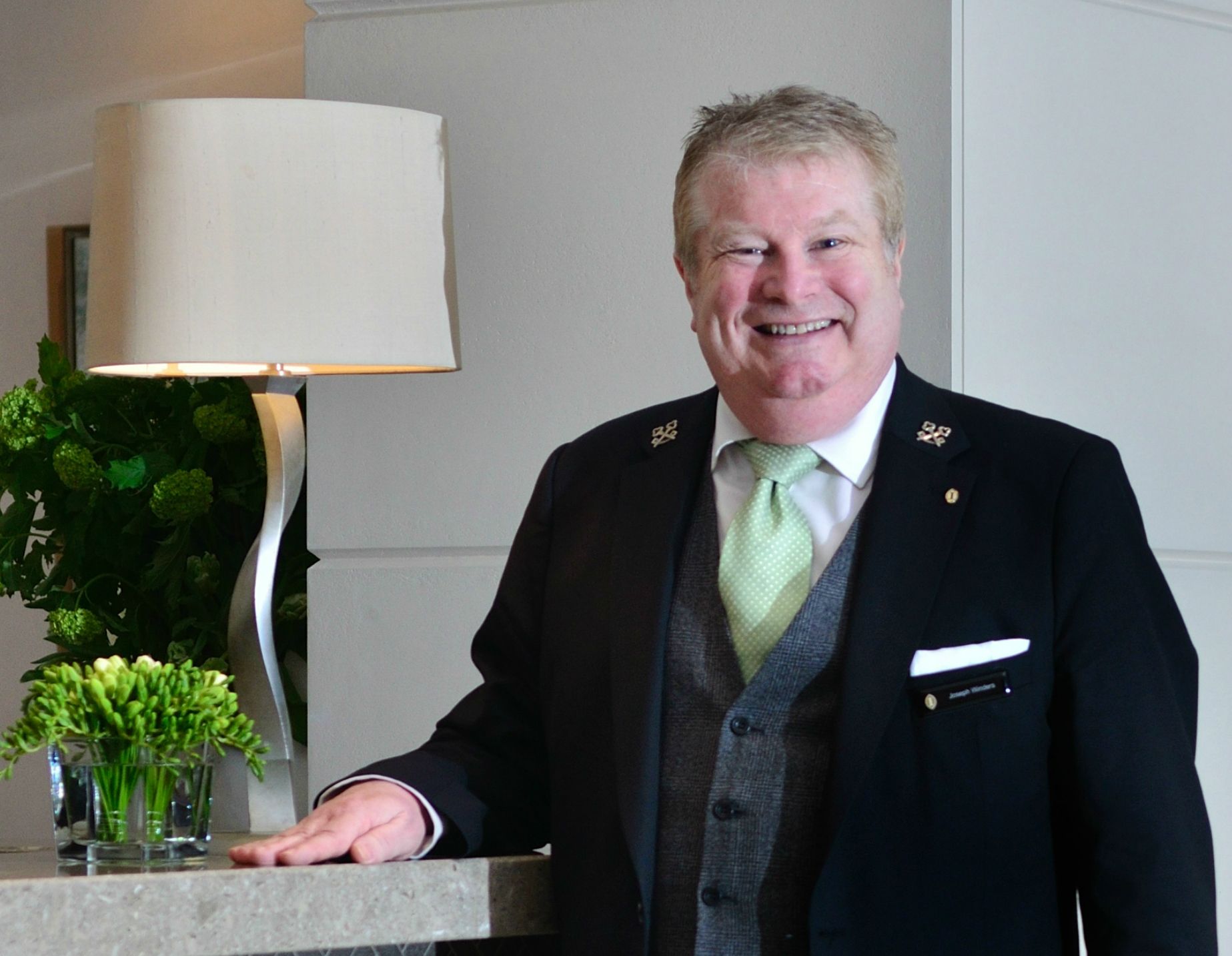 Insider Tips
LOCAL CULTURE
COSMOPOLITAN
London has always attracted all nationalities due to the richness of its culture, the diversity of its society and its vibrant economy. The tolerance of the people living here has helped the city become a melting pot of ethnic groups: currently over 300 different languages are spoken in London. Be aware of the cultures around you and respect their ways.
LONDON HOTEL ON HISTORIC PARK LANE
Steeped in history, this London hotel was once the site of a royal residence. Now the epitome of contemporary elegance, the hotel is located just steps from Hyde Park and in view of Buckingham Palace. Enjoy people watching in our chic lounge or escape to our full-service spa. Savour the menu at Theo Randall's, voted the 'finest Italian in London' or try Cookbook Café offering a fresh, seasonal menu. Bike the Serpentine or stroll the South Bank, from County Hall to Borough Market.
HOTEL HIGHLIGHTS
Restaurant & Lounges

Dining at InterContinental London Park Lane is a real highlight of any stay. From the award-winning Italian cuisine offered up by Theo Randall at h...

Amenities & Services

Spa InterContinental, located on the 1st floor, features state-of-the-art facilities and an expert team of therapists, the luxurious spa offers inn...

SPECIAL PACKAGES

There's always something special happening at an InterContinental hotel. Whether you are looking for a fun-filled getaway or a place to host your n...
InterContinental London Park Lane
One Hamilton Place

London

,

W1J 7QY

United Kingdom

Front Desk

+44-207-4093131
Languages spoken by staff
Arabic, Czech, German, Greek, English, Spanish, French, Italian, Japanese, Dutch , Polish, Portuguese, Romanian, Russian, Turkish, Chinese
Pet Policy
Assistance dogs welcome.
CHECK-IN

3:00 PM

CHECK-OUT

12:00 PM

Late Check out Available
Accessibility
Service animals allowed
8 Room(s) with Accessibility Standards
Parking
Guest Reviews
Rated

3.9

out of

5

 by

849

reviewers.
Rated

5.0

out of

5.0
 by
lg.alfonsoarteaga
Felicitaciones
Quiero extender mi más grande agradecimiento al grupo de chicos españoles que laboran en el hotel, hacen de la estancia muy cómoda, agradable, amable, como si estuvieras en casa.
17 November 2014
Rated

3.0

out of

5.0
 by
workaholicallthetime
Pilows
Bed pillows are extremely uncomfortable. Please get better pillows.
17 November 2014
Rated

5.0

out of

5.0
 by
Aleeto
Water not available
There was no complimentary water or fruit basket available for Gold members.
17 November 2014
Rated

5.0

out of

5.0
 by
Zipzac
Great stay
My daughter and I stayed at the Holiday Inn Kensington Forum over Rememberance Day weekend and had a great stay. The room was small, but clean and comfortable. We arrived at 9:30 AM just hoping to be able to leave our bags. Katerina checked us in and allowed us to go to our room since it was ready. Since the person who booked our room singed us up for the IGH rewards club we received courtesy WiFi in our room. The staff was helpful and courteous. Our room was on the 16th floor and had a great view. The hotel location was very convenient with the tube station just around the corner. It is important to know that there are no safes in the room so be cautious about bringing valuables. Also in our room there was no fridge, but we didn't need one. The only real issue I had was the lack of water pressure in the shower, but that is typical in Europe. I would definitely stay at the Holiday Inn Kensington Forum again.
16 November 2014
Rated

1.0

out of

5.0
 by
Causey
Old rooms
I was in room. 1905 very run down and old .in need of. A redo. Not Holiday inn standards.
16 November 2014
Rated

5.0

out of

5.0
 by
DFWJK
Great Location
Easy to get to the Tube. Great staff and friendly.
15 November 2014
Rated

1.0

out of

5.0
 by
Marondera
Overall the room was comfortable.
We were disappointed that in London, famous for its hospitality, the Holiday Inn fell short of a good welcoming beverage selection, i.e. no biscuits and a good selection of tea, coffee and chocolate for a variety of tastes. My husband, friends and I were so much looking forward to a decent beverage when we got to the hotel before our Caribbean Experience later on but this did not happen and when I rang reception about this I was then put through to someone who said we don't provide these. I was shocked because we have traveled around the world, around New Zealand, around Australia, extensively in America, Africa, Europe, the Caribbean, Middle East, Russia and most places we stayed provided a better room welcoming service.
14 November 2014
Rated

3.0

out of

5.0
 by
Smutzie
?
Your free wifi is terrible. Doesn't always work and when it does its super slow!
13 November 2014
Rated

5.0

out of

5.0
 by
Jackosmrs
Very friendly staff & lovely rooms
We stayed over Remembrance weekend, the hotel was very busy but staff always had time to help, very friendly, the rooms are clean & tidy & we wouldn't hesitate to recommend & we will definitely be back
13 November 2014
Rated

5.0

out of

5.0
 by
Jeff1311
Excellent Business Hotel and Perfect Location
I have been very satisfied with my 2nd stay at the Holiday Inn Kensington Forum. The Executive Rooms are well appointed and like it is mentioned in several other reviews the breakfast is excellent. The dining room has been renovated since my last stay, which makes the breakfast experience even more pleasant. All the staff I have met and dealt with were just excellent and highly motivated.
12 November 2014
Rated

3.0

out of

5.0
 by
Thistimemaybe
Locked out!
I was delighted to be allocated a room despite my early arrival, but I was disappointed at its size. I have slept in larger rooms with bigger bathrooms and full-sized beds in many budget hotels. This one was poorer than hotel chains offering rooms at a third of the price. As for the breakfast, while it was adequate, it too was overpriced and not value for money. Those things could have been acceptable, had it not been for my experience upon returning from the theatre and supper at 11.40pm. Both the static and the revolving door were locked as I joined several other guests who could not gain access to the hotel. There was no key-pass activation and a button for disabled clients did nothing. We tried banging on the doors, but our efforts were either not heard or studiously ignored by reception staff. They were visible to us, but we were invisible to them. Eventually, after some five minutes, a member of staff came and opened a door, without offering any apology. This was a bad experience that makes me question whether future stays at IHG Hotels are wise.
11 November 2014
Rated

4.0

out of

5.0
 by
wen1680
Nice location
The hotel is located conveniently at the Gloucester Road tube station, which has access to the Piccadilly line (currently under construction), the District Line and the Circle Line. It is also located near a lot of the hop-on hop-off bus stops, which is great for sight-seeing. There are also many restaurants nearby and High Street Kensington shopping street is about 15 minute walk. The room size is small, but that's typical of big city hotels. I stayed in room 1614, being 16th floor up, still can hear the trains passing-by. Don't know if it's all the rooms, but my room did not have a mini refrigerator. The room thermostat was kept at a constant temperature and doesn't seem to be able to be controlled. It got too hot, so we just turned to fan only and also opened the window for some fresh air.
10 November 2014
Rated

5.0

out of

5.0
 by
Ailcat
Convenient location for the Royal Albert Hall
Staff are polite and helpful. All areas of the hotel are clean and comfortable. Good value for money in this area of London. Grateful to be able to still get smoking bedroom when most hotels these days do not offer this. Will continue to stay here as long as this continues.
09 November 2014
Rated

4.0

out of

5.0
 by
SheilaM
Short break
My daughter and I really enjoyed our stay at the London Kensington Forum. It was a perfect base for a sightseeing weekend. Staff were very helpful the breakfasts were delicious with a huge choice. Really handy to be able to leave our bags at the hotel before check-in and on our day of departure.
09 November 2014
Rated

3.0

out of

5.0
 by
VickiL267
Great location - Needs updating
The hotel is in a fabulous location. Next to Gloucester Rd tube on the Picadilly Line and within walking distance to many attractions like the Natural History and Science Museums as well as lots of great shopping and dining options. The hotel lobby is nice, but we found check in very slow with 3 people ahead of us complaining that their rooms were already occupied! The lifts service 20+ floors and were incredibly slow, but with a broken toe I was unable to walk the seven flights of stairs so had to wait 5 minutes to use the lift each time. I ordered two small starbucks at the bar... To take out, these cost me £6.40, I know we're in Kensington but we chose not to risk average food/drinks at high prices. The room was very basic and in desperate need of renovation. The bathroom has a sliding door that doesn't lock and is hard to fully close (lucky I was staying with my partner and not my mum or a friend). Mouldy sealant and tiles have seen better days. The wall paper was peeling and the room remained cold all night. The bed sheets were very synthetic and uncomfortable and every 5 minutes or so you were woken by the tube passing under the window (track goes overground). Saying the above, we were happy with the price we paid for the location and relative cleanliness vs a basic room. We appreciate you don't go to big cities for a relaxing trip away but a few things could be improved to make the hotel live up to expectations when walking into the lobby.
08 November 2014
Rated

4.0

out of

5.0
 by
Willstar
Comfortable, well located London hotel
We stayed in a non-smoking executive suite for 8 nights- that's a long time on a hotel room! I was sharing with my mum and unfortunately as there were no twin rooms available we had to share a bed- it was fine but not ideal. Exec room guests can pay to use the business lounge. Opening hours are good but food is not always available. Unfortunately room service does not deliver to the lounge, so if you want to eat and relax in a space other than your room you can't. Kinda defeats the purpose of the lounge in my opinion. Food in the business lounge was very ordinary- and the same stuff day after day. The fruit was poor quality we threw out apple after Apple and just gave up. Plenty of alcohol. Water in glass bottles so you still had to buy water to take during day trips. Generally the hotel is very clean, the foyer is bedlam most of the time with flight crews coming and going at all hours so again, not suited to sitting and relaxing. So you're confined to your room. By London standards quite spacious. Ensuite is adequate - shower over bath the the dreaded shower curtain (seriously it's 2014- instal glass people!!!!). Daily servicing - bed change every 3 nights- good quality bedding and towels. Water and complimentary snacks were a nice and very welcome treat - perfect for popping into your bag for a day time snack. The hotel is in a good location, close to everything. There were a few little things which could've improved our stay but overall it was a good experience. We would stay there and recommend to family and friends.
08 November 2014
Rated

1.0

out of

5.0
Terrible staff services but good location
Good things: - the location is excellent which nearby the downtown area and underground station. - as a member of IHG member, I felt great that I do have some compliment small things like sparkling water, chocolate, to cheer me up when I and my wife get back to the room and felt respect. Bad things: - when my first day come to the hotel, I found that the safer box has already been locked then the second day morning and I asked the front desk to reset the password for me and end up my wife and me waited in the room for an hour and still nobody come up and we decided to leave and check again when we back at night. Of course, when we went back to the hotel, I don't see any follow up and I needed to call the front desk again and finally they sent a security guy to open the safer box to me, it spent me much time for such a small thing. - Then on day 2, my wife and me needed to deal with our company emails so we need to connect wifi, however, the staffs told us that as we have connected our phones before so we cannot connect with the company laptops unless we paid for extra as the system has recognized that we have connected 2 devices before. I called front desk if they can reset the password and they connected to an IT department but that IT department connected me back to front desk as nobody can release the devices usage for us. My wife and me surprised that if they cannot release our devices how do they deal with new customers login, anyway, as this is our honeymoon trip to UK, my wife and me don't want to argue with them and end up we decided to use our UK portable wifi to connect emails in a relatively small speed, however, we do really have a hard time here. Then day 3 is the worst day, when my wife and me went downstairs for breakfast when we lined up the queue, I believed there is a Filipino(Asian) waiter which just totally ignored myself and my wife and ask the ladies behind us how many people for them. Then, I just said "excuse me, we have lined up on the line and we are in front of these 2 ladies" and she replied us "I am sorry, I don't know that". I don't really fed up at the very beginning. However, when I think back how's the event setup and situation, I just felt totally unacceptable and being discriminated, I just cannot persuade myself that "I don't know that" this is an appropriate answer what she told me and how can she not saw 2 adults were stand there. Anyway, I just felt really really disappointed how's holiday inn services can be. As my experience in Hong Kong holiday inn was wonderful as my customer always stayed in the HK holiday inn hotel. I will definitely shared my bad experience in London with them and ask them consider carefully to stay in holiday inn in UK.
08 November 2014
Rated

4.0

out of

5.0
 by
Brian&Lou
Reach for the sky
My wife and I really like this hotel. Only regret is that the upper floors of the tower are exclusive to the airlines. Ordinary folks should get a chance at the views.
07 November 2014
Rated

5.0

out of

5.0
 by
MKBlasiar
Clean and good view.
I have stayed here twice now and look forward to returning. Good location and attentive staff. Thank you.
06 November 2014
Rated

4.0

out of

5.0
 by
Tom3561
room cleaning
Very comfortable room and very impressed with the service. One down point notice in bathroom asks that if you do not require new/clean towels hang them up and they will not be changed, This was done every day but we still got new/clean towels. What is the point of the notice? Not very good for the environment that you say you are trying to help. Other than this we had a great stay in your hotel and would choose it again if or when we decide to re visit London, well done Holiday Inn..
05 November 2014
Rated

3.0

out of

5.0
 by
Maria0128309123810938
Review
I stay in this hotel often, for professional reasons. The hotel and staff are ok. The issue is i am always, always asked for my credit card, whilst my corporate agency provides it up front. I only face this issue in this hotel, not for example at the Crown Plaza. Room service is not the best. One needs to dial in and wait a few mins whilst in rings. Then front desk answers and Room service needs to call back.. I often order after hours, so need to choose one of the 24H dish. More often than less, they dont have what I order... Today it was the srimp wrap, usually it is the ham sandwich in a baguette, which is what i ended up having to order tonight. The baguette ( for once you have it, as usually i get toast bread..), is worst than a Gas Station wrapped sandwich..really.. The sandwich itself seems like it was made out of left overs..it doesnt look yummy and actually is not at all. honestly, i find it unpresentable to a customer.. and it tatses bad. The rooms are ok, although i often find hear in the tub, which i find particularly digusting. The coffe cups in the rooms, i would never drink a coffee in. If you smell inside, it stinks, like they've just been rinsed for weeks.. Overall, for a London hotel of this category, i guess its average, but when you travel the world in different hotels, you do find this type of service unacepatble. Breakfast staff is very average, i thnk of all times i had breackfast, they did not forget to bring my coffee only once. The cofee bar at the ground floor does have excelent customer service and very freindly staff :) The location is also great. hope this helps..
04 November 2014
Rated

4.0

out of

5.0
 by
DazK
Good location
Nice location in kensington, near gloucester rd tube station. Short walk from natural history museum. Feasible to walk to Harrods. Nice pub build into the hotel. Staff welcoming and friendly. Breakfast overpriced and I would recommend going elsewhere for it. Mattress wasn't overly comfortable and rooms were noisy due to aircon flowing up the walls between rooms (even though mine was turned off) but room was fine otherwise. free internet for IHG members, payable otherwise.
04 November 2014
Rated

4.0

out of

5.0
 by
Dawn Elaine
Great location to Tube
The front desk staff is not that friendly and no one informed me that only 2. devices could be connected in the room regardless to if you log off the other devices. So my husband had to pay to use the wifi for work.
04 November 2014
Rated

4.0

out of

5.0
 by
Giuseppe47
Good position and good service and good cost/quality ratio
We recently enjoyed very much our four nights staying in Holiday Inn Kensington Forum. The location of the hotel is perfect for visiting London: it is just some steps from Gloucester Road Metro Station and also from the bus stop towards Knightsbridge area. We were very well assisted by the staff in our needs. The hotel has also some floors for smoking people, which is not easy to find. The only weak point that we could mention is the fact that the television does not include any Italian language channel, which is not essential but may help tourists from Italy. When in London we shall come back to this hotel for sure.
03 November 2014
Rated

3.0

out of

5.0
 by
UKIan
Comfortable
Not bad, but needs a little face lift in the rooms, a little tired
03 November 2014
Rated

5.0

out of

5.0
 by
bison777
Room air conditioning
It seems that the heating and air conditioning system is either on heat or cooling and you can not select which one you want. It was cool outside and the heat was turned on. I like my room very cool to sleep and I could not get it cool without opening the window which allowed outside noise in.
03 November 2014
Rated

3.0

out of

5.0
 by
colparis
Staff and Location are always very good
The staff are always friendly, the location of the Forum is convenient to buses and underground and neighborhoods, the breakfast is always hearty. The bathroom fixtures are showing their age as well as the credenza in some rooms. But the beds are comfortable.
03 November 2014
Rated

5.0

out of

5.0
 by
czernylaviion
Home away from home
Great location, awesome staff, efficient compact work out room and home away from home for this London Boy who is here almost every other week.
02 November 2014
Rated

3.0

out of

5.0
 by
Rob n Anne
Fan noise spoils stay
We have stayed quite often - it's our 'home from home' while in London. However, Room 660 was a bit disappointing because of the droning fan noise all night. We had had an 'upgrade' to this room which was nice but the noise which seemed to come from the end of the corridor meant we got little sleep. Nice to have the chair and fridge. We were moved to another room for the next night but now the droning noise came from the air -con grating (even when switched off). Also, the fridge in this room never got cold so our milk was in danger of going off! I think we prefer to be higher up with our usual views of the City. Never mind - we will definitely try again!
01 November 2014
Rated

4.0

out of

5.0
 by
BreakfastEnthusiastSteve
Pleasant stay, great breakfast, but why soap/facecloths removed?
Very pleasant 2 night stay, nice hotel, clean rooms, GREAT BREAKFAST Buffet :-). Tiny criticism (1) Both rooms had the used soaps and both facecloths (inc the unused ones) removed by housekeeping after the first night & not replaced - bizarre, why on earth??? No doubt they would have been replaced had we both asked, but why remove a folded, dry, unused facecloth? Tiny criticism (2) On arrival, I was asked to confirm I wanted smoking rooms, No, I said, I don't smoke. "Oh well, maybe you better change your profile then" I was told - in spite of me clutching a reservation confirmation showing 2 Non-smoking rooms booked. Odd! Tiny criticism (3) My room keycard de-magnetised itself, locking me out of my room (where, predictably, the other key was), requiring a trip down to Reception - easily fixed, just annoying. But those were very minor - loved the hotel, loved the breakfast, loved the location (fantastic for the museums, v close to Gloucester Rd tube)
01 November 2014