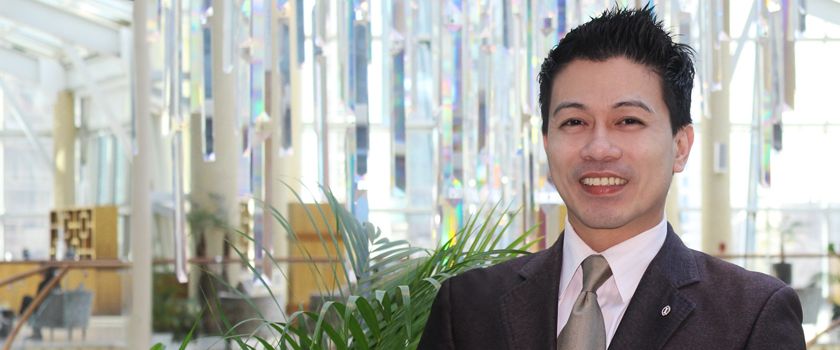 Sharlon Rabacal
Chief Concierge 97440158888
Welcome To Doha
Welcome to InterContinental Doha The City. Our concierge team is pleased to assist you in creating lasting memories. With the best sports grounds, museums, shopping malls, restaurants and cultural highlights, there has never been a better time to experience Doha.
InterContinental Doha The City is perfectly located in the exclusive area of West Bay in the heart of the financial district offering 349 hotel rooms and suites, as well as 176 one-to four bedroom Residence Suites apartments. Just 20 kilometres from Hamad International Airport and within close proximity to Qatar Exhibition Centre, Katara Cultural Village and opposite to City Center Mall, there is something for both the business and leisure traveller.
MORNING

After a good breakfast take a walk along Doha Corniche. It's a seven kilometre palm-fringed promenade which extends in a horseshoe shape around Doha Bay and the city's sea-front. Stroll past traditional dhows moored at the bay, the iconic Museum of Islamic Arts and the magnificent skyline of West Bay.

AFTERNOON

To avoid the intense heat and high temperatures, especially in the summer months, the afternoons are a good time to discover the Doha City Center Mall or The Gate Mall which are located only a few minutes away. Alternatively, you can visit the Museum of Islamic Art, which houses the largest collection of Islamic art in the world or relax by our open-air rooftop pool.

EVENING

Discover the Arabian lifestyle at Souq Waqif. This is the one place in Qatar where you can find anything and everything. Made up of a large labyrinth of alleyways lined with various shops, the popular souq is a feast for the senses. Selections of perfumes, spices, incense, sweets, rice and dried fruits are plentiful. End your day with a traditional Shisha, the Arabic water pipe, and a cup of tea in one of the corner cafés.
LOCAL CULTURE

Local People

No matter how fascinating or unusually attired, avoid staring at or making eye contact with local women. It is considered very disrespectful in entire GCC Region.




Clothing

Be aware of the fact that visitors are expected to respect local customs and be modest in their dress. Woman should avoid wearing shorts or a sleeveless blouse when walking through areas popular with locals.




Photography

Photography of government institutions, military areas and oil and gas refineries is prohibited. Always ask before taking pictures of local people, especially women who may well decline your request. Advisable to avoid making such request.




Taxi Karwa

The turquoise colored Karwa taxis can be availed from the side of the road. As well there are taxi stands available at all major shopping malls. They are a great and very reasonably priced way of getting around. Please note that many people and taxis drivers still navigate by landmarks rather than street addresses.




Bargain at Souq Waqif

We highly recommend you to bargain with shop sellers at Souq Waqif. The more you bargain the more you will benefit. At times the seller may even sell his merchandise for half the cost of what he had earlier asked for.




DID YOU KNOW ?

FIFA World Cup 2022

Qatar won the rights to host the 2022 FIFA World Cup. As a result of Qatar's hot summers the winning bid proposed that all stadiums constructed to host the World Cup would be built as air conditioned indoor venues in order to ensure that the event could be held in summer.




Oryx

The Oryx is Qatar's national animal. It is a medium sized antelope with a distinct shoulder hump and long straight horns. It is believed that this animal inspired early travelers to Arabia to the legend of the unicorn.




Museum of Islamic Arts

The Museum of Islamic Arts was designed by renowned architect I. M. Pei, who designed the famous Louvre Pyramid in Paris. The museum rises from it's own manmade island. Shaped like a postmodern fortress, the museum houses the largest collection of Islamic arts in the world.




Souq Waqif

The location of Souq Waqif has been a souq for centuries, as this was the spot where the Bedouin would bring their sheep, goats and wool to trade for essentials. Souq Waqif is the most traditional market places in Doha. This is the place to look for spices, perfumes and oud, an exotic incense made from agar wood.




WHAT TO PACK

Sun protection

Bring your sunblock, sunglasses and a hat to protect yourself against the bright and extremely hot sun during summer. Winter is modest though some day it can be cooler due to windy weather.




Light clothing

The weather in Doha can reach in the summer months between July and September up to 45C. Light clothing is advised, but do bring at least one heavier garment for the cooler months and air-conditioned interiors.




Money

We recommend to exchange some currency into Qatari Riyal before you leave for Doha; just enough for airport incidentals and transportation to the hotel.




Sunglasses

Sunglasses are required during the day to protect against the sun's ultrviolet rays.



InterContinental Doha - The City
West Bay

Doha

Qatar

Front Desk

+974-40-158888
Languages spoken by staff
Afrikaans, Arabic, German, English, French, Hindi, Indonesian, Korean, Macedonian, Punjabi, Portuguese, Romanian, Russian, Serbian, Swahili, Tagalog
Pet Policy
Guide Dogs are the only pets allowed.