Skip Navigation
English
|
|
|
|

Sign In

Book online or call: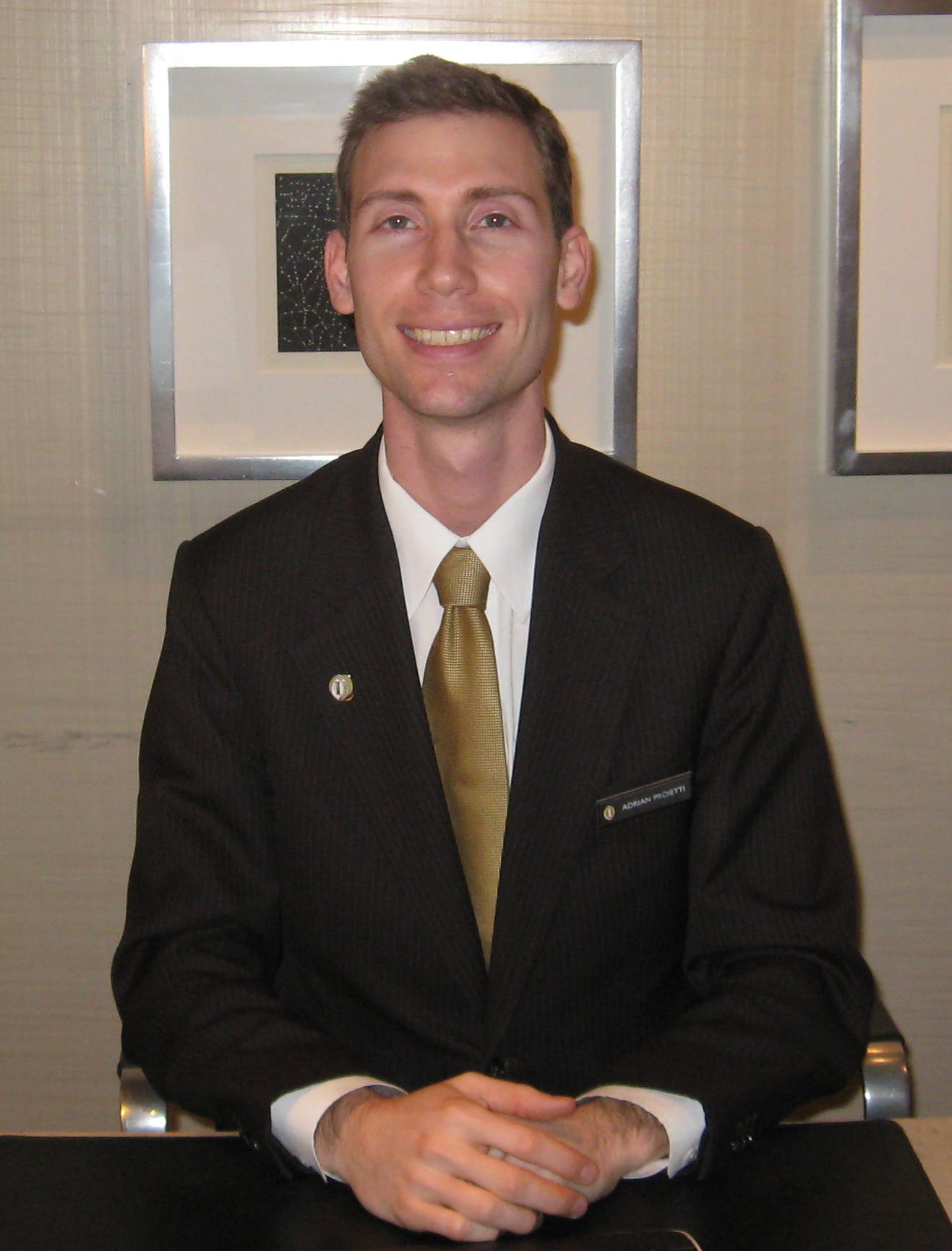 CHIC NEW YORK LUXURY HOTEL ON TIMES SQUARE
Right on Times Square, this New York luxury hotel is perfectly placed in the epicentre of Manhattan's theatre, dining, fashion and business districts. Just blocks from Broadway, savour a pre-theatre menu at Ça Va Brasserie or wander to nearby Restaurant Row for a myriad of dining options. Towering 36 storeys, this New York luxury hotel affords impressive views of the Hudson River and city skyline. The Lounge is perfect for after dinner cocktails and views of 44th Street.
HOTEL HIGHLIGHTS
Restaurant & Lounges

International cuisine is featured in our premiere restaurant led by renowned Chef, Todd English. The adjoining lounge serves cocktails and light sn...

Amenities & Services

A state-of-the-art fitness centre offers 24-hour access to a full range of fitness equipment and free weights for the perfect workout any time of day.

SPECIAL PACKAGES

There's always something special happening at an InterContinental hotel. Whether you are looking for a fun-filled getaway or a place to host your n...
InterContinental New York Times Square
300 West 44th Street

New York

,

NY

,

10036

United States

Front Desk

+1-212-8034500
Languages spoken by staff
English, Spanish, French
Pet Policy
Dogs and Cats allowed for a fee of 250USD non refundable fee
Pet Fee $250.00 per night
CHECK-IN

3:00 PM

CHECK-OUT

12:00 PM

Late Check out Available
Accessibility
Service animals allowed
31 Room(s) with Accessibility Standards
Guest Reviews
Rated

4.5

out of

5

 by

735

reviewers.
Rated

3.0

out of

5.0
 by
KEEDGE
Poor Elevator Service
The wait for the elevators, particularly in the morning, is awful. We waited almost 30 minutes every morning and were to far up to take the stairs. This is not the optimal way to start the day. Past that, everything was pretty average (room, location, etc). Not a lot happening nearby so if you stay here, plan on walking a bit. Red lines (1,2,3,4) are a couple of blocks away. I do give them kudos for not charging for internet access. If you can book relatively cheap, you'll be happy. If you pay Times Square type rates, you won't.
December 26, 2013
Rated

5.0

out of

5.0
 by
jswan
professional staff
Our weekend stay at the Staybridge suites was wonderful!!! We stayed during the Christmas season and the staff and location were just Perfect. Our room was a great size and very clean. After a long day/night of shopping we were greeted by our hotel manager, Miss Bringley, who treated us to a complimentary drink at the cozy lounge. Already planning our return trip for next Christmas...Loved it!!
December 26, 2013
Rated

1.0

out of

5.0
 by
WaitingOn26
Terrible elevators spoilt stay
Despite the nice location and great room design, the elevator situation would prevent us staying at this hotel again. One morning it took us just over 20 minutes to wait for an elevator. We ended up adding 20 minutes of travel time to everything that we did. The actual building is not wide and it looks like there is no other way to add more elevator cars so it is not a problem that is easily solved. I think it will need to reduce its rate drastically to reflect this. For the money that we spent at this hotel, we would have been much better off in another hotel. We were on the 26th floor - so walking up/down the stairs was not an option.
December 26, 2013
Rated

4.0

out of

5.0
 by
Jazzedup
The lifts take ages to arrive
Apart from the lifts everything else is excellent...the staff are excellent and attitude of personnel is key..will stay again but something needs to be done of the lifts plsssssss......
December 25, 2013
Rated

5.0

out of

5.0
 by
Don26
Unbelievable Experience!!! Scott Family
If you decide not to choose Staybridge for your stay in New York City, you will have stayed in the wrong place. Location, Location, Location, and on top of that a Great Staff, Clean Rooms and Free Food and Drinks. Can't say enough good things about Staybridge.
December 22, 2013
Rated

5.0

out of

5.0
 by
Barbara06811
Christmas getaway
We live in Connecticut and stayed for two nights to go to some shows and enjoy the Christmas decorations. This hotel is located a little low in Times Square district, but close enough to walk. Also close to subway lines. Breakfast is comprehensive and evening drinks and food quite a bonus. We would definitely stay here again.
December 22, 2013
Rated

5.0

out of

5.0
 by
Mickey118
Excellent stay
This hotel in centrally located to all they k dry landmarks. .Subway station in less than a block away. Great breakfast in the morning. .Staff is very attentive To the needs of the guest..
December 22, 2013
Rated

3.0

out of

5.0
 by
Rnavarro
Room was great but not too clean too many dust and hair in the bathroom
Hotel have great location but the front desk wasn't too friendly the lady check me in never ask name or said my name was kind rude one guys ask me if I need help with the luggage and he start and left on the first bag, rude is well... The room was a lot dust on the top is the fridge is a lot dust on the top off the beds and the pictures and I found some hair on the shower and floor on the bathroom !!!k
December 20, 2013
Rated

5.0

out of

5.0
 by
JoeVCC
Great place to stay in NYC.
An incredible place to stay in the city. For the past 12 years we have go to NYC to visit for the holidays. We have stayed at many places, St Regis, Sheraton, Hilton and several other major hotels. The Staybridge hotel, by far has been the place to stay in city. I would highly recommend to anyone who is looking for nice, affordable and centrally located hotel to look no farther than this place.
December 20, 2013
Rated

4.0

out of

5.0
 by
auh4ever
location and good for families
We had 2 full bed studio suite and it accomdated us 2 adults w/3 small kids comfortably . Breakfast was ok . Location is within walking distance to TS . Elevators take longer waits sometimes.
December 20, 2013
Rated

4.0

out of

5.0
 by
Shameless
Shameless
Good stay. Lifts very busy. Room clean and spacious
December 19, 2013
Rated

4.0

out of

5.0
 by
marylikestotravel
great place for short and long stays
This is a great location a block off times square. Having the kitchenette with plates, silverware, pots/pans and even wine glasses in the room was awesome since we purchased goods to eat and warm up. We had a room on the 22nd floor and could see times square below. The staff was very helpful when we were 30min late for our late checkout due to traffic. Breakfast was amazing and glad they had egg white omlets! Healthy choices! Only setbacks were the elevators taking up to 10min of wait time and the shower is tiny. However the rooms were very spacious in comparison for the average hotel room or suite you'd find in the city.
December 19, 2013
Rated

5.0

out of

5.0
 by
gcpjd
Comfortable beds and clean rooms - great staff
We visited NYC over the Christmas season. With a busy schedule of sites and visits, we found the hotel to be a great location. A few blocks from Time Square and having a subway station located at the next block made getting around very convenient. For NYC the rooms were an adequate size. They were fresh, clean, and up to date. The beds were very comfortable.There was not a room amenity we didn't have. The complementary breakfast was a full complement of food and the staff was excellent in keeping tables clean and the serving area full and fresh. Karina C. was a special treat to see each monring. She always had a smile and friendly greeting for you and most helpful with any need you had. The complementary social hour in the evening was an added surprise, although we seldom had a chance to take advantage of it as we were out and about on the streets of NY. The front desk attendants were very pleasant and professional. Mirlinda was one that was particualarly helpful and friendly. She went out of her way to help with quesitons and needs. Staying in Times Square NY, you will be pleased with the Staybridge
December 19, 2013
Rated

5.0

out of

5.0
 by
Ludo5312
One of the more enjoyable stays this year.
We travel a lot and have stayed in NYC many times. This is and excellent mid-town location, close to most of the popular places and attractions, just steps away from the theatre district. Service was excellent and the free breakfast offer was a cut above most that offer this treat. The only minor point was elevator availability during the morning 'rush hour'. The staircase is a good alternative for most up to 10th floor. Friendly and helpful staff is what sets one hotel apart from another... and this place scores great. They must have good management. It shows!
December 18, 2013
Rated

5.0

out of

5.0
 by
Redwoods
The Big Apple at its best.
There is nothing I can add that others before have not said about how wonderful this hotel is. It's New York so it's over priced but again it's New York. I would recommend and will stay again. FYI the two block walk to TS is nothing, safe and full of NY. The walk up 8th or 9th streets and then cutting over to a show or where ever, are again safe and easy. Enjoy my friend.
December 16, 2013
Rated

5.0

out of

5.0
 by
Panamdel
Traveled the World
I started out as a flight attendant for Pan Am in the 70's and I now fly for Delta. As crew members we have stayed in hotels all over the world, and we share our experiences so that others will know where to stay when on personal travel. In New York we have stayed in many hotels, some like the Milford we liked simply because of the location, nothing else. A few others the location could not even make up for the general lack of cleanliness. We now layover at The Roosevelt which is a beautiful historic hotel, however the rooms are so-so. On this visit to the city for a family reunion, my husband found the Staybridge on the internet primarily because of the gym and general appearance. We were all instantly impressed at the knowledgeable and pleasant staff, followed by the pleasant atmosphere and cleanliness. Our room was quiet and comfortable. I give it an A.
December 15, 2013
Rated

5.0

out of

5.0
 by
DMFrance
Great location and good services
We are from France and were happy with the location and found the room practical as we could cook in the little kitchen. The bed King size was great. Breakfast is included and nice. The room was nicely cleaned everyday (thank you Lourdes). Just one little thing. We wrote a request when we booked. When we arrived, we needed to ask for our request so we changed room the following day. The staff was great. I recommend Staybridges suites.
December 14, 2013
Rated

4.0

out of

5.0
Great stay
We stayed for 3 nights and had a wonderful time. The staff was great all around. The breakfast was good, plenty of choices. The only thing that could be improved would be the elevators. There was a long wait at times for the elevator and they all stopped on at least 4 floors- they aren't big enough to fit that many people. I will stay here again for our trip in the fall 2014 for sure!
December 13, 2013
Rated

2.0

out of

5.0
 by
Jolbs
A Weekend in NYC
I chose Staybridge Suites as we have stayed in the Liverpool property in the past and liked the layout of the studio rooms. However the rooms in NYC were much smaller for 2 adults and 2 teenagers. The breakfast was good but there was always a shortage of seats which made the experience a challenge whatever time we went down. The main problem with this hotel is the slowness and number of lifts ! Every morning we had to wait about 10 minutes - sometimes longer - for a ride to the lobby and we were always surrounded by fellow fed up guests suffering the same problem. When the lifts did eventually arrive we then had to stop at every floor on the way down from the 29th floor which took an age ! The location was central although the street that the hotel is on has some dodgy shops/bars - but all in all for the price it was good value for money
December 13, 2013
Rated

5.0

out of

5.0
 by
Hogfan46
Rewards stay
Although our stay was primarily paid for by reward points --- the normal rate was a bargain for a quality NYC hotel. Breakfast was outstanding.
December 10, 2013
Rated

2.0

out of

5.0
 by
meanchat
Keep the doors locked
I have stayed at this property multiple times and will do so again; however, I was startled when housekeeping entered my room when I was in a state of undress. I had requested and was given a late check-out as Platinum Ambassador. When I returned from my lunch to take a shower before checking out, the room had been serviced (although I had a do not disturb sign) and when I was about to jump in the shower, someone from housekeeping entered my room (my fault for using the deadbolt). I think that housekeeping needs to be made alert to late checkouts, so as not have this type of experience in the future.
December 9, 2013
Rated

4.0

out of

5.0
 by
Hawkeye310
Enjoying the city
My wife and I took a trip to NYC for some holiday shopping. We drove from Tennessee. When we arrived at the hotel, we were worried about having a place to unload and then park our car. The room for unloading on the street was tight but adequate and the staff of Staybridge was very helpful. Parking is another matter. Parking arranged by Staybridge is about two blocks away and the staff at the parking garage are not helpful or courteous at all. The hotel arranges a price of $35 per day but you have to pass two closer by parking garages to get to this particular garage. Of interest, when I retrieved my car after checking out of the hotel, it was obvious that the garage staff had sat in my car and eaten food as there were bottles and wrappers left in the car. The hotel has a very nice breakfast every morning and a great reception with food in the evenings. The location on W. 40th Street is very handy to city shopping and to Time Square and the vicinity. We definitely recommend this facility and will certainly stay there next time we visit the city. The value was hard to beat anywhere.
December 8, 2013
Rated

5.0

out of

5.0
 by
mortisha1
Excellent stay
All staff were friendly and helpful. Our stay was most pleasurable. The only comment I would make is that the wardrobe space is a little limited. As we stayed for 6 nights storage was a little limited.
December 8, 2013
Rated

5.0

out of

5.0
 by
Nana70
Excellent hotel
Great staff, comfortable beds and pillows, convenient location ,great breakfast and happy hpur
December 8, 2013
Rated

2.0

out of

5.0
 by
DodChr
High Hopes...
We called the hotel to notify them we would be arriving very late and not to give away our room. The front desk told us "no worries, our room was guaranteed with our credit card, and would be waiting for us." I wish this was the case. When we arrived, we were informed there were no rooms. They did make arrangements to stay at a nearby hotel. However, we were staying mutiple nights with 4 people. That meant, checking in, checking out moving luggage. It was a complete hassle. Elevators at this hotel are the worst I have ever seen. We waited sometimes 15 minutes.
December 5, 2013
Rated

5.0

out of

5.0
 by
Terri1303
First time in NY and Thanksgiving at that!
Great beds. Was on 31 st floor and had beautiful view! Breakfast was always good and staff there excellent. Easy check in and staff so helpful getting a taxi and giving directions. Only hitch was one broken elevator but the staff did all they could to get us up and down. Room was cleaned immaculately every day. Highly recommend!!!!
December 4, 2013
Rated

4.0

out of

5.0
 by
TRYorkpa
Saturday night stay
One elevator was out but the staff handled it great. Very nice welcome and departure and again the staff was great TR
December 4, 2013
Rated

5.0

out of

5.0
 by
louloudi
Excellent!
we stayed for a week, we loved this hotel. The only thing that wasn´t great was that the elevator was busy and had to wait for 20 minutes till we finally got to breakfast other than that this hotel is perfect! i would defenetly recommend it!
December 2, 2013
Rated

4.0

out of

5.0
 by
ukacharya
Great value for money
One of the great property, in terms of value for money, attentiveness of staffs, great choice of hot breakfast, in house free laundry support is amazing (specially during winter, its blessing not to go out in snow for laundry service). Also the online booking through chat, i felt it as personalized service. Agent gave me a confirmation by mail, on ratifying it i paid. I felt more comfortable buying rooms then through some travel portals.
November 30, 2013
Rated

5.0

out of

5.0
 by
MarkVacation
Great Weekend Getaway
This was our first trip to New York City. Staybridge Suites provided a clean, nice sized room which was perfectly located to see and walk Times Square. The staff was very friendly and helpful and the breakfast buffet was a great costs savings for us. Many reviewers commented on the availability of the elevators, however, we stayed on the 30th floor and never waited more than a couple of minutes for the elevator to come. Would definitely recommend this location and will stay here again on future visits.
November 29, 2013