Skip Navigation
English
|
|
|
|

Sign In

Book online or call: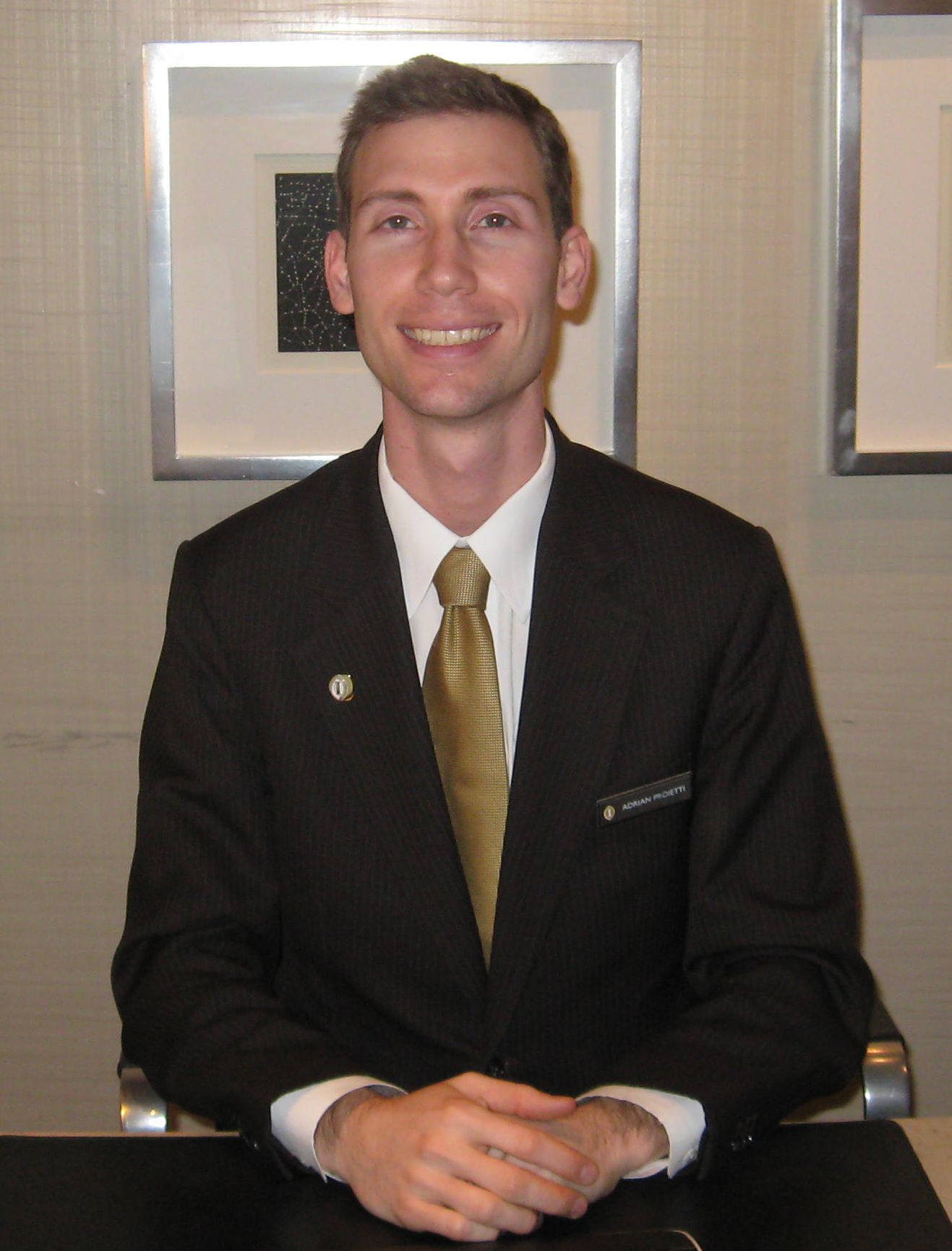 CHIC NEW YORK LUXURY HOTEL ON TIMES SQUARE
Right on Times Square, this New York luxury hotel is perfectly placed in the epicentre of Manhattan's theatre, dining, fashion and business districts. Just blocks from Broadway, savour a pre-theatre menu at Ça Va Brassiere or wander to nearby Restaurant Row for a myriad of dining options. Towering 36 storeys, this New York luxury hotel affords impressive views of the Hudson River and city skyline. The Lounge is perfect for after dinner cocktails and views of 44th Street.
HOTEL HIGHLIGHTS
Restaurant & Lounges

International cuisine is featured in our premiere restaurant led by renowned Chef, Todd English. The adjoining lounge serves cocktails and light sn...

Amenities & Services

A state-of-the-art fitness centre offers 24-hour access to a full range of fitness equipment and free weights for the perfect workout any time of day.

SPECIAL PACKAGES

There's always something special happening at an InterContinental hotel. Whether you are looking for a fun-filled getaway or a place to host your n...
New York Times Square
300 West 44th Street

New York

,

NY

,

10036

United States

Front Desk

+1-212-8034500
Languages spoken by staff
English, Spanish, French
Pet Policy
Dogs and Cats allowed for a fee of 250USD non refundable fee
Pet Fee $250.00 per night
CHECK-IN

3:00 PM

CHECK-OUT

12:00 PM

Late Check out Available
Accessibility
Service animals allowed
31 Room(s) with Accessibility Standards
Guest Reviews
Rated

3.8

out of

5

 by

815

reviewers.
Rated

5.0

out of

5.0
 by
JBfashion
always comfortable and reliable
As usual, the mid-town Holiday Inn was the perfect business hotel. Comfortable rooms, easy to get to and from, walking distance to nice restaurants, new york neighborhood feel. Can't ask for anything more from a NY hotel.
January 28, 2013
Rated

5.0

out of

5.0
 by
Rangers65
comfort
It was very quiet and comfortable stay.I will be back
January 27, 2013
Rated

2.0

out of

5.0
 by
Irritated80
inexpensive for a cost
On the plus side, I don't remember sleeping in a more comfortable bed in my life. Additionally, the price of the room for midtown Manhattan was much less pricey than its competitors. On the downside, I don't remember worse service. I spoke with six different people who worked at the hotel, who didn't just not show me respect, but deliberately disrespected me. Everyone working at this hotel seems to be put out to do their job. Want to check in or out? Expect the employees to shush you while the finish their private conversations and then act annoyed the entire time you are speaking with them. This is par for the course for all of the employees I spoke with. In the middle of my first night, security was called three times on a guest screaming on my floor for three hours, who sounded like he was beating his girlfriend. Security arrived, told them to "shut up," and then left. This happened two more times, and the screaming and pounding never stopped. I should have expected as much from staff who don't care about their job and don't want to be there. You will be lucky if the staff does the bare minimum of their job requirements when you are staying there.
January 27, 2013
Rated

5.0

out of

5.0
 by
LynneV
Nice Hotel
We only stayed one night but would definately stay again!
January 27, 2013
Rated

5.0

out of

5.0
 by
DLK1
Like the staff
They are always nice and friendly. All was good as usual, but found the food at the Bar not quite as good as when the same thing ordered before. Do always enjoy staying there and it is convenient to our office!
January 26, 2013
Rated

5.0

out of

5.0
 by
IHGhog
Best Kept Secret
Close by to all major tourist attractions that New York has to offer, in the heart of Midtown, this Holiday Inn offers everything that a "top tier" hotel would offer, at half the price. Free internet access and health club, make this hotel even more desirable. The Best Kept Secret: Watch the 4th of July fireworks from the rooftop pool!
January 26, 2013
Rated

2.0

out of

5.0
 by
Jess37
Decent hotel for the price and location.
Myself and my 3 girlfriends booked a room here on a Saturday night in January 2013 to celebrate my birthday. The hotel lobby was pleasant. However, we waited in line for 35 minutes to check in, which was very uncomfortable with all of our luggage. We had requested a corner room and were pleased to find that the hotel was able to accommodate our request. When we got of the elevator on our assigned floor we were displeased to find unclean and outdated hallways - a used room service tray was left outside of one room and remained there for at least 4 hours. We booked a room with two double beds and they were extremely small (perhaps the size of a standard bed - definitely not a queen size). The beds were also very firm and, as I prefer a softer bed, this was uncomfortable. As we were getting ready for our Saturday girl's night out we played some music on the small clock radio provided by the hotel and laughed and talked (as friends typically do). We are all college grads and a few of us have our master's degree and we just wanted to enjoy the weekend in NYC. At 8 o'clock on Saturday night we were surprised to receive a stern knock on the door from hotel management telling us that they had received a noise complaint and to be quiet or they would ask us to leave. My friends and I thought that this was particularly harsh language. Especially, as this was the first time they asked us to be quiet and also because it was 8 o'clock on a Saturday night! We did lower our voices and continued to get dressed. At 10 o'clock there was another noise complaint. We assured the manager that we had been trying to be quieter and that we were about to head out anyway and would be sleep after we returned. Now I do respect other people's comfort, but at the same time it was early on a Saturday night and we were not playing any loud music, and since we paid for our room just as other guests we should be able to enjoy our stay within reason. In short, I would be hard pressed to stay at this hotel again and I certainly would not recommend the establishment to a friend. The front desk and housekeeping staff were pleasant. However, the cons far outweighed the pros. Next time, we will spend a bit more money for a more comfortable hotel.
January 25, 2013
Rated

4.0

out of

5.0
 by
Chuckdby
Clean room and good service
Stayed at the hotel after going to broadway show. First read previous reviews and was a little skeptical. Found exact opposite. Location is a couple of blocks from the theater we went to. Near times square in a residential area. Room was ready, available and clean. Staff was very efficient at check in and check out. Had to call for additional pillow and housekeeping responded immediately with two pillows. Room was spacious although the furnishings were a little dated---but this wing of the hotel will be undergoing renovations for upgrades this month. Only complaint was that the elevators were small.
January 25, 2013
Rated

5.0

out of

5.0
 by
texkiwi
Outstanding visit
Just returned from 5 days in New York City, where we stayed at the Holiday Inn Midtown. Was a perfect location, right in the middle of everything. Both of the concierges we dealt with were great, got us everything we asked for and needed. We could not have asked for a better value, compared to what we had initially looked at. Would most definitely stay here again!
January 25, 2013
Rated

5.0

out of

5.0
 by
todteach
Pleasantly surprised!
Very happy with the hotel! I was pleasantly surprised and amazed at the size of the room. We got a King Size bed but being in NYC I was dreading a small room but the room was huge! Great location, away from the hustle and bustle of Time Square but close enough to access everything!
January 25, 2013
Rated

4.0

out of

5.0
 by
Maxdeerfield
Best deal
This is the best deal in NYC midtown. I tell all of my friends about it and I am coming back in two weeks. Top notch stay.
January 24, 2013
Rated

5.0

out of

5.0
 by
2012Explorer
Hotel's customer
Location very good, less noise with easy access to main avenues and streets. Beds were confortable and services were excellent from reception through restaurant. Very comfortable bathroom.
January 24, 2013
Rated

4.0

out of

5.0
 by
shingoskk
Very spacious room
I had a great stay in Holiday Inn on 57th. Let me mention several things I experienced. Pros: Location is good for those who hang out and shop in Midtown. They have easy access to east side since crosstown bus stop for 31&57 is just around the corner and bus service is very frequent. Hotel is a bit dated but the guest room is spacious compared to other 3 star hotels in the city. Bed is as comfortable as Intercontinental hotels' and linens are very clean. 2 types of pillows are provided and actually comfortable. Self-control A/C and air-volume can be adjusted is a plus. Windows can be opened slightly by guest to get fresh air. about 40 inches HDTV and FREE WiFi internet anywhere in hotel and good connection. Cons: No Safety box, fridge, slippers, Small closet No toothbrush prepared as amenity unless you pick up at front-desk. Busy front desk Overall, good hotel :>
January 24, 2013
Rated

4.0

out of

5.0
 by
ethel65
good location
the crew was accomodating, over all stay was great, the only issue in our room was, we don't have enough electric outlets, I have to charge my phone in the bathroom, because the room does'nt have enough outlet. and it's very inconvinient for me, because i was on vacation, but still to keep on eye on phone calls from my business/
January 23, 2013
Rated

4.0

out of

5.0
 by
NYCholiday
Good Service
Convient location. Great price. Nice staff. Good restaurant.
January 21, 2013
Rated

5.0

out of

5.0
 by
MelloFamily
Value, Location, and Comfort...What more can we ask?
We got exactly what we were looking for. Close enough to walk to shows and attractions, tours, and shops. Easy to jump on a subway or get a cab when needed. Food nearby, within our budget. We were very happy and would recommend to others.
January 21, 2013
Rated

4.0

out of

5.0
 by
prilly
good location
overall a very good stay - reception staff not unfriendly but not 'warm and welcoming' when we arrived or when I asked if anyone had handed in a scarf I'd left in the bar I just received a srugg of the shoulders - of course they have better things to think about but maybe they could improve the customer service! but would not stop me coming again to stay here.
January 20, 2013
Rated

3.0

out of

5.0
 by
Oohing
Good location and value
Overall the stay was good. The room with 2 double beds was very nice. Bathroom needed updating but it was adequate for a one night stay. Nice HD tv and free wireless access. The pillows were very uncomfortable and the room was on the street side so neither of us got any sleep at all with all the street noises, I.e trucks and ambulances going by all night. The parking was a good value and very convenient. All in all I would stay here again and request an inside room on a much higher floor and some different pillows. The drinks at the bar were pricy and were very weak.
January 19, 2013
Rated

4.0

out of

5.0
great location spacious room
great location, just a couple of blocks from central park & times square. also a spacious room considering the size of rooms in NYC. parking garage next door was very convenient. checkin/out was a breeze
January 19, 2013
Rated

5.0

out of

5.0
 by
Rusell
My Two Short Days in NYC.
I just want to say thank you to the staff there. Everyone was so helpful. The two folks behind the reception desk, security, my floor's maid, and even the gal in the gift shop. What has gotten in to you New Yorkers? All kidding aside, every one went out of their way to help me. I will stay there again when work or play brings me back to NYC. Please share this with the staff. They deserve the praise.
January 17, 2013
Rated

4.0

out of

5.0
 by
bdogggggg
Pleasant Stay
My stay was pleasant and comfortable. The staff was very nice and helpful. Thank you
January 16, 2013
Rated

5.0

out of

5.0
性价比高
该酒店地处纽约市黄金地段,中央公园,时代华纳近在咫尺,虽然酒店略显陈旧,但在中国算得上四星级,价格跟国内四星级差不多。
January 16, 2013
Rated

4.0

out of

5.0
 by
mummysNYCbreak
Fantastic location, clean, comfortable.
Loved my stay here in January 2013. Was a bit worried after reading some negative reviews but have to say that i could not fault it. the check in staff were very friendly and helpfull. the gentlemen that advise you on trips, tickets etc were so very helpful. The cleaning staff were really good and friendly. The room was perfect. Clean and spacious. We were two friends who came over from Ireland for the New York experience for 5 days and it was a fantastic one on a whole. The only thing i would say is that my friend and i were waiting for our shuttle bus to go back to the airport, we had checked out. She popped to the bar to get a class of tap water and the bar attendant refused and told her she had to purchase a bottle even though most evenings we had popping in there and asked for large tap water with no problems. That my only fault and of course its very small! Thank you Holiday in 57th street, we will most certainly be back and we will reccomend to our friends!
January 16, 2013
Rated

4.0

out of

5.0
 by
johnbonbon
great location
my stay in the hotel was very good rooms cleaned ever day and staff always helpfull but the main thing is the location very close to time square easy walking in abot 10 min
January 16, 2013
Rated

3.0

out of

5.0
 by
Military
Stay In The Big Apple
I have never stayed at a Holiday Inn on the 14th floor in the past 25 years of my life. The parking was terrible. The fees were astronomical for a one night stay. No discounts allowed for the military or Veterans Preference. .
January 15, 2013
Rated

5.0

out of

5.0
 by
Todd1961
Skylight Lounge
I have always enjoyed my stay at the Holiday Inn, especially my time at the Skylight lounge. Ben and Alex always take care of me and seem to take care of all the other guests as well. I'll keep coming back and look forward to the big room remodeling project upcoming.
January 15, 2013
Rated

2.0

out of

5.0
 by
TravelDuo
Outdated Hotel and Loud, Slamming Doors
Although we have stayed at the Holiday Inn Midtown previously, our experience last week was lacking certain expectations. Guests on our floor came and went at all hours, as is to be expected in New York City. However, the doors have no door checks and therefore slam so loudly that it is difficult to get any rest. The room had no ottoman for the chair, (not a recliner), and the only other furniture was the bed, the tv stand, and the desk. One last comment: When we went to the lobby to check in for our flight and print our boarding passes on the day of our departure, we had to pay to use the computer. In all of our travels this is the first time that has occured. Although it is a great location, we wil not be returning to this location until we check it out after remodeling.
January 15, 2013
Rated

4.0

out of

5.0
 by
Ben51
All good but surly woman at checkout
Everything was very nice; too bad the clerk at checkout was rude, didn't seem to want to help.
January 15, 2013
Rated

5.0

out of

5.0
good location for us My daughter lives across the street
It was very nice It worked well Thank you very much
January 15, 2013
Rated

5.0

out of

5.0
 by
Cari27
Always good
We have stayed here numerous times. price is great for teh location. Hotel is a nice place, always clean and on a quiet street, considering you are steps away from midtown. A zillion decent restaurants are a 1/2 black away an there is a great Irish Pub 1 block east
January 15, 2013