Skip Navigation
English
|
|
|
|

Sign In

Book online or call: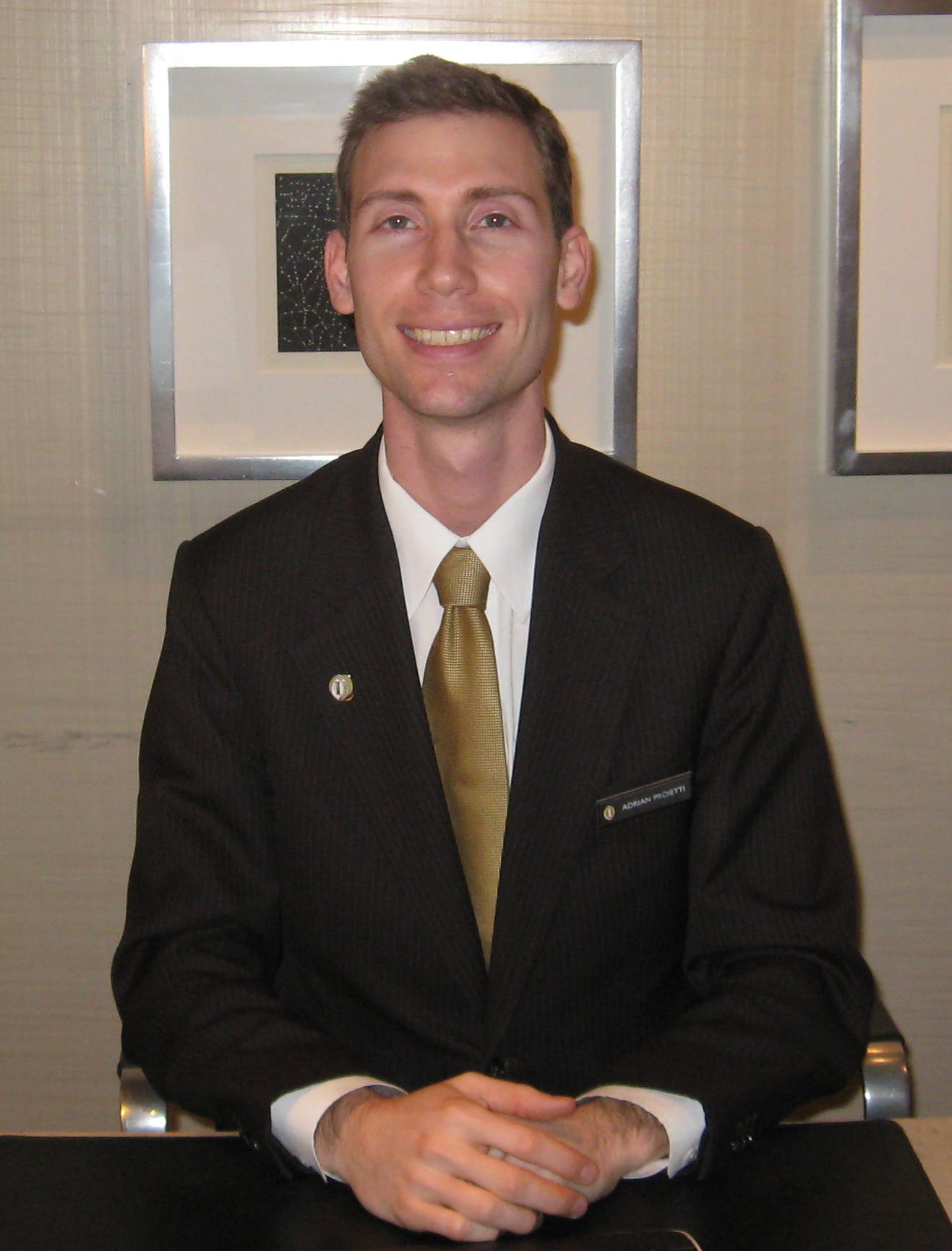 CHIC NEW YORK LUXURY HOTEL ON TIMES SQUARE
Right on Times Square, this New York luxury hotel is perfectly placed in the epicentre of Manhattan's theatre, dining, fashion and business districts. Just blocks from Broadway, savour a pre-theatre menu at Ça Va Brasserie or wander to nearby Restaurant Row for a myriad of dining options. Towering 36 storeys, this New York luxury hotel affords impressive views of the Hudson River and city skyline. The Lounge is perfect for after dinner cocktails and views of 44th Street.
HOTEL HIGHLIGHTS
Restaurant & Lounges

International cuisine is featured in our premiere restaurant led by renowned Chef, Todd English. The adjoining lounge serves cocktails and light sn...

Amenities & Services

A state-of-the-art fitness centre offers 24-hour access to a full range of fitness equipment and free weights for the perfect workout any time of day.

SPECIAL PACKAGES

There's always something special happening at an InterContinental hotel. Whether you are looking for a fun-filled getaway or a place to host your n...
InterContinental New York Times Square
300 West 44th Street

New York

,

NY

,

10036

United States

Front Desk

+1-212-8034500
Languages spoken by staff
English, Spanish, French
Pet Policy
Dogs and Cats allowed for a fee of 250USD non refundable fee
Pet Fee $250.00 per night
CHECK-IN

3:00 PM

CHECK-OUT

12:00 PM

Late Check out Available
Accessibility
Service animals allowed
31 Room(s) with Accessibility Standards
Guest Reviews
Rated

3.8

out of

5

 by

886

reviewers.
Rated

5.0

out of

5.0
 by
aboveH2O
Welcoming Feeling
Walking into the beautiful hotel lobby was the great beginning to a stay at this Holiday Inn. We were only in town for a night but knew we would feel safe and well taken care of at a Holiday Inn. The location and price were great. We would definitely stay here again. (The roof top pool looks inviting if we ever visit in the summer!)
March 26, 2013
Rated

5.0

out of

5.0
 by
Krystl36
Great service and overall great experience!!
This was my first trip to NYC, and I wanted to find a hotel that was centrally located but didn't break the bank. I researched and found the Holiday Inn-West 57th. My sister and I were able to check in early and found the accomodations very pleasant. The room was spacious (a bit dated#, but a good value considering only a small amount of time was spent in our room. We walked to most city attractions in 15 minutes or less and found the area very safe. The bed was comfortable, the heat worked well #it was very cold this weekend-especially for a Texan), and the staff was friendly and complimentary. I'm planning on another trip this fall and would definitely stay here-I'm anxious to see the renovations.
March 25, 2013
Rated

5.0

out of

5.0
 by
Jay155
good everything about area
good servivce next out would like for a higher floor for room
March 23, 2013
Rated

3.0

out of

5.0
 by
Diablerets
Acceptable quality but a little tired
Had to ask for laundry return twice as not delivered to room but otherwise attentive staff. Though shared transport to JFK available at reasonable price, Bellman tried to push $60 + individual ride.
March 22, 2013
Rated

5.0

out of

5.0
 by
ElayneN
My first choice for NYC travel
I have stayed at Holiday Inn Midtown for the last 11 years of frequent business – and sometime leisure- travel. The rooms are large and sunny, and the staff has always been helpful and accommodating. It's an easy in and out from the West Side Highway saving up to an hour off the trip. Parking is right beneath the hotel further making this choice incredibly convenient. There's also a very pleasant bar in the lobby I particularly enjoy the nearby access to all main subway routes, Columbus Circle, Central Park and Lincoln Center. Great place.
March 21, 2013
Rated

5.0

out of

5.0
 by
TheLadyEv
Great Location, Price and Service
The service is exceptional and the room has little touches that make the stay very comfortable. For instance, there are two different levels of pillow firmness, indicated by bands wrapped around them. Very clean, WiFi worked first time, every time and it wasn't very noisy. The bar and café had specials that were reasonably priced for anywhere, let alone New York City. When my flight/shuttle combination deposited me at the hotel after all the restaurants had closed, I was able to walk down the block to a diner and get a great burger. Did not feel unsafe or threatened and it was after midnight. Almost got run over by a bunch of people coming out of the theaters, but that's a threat I can handle! Would definitely stay here again...
March 20, 2013
Rated

5.0

out of

5.0
 by
GratefulRoy
Great Property
Whenever I travel to NYC, I try my best to stay here. It is an older property but is outstanding in location and staff. Love the bar, it is a good place to unwind after a day of meetings
March 20, 2013
Rated

4.0

out of

5.0
 by
margot
GREAT ROOM very comfortable
FOUND the concierge to be so helpful being on my own it was important that i asked a lot of questions.and got the tours i was looking for .The hotel was very comfortable and location was fantastic would recommend to anyone.
March 19, 2013
Rated

3.0

out of

5.0
 by
bg1721
Great location. Room was good for the price.....
Unfortunately my room smelled like cigarette smoke....I assume someone in a room near me was smoking in their non-smoking room. I had to sleep with the window open in mid-March! The room was very large but the bathroom was very small. My only other issue was the toilet did not flush without holding the handle down for a few seconds. The plumbing appeared to be pretty old in the building but the toilet could have been updated. Overall the place was good for the price.
March 18, 2013
Rated

5.0

out of

5.0
Wonderful Staff for Ages 2-70
We had our whole extended family of 10 from ages 2-70 stay for two nights. The staff could not have been more accomodating--welcoming us, making complex room assignments, serving unslilent kids free breakfasts, helping us with 100 pieces of luggage. These are top notch folks and the location is excellent. With upgrades in progress, I would recommend this site to anyone. Bravo
March 15, 2013
Rated

2.0

out of

5.0
 by
Rachel70
uncomfortable / inflated priced
We had 2 rooms... I had requested them adjoining or close to each other but they were not. Plus, both rooms were so hot we were unable to sleep well. The desk staff didn't care but the maids were very kind and tried to help with no success. The bar drinks were so overprice it was crazy. We would not recommend this hotel again.
March 15, 2013
Rated

4.0

out of

5.0
 by
InspiredJ
Great Value, Excellent Service
This was my first stay at the Holiday Inn, Midtown and I will definitely stay here again. The rooms were very clean. Wifi was fast and easily accessible. But most importantly the staff, even those working at 2am were extremely helpful and went above and beyond what one would expect. Location was just right, within a two block walk from the subway station. Try the all night deli just down the block to the west of the hotel. Good food even at 3am.
March 14, 2013
Rated

4.0

out of

5.0
 by
NYC8
Adults vs. Younger Crowd
Overall the visit was successful. Location excellent. However, the hotel should figure out a way to separate `older' guests from the younger guests who might want to run from room to room slamming doors. If I heard one door slam, I heard 200 doors slam. It was constant. This was in addition to the noise generated from the toilets. I swear I heard ever toilet in the building. Boom. Boom. Boom. Now I did say the star was successful. But it was for one night only and in the area I needed to be in. There's work to be done here, folks. It's a great property. Don't let it deteriorate into a loud fraternity.
March 14, 2013
Rated

4.0

out of

5.0
 by
Specialk3
Great Location
This hotel was nice and in a great central location. We were able to walk to Central Park, subway was a block away, and downtown as just a cab ride away. Would definitely be staying here again. Only issue was the water didn't get as hot as I would have liked.
March 13, 2013
Rated

2.0

out of

5.0
 by
Ruuner27
Central park is wonderful
This is a great location, but unfortunately is stops there. Hotel room was showing it wear, musty smell around the halls. The worst is the parking, although the hotel give you a free parking pass their garage does not take it. They charge $27.00 to park your car and you are not allowed to go down and get anything from your car after they take it. You would be better parking up the street and not have to deal with the rude workers that run the non hotel owned parking garage.
March 13, 2013
Rated

5.0

out of

5.0
 by
Lebbiec
Location, Location, Location +
A great place to stay. Accessible location to all venues - e.g. music, dance, restaurants, shopping, transportation. Comfortable, clean and spacious rooms. Helpful and friendly staff. Amenities to make for a more pleasurable experience.
March 13, 2013
Rated

5.0

out of

5.0
 by
CraigD
My favorite NYC hotel
I used to live on the West side near this hotel and I love the neighborhood. Great bus location, easy to get to the subway, Columbus Circle, Times Square, etc. The hotel is a little old and in the process of being updated. Really great staff. I love this place. Recommended for business, young and old, families, singles.
March 12, 2013
Rated

5.0

out of

5.0
 by
Tammyg
clean, comfy, great service..would highly recommend
I would definately stay here again. The room was very clean, and comfortable. Staff was very helpful. Has a great cafe, with great food, and service..resonable prices. And, also a very nice lounge and bar area..very pricy!!!!!! But, what do you expect for NYC.
March 10, 2013
Rated

4.0

out of

5.0
 by
gma49
Great location
This Holiday Inn is located in a great location, close to central park, time square and other locations. We were there for a quick trip as my grandson will be attending school in the area. The staff was great and very helpful. The only thing that was bad is the hallways smelled of smoke and the carpets in our room were extremely dirty and stained. I think it is time for some updating of carpets. Like I said my grandson is attending school close by so will be staying at this hotel a lot in the next few years!
March 9, 2013
Rated

5.0

out of

5.0
 by
Framel
Great First time experience in NYC
Definitely would recommend this place. The room size , bed (queen), carpet, bathroom overall cleanness was excellent. The hotel buffet breakfast was nice, but you have to be there early, we went at 10:30 and they were already cleaning for lunch, there wasn't enough juice and there wasn't a variety. The only concern was that the rooms don't have a refrigerator. The price in february was worth it being in NYC. The location of the hotel is just 2 block from Columbus Station that helps you connect to any train , also a 5 to 10 minute walk to Central Park. It is a safe place and concurred at night, we got there at 11:30pm and it maid us feel safe. There are pharmacy, places to eat and drink coffee nearby.
March 8, 2013
Rated

5.0

out of

5.0
 by
melora98
Can't beat the price and location!
Excellent hotel in a great location. My husband and I were able to walk easily to everything we wanted to do. The hotel staff was friendly and welcoming. We also really appreciated the boarding pass printout stations in the lobby. The room was large and clean- as some have mentioned its slightly worn-out decor but everything is clean and well taken care of. Our only problem was the amount of noise our neighbors made during the night- lots of thumping and children laughing/playing really late. But that's not the hotel's fault; just inconsiderate customers!
March 8, 2013
Rated

5.0

out of

5.0
 by
verdiman
Convenient Location for My Needs
I have stayed at this property several times in recent years primarily due to its location near Lincoln Center, the Met Opera and Central Park. Each stay has been comfortable and reasonably priced. It is within walking distance of Lincoln Center and many neighborhood restaurants are only a few blocks away (The Flame restaurant is my favorite.)
March 7, 2013
Rated

4.0

out of

5.0
 by
jimToronto
Great value
Needs a bit of spit and polish, but our room was clean, the bed was comfortable, and you can't beast the location in midtown. Terrific value!
March 7, 2013
Rated

4.0

out of

5.0
 by
AB1956
Great location and great service
I used points. We chose this hotel because it required far less points then the other chains in midtown. Location was important in terms of restaurants and the memorial service we needed to attend to. Knowing the cost of a NYC hotel, the value for what we got was excellent. We were in the wing that has yet to be renovated. Had we been in one of the renovated rooms, the value would have been outstanding.
March 5, 2013
Rated

4.0

out of

5.0
 by
theatergoer
all good with one exception
This was not our first stay at this location and we have always been satisfied. The only complaint is that the lighting in the bathroom was so dim it was like showering by candlelight! A second source of illumination in the shower area really is needed. Other than that, it was a pleasant stay.
March 4, 2013
Rated

3.0

out of

5.0
 by
Yinzer88
An average experience, great location and price
The location of the hotel and its price are unbeatable. Right next to central park and the subway. The beds are very comfortable, I loved the blankets... however do not expect to use wifi, the wifi kept disconnecting and when it could connect it was slower than dail up. If must have internet access, consider other hotels. The staff is also not the most friendly. The maids were beyond kind, but the front desk could use some training. Also another (elderly) guest fell down the stairs in the lobby, it took hotel staff a few minutes before coming over, even though myself and others called for help. No, they were not busy. Big pros, big cons. If you want a hotel in a good part of town for a good price, this is a great choice. If you want top customer service or internet, consider elsewhere.
March 4, 2013
Rated

4.0

out of

5.0
 by
Agrulz
Announced renovation is needed
The hotel is well positioned between 9th and 10th avenue. The rooms are spacious. The staff of the hotel is very friendly. The breakfast room is overstaffed but at the same time the service is not helpful and quite supercilious. The whole hotel interior needs renovation badly. Signs near the elevator announce reburbishment until the end of 2013. Ask for a room in the South Wing for reduced noice. The Gym is old and a bit grubby but still has charme and athmosphere.
March 4, 2013
Rated

5.0

out of

5.0
 by
Plessisa
Wonderful experience!
We had a truly memorable stay at Holiday Inn Midtown! The room was really nice and big, and the bathroom huge! A big bonus was the underfloor heating in the bathroom as it was really cold during our stay in NY. The room was clean, the bed comfortable and as I mentioned before the bathroom is huge. The only negative comment I have is of the positioning of the shower head in the bath. It is way too low for even the shortest person to have a comfortable shower.
March 3, 2013
Rated

3.0

out of

5.0
 by
gilu
Worn out property scheduled for refurbishment
Very old property with (except for the new TVs and HI pillows) old furnishing. I would definitely not stay there anymore until all rooms (and especially the bathrooms) have been refurbished (scheduled for this year). Clean and good location, but loud rooms especially do to thin walls (you can listen to the conversation of the guests next door) and loud A/C. Staff is polite and made every effort to allow early check-in even though the property was booked. They charge you a few $ to have your bags stored if you arrive early or leave late. Never seen this before.
March 3, 2013
Rated

4.0

out of

5.0
 by
Clar83
Good for graduate student like us...
Me and my mate enjoyed the whole stay in Holiday Inn New York City-Midtown-57th St. We have a relaxing day and night, great and friendly staff. It was great because its very good for our budget and really close to everything. The only problem was we booked a room with 2 bed inside the room about 5-6 weeks ago prior to our travel date but when we arrived there the hotel said fully booked no room with 2 bed just only one big room with one queen siz bed room, we're a bit disappointed because we're both expecting 2 bed in one room but again we end up sleeping one bed.
March 2, 2013