Skip Navigation
English
|
|
|
|

Sign In

Book online or call: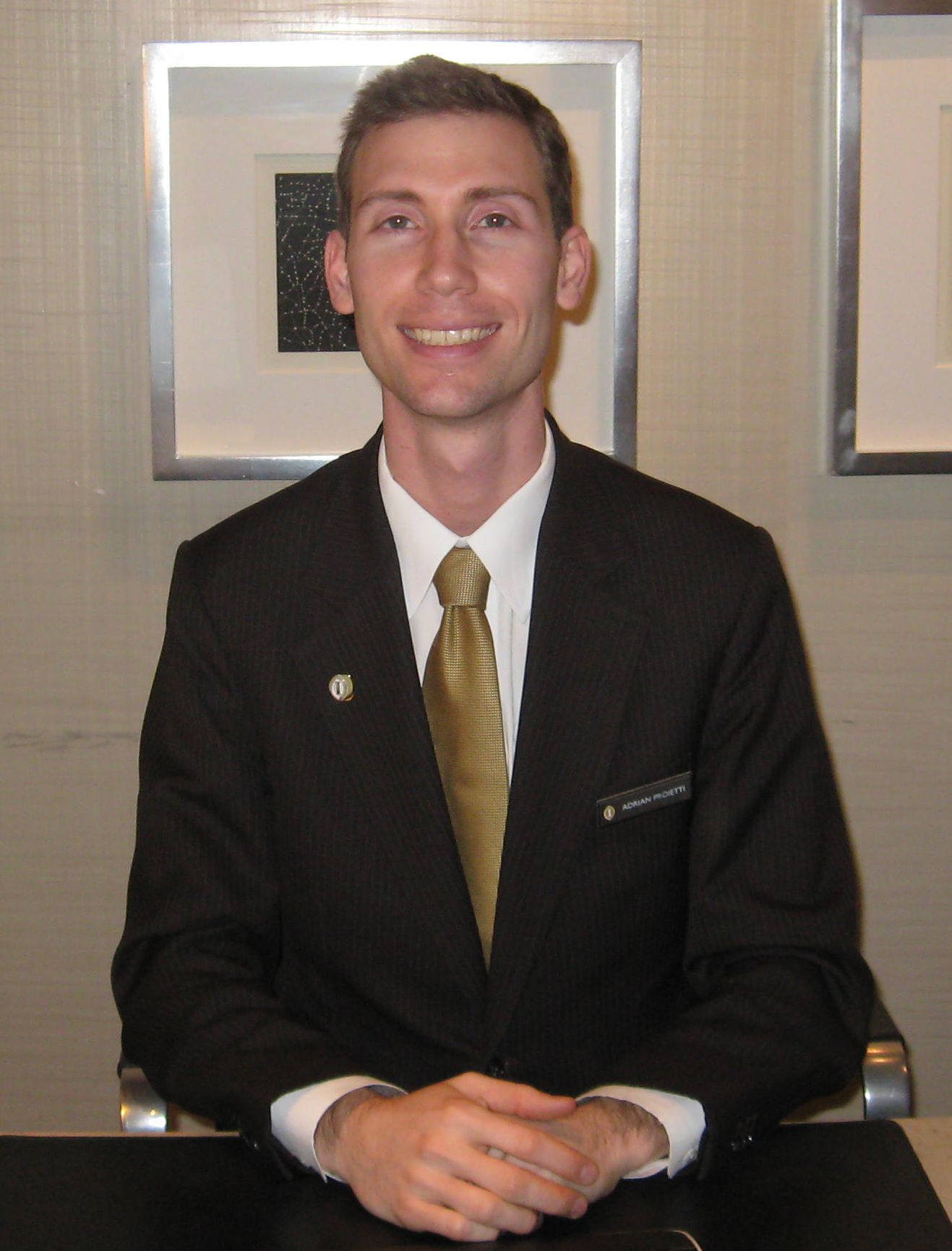 CHIC NEW YORK LUXURY HOTEL ON TIMES SQUARE
Right on Times Square, this New York luxury hotel is perfectly placed in the epicentre of Manhattan's theatre, dining, fashion and business districts. Just blocks from Broadway, savour a pre-theatre menu at Ça Va Brassiere or wander to nearby Restaurant Row for a myriad of dining options. Towering 36 storeys, this New York luxury hotel affords impressive views of the Hudson River and city skyline. The Lounge is perfect for after dinner cocktails and views of 44th Street.
HOTEL HIGHLIGHTS
Restaurant & Lounges

International cuisine is featured in our premiere restaurant led by renowned Chef, Todd English. The adjoining lounge serves cocktails and light sn...

Amenities & Services

A state-of-the-art fitness centre offers 24-hour access to a full range of fitness equipment and free weights for the perfect workout any time of day.

SPECIAL PACKAGES

There's always something special happening at an InterContinental hotel. Whether you are looking for a fun-filled getaway or a place to host your n...
New York Times Square
300 West 44th Street
New York , NY , 10036
United States
Front Desk +1-212-8034500
Languages spoken by staff
English, Spanish, French
Pet Policy
Dogs and Cats allowed for a fee of 250USD non refundable fee
Pet Fee $250.00 per night
CHECK-IN

3:00 PM

CHECK-OUT

12:00 PM

Late Check out Available
Accessibility
Service animals allowed
31 Room(s) with Accessibility Standards
Guest Reviews
Rated

4.1

out of

5

 by

1239

reviewers.
Rated

2.0

out of

5.0
 by
Carol
Going downhill
I used to stay at this hotel all the time but the last 3 experiences have just been worse each time - I am a platinum member and the upgrade rooms are definitely not exec status. They have stopped doing the afternoon snacks in the club lounge - the furnishings are grubby and the bath in the last 3 rooms we have stayed in have been peeling and cracked. No bath robes - shower attachment antiquated and water not very hot. This is not a Crowne Plaza and not worth the money they charge. I will be looking elsewhere in the future - the Holiday Inn on 57th is half the price and so much better
February 20, 2013
Rated

5.0

out of

5.0
 by
Husky322
New management, still great
My wife and I are regulars at this hotel. We were concerned that the new management team would make too many changes. So far, so good.. Special mention should be made of Erika at the front desk. She is always fiendly and helpful and makes each visit special. On a sad note, we were sorry to learn that Leo L.. is no longer at the hotel. We will miss his ever friendly demeanor.
February 19, 2013
Rated

5.0

out of

5.0
 by
danishcanadian
I Can't Wait To Come Back!!!
The folks at this wonderful hotel were more than happy to do everything they could to make my first trip to New York City, absolutely perfect. I arrived early, and they did not have my room ready, so they gave me an upgrade!! The food in the restaurant and bar were fantastic, and the Broadway 49 Bartenders make the best Manhattans in the world! Always wanted a Manhattan in Manhattan. Location is fantatic, and I had no problem getting a taxi. I have already reccomended the Crowne Plaza Times Square Manhattan to over a dozen people, since returning home to Canada. I plan on staying here every time I visit New York. On the one hand I missed not having a pool for leisurely dipping, but on the other hand, I was too busy running around New York to really be bothered. The views of the city from my room were spectacular!
February 19, 2013
Rated

5.0

out of

5.0
 by
Giselle67
Fantastic location and great service!
My husband and I stayed at this hotel in the middle of winter and were quite impressed! The hotel is right on Times Square which put us right in the thick of things for shopping and getting around. The hotel itself was great with the friendliest staff you can ever imagine! The room was perfect - modern, comfortable bed, clean bath area and a view to die for! At nights as it was freezing outside we didn't need to leave the hotel as the food and drink in the bar area downstairs were second to none ! I definitely recommend this hotel to all!
February 18, 2013
Rated

4.0

out of

5.0
 by
no1naz
1st trip to NY- good hotel
This hotels location was brilliant, smack bang in Times Square, easy access to all the main sights and shopping streets a short walk or cab ride. The room was a good size, good amenities and the staff were very helpful. Would recommend this hotel to anyone planning to visit NY.
February 18, 2013
Rated

5.0

out of

5.0
 by
gr8ful
Wonderful Experience
Our vacation in NYC started with me having my pocket picked, all my ID and bank/credit cards gone. The front desk staff went out of their way to help us to get checked in and settled. They gave us 4 extra breakfast buffet tickets as well as being compassionate to any/all our needs in dealing with the loss of my wallet. Every time we had a question they were patient and willing to help. We were sorry to leave.
February 16, 2013
Rated

5.0

out of

5.0
 by
ThreeMusketeers
Excellent
Despite absolutely awful weather during our stay, we had a spectacular stay in NYC. Rooms were comfortable, staff helpful and the location couldn't be better.
February 16, 2013
Rated

5.0

out of

5.0
 by
ConleyGlobal
Always a great place to stay
I have stayed at this property more than 40 times last year...I love the location and staff. Having a great gym is also a big plus.
February 14, 2013
Rated

3.0

out of

5.0
 by
docbill
Great room, dirty ventilation
My wife and I stayed in a standard King room for 2 night. The room was large and comfortable. The bathroom was clean and larger than most. Our only issue was that the air/heat system must have not been cleaned in several years. Every time we were in the room both my wife and me sneezed and had sinus drained. Outside the room we were fine. If they fix that problem I would have no problem to stay there again.
February 11, 2013
Rated

5.0

out of

5.0
 by
Sk10
hotel
our first visit to new york and this hotel is a must, staff friendly, food good, nothing a problem
February 11, 2013
Rated

5.0

out of

5.0
 by
CRP100
Great experience
Right from ceck in with Vicky Martin - who did a great job AND got us in a wonderful room. Then on through checkout - we had a fabulous stay. We were lucky enough to get a "corner" room with plenty of windows to enjoy the NYC skyline. Couldn't have asked for a better place to stay. Thanks.
February 10, 2013
Rated

5.0

out of

5.0
 by
obrake
Very nice and quiet room
Very good location and cool bar. The breakfast was actually excellent and the staff very helpfull. Subway station round the corner. To be recommended!
February 9, 2013
Rated

5.0

out of

5.0
 by
ceeceerose74
Great hotel and location
I picked this hotel because of its location and it did not let me down. The lobby and the bar/restaurant were fine (the service one lunch time was a little slow, but luckily I was not in a rush). And the room was perfect for me...king size VERY comfortable bed, lounge chair, desk chair and great temperature control (which I always find very important). I would advise that if you do not like light when sleeping, you ask for a room NOT facing Broadway...since the curtains were sheer and the Times Square lights were somewhat bright. It didn't bother me, so I had no complaints!
February 8, 2013
Rated

5.0

out of

5.0
 by
Shadow682
A great place to stay
The staff makes you feel as though you are family. The hotel is centrally located and the room more than met my expectations.
February 8, 2013
Rated

5.0

out of

5.0
 by
Lindak
Location, location, location = Great
We walked here from a different hotel and had a hard time finding this hotel because the entrance is nondescript, but once we were inside, everything went very well. The staff was all courteous and helpful. Our room on the top floor had an excellent view and was clean and large w/comfy bed and pillows. The best part of this hotel is how close it is to Times Square and all of the theaters. On the map it looked like Central Park was a long distance, but we walked to and from with no problem. The location is excellent and we would definitely stay here again.
February 6, 2013
Rated

5.0

out of

5.0
 by
FourCornersGals
Great place to stay!
Great location. The staff was super helpful and polite. Nice rooms. I will definitely plan a return stay when in the city.
February 5, 2013
Rated

5.0

out of

5.0
 by
nysnob
Great Location!
Loved the hotel - particularly the bar area - loved the fact that it's adjacent to the lobby. Friendly employees, clean, fun - no complaints (and we're fussy!)
February 5, 2013
Rated

5.0

out of

5.0
 by
Jewel3709
Very Comfortable
I would give this an all around Excellent, except for the room's climate control - was pretty warm, but you could crack the window open for air so that was good! Bed is extremely comfortable, room was quiet (for NYC). Bath was clean and room overall was very good. Thanks!
February 5, 2013
Rated

4.0

out of

5.0
Great location but poor in houskeeping areas
Hotel is a great location for NYC right in the heart of Times Square. Only thing that lets this property down would be the poor houskeeping, on check in our room cabinets were dirty, no bathrobes for the duration of the stay and bathroom need some TLC, baths chipped and mould around sink.
February 4, 2013
Rated

2.0

out of

5.0
 by
Marc11111111111
Staff Nonexistant - go ahead, call the front desk...
Concierge?? HAH, what a laugh! Here in the south, we'd call that the "run-around" Rooms appeared clean and we had a nice view. That was it. The trip to NY was amazing. The hotel? We just imagined we were staying at a youth hostel. Because that's the service we received. HOWEVER - If you need anything from the staff you had better choose another hotel. They aren't just bad, they're NONEXISTANT! After they have your nonrefundable deposit, you're nothing but a pain in their rear to be transferred to whatever button they can reach first. I spent over an hour on hold (or calling back) trying to upgrade my reservation, only to be told "they can't firm up anything you've already paid for." IT IS NO BETTER WHEN YOU ARRIVE AT THE HOTEL! Oh, and the Concierge level perks. Apparently that just means "free" internet. Anything else we tried??? "they don't do that anymore." Hah! $10 to print a page? Good thing we have I-phones. Don't even ask about the NYC taxes, fees, or "hotel "fees" Why not ask? Because you can never reach the desk to ask someone... Marc
February 2, 2013
Rated

1.0

out of

5.0
 by
BusinessTravelers
Worse service i ever experienced at any - any hotel of the Priority Club.
Dear Madam or Sir, we booked 2 separate double rooms and stayed 3 days. Once my partner Interconti Ambassidor and Priority Club and me Platinum Member Priority Club Our experience was really bad, having to repeat and wait for service. Sometimes service never happened or showed up. Independently if it was at the bar or reception, or invoicing, or room service, which once was even forgotten. Although my partner was guaranteed the luggage will be delivered to his room at midnight he had to pick it up himself, the luggage was standing next to the concierge desk, no one there. It s the worse service i ever experienced at any - any hotel of the Priority Club. We were there for business and wont visit this hotel again. Thanks
February 2, 2013
Rated

2.0

out of

5.0
 by
SLTG
Nice view, but next toservice elevator
We have stayed at The Crown Plaza inTimes Square many times in the last several years. Most of our stays have been very pleasant, however our last stay was not so good. The check in employee told us he was putting us in a very nice room with a great view, however he neglected to mention that we were next to the commercial elevator that clanked all night long and kept me & my husband awake most of the night. It was late when we returned to our room and we really did not want to move as we were so tired. I wish we had complained as I got no sleep & had to return to the gift show to continue buying for my business the next day. I was very tired and did not have the best day. How could you put guests in a room that had constant noise? Dis-enchanted.
February 1, 2013
Rated

4.0

out of

5.0
easy access , good room, excelent location.
the hotel is in an excelent location, in the times square. Attendances are good, bed excelent and we had a fantastic view of times square.
February 1, 2013
Rated

5.0

out of

5.0
 by
JimlovesNYC68
Vice President
Attentive staff that was extremely responsive. Great location and the property was immaculate. Great lobby bar with wonderful selection. Rooms very spacious and turndown service was a nice touch. Bellmen could not be more helpful with luggage. There is not a better location for the theater and dining opportunities.
February 1, 2013
Rated

5.0

out of

5.0
 by
SaraSal9509
The best birthday ever!
My boyfriend booked a room in the King Bed Concierge Room and it was absolutely perfect! We were in room 4427 and the view was phenomenal! Room was extremely clean and comfortable. We had ordered room serviced dinner and the food was also great with a very romantic set up. Staff is very helpful and friendly. My boyfriend had told them it was my birthday and they sent up 2 huge slices of complimentary new york cheese cake with a birthday candle. The cheese cake was the best I have ever had! The bathroom is a bit snug but also nice. You may want to request extra towels because the floor tends to get a bit wet. Overall, We loved it here so much that we just booked the same type of room for Valentine's Day!
February 1, 2013
Rated

5.0

out of

5.0
 by
Cati27
Great service
Great service since we got there, they could speak spanish and the breakfast was great, the roomservice was excellent and everyone was friendly.
January 31, 2013
Rated

5.0

out of

5.0
 by
Scooby10
shower temperature
Great location!. Very friendly staff. Parking very easy. Room was comfortable. Only problem was the shower- great size and clean, but when used the temperature of the water would fluctuate between scalding and cold. Could not reach a comfortable position- thus a very quick shower. this was room 4406.
January 28, 2013
Rated

4.0

out of

5.0
 by
bromsTravel
Great Location!
Beautiful hotel with great location to Broadway shows and time square area. The Priority Club check in was slower than I would expect though. They had 1 person handling Priority Club, and 3 people handling the rest. The others were sailing through the line much quicker than Priority Club.
January 28, 2013
Rated

5.0

out of

5.0
 by
Don14
The most comfortable bed
The room was spotless. The bed was the best ever. The location cannot be beat. If you are planning to stay in New York in Times Square this should be you number one choice.
January 27, 2013
Rated

5.0

out of

5.0
 by
ThreeinNY
Best way to celebrate 18th birthday
Best staff ever. Helped us get hockey tickets at the last minute. Wished my daughter "Happy Birthday" many times. Took excellent care of the cake that we needed to store to be able to get it to the airport when leaving. Showers were nice and warm and the overall experience was great. Only negative is a crack in the window that did hinder the view of Times Square a little but minor detail overall. Would stay here again in a heartbeat.
January 27, 2013