Skip Navigation
English
|
|
|
|

Sign In

Book online or call: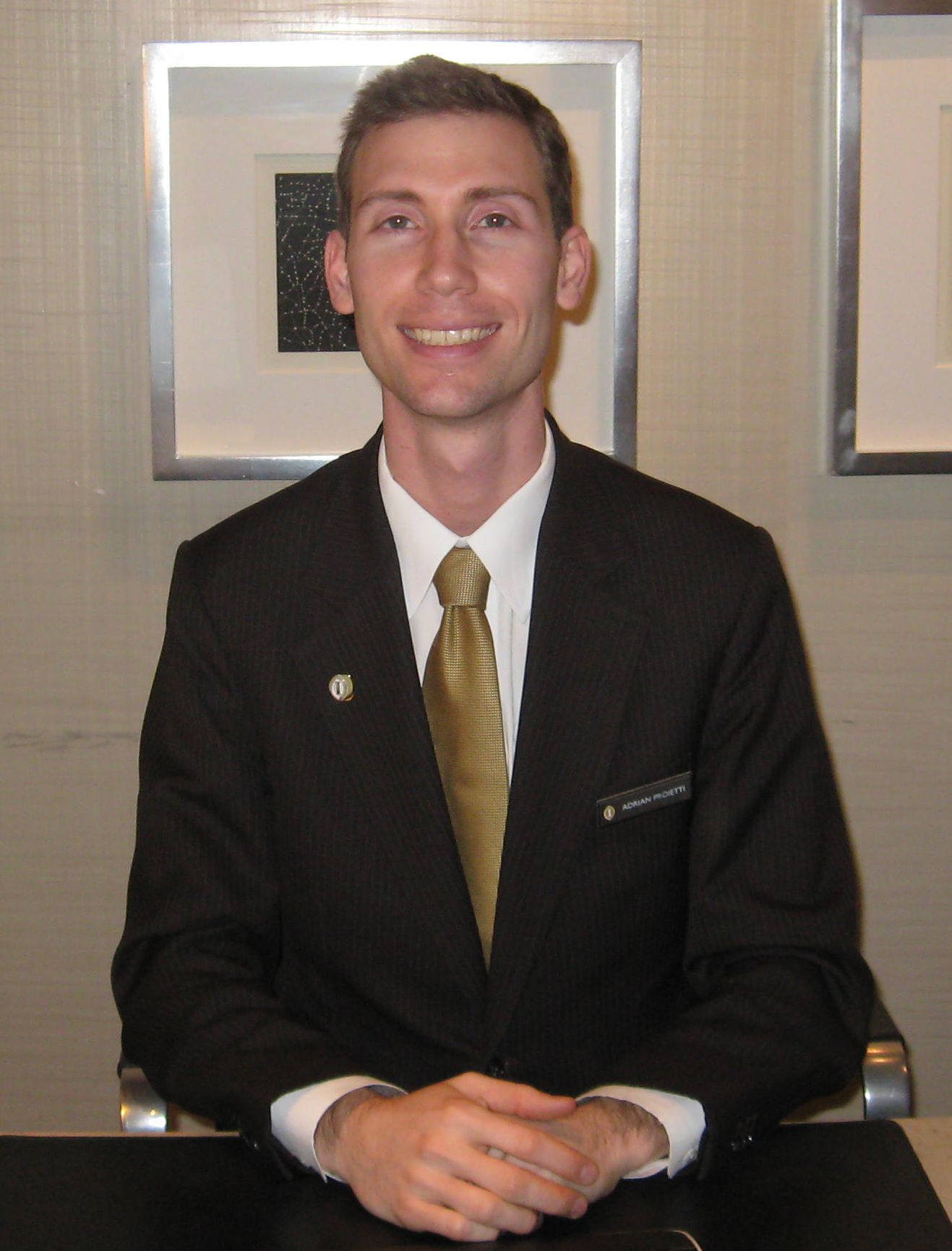 CHIC NEW YORK LUXURY HOTEL ON TIMES SQUARE
Right on Times Square, this New York luxury hotel is perfectly placed in the epicentre of Manhattan's theatre, dining, fashion and business districts. Just blocks from Broadway, savour a pre-theatre menu at Ça Va Brassiere or wander to nearby Restaurant Row for a myriad of dining options. Towering 36 storeys, this New York luxury hotel affords impressive views of the Hudson River and city skyline. The Lounge is perfect for after dinner cocktails and views of 44th Street.
HOTEL HIGHLIGHTS
Restaurant & Lounges

International cuisine is featured in our premiere restaurant led by renowned Chef, Todd English. The adjoining lounge serves cocktails and light sn...

Amenities & Services

A state-of-the-art fitness centre offers 24-hour access to a full range of fitness equipment and free weights for the perfect workout any time of day.

SPECIAL PACKAGES

There's always something special happening at an InterContinental hotel. Whether you are looking for a fun-filled getaway or a place to host your n...
New York Times Square
300 West 44th Street
New York , NY , 10036
United States
Front Desk +1-212-8034500
Languages spoken by staff
English, Spanish, French
Pet Policy
Dogs and Cats allowed for a fee of 250USD non refundable fee
Pet Fee $250.00 per night
CHECK-IN

3:00 PM

CHECK-OUT

12:00 PM

Late Check out Available
Accessibility
Service animals allowed
31 Room(s) with Accessibility Standards
Guest Reviews
Rated

4.2

out of

5

 by

280

reviewers.
Rated

5.0

out of

5.0
 by
tkmars
Best Staff!
This hotel is relatively new and very clean - really good bang for your buck, but the reason why I'd come back is because of the great staff! Farrah who is the front office manager and the rest of her team were friendly from minute one - and throughout the entirety of our stay. Everyone smiles and says hello each time that you see them which I rarely see when I travel (or just visit a store, etc.) My girlfriend and I felt so welcomed in a city we'd never been to and had an amazing time because of it! Don't want to spend a ton of cash but want to have a GREAT NYC stay? Go here. You'll see just what I mean :)
November 6, 2013
Rated

5.0

out of

5.0
 by
Hyperhelium
Great Experience
Very nice hotel. Very near Times Square and several interesting points in Manhattan. Very friendly and helpful staff. A little noise across the street from a construction, but it didn't affect me. definitely recommend this location.
November 5, 2013
Rated

4.0

out of

5.0
 by
2CACruisers
Good value for cost
Everyone on staff was gracious and as helpful as could be. Close to everything and in walking distance of Times Square and the Cruise Port. Not in the best neighborhood, but we still felt very safe. Breakfast was pretty amazing for the amount of people they serve and they never ran out. We had a good stay and would recommend.
November 4, 2013
Rated

3.0

out of

5.0
 by
SmartTravelerLee
No Sleep from Construction Noise Directly Across the Hotel
First, the staff members of the hotel were all very friendly and accommodating and the room appointed to me was well-maintained and clean. The hotel is roughly about 2 streets and 3 avenues away from the blue line sub- about 10 blocks or 10-minute walk. It's right across a construction site and a Salvation Army. If you need to park a car, there are ICON parking lots about 2 blocks away.You'll need to walk to 9th avenue to get to the foodie scene of HK. Everything was good except that the hotel management forgot to notify hotel guests of the ongoing construction across the hotel. I had a dinner and party on the night I checked in, and got home fairly late - around 3 AM. I went to bed around 330 AM. I woke up abruptly around 7AM to the tune of jackhammering and pile hammering. Unfortunately, my room is facing the construction site. My room was on the 8th floor, but the noise from the jackhammers is still very loud. I called the front desk around 730 AM and told them about the issue and they can only offer me ear plugs. I requested for a late checkout, and they gladly gave me one as I thought the jackham mering will subside after a couple of hours. I tried going back to sleep but the pile hammering was relentless and incessantly annoying that I went in and out of sleep for a couple of hours until finally I couldn't bear the noise and had called up again and spoken to the hotel director to let her know of the situation. She said that it's too late for me to be transferred to another room since I am checking out a few hours later. She said that the construction workers are contracted to do work from 7AM-5PM. The jackhammering was non-stop from 7AM to 1PM when I checked out. I just hoped that the hotel management let the hotel guests know beforehand that there will be construction noise throughout the day so that guests are prepared. A little notice/letter in the room can go a long way. All in all I got about 3 hours of sleep that day, and a goodnight's sleep is and should be the most important priority of hotels to their guests.
November 2, 2013
Rated

5.0

out of

5.0
 by
mjrgtr
Great room, good location, great value!
The staff was very friendly and easily accessible! Perfect walking distance to prime NYC locations including Terminal 5. Room was a decent size, beds very comfortable and everything was very clean. Direct TV with any channel you would want to watch AND free WIFI. Breakfast was perfect, hit the spot after a long night - pancakes, coffee, several juices, oatmeal, yogurt, bagels, eggs, bacon...can't beat it! They even had hot apple cider in the lobby during the day - fit the perfect fall NYC weather. I would definitely recommend!
November 2, 2013
Rated

5.0

out of

5.0
 by
DmcBySam
Pleasantly Surprise
To put it simply, my experience was behind 4 Stars if not FIVE! And that had nothing to do with fact that the priority was brand new! The staff was warm and accommodating! I was really impressed!
November 2, 2013
Rated

5.0

out of

5.0
 by
Alissa
Awesome Staff!
Staff was very helpful for all my requests. Super friendly and accommodating!
October 30, 2013
Rated

4.0

out of

5.0
 by
Paca06
Very good location
This hotel is located at 10 mn walking from Times square, 15 mn from Rockefeller center and 5 mn with the metro to Central park
October 27, 2013
Rated

5.0

out of

5.0
 by
PCBL
very convenient for pre-cruise stay
We only stayed one night before a cruise which departed from the Manhattan cruise terminal. The hotel is a two block walk from the terminal and that is what we did, we walked over there from the hotel the next morning as we didn't have any big luggage bags, it was a very convenient location. The Hotel itself was very nice and excellent value compared to others I had priced and stayed at in the same location before. The reception staff was really nice and friendly and I have to mention Juan here as he went out of his way to chat and joke with us whilst getting on with checking us in. One nice touch that the hotel has is iced water on tap in the lobby. this doesn't cost them a lot to provide I'm sure but is really appreciated -and used- by guests entering and leaving. The room itself, while small was very comfortable and more than adequate for two people. The two queen sized beds were extremely comfortable and the room had all the usual amenities you expect these days. The bathroom was a good size and the shower was very good. The breakfast area has been noted by others as being small and liable to get crowded. It is small and did indeed get very busy the morning we ate there but it is still great to get breakfast thrown in for what was already a very reasonable rate. The breakfast choices were good with both hot and cold offerings and the usual juices and coffee. Some people brought their breakfasts out with them to a very nice seating area at the entrance to the hotel when the breakfast room got busy and to be fair to the staff, they did their best to keep the tables cleared away as people finished. Overall a very good experience for a very reasonable rate. The hotel would also be convenient for shopping trips and Broadway shows. We walked the area late at night and felt safe.
October 26, 2013
Rated

5.0

out of

5.0
 by
D1ckHank
Very Clean and the service exceeded great!!!
We could have waited to reserve our stay and probably got a better rate as with all the choices to stay in NYC but we definitely LOVED our stay! No regrets! I'd like to mention two individuals who really stood out. Richard, with whom helped with my reservation over the phone as well as during our stay, and Gisenia(sp?) who got us checked in and really started our stay with a very hospitable attitude and friendliness. Thank you very much to the both of you. We felt really cared for and that means a lot!
October 26, 2013
Rated

5.0

out of

5.0
 by
rakmom
Our stay
We enjoyed this hotel. Conveniently located to so many activities. The staff was very friendly and helpful with any questions we had. The only thing the I would change, though not possible, is the room size. They were small, but thats NYC. We had a very good time. Thumbs up!
October 24, 2013
Rated

5.0

out of

5.0
 by
DeirdreCM
Great Location
It was our first time in NYC and we couldn't have picked a better location. Minutes walk to Hells Kitchen (where all the restaurants are), a few more to Times Square, Rockafeller Plaza. Close to everything. The rooms were clean and comfortable. The hotel was quiet and staff friendly. You can't go wrong staying here.
October 24, 2013
Rated

5.0

out of

5.0
 by
Filterwizard
A friendly hotel in midtown Manhattan - who knew?
OK, hotels within walking distance of the Javits are going to be expensive in conference season, whatever brand the sign above the door says. I'm very loyal to IHG properties but I had no particular high hopes for a Holiday Inn Express. I expected (and got) the no-nonsense, solid midrange performance of the brand. But I was really pleased with this HIE on two particular grounds. Firstly, the staff were all particularly cheerful, helpful and good- natured, and this was a real lift to the spirits sometimes. Secondly, the quality of the cooked breakfast was a cut above what I normally experience at chain hotels. Even having breakfast in the rate was a bonus. The breakfast room was always packed and popular. There's another reason why I'll probably stay here on my next Javits trip: it is just one street away from the Sullivan Street Bakery, which is one of my favorite bakers on the planet. This is definitely the place to buy your lunch for a hard day's slog round a convention. And take some of the sourdough bread home at the end!
October 24, 2013
Rated

4.0

out of

5.0
 by
JJ5701
Comfortable bed
While the bed was comfortable and the room adequate, the maid service was lacking as we were not given soap and towels. The rooms were not that sound proofed as you could hear folks coming and going next door. The breakfasts were good but the eating area was very lacking in room to accommodate all the guests who arrived at the same time. If you stay here, try and stay on the 2nd floor so you can use the stairs as the elevators are slow and inadequate. Front desk staff were wonderful in suggestions of where to eat and just being helpful. Kudos to the front desk staff and the breakfast staff. Location is great if you are going on a cruise. Less than 2 blocks from cruise ships. You do have a hike to get to Times Square area and taxis do not tend to come along out front.
October 23, 2013
Rated

2.0

out of

5.0
 by
Gradiva
Don't recommend
To start describing this experience I had problems to book. I had the bad idea to redeem points and then find out I could not book a paid night. After writing and talking to all possible IHG staff I was informed that this was a hotel police and nothing could be done. I went ahead and stayed in the hotel. I was first very surprised that people in the hotel knew about my case, because it was written in my folio, but all people I talked to denied that the hotel had anything to do with not being able to book my second night, so clearly or this is a big misunderstanding and lack of communication between IHG and the hotel, or someone is lying to me. Anyway, the hotel is average, not good or bad as first impression, room is small, but comfortable, but not very clean, there were towels behind the door from the guests who stayed before, so I was wondering what else was not cleaned. Could not sleep as a group has arrived at 3 am and walls are paper thin, they were yelling for one hour... Next day I had to transfer to another hotel, I had two suitcases and two small children and the only help from the hotel was to walk a block to 11th Av. to hail a taxi, of course by my self, as nobody would help. So I would not recommend if you need more than a bed in a noise place, not be sure about cleanness and no help from staff.
October 22, 2013
Rated

5.0

out of

5.0
 by
KateLW
Excellent Experience!
I was extremely happy with my current stay at the Holiday Inn West Side! The rooms were extremely clean and the hotel staff was very nice and professional. I was also impressed with the breakfast selection, as the comp breakfast was one reason for choosing this hotel. I would definitely stay there again!
October 22, 2013
Rated

4.0

out of

5.0
 by
COZZILLA1962
EVERYTHING OK
i prefer holiday inn sixt avenue but it was too expensive. anyway everything was ok
October 21, 2013
Rated

4.0

out of

5.0
 by
MSackett
good price for quality
This HIE was very comparable in quality to every other HIE I have stayed at. My only semi-complaint is the distance to a subway station. I knew it when i booked the room, but you don't realize just how far 4 blocks can be in Manhattan until you walk it multiple times. However, the staff was excellent and very helpful and attentive.
October 18, 2013
Rated

2.0

out of

5.0
 by
Captain955
vacation stay in New York
Room small in comparison to other Hotels I stayed at evern in New York. Breaksfest was ok staff help ok price out of line with size of rooms and location with in the city. Low income area with salvation army across the street and rehab facility across the street
October 17, 2013
Rated

5.0

out of

5.0
 by
Absal
Amazing staff that makes this hotel a 5 stars one
Initially I booked a room for 4 days so I can look for a hotel close to TS with 4 or 5 stars. I ended up extending my stay for 6 more days and book another room for my family for a lot of reason but the one I mentioned in the title (the amazing friendly staff) is the one that's stands out the most out of my previous experiences with several hotels
October 15, 2013
Rated

5.0

out of

5.0
 by
saneeker
Comfortable bed.
Small room. Common bathroom was hard to get to. Great location. Good breakfast. We were on the ninth floor, but very noisy from people talking and traffic noise.
October 15, 2013
Rated

5.0

out of

5.0
 by
ScandinaviaTours
Great service and perfect location
We had a combined business and pleasure stay at the hotel. Luis and his staff did an excellent job to guide us both to good restaurants, how to find our way and what to do. Nice rooms and perfect location just a few blocks away from Times Square, Broadway and a whole bunch of excellent restaurants. Thanks a lot.
October 7, 2013
Rated

4.0

out of

5.0
 by
TDoc
Nice Hotel
The hotel is nice and fresh. The room is comfortable and the only complaint I would have is that the walls are on the thin side making hallway conversations bothersome especially when trying to sleep. The breakfast was par for the chain. The staff was excellent. Probably the best staff that I have seen in any hotel yet. The hotel is convenient to attractions, but there is some construction going on on the side walks that looks like its going to be there for awhile. And there seems to be many pet owners in the area that give the available sidewalks a bad smell especially in the morning and evenings. Overall, I would consider this hotel for future trips to New York.
October 7, 2013
Rated

4.0

out of

5.0
 by
Mirela
Comfortable bed and nice staff
I have stayed for 6 nights, and have been very satisfied. Comfortable beds, clean room, quiet street...Especially would like to mention that Richard from the reception desk was very kind and helpfull..and funny! Makes you feel really welcomed! It is very nice to have breakfast here too. A good start for your day in NY. Only would recommend to add some things people from Europe are used to eat for the breakfast like cheese and ham.
October 6, 2013
Rated

5.0

out of

5.0
 by
Pigsuey
Outstanding staff, very friendly, & helpful
The staff at this hotel was exceptional. The only downside was the room size. It was very small. We had 3 people so with luggage it made it a little harder to maneuver around. The room was clean & beds comfortable though. This was our first time to New York so maybe a lot of the rooms are small in other hotels as well. I'm not sure because I never asked anyone about that issue. Overall, our experience at the hotel was great. They are doing some construction across the street so you will probably hear some noise in the mornings.
October 4, 2013
Rated

4.0

out of

5.0
 by
Shandy0229
Clean room and very friendly staff
The hotel was in close proximately to Times Square, the Theatre district and the subway. The room was clean and the hotel staff were more than accommodating. Our first trip to New York and the front desk personnel were very helpful and offered great advice on the many tourist activities. I did not notice the street noise or the road construction. Other reviews complained of the Salvation Army hostel across the street, I am not sure why. The patrons of this hostel were polite and kept to themselves. I had no reservations walking back to the hotel late at night. I certainly would stay here again and recommend this hotel to anyone visiting New York
October 3, 2013
Rated

5.0

out of

5.0
 by
09Neets25
Amazing Staff and well worth staying at this hotel!!!!
The staff at this hotel was very friendly and helpful! The hotel is clean and location is great.... it is close to the cruise terminal and within walking distance to most NY attractions. The breakfast is also good! Although there is construction across the street, it should not deter anyone from staying at this hotel.
October 3, 2013
Rated

5.0

out of

5.0
 by
NYCNewbe
Clean and comfortable establishment with welcoming staff
I really enjoyed my stay at the Holiday Inn Express. The hotel manager, Amanda was visible daily and made sure that I felt at home and that my experience in the hotel was the BEST. All staffs were courteous, friendly and appeared happy while performing their specific jobs. I was greeted every morning with a smile and polite inquiry regarding how my stay was progressing by the floor housekeeper, Lizette as well as desk attendants and other hotel support staff. Requests I made were addressed in an extremely timely manner and they gave us directions and suggestions of local spots to see with confidence and ease. The breakfasts prepared daily were of great selection and very tasty, not at all what I expected. Each day there was something different on the breakfast counter. I loved the ice water with orange slices available in the lobby. Upon my next visit to New York, I will definitely return to the Holiday Inn express on 48th street. They made me feel like I was their most important guest.
October 3, 2013
Rated

5.0

out of

5.0
 by
Pamelah
Just Like Home—Comfortable Bed, Great Staff and Service, Affordable Price
Even in New York City, one can feel "at home" when home is far away. From the moment we arrived to the day we left, the five days we spent at the Holiday Inn Express on West 48th Street in Manhattan, was "just like home." Manager Farah and her friendly and courteous staff were all amazing—they made us feel special and it wasn't just us. They all went out of their way to treat everyone as "special" and to make sure every guest was happy and comfortable. Our room was sparkling clean with all the comforts and amenities of home. The price is right, too, for those on a budget, and with a healthy and full breakfast, it simply can't be beat. Strategically located close to the subway and just two blocks away from the Hudson River, with restaurants, shops, cafes, bars, even a park, so close by—there's much to see and do within a relatively short walk, including the not-to-be-missed High Line walk that begins on 30th Street to 12th Street on 8th Avenue! We will definitely come back!
October 2, 2013
Rated

5.0

out of

5.0
Amazingly Great
Good Service, Great Cleanliness. The only problem i faced is commuting from the airport and to airport.
October 1, 2013