Skip Navigation
English
|
|
|
|

Sign In

Book online or call: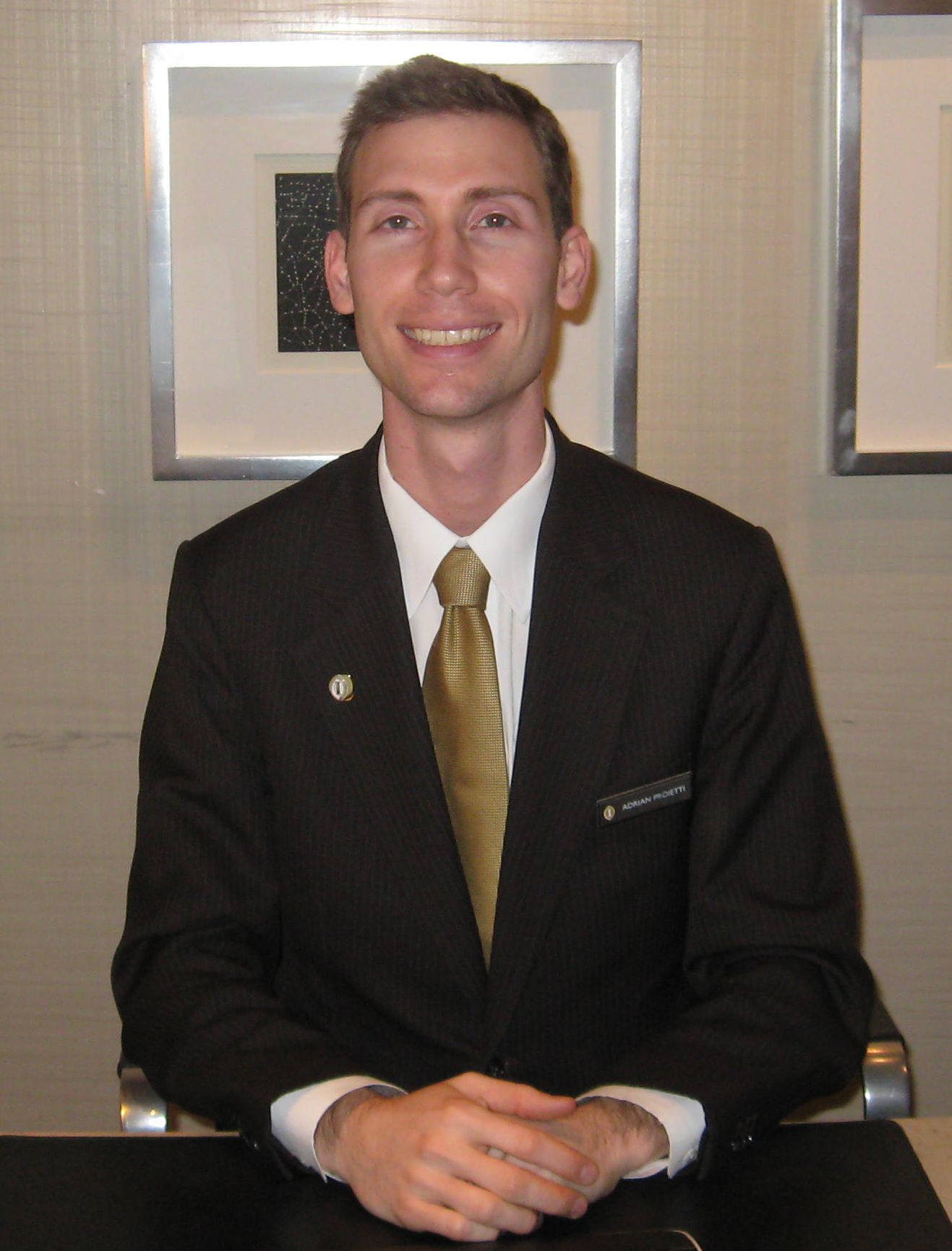 CHIC NEW YORK LUXURY HOTEL ON TIMES SQUARE
Right on Times Square, this New York luxury hotel is perfectly placed in the epicentre of Manhattan's theatre, dining, fashion and business districts. Just blocks from Broadway, savour a pre-theatre menu at Ça Va Brassiere or wander to nearby Restaurant Row for a myriad of dining options. Towering 36 storeys, this New York luxury hotel affords impressive views of the Hudson River and city skyline. The Lounge is perfect for after dinner cocktails and views of 44th Street.
HOTEL HIGHLIGHTS
Restaurant & Lounges

International cuisine is featured in our premiere restaurant led by renowned Chef, Todd English. The adjoining lounge serves cocktails and light sn...

Amenities & Services

A state-of-the-art fitness centre offers 24-hour access to a full range of fitness equipment and free weights for the perfect workout any time of day.

SPECIAL PACKAGES

There's always something special happening at an InterContinental hotel. Whether you are looking for a fun-filled getaway or a place to host your n...
New York Times Square
300 West 44th Street
New York , NY , 10036
United States
Front Desk +1-212-8034500
Languages spoken by staff
English, Spanish, French
Pet Policy
Dogs and Cats allowed for a fee of 250USD non refundable fee
Pet Fee $250.00 per night
CHECK-IN

3:00 PM

CHECK-OUT

12:00 PM

Late Check out Available
Accessibility
Service animals allowed
31 Room(s) with Accessibility Standards
Guest Reviews
Rated

3.8

out of

5

 by

780

reviewers.
Rated

4.0

out of

5.0
 by
Key H
Sky Light Bar
Don't usually leave reviews but I would like management to recognize Alex the bartender who works evenings Tuesday through Friday. I've been staying at the hotel the last 5 weeks and have watched and experienced her excellent customer service and ability to anticipate the customer's needs. Because of Alex and Benjamin believe it or not I've spent every meal at the bar for the last 5 weeks and not experienced NYC. Good employees are hard to find but more importantly good people are even more difficult to find. Alex and Benjamin are great assets to your hotel. Be sure to keep them around. They make everyone feel like a "regular " (bar term) and at home which is so important for all those road warriors.
March 27, 2014
Rated

4.0

out of

5.0
 by
WheresHarryPotter
Great Service
I've been going to this hotel for a long time. Staff is the best! Shout out to all the front desk people and bar tenders. However this new one voucher rule isn't cutting it. Getting one drink voucher for 2-4 day stays isn't going to drive my business to a already expensive bar. This is what always made me stay at this hotel versus others. I just think it's the wrong direction. Mgmt. please fix this.
March 27, 2014
Rated

3.0

out of

5.0
 by
ElectWomen
Holiday Inn Midtown at 57th
This hotel was not as nice as other Holiday Inns in New York City. The temperature was unable to be controlled and it was way too hot. The bathroom layout was not good, the toilet flush was so loud and industrial strength and the room was too cramped. Overall, not too great. Bed was squishey and to lumpy and soft.
March 25, 2014
Rated

4.0

out of

5.0
 by
N2GJ Gerry
Great location, probably needs an uplift
I stayed at the Midtown property because of the price and location. It was very convenient to where I needed to be (within walking distance). It's in a very nice neighborhood, with a wide variety of dining choices nearby. It's also close to the 59th street (Columbus Circle) subway stop. From there, you can get pretty much anywhere. I rated the room as "average" because it's devoid of amenities such as AC plugs anywhere NEAR your bed! This is unacceptable in the day and age of smartphones that need charging every few hours! <Grin> Also the housekeeper could do a better job of dusting - I noticed the lamps were encrusted with a thick veneer of dust. I'm not sure if it's their policy, but it seems a waste to replace two bars of soap, one on the sink, the other on the tub, every day. I usually use them all week. For the same reason, I prefer them not to change my sheets every day - I don't at home - once a week seems OK. I ate in the bar on my first night and it was rockin'! Lots of nice folks during happy hour. The food & drinks were fine and reasonably priced for a hotel (especially in NYC). One other thing: I expected it to be noisy, but I didn't hear any street sounds and I was only on the 6th floor! Well, there were really noisy, door-slamming yahoos in the rooms next door but that's another story. You can't blame Holiday Inn for poor manners! If I'm ever in that area again, I'll certainly consider staying there again. Spend some money and give it a little facelift and it will be gold mine!
March 24, 2014
Rated

5.0

out of

5.0
 by
Nikhdk
Great wifi
While all hotel facilities meet to our delights, modernizing them in 3-5 years time would be recommendable.
March 24, 2014
Rated

5.0

out of

5.0
 by
Asbury-NJ
Super stay
If I'm being completely honest this hotel wasn't my first choice for my recent stay in New York. The hotel I usually use seemed to be experiencing an unseasonal spike in room rates that I wasn't prepared to pay (also, their guest services didn't answer an e-mail) and so I decided to shop around. I shall henceforth be using this hotel on subsequent visits as I was extremely pleased with everything about my visit. I requested a quiet room, which was duly noted, and was extremely pleased with it's location and size. The bed was very comfortable and had a choice of pillow densities - always a nice touch. The bathrooms are very small but, to be honest, that's not really much of an issue given the size of the bedrooms. The staff were absolutely excellent and really went out of their way to help you (of special note was Minira on reception and the chaps in the left luggage room).The location of the hotel is a couple of blocks from the subway (a little bit of a walk but only about 10 mins or so) and I felt safe on my own walking back quite late at night. All in all an excellent hotel and I shall definitely be using it again.
March 23, 2014
Rated

3.0

out of

5.0
 by
Cgold
Great price but very noisy
Do not stay in the first tower. Noisy. - sounds like a airplane is landing but it is really a toilet flushing somewhere in the tower. Also, if your neighbors are taking a shower, you will know it. On the other hand, the staff is great and it is not their fault that the building is the problem.
March 22, 2014
Rated

5.0

out of

5.0
 by
michal889
Great comfortable hotel placed near central park
Everyting was perfect although hotel needs some refreshment.
March 22, 2014
Rated

4.0

out of

5.0
 by
Alex 2014
Excellent location for Central Park and Lincoln Centre
Excellent location for our needs during the long weekend in New York (walking distance from Columbus Circle, Central Park, the opera at Lincoln Centre ... and for us a walking distance also from Broadway, Time Square, Madison Square Garden, Grand Central Station, ...) Very nice and helpful staff. Big bedroom and very clean. Free Wi-Fi (even if not high speed). Very good the two free computer usage for flights information and check-in/boarding card.
March 21, 2014
Rated

1.0

out of

5.0
 by
JodiP
Stay away - better choices out there!
I travel regularly for business and this was one of the worst HI experiences I have ever encountered. The internet barely worked and when I am on a business trip, the internet is a serious NEED. The room temperature was set at 68, but never cooled below 80. The smoke detector went off in the middle of the night and it took maintenance 20 minutes to come up to the room to change the battery. The mattress was lumpy and super uncomfortable. I ended up checking out and moving to another hotel first thing in the morning. When I complained in the morning, I was offered 1,000 HI points. I almost laughed, really? I have been a Platinum HI member for over 15 years. I think it is time to re-evaluate my travel needs. Sleep and internet are crucial; both of which were null at this hotel.
March 20, 2014
Rated

4.0

out of

5.0
 by
M. Shakibaei
Outstanding pillow service, outdated toilet plumbing.
I love how you think of the pillow need. But our toilet plumbing is way too old that looks like the one in Central park public restroom, we had to flash 2, 3 times...
March 19, 2014
Rated

5.0

out of

5.0
 by
Canucktraveller
Good location to explore
I stayed here for 1 night on March 12. I arrived in the morning after a red eye from the West Coast and was able to check in at 9:30 which allowed me to catch up on a bit of sleep before exploring the city. Although not in the heart of touristy midtown I found it easy to walk to all the sights that I wanted to see. Central Park was a 5 minute walk and Times Square only took me 15 mins tops. The room itself was clean and had everything I needed. The wifi in the room worked well and I had no problems at all. I would definitely stay here again
March 17, 2014
Rated

5.0

out of

5.0
 by
Odyssey53
Our stay for 2 adults in early March 2014
A very enjoyable stay. Hotel was central to most sites of interest in New York - easy access for Central Park. Staff were particularly helpful and friendly. One member of staff answered several of my online enquiries prior to our visit - she even replied to a query just prior to leaving UK when not on duty! I definitely recommend this hotel for value, comfort, accessibility and friendly staff. Thank you; hope to see you again.
March 12, 2014
Rated

4.0

out of

5.0
 by
Drum Dad
Great Location
Great location to many things in the city. Staff very helpful. Good value. Once they park your car you have no access to it until you leave. Make sure you have all you need for your stay.
March 11, 2014
Rated

2.0

out of

5.0
 by
Jazzie49
Really outdated hotel
The room size was very nice and the beds were very comfortable. The bubble ceiling was cracking and the paint in the bathroom you can tell was repaired, but not neatly. The shower drain stopper was not in the tub, but on the side of the tub. The main issue I had was that the toilet would not flush when we first arrived to the hotel. I made a call and the receptionist told me they would send someone up and no one had to be there. We left and went to dinner, but when we got back and used the toilet, it stll would not flush. You had to really play with the handle to get it to flush. I called the front desk again and they said they were not aware of the repair request, but would call me back. No one called. I called again the next day and they said they would send someone up and again we left and came back and the toilet still had issues. I called again and they said they would send someone right up. The gentleman came and took something apart and tightened something and it began to work properly. I don't understand why it would take so many calls to have a TOILET fixed which is a main necessity for a hotel room. Also most hotels allow you to use the computers/internet for free, but this hotel charged. I was so surprised.
March 11, 2014
Rated

4.0

out of

5.0
 by
Shku
Pleasant Surprise
We found the hotel to be just what we ordered. The staff in reception on check in and check out was extremely friendly and helpful. The room was spacious, though the bathroom was small. The beds were very comfortable. We opted for the breakfast option and it was good. The hotel is not right in the tourist area of Times Square, etc., but we had to be on the East Side so this was perfect for us. We would definitely recommend it. Though we didn't use it, there seems to be a parking structure attached to the hotel. The prices seemed quite high, but maybe the hotel has some kind of arrangement for those driving to NYC.
March 11, 2014
Rated

4.0

out of

5.0
 by
Foolish_Lee
in the middle of everything
We enjoyed staying here due to its great location in the middle of everything in New York City.
March 9, 2014
Rated

5.0

out of

5.0
 by
traveller from Germany
Excellent location in Midtown Manhattan
Excellent location in walking distance close to Columbus Circle subway and to Lincoln Center and to Midtown south of Central Park. Excellent fitness facilities with coaches. Would stay again!
March 8, 2014
Rated

4.0

out of

5.0
 by
carcheria
Great location in NYC
Stayed at hotel after concert at MSG instead of driving home that night, since we obtained an excellent rate online for non peak time. Hotel is off the beaten path, away from crowds at Times Sq, yet easy enough to access Broadway and midtown. Have stayed there before and it seems that tower B has been upgraded, as far as bathrooms go. Bathrooms in Tower A need to also be renovated. Heating system in room was not efficient enough for size of room, so it was cold during the night. Staff was very friendly and personable, recognizing our Platinum Priority Club membership. Had noisy guests returning to adjacent room at 3 AM and front desk offered us a drink at bar when we left to compensate for our discomfort, which was no fault of theirs anyway. Definitely would stay here again!
March 8, 2014
Rated

5.0

out of

5.0
 by
MrsRauch
Midtown made manageable
Midtown became manageable because I could walk to all Midtown locations of interest. The hotel got me started with excellent concierge services, great staff who were knowledgeable, helpful, and friendly. The room was clean, the towels soft and plentiful, the temperature just right being neither too hot nor too cold. Anyone who asked for more than this is more "precious" than me. Thanks to all the special people who made my New York Weekend just splendid.
March 7, 2014
Rated

5.0

out of

5.0
 by
Chanita5555
Nice Hotel
The bed it's not full size, but it's nice. The noise of other rooms are too loud.
March 7, 2014
Rated

5.0

out of

5.0
 by
Miguet
Room 722
The bed was very comfortable. The heater provided comfort. What can I say, I enjoyed the service. Thank you Holiday Inn!!
March 7, 2014
Rated

5.0

out of

5.0
 by
Iris66
Great location and great service!
I was very impressed with the helpfulness and friendliness of the entire staff from front desk, gift shop and restaurant. I was originally going to stay an extra night, but had to leave early due to a snow storm and they were very understanding and let me cancel the last night with no added fee. The restaurant staff were very helpful with my gluten free limitations and even had gluten free bread for me to enjoy with my breakfast. I would definitely recommend this hotel to others and would stay here again. The only thing that would have made my stay better would have been to have a small refrigerator in the room.
March 7, 2014
Rated

5.0

out of

5.0
 by
rocks4U
Another two nights at the HI in NYC
The best thing about staying here, aside from its convenient location, is the surprising excellent food in the restaurant. Unlike many hotels, the food and beverage people at this facility really know what they are doing, and I have never had a bad meal here! Don't let the largely empty dinner time space fool you: there are genuinely good meals prepared here by the chef!
March 7, 2014
Rated

2.0

out of

5.0
 by
SteveDorsey
Good value from NYC, but don't expect much
When I arrived in the morning, the front desk staff couldn't have been more unhelpful. The man who greeted me at the desk acted like I was more of an intrusion. No rooms clean, so I waited until after work in the evening to check in. Completely different story. Platinum status recognized by front desk staff, given water and food/drink vouchers, and sent on my way to the room. Room was spacious, but bathroom was akin to a train station. Loud noises in the hall and adjacent rooms. Entertainment system was nice though. Bar was depressing. Absolutely no atmosphere. Though reasonably priced. Sums up the whole hotel.
March 2, 2014
Rated

1.0

out of

5.0
 by
raiderkrissy
WILL NEVER STAY AT AGAIN!!!!
This hotel is dirty and outdated. The only positive side was the size of the room. Honestly, I would rather have a smaller room that is clean and in good condition. The food was overpriced and marginal at best. The carpets are filthy, needs paint among other things, the toilets remind me of a stadium bathroom and the staff was less than friendly. We were locked out of our room several times, business center is not free as was advertised. They didn't care less we were Priority Club Members. BEWARE: Holiday Inn and Express are franchised. This was definitely the worst I've stayed at. We ended up moving after several days of disappointment. Save the aggravation and book elsewhere. You'll be glad you did.
March 2, 2014
Rated

5.0

out of

5.0
 by
the breakfast club
Rune thorjussen
Just want to say hello to the breakfast team in the gotham resturant.Those pancaces was realy something, the bacon and the scrambled eggs just make our day.Thanks to the great staff (ps.Mr Sing is a wery pleseantt guy) Greatings from Norway.
March 2, 2014
Rated

4.0

out of

5.0
 by
Music4
Good value
We were pleasantly surprised at the size of this room. It was larger than expected. Two things that were not to our liking (but not a deal-breaker) 1. The curtains didn't close all the way. 2. It was difficult to regulate the temperature. Overall, a solid value for the Big Apple!
March 1, 2014
Rated

5.0

out of

5.0
 by
G-Nee-Belle
Great gem in NYC
The Holiday Inn Midtown was a great place to stay. It was clean, quiet, safe and friendly. We will choose this hotel again.
February 28, 2014
Rated

4.0

out of

5.0
 by
Step66
Great location - Great overall value
We have stayed at this property for a number of years for the NY Toy Fair - very large rooms - great location - good walk to Javitz and great restaurants around the hotel. Staff was great. One of the better hamburgers I have had anywhere at the lobby bar!
February 26, 2014