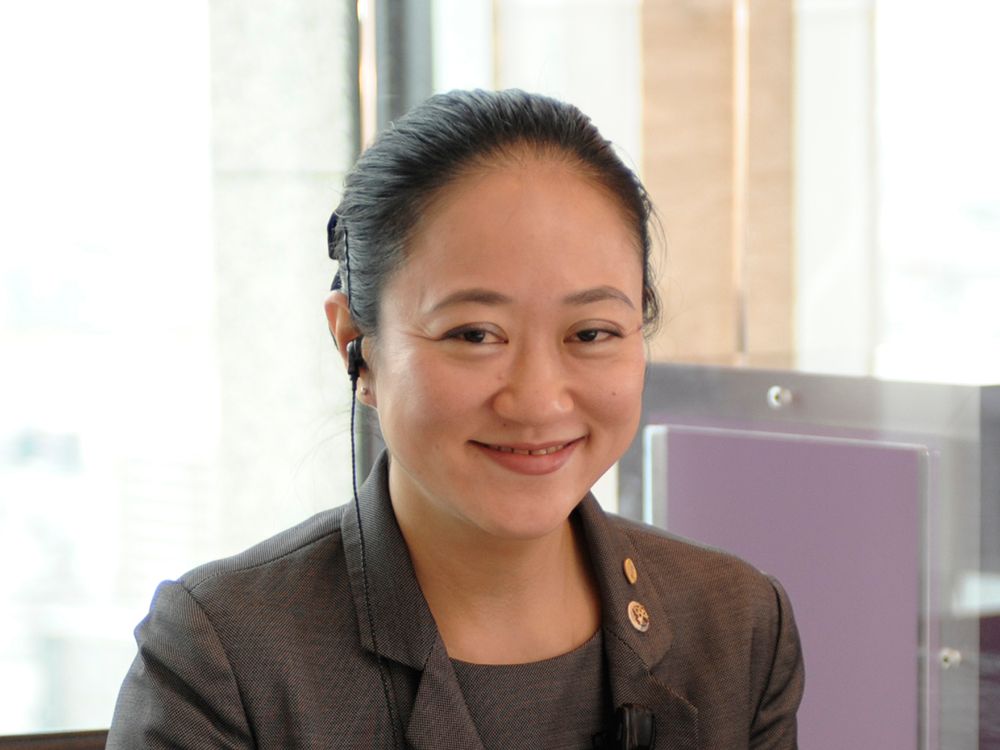 Ms. Asako Onoyama
Chief Concierge 81663745700
Welcome To Osaka
I am pleased to introduce my favorite hotel brand InterContinental, a new concept of contemporary luxury located in the heart of Osaka. We provide a high quality tailor made service to suit each guest's needs to ensure a most comfortable stay.
I am excited to share the unique character of Japan and the distinctive culture of Osaka. Enjoy the spacious lobby, modern and luxurious restaurants and tranquil spa. Step out to let the adventure begin and experience Grand Front Osaka the massive entertainment, commercial, and residential complex containing 266 shops for fashion, lifestyle and beauty as well as world class restaurants, bars and cafes. Osaka is a city where the more you dig, the more you discover an interesting and rich culture.
MORNING

Adjacent to the hotel is the new complex Grand Front Osaka opened in 2013. Explore an array of shops and restaurants as well as Knowledge Capital – an intellectual entertainment space that offers convention space, a theater and a chance to exchange the latest information and connect with people. Grand Front Osaka also serves as an oasis in the city, a place to take a break and enjoy some tea between shopping and business. Another area of interest is 'Umekita Plaza' a large space with various shopping and dining options. With its modern design, the water features and natural greenery will make you forget you are in a city. Grand Front Osaka is an ideal meeting hub for tourists and business people due to the convenient location and extensive transportation options.

AFTERNOON

After lunch, head to Tenjinbashi-suji, shopping street and experience the local shopping. Osaka is famous for its local shopping arcade culture. Tenjinbashisuji shotengai is the longest in Japan with a distance of 2.6km. Containing approximately 600 shops and restaurants it's the best place to buy souvenirs and feel the energy and vibe of the local venders and the Osaka people. It's also an ideal place for shopping on a rainy day. We also recommend visiting the Osaka Tenmangu Shrine famous for its festival in July - the Tenjin Festival, one of the biggest festivals in Japan. Another recommendation is to see Bunraku, the traditional puppet theater proudly originated in Osaka and is recognized by UNESCO as a World Intangible Cultural Heritage. Experience this unique world of traditional puppets that move just like humans. Please check with the concierge for the program at National Bunraku Theater. And while you are there don't forget to pick up a souvenir - Try Bunraku senbei, the special Japanese cookies sold at the theater shop.

EVENING

Osaka castle is one of the most popular sightseeing spots in Osaka. Enjoy the view of the whole city from the donjon and feel the history of Osaka by appreciating the remains and artifacts within the castle. Even if you miss to visit during the castle's visiting hours you can still enjoy the fantastic illumination until 11pm daily. Also the park around the castle is a pleasant running course where you can enjoy the visual spectacle of about 4,500 beautiful cherry blossoms during spring. Please contact your concierge for information on nearby 'sentos' or neighborhood bath houses to wash off the sweat before heading out to enjoy the stunning night view of Osaka city from HEP FIVE, Ferris wheel - it's a symbol of the Kita area and guaranteed to catch the eye of passers by. The ride takes 15 minutes and offers views of famous sightseeing spots and in the evening a romantic night skyline. Each cabin is air conditioned so it's possible to enjoy throughout the year.
LOCAL CULTURE

Meter Taxi

Meter taxi is available at the hotel lobby, major tourist places and office towers. For reservations contact the concierge team.




Tipping

Custom of tipping is not common in Japan.




Dress and shoes

A long-sleeved shirt and trousers may be recommended to carry with you all the times.




Dietary food

Osaka is a food loving city. 'Kuidore' which means 'eat until you drop' describes Osaka's food loving culture. Osaka has great food whether it be traditional Japanese meals, local dishes or even international cuisine, you'll find a bit of everything. Some of Osaka's most popular foods are Okonomiyaki, Takoyaki and Kushi-katsu. Okonomiyaki consists of batter grilled on a hot plate with diced cabbage, meat or seafood and other ingredients. Takoyaki is small octopus dumplings served piping hot with a special sauce. Kushi-katsu are bite sized pieces of meat or slices of vegetables stuck on a bamboo skewer and deep fried. Enjoy with salt or tartar sauce.




DID YOU KNOW ?

Day Trip to Kyoto, Nara and Kobe

There are frequent shuttle trains between Osaka, Kyoto and Nara. Osaka is centrally located among historical cities in West Japan so that your day trip to the ancient cities Kyoto and Nara can be made easily whenever you have a few hours of spare time. Also for guests wishing to savour authentic Kobe Beef the beautiful city of Kobe is only a short train ride away. Check with the hotel concierge for "day trip package" options.




WHAT TO PACK

Small Coins

During your sightseeing you will have the opportunity to visit many shrines. To wish good luck to the master of Shrine, toss a few coins into the wishing box or buy a written oracle and write your wish. Please remember that credit cards are not accepted at shrines. If you have any small coins left, go to the nearest convenience store to use them up.



InterContinental Osaka
3-60, Ofuka-Cho, Kita-Ku

Osaka

,

5300011

Japan

Front Desk

+81-6-63745700
Languages spoken by staff
English, French, Japanese, Korean
Pet Policy
Pets are not allowed in this hotel except service dogs that accompany their owners.