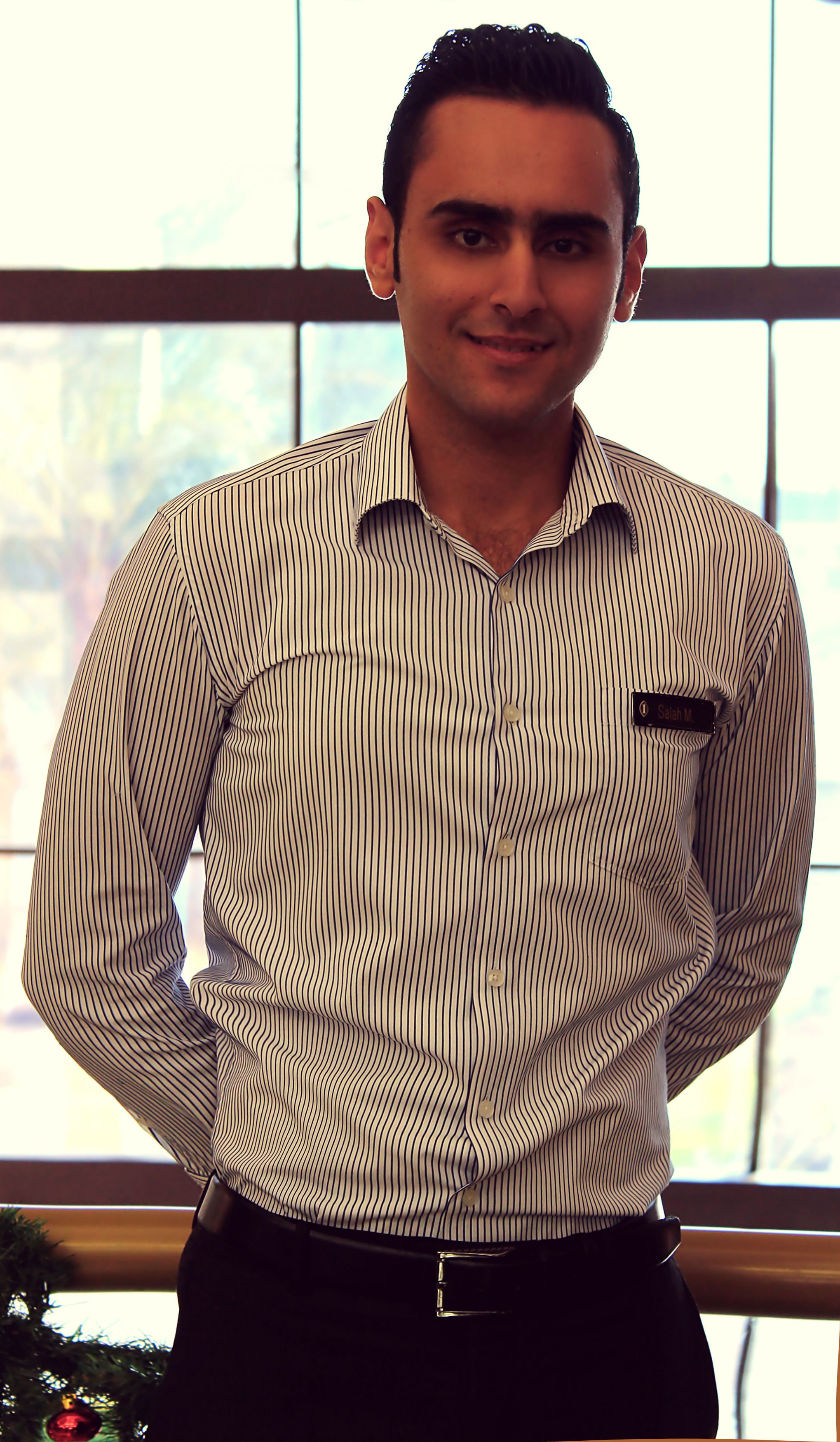 Salah Mehdawi
Assistant Chief Concierge 962799032855
Welcome To Aqaba
Welcome to the InterContinental Aqaba Resort. From the moment you enter our resort, my concierge team and I will seek to meet your every need. We wish you the best of stays in this wonderful place.
If you are in town on business you will appreciate the proximity to Aqaba's business district. The shopping district, old market, night life and attractions are all walking distance away. The hotel is home to three dynamic restaurants and a stylish lounge, all with acclaimed views of the crystal clear water of Aqaba. There is a luxurious spa offering signature treatments, 24-hours gym, outdoor pool and state of the art convention center.
MORNING

Start your day on the beach. Aqaba is famous for its watersports - you can enjoy jetskiing, parasailing, waterskiing and many more activities on its calm waters. As Aqaba lies on the northern tip of the Red Sea, it has one of the most exotic natural seascapes in the world, with more than 500 species of coral in its reef. Diving and snorkelling are spectacular; the coral formations are close enough to the surface of the sea to give snorkellers a superb view. Buy some snorkelling gear or head to the Royal Diving Club, where they can supply all your equipment.

AFTERNOON

After a fresh seafood lunch at Floka, a bare five minute walk from the resort, head downtown to browse Aqaba's quaint souvenir shop. In the vicinity of Princess Salma Park, you will find authentic souvenirs including colorful, hand-woven Bedouin rugs, water pipes (aka hubbly bubbly, aka shisha), antique silver jewelry, shell boxes, Bedouin daggers of all shapes and sizes, beautifully decorated sand bottles, Arab headscarves (kufiyyas), paintings and sculptures. Bargaining is part of the shopping experience, so go ahead and barter.

EVENING

Walk along King Hussein Street all the way to Romero, the Italian seafood restaurant located at the Royal Yacht Club. Among the all-times favorites is the Pasta Marinaran, that fits perfectly with a nice Italian wine. A quiet digestive walk along the Corniche before heading back to the hotel will complement your Aqaba-by-night experience.
LOCAL CULTURE

Arabic coffee

Arabic coffee is a generic name that refers to the way coffee is prepared in many Arab Gulf countries. The best Arabic coffee is made from freshly roasted beans over a charcoal fire and ground in a stone mortar. It has a special coffee pot called dallah, served with the right hand. The serving cups are small with no handles, with only very small portions of coffee poured, covering the bottom of the cup. It is almost always accompanied with dates and offered at most social events like weddings and funerals. Coffee serving is a ceremony. Rules of etiquette on this subject require the hostess to personally hand around the cups where the eldest or the most important person in the room is served first. When you are offered Arabic coffee by your host, do not say no. Once you are finished shake your cup from side to side, this will mean to the person holding the coffee pot that you do not want any more. However, should you want more coffee, all you have to do is hold out your cup to the person who has the coffee pot.




Dress Code

Aqaba is a resort, the dress code is casual but swim wear and other revealing clothing should only be worn on the beach.




Jordanian National Dish

Mansaf (a rice and lamb meat dish cooked with yoghurt) should be eaten using your hands. It's a local tradition and a sign of respect.




Photography

It is polite to ask permission to take photographs of people.




DID YOU KNOW ?

Aqaba Castle

Aqaba Castle, measures around 50m by 50m although it is unusual in having sides of slightly uneven length. It is worth looking around as it has been partially reconstructed and gives some sense of its original form. The first castle may have been built by the Crusaders in the 13th century, but most scholars attribute its construction to the Mamluks during the reign of the sultan Qansur al-Ghuri (1510-17), as attested by the attractive relief inscriptions in Arabic inside the entrance gate.




Aqaba Archaeological Museum

The Aqaba Museum is housed in the historic residence of Sharif Hussein Bin Ali, leader of the Great Arab Revolt of 1916, known as Jordan's window to the sea, Aqaba is also known as one of the world's most historical locations on earth. History enthusiasts and tourists from all corners of the globe head to Aqaba for close encounters with Aqaba museums and the ancient art and artifacts on display.




Religion

The world's oldest church, dating back to the third century AD, was recently discovered in Aqaba.




Fridays

The normal working week in jordan is Sunday to Thursday for public sector and banks, and Saturday to Sunday for most of the private sector. It means that most of the Jordanians are going out on Thursday and Friday evenings.




WHAT TO PACK

Light clothing

Aqaba's weather is hot and dry. Temperatures often exceed 37 C in Summer and 15 to 22 C in Winter.




Map

Bring or buy a map and guidebook on Aqaba to discover the secrets behind.




Small calculator

A compact calculator will make currency conversion while shopping easy.




Sun protection

As the Jordanian sun is extremely strong, you will need to pack some high-SPF sunscreen and a hat.



InterContinental Aqaba (Resort Aqaba)
King Hussein Street

Aqaba

,

2311

Jordan

Front Desk

+962-3-2092222