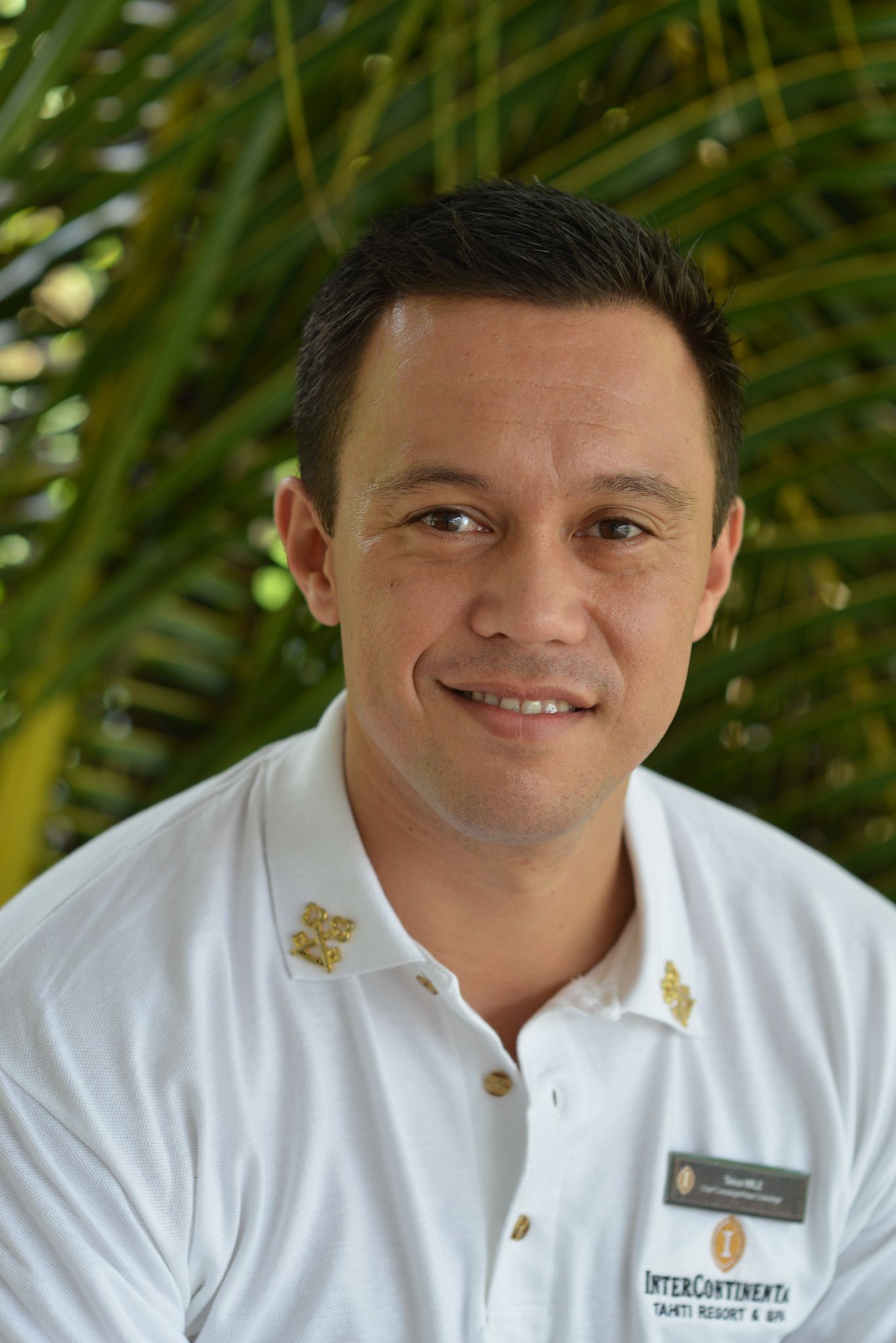 Teiva Milz
Chef Concierge 68940865168
Welcome To Faa'a
Ia Orana and Maeva ! IN ORDER TO ANTICIPATE AND PREPARE FOR YOUR ARRIVAL, PLEASE MAKE SURE TO SEND ME YOUR ARRIVING FLIGHT TIME & N° My team and I look forward to give you all of our insider knowledge to make your trip unforgettable and make you return again to Tahiti!
The InterContinental Tahiti is very conviently located to the airport and the main city fo French Polynesia, Papeete. The hotel is located on over 30 acres of flush, full gardens with 2 restaurants, 2 swimming pools, 1 pool is a fresh water sand bottom pool, a lagoonarium with live tropical fish and corals ready to discover, 3 bars, Spa & fitness center, watersports and activites center. We are a full service hotel with a Concierge team ready to respond to any request you may have.
MORNING

After a full buffet breakfast at the Tiare Restaurant, an adventuress half-day 4x4 Jeep safari tour to the lush & rugged interior of the island, along the Papenoo Valley. A different side of Tahiti awaits you with amazing waterfalls and enormous green peeks such as Mt. Orehena the highest point of Tahiti. To cool off, while on the excursion, you can even take a dip in the refreshingly cool Papenoo River. Alternatively, if you wish for a more hands on, you can hop on a SSV Rhino and drive your own 4x4 along to the Papenoo Valley with your guide leading you the way.

AFTERNOON

After an exciting morning, enjoy a poolside lunch of the typically Tahitian dish of poisson cru: raw tuna marinated in lemon and coconut milk. My favorite dish ever. Afterwards, take the shuttle into Papeete and visit the famous local market. At the entry of the market you can find fresh ice cold coconuts. Purchase one for a few hundred francs and let the island revitalize you with the chilled juice as you see what the local merchants have to offer: handcrafted clothes, woven goods and world class vanilla pods. If you have the time and inclination and you are looking for the ultimate souvenir, you can even get a tattoo here. Return to the hotel for a well-deserved nap in one of the hammocks spread along the resort grounds.

EVENING

For a perfect sunset, jump on a jet ski & cruise the lagoon and watch the sun sink behind the neighboring island of Moorea while you discover a sand bank and enjoy a bottle of Chilled French Champagne. During this time have your bungalow romantically decorated for a great surprise. A perfect dinner to end a perfect day. Head towards the port of Papeete to dine at a local "roulotte". A local flavor awaits you with everything from fresh grilled fish to French crepes made in front of your eyes. IF you're lucky your meal will be accompanied by live ukulele music or traditional songs. .
LOCAL CULTURE

GREETING

It's the custom to shake hands at least once a day with people you know. If you are meeting a group, you should shake hands with everybody, even if you don't know them.




LANGUAGE

The official language of French Polynesia is French, although the unofficial language, Tahitian, is probably more widely spoken. English is spoken by some native islanders and most will be happy to answer questions and help you.




TAHITIAN LANGUAGE

Learning a few Tahitian words will open the door to getting to know the locals better.




TASTING LOCAL DISHES

Tahitians like people who are willing to try their local dishes, such as poisson cru (marinated raw fish). If someone offers, you should try it, but it doesn't mean you have to finish it.




Tipping

There is no obligation to tip, but it is always appreciated. When you arrive at the hotel and this subject is still not clear to you please see the concierge and we will explain everything to you.




DID YOU KNOW ?

TAHITI Golf Atimaono

Tahiti's Atimaono golf course is located about 45 minutes from the hotel. A cotton and then a sugarcane plantation, it became Tahiti's first golf course in 1970.




TAHITI Legend of Tahiti the fish

Legend says Tahiti was transplanted from Raiatea, transformed into a fish and then became land again.




TAHITI Local festivals

There are many cultural festivals in Tahiti, especially in the month of July when the Heiva I Tahiti takes place. If you are lucky enough to be in Tahiti during the Heiva we may arrange everything for you, transfers, tickets ext.




TAHITI Surfing at Teahupo'o

Teahupo'o is one of the best surf spots in the world. Professional competitions are held here every year. This is rated the most dangerous wave in the world by all professional surfers. We may arrange a private tour of this area.




WHAT TO PACK

Adaptor

Bring a universal adaptor as you may have difficulty purchasing one here. The voltage is 220v and you will mostly find type E power plugs (French plugs format)




Currency

The French Pacific Franc (XPF) is the local currency. It is best to bring US dollars and exchange them once you arrive. Its always good to keep at least some local currency handy.




Necessities

We do have shopping areas, but our location is still remote and it may be difficult to find certain things, particularly electronic items. Bring necessities such as a digital camera, iPod charger and extra memory cards.




Reef shoes

Take reef shoes with you. Corals, shells and fish may hurt if you step on them with bare feet. If you need to purchase them when you arrive please see the Concierge desk and we will advise you where to buy.




Sun care

Do not forget your sun cream. A good pair of sunglasses and a hat are also essential.



InterContinental Resort Tahiti
Po Box 6014

Faa'a

,

98702

French Polynesia

Front Desk

+689-40-865110