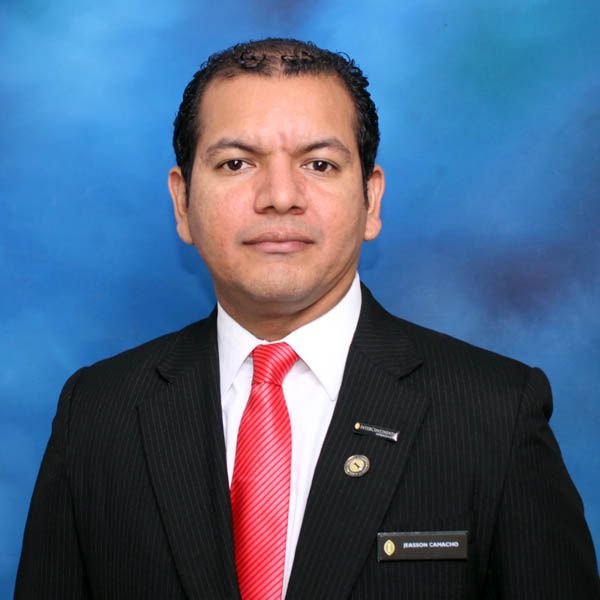 Jeasson Camacho
Chief Concierge 505227689894340
Welcome To Managua
Receive a warm welcome from the hotel's staff and Concierge team of InterContinental Metrocentro. We are at your service and will do our best to exceed your expectations and make your stay an unforgettable experience.
The concierge's desk is located at the lobby of the Hotel. Our staff is trained to guide and provide information on the best attractions, restaurants and places of interest to visit during your stay. If you need assistance with theater tickets or organized tour visits, they will be able to make this experience an easy and pleasant task.
MORNING

Nicaragua posesses a variety of natural wonders so why not starting the day in Mombacho Volcano, a wonderful place to visit during the morning when the freshness of the air and a little fog adds a sensation of mystery. There is a pathway up to the volcano, flanked by natural beauty and dotted with gorgeous Nicaraguan orchids. From here you can also overlook the city of Granada and the 360 islets surrounded by Lake Nicaragua.

AFTERNOON

After the Mombacho you can visit the city of Granada, one of the first cities on the American continent (even older than Antigua Guatemala). The San Francisco Convent is a must-see if you're interested in the history of Nicaragua. Take a horse carriage tour around the city and enjoy the magnifiscence of colonial and pre-Columbian architecture of the city. Visit the ruins of the Xalteva Wall (that used to divide the population between Native Americans and colonials) or the Xalteva Church (home to the battle between Maximo Jerez and Cornel Jose Dolores Estrada). After this busy afternoon, try some typical Nicaraguan food in the central park: ask for vigoron (pickled cabbage with fried pork skins) and 'grass' juice.

EVENING

After visiting all of this beautiful places, finish your day in a quiet and relaxed environment at restaurant Intermezzo del Bosque (located just 15 minutes away from InterContinental Metrocentro Managua). This restaurant is the perfect combination of good cuisine, local music and history.
LOCAL CULTURE

Clothing

Nicaragua is a warm tropical country, therefore light and comfortable clothing and shoes are recommended.




Local adresses

Nicaragua has a very particular way of giving addresses, we use reference points such as churches, buildings or monuments, there are no street names or numbers since we give addresses in north, south, east or west directions




Festivities

Each city has their own saint or patron, we celebrate the devotion to the local saints with dances, music, food, drinks and festivities




Tipping

Tipping is optional but it is highly recommened to tip waiters at restaurants 10%, bellboys or drivers a minimun of $1 per luggage.




Public transportation not recommeded

Public transportation for foreigners is not recommended in Nicaragua, if you need to use a taxi, request the service at the hotel.




DID YOU KNOW ?

Cathedrals

The Cathedral of Managua is the newest in Central America; the Cathedral of Leon city is biggest in Latin America and the Cathedral of Granada is the oldest in the Americas.




Nicaragua it's origen

The name of Nicaragua has a Nahualt origin, dialect spoken by the primitive settlers in the pre-Colombian epoch: Nic – atl – nahuac: it means "Here join the water ".




Land of lakes and volcanoes

Nicaragua is known as the "Land of Lakes and Volcanoes", which includes twelve volcanoes and six of them are active.




Lake Nicaragua

Lake of Nicaragua is the biggest one in Central America, its surface overcomes 8000 square kilometers; its famous because it's the only lake in the world that has sharks that live in fresh water, they are known as the Caribbean Bull Shark.




Ometepe Island

Ometepe Island with an extension of 276 Km2 is the biggest volcanic island in the world, is located inside Lake of Nicaragua were you will have diversity of flora and fauna and two volcanoes Concepcion and Maderas.




WHAT TO PACK

Travel light

Try not to carry around too many luggages and be simple in your dressing style




Map for directions

Always carry a local map in order to identify important offices such as police station, hospitals, fire department and/or hotel where you're staying.




Dictionary

If you do not speak Spanish, a hand pocket dictionary will be useful




Bottle of water

If you take a walk or going on a long journey, always carry a purified bottle of water, since the weather is very hot.




Cash

Do not pay with big bills, the American Dollars are commonly accepted in all establishments.



InterContinental Managua At Metrocentro Mall
Frente A Centro Comercial

Managua

Nicaragua

Front Desk

+505-2-2768989 +00