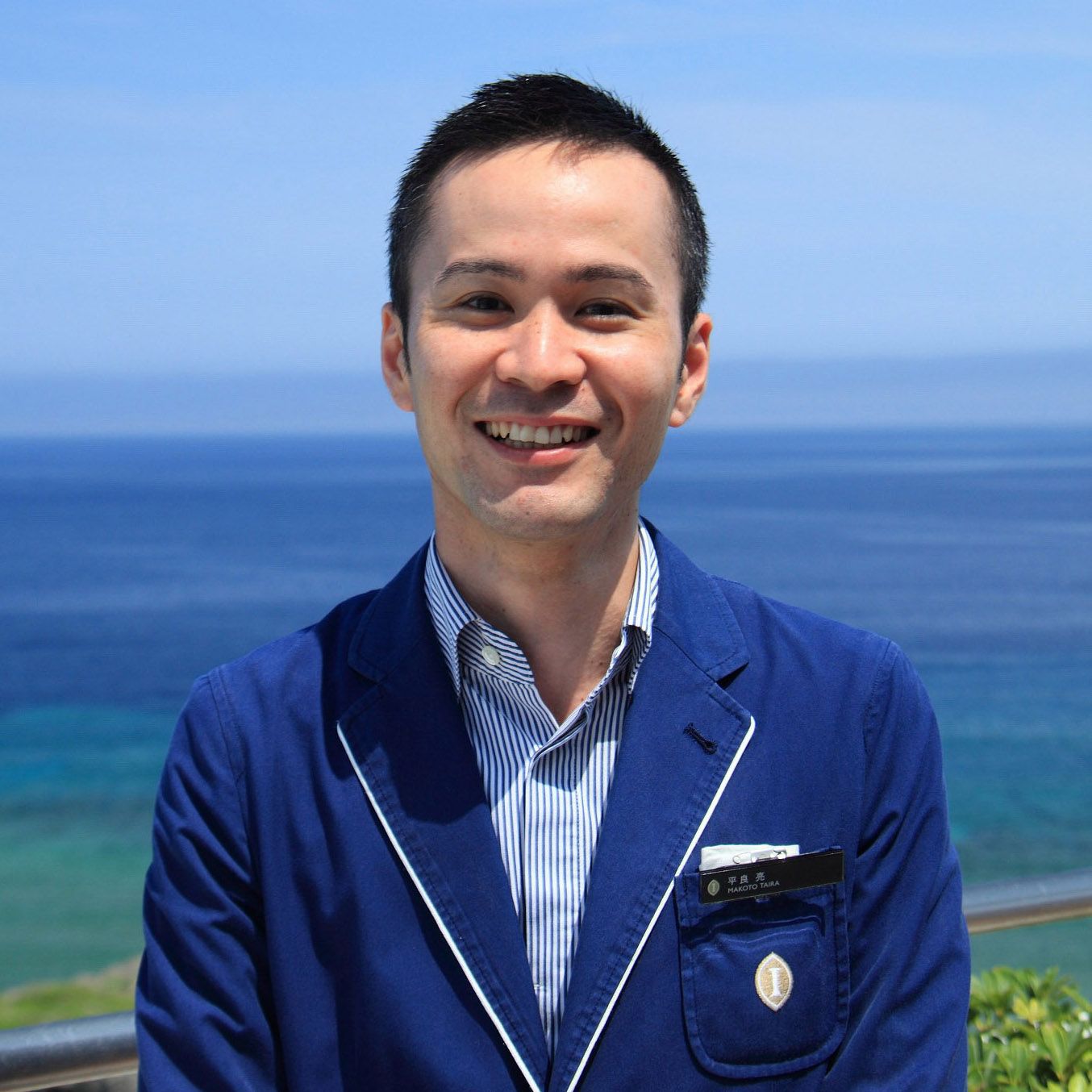 Makoto TAIRA
Guest Relations Manager 819896612113270
Welcome To Okinawa
Welcome to the best resort in the world. We want you to love being in Manza as much as we do. That is why we are here for you in order to help you find your way around, but also show you what we think are some of the highlights.
ANA InterContinental Manza Beach Resort is proud of its well established reputation gained during long history in Okinawa. With our experiences and knowledge combined with InterContinental standards, we always provide best services to our guest. Located in the middle of Okinawa main island, enabling easy access to either north or south area. Around the hotel there are many hidden spots that you may be interested. Let us suggest a plan that is custom made to suit your interest/likings/schedule.
MORNING

A trip to Manza Beach cannot be completed without visiting nearby Cape Manza, a 25 min walk with panoramic view, coral reefs and brilliant aqua blue waves breaking against rugged cliffs. The morning sunrise features the cliff of Manzamo Cave that looks like a large elephant trunk bringing out the brilliant blues, greens and aqua of the water. You may visit a little known local beach called Apogama, which means "meeting cave for couple". Sunset is as amazing as sunrise with changing colors that play across the waters in the bay.

AFTERNOON

A visit to the Churaumi (Beautiful Sea) Aquarium, the largest in Asia, is a must while in Okinawa. Over 16,000 sea creatures including several whale sharks are on display in the main aquarium's tank. Nearby are the remains of the World Heritage listed Nakijin Castle, dating back from the 13th century. With commanding views from the parapet of the nearby villages and coastline, the castle is surrounded by 1.5 km of limestone rock walls ranging from 3 to 8 meters in height. The Kanhi cherry blossoms are fantastic in January and February. Afterwards take a detour to the hidden hilltop Pizza Cafe Kajinho, where wood fired gourmet pizza and tropical fruit juice compliment the view overlooking the nearby islands and coral reefs.

EVENING

The sunset over the East China Sea is the perfect end to a perfect day at Manza Beach. Heading out on the water on the resort's catamaran yacht provides the best vantage point and perspective for the sunset. There is something special about being on water in Okinawa, and sailing towards the sunset to await the changing colors of the sky and ocean around Cape Manza will help you feel this magic.
LOCAL CULTURE

Beniimo Sweet Potato

In 1604, Mr NOGUNI, a crew of trading boat from Okinawa to China, brought a nursery tree of sweet potato from China. Since then, it spread to all over Japan, and in Okinawa it is called "Beniimo" (Beni means red, Imo means potato) from its vivid redish purple color. This color comes from the substance called "anthocyanin", that is effective for cancer prevention, arteriosclerosis prevention and antioxidative.




DID YOU KNOW ?

Agu Pork

Agu Pork is believed to have been imported at the end of fourteenth century from China where was called "Min" at that time. It features long face and lop ears and resembles a boar. There were many Agu in Ryukyu Islands before World War Ⅱ, but the number significantly decreased because foreign pigs were introduced as Agu did not bear many babies. When it came down to only 18 Agu pigs left, they finally started to be protected and taken care of, and now the number recovered to 600. Agu pork is soft in texture, rich in fats yet only have a quarter of the cholesterol of normal pork. It is also high in collagen.




WHAT TO PACK

Sun Protection

Clear and sunny day with blue sky and bright sun makes a perfect day in Okinawa, but ultraviolet ray is so strong that you will get sun burn very easily. Please bring sun protection cream, sunglasses and long sleeve shirt to protect your skin.



InterContinental ANA Manza Beach Resort
2260 Azaseragaki, Onna-Son

Okinawa

,

904-0493

Japan

Front Desk

+81-98-9661211
Languages spoken by staff
English, French, Italian, Japanese, Korean, Chinese
Pet Policy
No pets allowed except guide dogs.