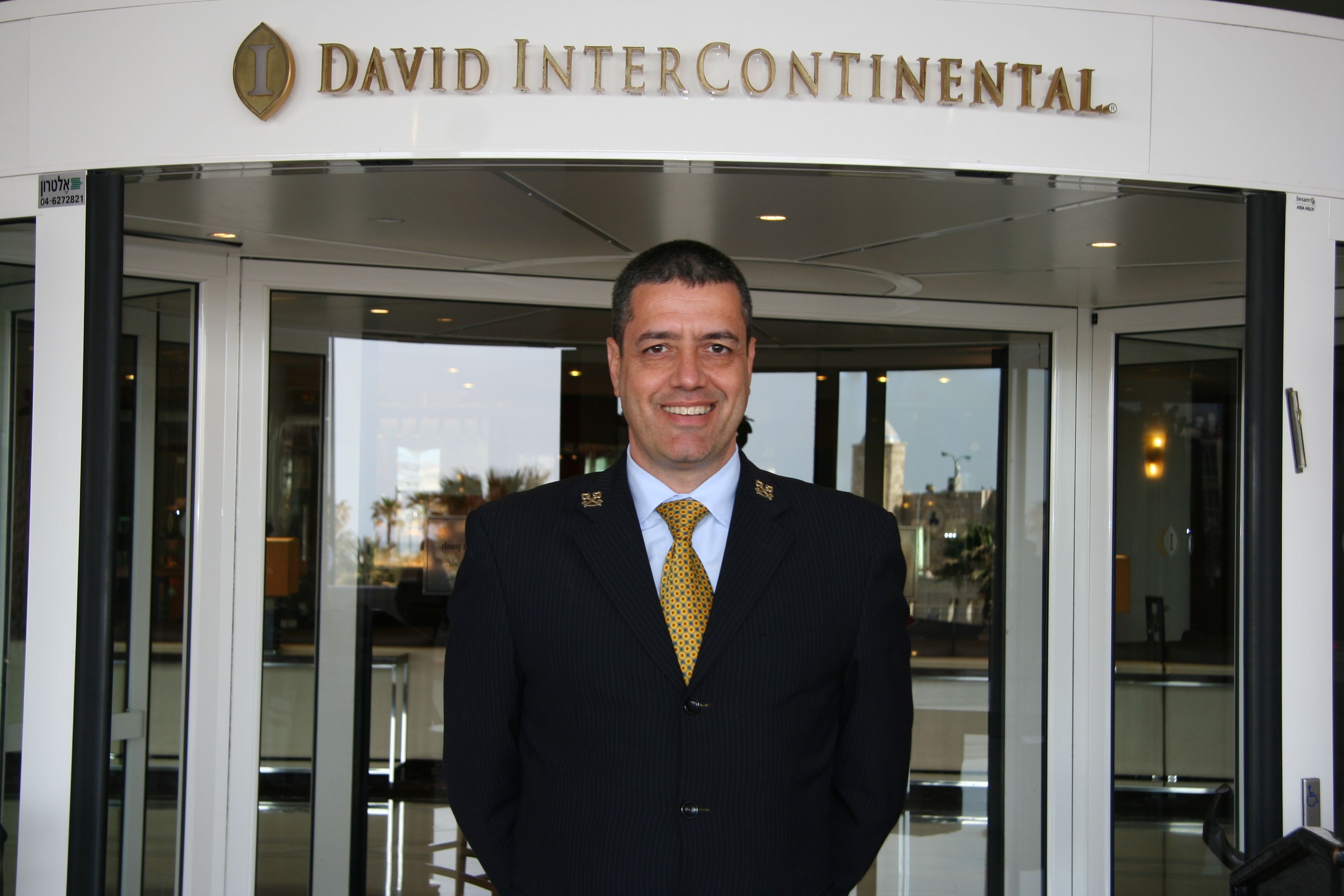 Ronen Alkalai
Chief Concierge and President of the 'Les Clefs d'Or' Israel 97237951242
Welcome To Tel Aviv
Shalom and welcome to the David InterContinental Tel Aviv. With Tel Aviv's amazing weather and beaches, great eateries, night life and culture, it makes this city, the city that never sleeps. Our Concierge team will strive to make your stay as enjoyable as possible.
The hotel is perfectly located in the heart of Tel Aviv in the trendy Neve Tzedek district. The David InterContinental is a short walking distance from the beach, the city's largest outdoor market, and the historic Old Jaffa. In February 2011, a complete remodel was done to the hotel, transforming it and making it an even more stunning place to stay. We feature three new and upgraded restaurants, an outdoor bar and sundeck, an additional business lounge and a brand new full service spa, THE Spa
MORNING

Walk along the beachfront promenade heading south towards the historic Old Jaffa until you reach Jaffa Port. Explore the port with its many cutting-edge restaurants, avant-garde art galleries, and design and performance spaces. From Jaffa's port you can easily walk to the old city of Jaffa where I recommend getting lost through the windy zodiac sign streets and discovering the beautiful boutiques and museums that are scattered all over. Then continue to the colorful flea market to look around the many stalls selling antiques, jewelry, second-hand items, and much more. This market is open Sunday to Friday from 10am till late afternoon.

AFTERNOON

At the rear of the hotel is Shabazi Street where you will find the district of Neve Tzedek, the hidden gem of the city and 'SoHo' of Tel Aviv. It's full of beautiful designer shops, little cafés and fine restaurants. One café in particular is Dallal, serving up French Israeli cuisine in an intimate setting and also featuring a fresh bakery with delicious pastries that can be enjoyed over coffee. Inside this area you will find the Suzanne Dellal Performing Arts Center which is the premier presenter of Israeli and International contemporary dance companies and is well worth a visit. Shops and galleries are open in this neighborhood from Sunday to Thursday between 10:00 AM to 07:00 PM, Friday from 10AM to 3PM and Saturdays shops are closed.

EVENING

Rothschild Boulevard is the hot spot of the city and the place to see and be seen. The boulevard has developed into one of the city's most luxurious and popular areas housing newly built sky scrapers next to old eclectic Bauhaus architectural style buildings. Rothschild Blvd. is the perfect place to stroll around and discover the many restaurants, bars and cafes this area has to offer. Start the evening with dinner at the Social Club, a modern bistro featuring a menu made with local ingredients, and experience highly-renowned chef, Michael Gartofsky delicious cuisine. For after dinner cocktails continue to Otto, one of the hottest spot in town, and taste some of their delicious drinks made my exporter mixologists while enjoying great music. For more recommendations, consult with the hotel's concierge.
LOCAL CULTURE

What to wear

Most of Israel is Westernized and in Tel Aviv, you are more likely to be overdressed than underdressed. Orthodox Judaism requires both men and women to substantially cover their bodies. Orthodox men wear a kippah (head cover) and orthodox women have their collar bones, elbows, legs and knees covered. When visiting synagogues or other religious sites, be conscious that entry will normally not be permitted to those with exposed legs (i.e. wearing shorts or short skirts) and to women with exposed upper arms. Carry a wrap or bring a change of clothes and keep in mind that men should cover their heads while inside the synagogue.




Kosher Jewish Dietary Laws

There is nothing in flavor or style that distinguishes kosher food from any other. Kosher food is simply any food which complies with Jewish dietary laws, which prohibit the consumption of foods such as pork, shellfish and mixtures of meat and dairy.These laws are observed by Israel's hotels and some restaurants. The David InterContinental holds a Certificate as a kosher hotel, issued and supervised by the Rabbinate of Tel Aviv. What is certain is that our talented chefs serve up delicious meals and substitutes that are created for dairy products that assure nothing is lacking from any menu.




Taxi Meters

When traveling by taxi, always ask the driver to operate the meter and be sure to always ask for a reciept just in case you leave something behind in the taxi.




Tipping

In restaurants, it is recommended to tip around 12-20 percent of the bill (in cash only). No need to tip taxi drivers for local rides, only for long distance journeys that take you outside the city in which that case, you may tip the driver about 10 percent of the bill.




DID YOU KNOW ?

Diamond Industry

Israel is the world leader in diamond polishing and the centre of the industry is located in Ramat Gan, a suburb of Tel Aviv.




Foreign Embassies

Although Jerusalem is the capital of Israel, all the foreign embassies are located in Tel Aviv.




Neve Tzedek

The neighborhood of Neve Tzedek in Tel Aviv was the first only Jewish neighborhood to be built outside Old Jaffa. It was built in 1887, 22 years before the establishment of the city.




The White City

In July 2003, UNESCO, proclaimed 'The White City', the unique urban and historical fabric of the center of Tel Aviv, as a World Cultural Heritage site.




WHAT TO PACK

Immigration form

Make sure you keep the white immigration form that you are given on the airplane as it is needed for your hotel check-in and for when you depart Israel.




Local currency

Make sure you change some money at the airport as the taxi drivers there don't accept foreign currency nor credit cards.




Summer Clothes

Israel is known for its warm and sunny climate, even during the European winter season. It is always recommended to check the climate prior to your arrival and to pack accordingly.



InterContinental David Tel Aviv
12 Kaufman Street

Tel Aviv

,

61501

Israel

Front Desk

+972-3-7951111
Languages spoken by staff
Arabic, Czech, German, Greek, English, Spanish, French, Hungarian, Italian, Romanian, Russian, Serbian
Pet Policy
No pets allowed except for guide dogs.